So, you finally have your new television unit delivered to your address. The excitement level is unmatched.
All you want to do now is unbox it and set it up to enjoy entertainment like never before. But then comes the confusion, whether you need a TV stand or can you just mount it right away on your wall without one.
When your room's aesthetic is considered, how you set up your television unit is important. So, let's find out if it is worth it to spend extra bucks on a TV stand.
Reasons You Should Get a TV Stand
A TV stand has the potential to improve your overall entertainment experience. To help you understand its necessity, here are a few of the reasons to justify it:
Improves Your Overall Viewing Experience
Mounting the television unit without a TV stand seems like a random placement, which forces us to bend our necks and strain our muscles to get the right viewing angle.
It might not seem like a problem at first, but over time you will feel that strain on your body. Your eyes and neck muscles will start showing painful symptoms. And you won't be able to watch your favorite TV shows and movies on your television for a longer time.
Therefore, a perfect TV stand for your living room will help you enhance the viewing experience in the following ways:
An optimal TV stand is designed with proper measurements to bring the placement of your television to a correct level. Your eyes won't strain, and this accurate position will also prevent light reflections from disturbing your viewing experience.
A perfectly placed TV stand will also help you have a good posture while watching television for a long time.
Frees Up the Floor Space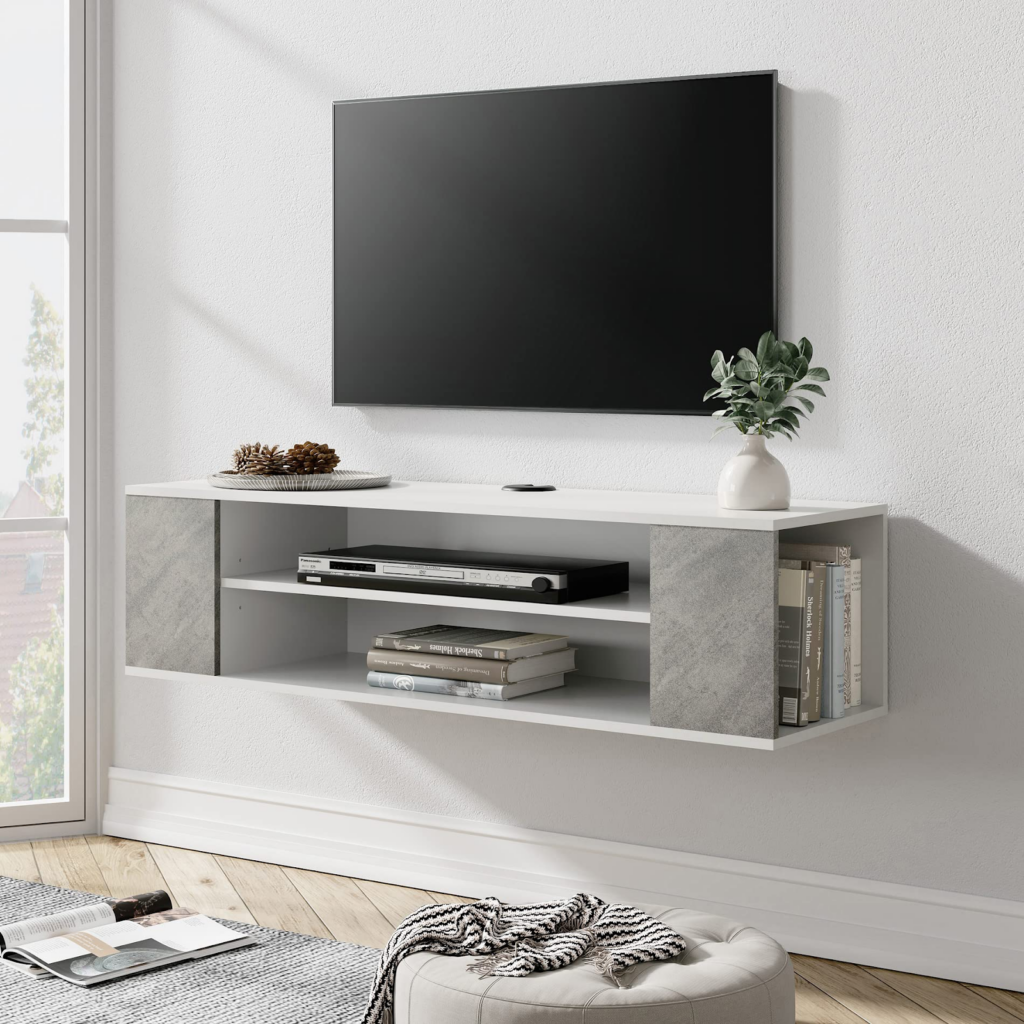 There are TV stands that come with mounting accessories and can be installed on the walls. They serve the same purpose and also add an enhanced aesthetic appeal.
This way, your TV console will seem to levitate from the floor, making your room look spacious and uncluttered.
Such TV stands have a proper cantilever action to counterbalance the TV's weight. The design assures that, when properly mounted, the television unit won't topple off.
You can also mount the television on the wall above the TV stand to add an even better appealing look with a perfect viewing angle.
TV Stands Ensure Safety
A TV stand will ensure that the main unit is safe from careless accidents. Especially if you have kids who play in the living room, a TV stand with a good height will ensure that they don't knock your TV down.
TV stands with mounts are considered ideal options in this case to ensure complete safety, But a heightened TV stand will also do the job of ensuring safety for the television unit.
Becomes the Focal Point of Your Living Room
Television screens and couch placement are considered the focal point of a living room. But without a TV stand, the amount of attraction that this focal point can generate is suppressed.
It is because there will be too much space right underneath the TV setup, and the cords and cable boxes will be displayed like a mess.
A good TV stand, whether a traditional media console or a mounted TV stand, can help you change the entire symmetry of your living room.
There are added furniture options available with premium TV stands to surround the TV screen like an entertainment center.
Not only will your cords, cable boxes, and entertainment accessories be stored away from the visible spots, but you also get the chance to add decorative pieces to improve the focal point of your living room.
Storage for Your Entertainment Accessories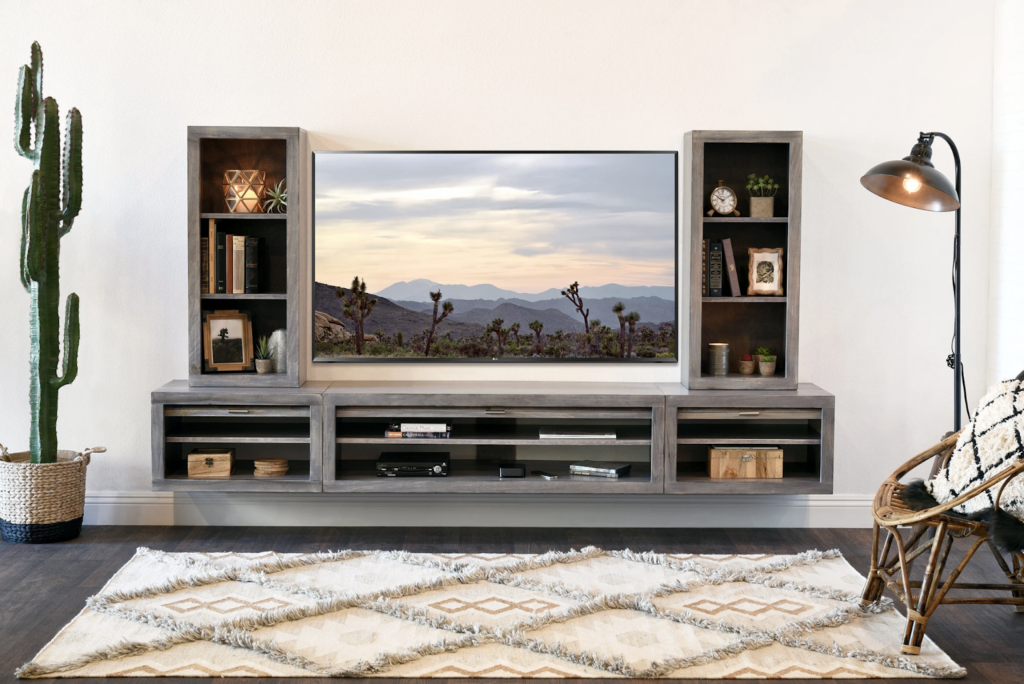 By now, you are quite aware that a TV stand is a necessary investment. If you have ample space in your living room, then adding a TV stand will give you both aesthetic as well as functional benefits.
Most TV stands are available with storage cabinets, open spaces, cord outlets, and other functional features.
A modern television might have a lot of accessories other than just a cable box. You might have a DVD player, sound system, CDs, gaming console, and other entertainment accessories.
Without a TV stand, the placement of these entertainment accessories will be a mess. Buy the one with ample storage space to accommodate your entertainment accessories. And then, you will have an organized living room with a perfectly set television section.
Can You Use a Wall Mount Without a TV Stand?
Yes, you can always consider using a TV wall mount for installing your television unit. It will cover up a subtle space on your wall, but the entire floor space will be vacant. As a result, the room's aesthetics will suffer.
A wall-mount TV stand is a viable option when you have a very small living room. Even though there are compact TV stands for smaller living rooms, they might still congest the room, making it difficult for you to set up other furniture pieces. Get a wall mount instead!
But, when you have a large living room, a wall mount can be an option only when you pair it with a TV stand. It is completely your choice whether you want to place the television screen on the top base of the stand or mount it on the wall right above the stand. Both of these settings will add a good appeal to the entire living room.
FAQs
What Can I Use Instead of a TV Stand?
If you are tight on budget and don't want to invest in a premium TV stand, you can consider using some alternatives. The perfect alternative to a TV stand can add a good touch to the entire TV setup.
Some of the options include:
Chest
Console table
Fireplace
Bench
TV Easel
Bookcase
Dresser
Is it Safe to Place a TV on the Floor?
No, you should never place a television unit on the floor. Even though you have a small living room or TV space, you can use a mount to fix the television unit on your wall. You can also use a TV stand or an alternative to place the TV screen on the top base to prevent accidental damage.
What Can We Do With TVs that Don't Have Legs?
Some television units do not have standing legs and are meant to be mounted only. In that case, you can prefer using a fixed mount, full motion mount, or tilted mount to fix the unit on the wall. If you have sufficient space in your living room, get a TV stand to place right underneath the television screen to complete the setup.
What is the difference between a TV Stand and an Entertainment Center?
A TV stand is a piece of furniture that accommodates just the television unit and has a few storage options to store important entertainment accessories. They are cheap, easily movable, and easy to install.
An entertainment center is a full-bodied furniture unit that houses a TV placement section at the center. Surrounding that, it has storage cabinets, open spaces, and glass door cabinets for storing entertainment essentials (sound system, DVD players, etc.) or decorative pieces to add elegance to the overall setup.
Conclusion
So, it is now possible for you to understand that TV stands are necessary to a certain extent. If your living room permits you the flexibility to add an aesthetic touch, then there is nothing better than an entertainment center or a TV stand.
There are countless options available at online marketplaces. Set your budget and preferences to shortlist the TV stands that you think will go well with your living room setup.