Table could not be displayed.
Standard fixed mode wall mount had its glory days, but if you are looking for a better option to view your flatscreen TV optimally, then a full-motion wall mount is the way to go.
Not only will a sturdy wall mount free up the space on top of your furniture, but you will have the option to view your TV at all angles, irrespective of the room you are in.
So, just like us, if you despise windows and sunlight glares, then installing your TV with a full-motion mount is the ideal step.
But how is a full-range motion mount different from regular wall mounts?
A full range motion mount constantly swivels and tilts to the maximum and extends from the wall or rotates 180 degrees.
We recommend these mounts for a positive theater-style viewing experience.
Best Full Motion TV Wall Mounts
#1 Winner: USX Full Motion TV Mount *Amazon's BEST SELLER*
Specs
TV Size: 42 to 70 inches
Minimum Compatible Size: 42 inches
Tilt Angle: +5 to – 15 degrees
This Mountain Dream full motion TV mount offers a premium mounting fixture solution for flat TVs of various heights.
This particular model works exceptionally to fit most 42 to 70 inch TV screens.
Another perfect reason to buy our winning mount is its +5 degrees to -15 degrees tilt along with a decent ±45 degrees swivel motion.
On top of that, buyers can repair any minor spacing and degree errors even after installation.
Mounting Dream Full Motion TV Mount comes with strong dual arms that fit most 42 to 70 inch TV models.
The upper limit for the weight load is 100 lbs. The max load capacity isn't much, but this mounting fixture can work if you own a seemingly lightweight newer model.
This full-motion tv wall mount is highly compatible with VESA mounting hole patterns from 200 x 100mm to 600 x 400mm.
Apart from its compatibility, this mount gives a generous +5 to -15 degree tilts and a ±45 degree swivel side to side motion.
These tilts and swivels reduce glare while the ±3 degree rotation provides complete viewing flexibility.
This full-motion mount has six articulating arms capable of 14.6-inch extension and 2.4-inch depth to the wall to provide maximum movement.
These user-friendly angles indeed reduce glares, reduce neck ache and decrease eye strain when viewing the TV for extended hours.
The maker's robot welding technology makes the TV mount exceptionally sturdy and stable even for heavy and bigger TV models.
The bracket is thoroughly designed with a tool-free spring-loaded handle to easily adjust the tilting without putting a lot of muscle force into the action.
Buyers looking for a fuss-free installation should consider this product as this mount is relatively easy to install and comes with a handy mounting template.
Other accessories include a 6ft HDMI cable, torpedo level, instruction manual, and different sized spacers.
Even if your installation has a few minor ratio and degree issues, you can eliminate those errors after building.
Their US-based customer service agents are always available, seven days a week, to solve your grievances and problems related to the installations.
Pros
This full-motion TV mount is highly compatible with most TV sets from 42 to 70 inches.
The robot welding technology strengthens the joints, thus making the product even more sturdy.
The fuss-free installation is ideal for buyers looking for a straightforward install.
Their US-based customer service agents proactively solve customers' grievances.
Buyers can repair minor spacing errors even after installation.
Cons
The template tape tends to destroy the wall paint while adjusting the mount during the installation.
Users have to apply considerable strength to center the TV from all the different angles.
You might have to make a roundabout trip to the nearest big-box store as the manufacturer fails to provide sufficient screws.
#2 Runner-up: Pipi Shell Full Motion TV Wall Mount
Specs
TV Size: 50 to 90 inches
Minimum Compatible Size: 50 inches
Tilt Angle: +10 to -10 degrees
Our runner-up, the Pipi Shell Full Motion TV Wall Mount, is another product that stays true to its manufacturer's word.
This wall mount can easily hold TV models from 50 to 90 inches with complete ease. The product is also VESA compatible, making it the best TV wall-mount full-motion fixture.
We highly recommend this fixture if you are in search of a highly sturdy big TV wall mount.
This full-motion TV mount is particularly ideal for TV screens that are 50 to 90 inches in size. The fixture is perfect for holding most big-sized TVs with extreme ease.
The additional 3.78″ pull against the wall saves enormous space when the TV is not in use. Its dual arm TV mount truly maximizes any curved or flat TV's visibility and positioning.
This extra long arm TV mount is wholly equipped with three pivot points: a ±10 degree tilt, ±90 degree swivel, and a ±3 degree level. These pivot points make the TV easily viewable from any room of the house.
The additional safe end caps and lock design keep the TV firmly gripped at the right place without any risks of falling off.
This full-motion TV mount is highly compatible with most VESA patterns from 200x100mm to 800x400mm. Buyers can install a TV with a maximum weight of 154 lbs safely and securely.
The maximum upper limit of this product is very impressive, meaning this mount can easily take the load of most TVs available on the market.
This large TV mount bracket is easy to install and requires sturdy wood studs, concrete, or brick wall to attach the fixture. An easy-to-guide mounting template helps give accurate precision during the installation.
The manufacturers also include a level gauge and detailed step-by-step instructions for a quicker and neater installation. Lastly, Pipi Shell provides a hassle-free five years warranty on all of their TV mounts.
Pros
This full-motion mount is ideal for heavier and giant TV screens.
The fixture's additional 3.78″ pull ends up saving enormous living room space.
The user-friendly three pivot points make the TV viewable from any angle.
The maximum weight limit states 154 lbs for a wide range of TVs.
The easy mounting guide gives accurate and precise measurements during the installation.
Pipi Shell always honors their five-year warranty.
Cons
The level knob tends to break when one tightens it with force.
The wires may look untidy once the installation takes place.
#3 Alternative: KDG Full Motion TV Wall Mount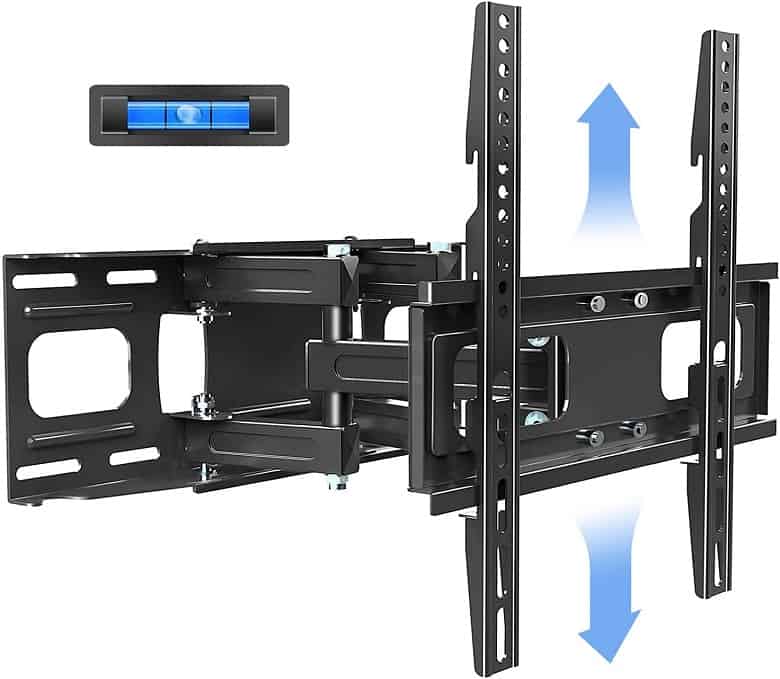 Specs
TV Size: 32 to 65 inches
Minimum Compatible Size: 32 inches
Tilt Angle: +3 to – 15 degrees
This KDG, Full Motion TV Wall Fixture, is the best full motion tv wall mount for 65 inch TVs.
The minimum compatible size starts from 32 inches and moves 65 inches upwards, thus including various TV sizes.
Furthermore, the carbon bottom adds exceptional strength to keep your entire TV set afloat.
If your main aim is to purchase a decent-sized full mount that can hold standard TV screen sizes, then the KDG Full Motion TV Wall Mount is the way to go.
This sleek and minimal fixture can easily install most 32 to 65 inch TVs without any fuss. This wall mount is VESA compliant and has points starting from 50×50 to 400×400.
Buyers can install this sturdy mount on wood studs measuring 8″/12″/16″, concrete, and brick walls. However, you should highly avoid installing this set on the drywall as these walls do not hold down the anchors of the mount.
The high tensile brackets have excellent folding and stretching functionality for more space optimization.
You can fold the fixture to 2.4 inches and extend it forward to 14 inches to view the TV optimally.
Its additional two-layer height design raises and lowers the TV by 4 inches for a perfect viewing distance.
There is ample customization scope as the fixture can tilt +3 degrees and -15 degrees with a ±70 degree swivel.
The entire bracket weighs 9.5 pounds and is constructed using reinforced steel for a long-lasting product.
The external surface is further painted with high-quality rust-resistant paint to prevent pesky rust, shelling, or chipping of the paint. The sellers have installed a separate cable storage management for a neater installation.
Each order comes with a complete set of accessories to make the building a breeze.
The package comes with one TV mount, standard mounting hardware, 5ft HDMI cable, 3-Axis magnetic bubble level, paper template, reusable cable ties, Allen wrench, and a user manual.
These accessories help complete the task within 15 minutes max.
Pros
This mount can decently hold 32 to 65 inch TV sets with ease.
The entire package comes with handy accessories to speed up the installation.
You can access a high level of customization with various tilt and swivel points.
The mount is VESA compliant.
The product offers a rust-free promise with its rust-resistant paint job.
An additional cable storage system keeps the cables tidy.
Cons
You might find it arduous to adjust the tilt.
There are limited models of small-sized TVs that are genuinely compatible with this mount.
#4 Alternative: Just Stone Full Motion TV Wall Mount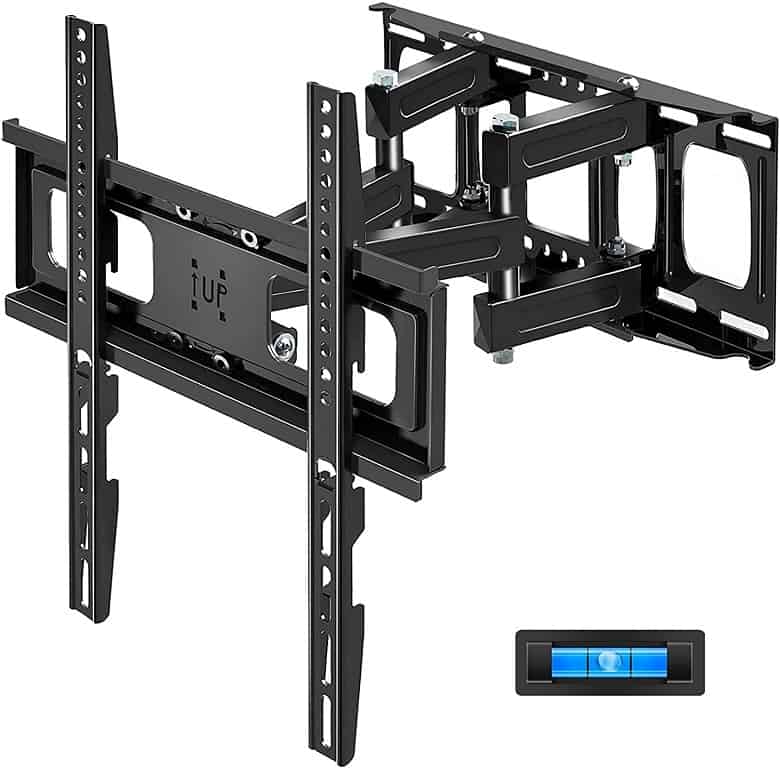 Specs
TV Size: 27 to 65 inches
Minimum Compatible Size: 27 inches
Tilt Angle: +3 to -15 degrees
This Just Stone Full Motion TV Wall Mount is yet another classic TV fixture popularly known for its sturdy design and TV size options.
Even the most miniature 27 inch TVs can easily mount themselves for a more optimized viewing option.
Apart from the quick installation, the brand strives to provide excellent customer service and prides itself on the impeccable strength of the product.
This universal TV wall mount is an entirely full-motion fixture that fits most LCD, OLED, LED, Plasma flat, and curved screen TVs.
Its sturdy solid TV bracket and fully VESA compatible faceplate give the TV a more secure grip.
The additional 4-inch height adjustment makes it possible to arrange the TV mount even after its installation.
The mount swivels up to 45 degrees on both sides and tilts +3 and – 15 degrees up and down.
These motions with the level adjustment of ±3 degree give a proper viewing angle every single time.
On the other hand, the dual articulating arms retract 2.65 inches and extend 14 inches to adjust according to the space.
The company promises a 30 minute, quick and easy installation with their complete set of hardware accessories.
Each package includes standard mounting hardware, a 6 ft HDMI cable, a 3-axis magnetic bubble level, a three-piece pack of cable ties, and a paper template.
Each side and hinge are made using high-quality steel that offers unmatched construction, strength, and durability for years to come.
The manufacturers proudly provide ten years of proactive customer service to solve any issues, grievances, or problems related to the product and installations.
Pros
The stand provides a more accessible plug-in and plug-out option.
Even small TV sizes can perfectly fit this mount with an exception grip.
This mount is VESA compatible.
Buyers can enjoy quick installation with the help of additional hardware shipped with the product.
A team of dedicated customer service agents makes the installation easy and hassle-free.
Cons
Some screws tend to fall short, so buyers might need to buy them separately for the mount to work.
The width of the plate is minimal for mounting a 65 inch TV comfortably.
#5 Alternative: Perlesmith Full Motion TV Wall Mount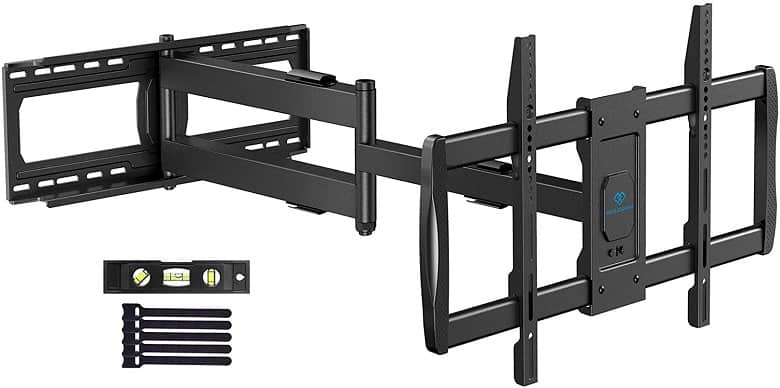 Specs
TV Size: 37 to 75 inches
Minimum Compatible Size: 37 inches
Tilt Angle: +5 to -15 degrees
If you want a full-motion mount with complete freedom of movement, this Perlesmith Full Motion TV Wall Mount is the right choice.
The fixture's 42.52″ articulating extension arm allows users to view the screen from anywhere.
A smooth and slidable 90-degree left, and right swivel along with +5 to -15 degree tilt gives you the option to view the TV without any glare.
The mount is especially ideal for mounting in a corner or a recessed space. All screens measuring 37 to 75 inches can fit well as the stand follows VESA mounting patterns.
Even heavier TVs up to 132 lbs are easily mountable with this sleek and retractable mount.
Buyers can install the mount on concrete or brick walls and wood studs sizing from 16″ – 24″.
The cable management clips on the extension arm help route and organize the cables in one neat tube.
Each package includes one mountain mount, one set of parts, hardware, and a handy instructional manual for a more straightforward build.
The mount provides an excellent solution to an entertainment room, living room, or multipurpose space.
Pros
The mount comes with sturdy cable management clips.
Most VESA mounting patterns are compatible with this model.
TVs ranging from 70 to 75 inches pair well with this mount.
A decent 90 degree left and right swivel is better than most mounts.
This mount can fit all significant curved and flat TV types.
Cons
Buyers may feel resistance while extending or retracting the TV to its original place.
Many users think the mount doesn't provide enough room to plug in the connections.
Full Motion TV Wall Mount FAQs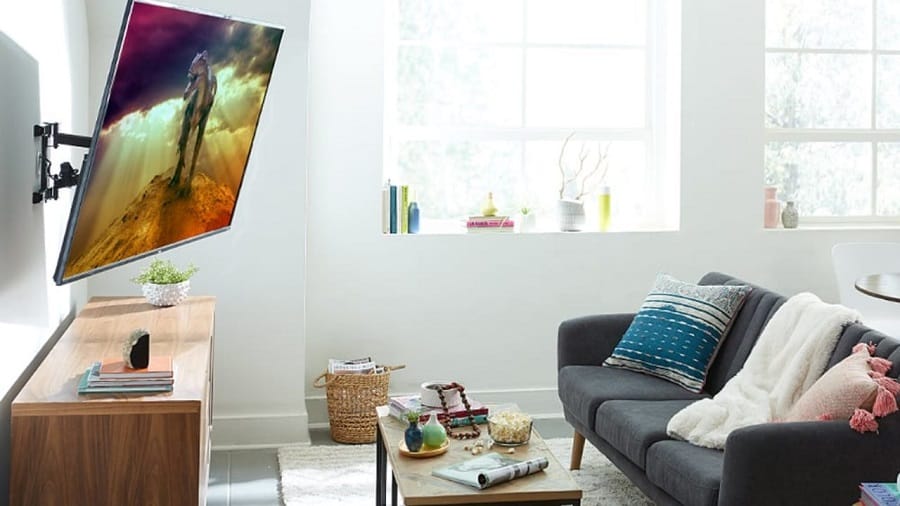 These are the most asked full motion TV wall mount questions.
Are full motion wall mounts good?
One of the most important things to keep in mind while installing your TV is to utilize your space well.
TV mounts are integral to positioning your screen the proper way.
Full motion TV mounts are one of the best inventions in recent times.
They resemble a robotic arm trying to maneuver your screen according to your comfort. Full motion mounts are steadily gaining traction in decor and furniture markets.
That is because more and more homeowners looking for elegant luxury are opting for movable TV sets.
The full-motion TV mount is vastly versatile, thanks to its multiple pivot joints.
These joints allow users to extend, tilt, swivel, and rotate their TV screens. You can easily mount your TV in a corner and then use the full-motion mount's arm to attain a 'floating TV' effect.
The best use of a full-motion mount is when you have a huge room and need to adjust the screen according to your comfort.
You can find the most comfortable spot in the room and enjoy watching TV from there with zero hassle.
A full-motion mount is also safe for your TV. Modern technology has enabled us to create locking mechanisms on mounts that will protect our TV screens.
All full motion mounts are locked into the wall, and the TV is also latched onto the rack.
The mobile arm of every mount is robust and can support a TV comfortably.
How far can a TV wall mount extend?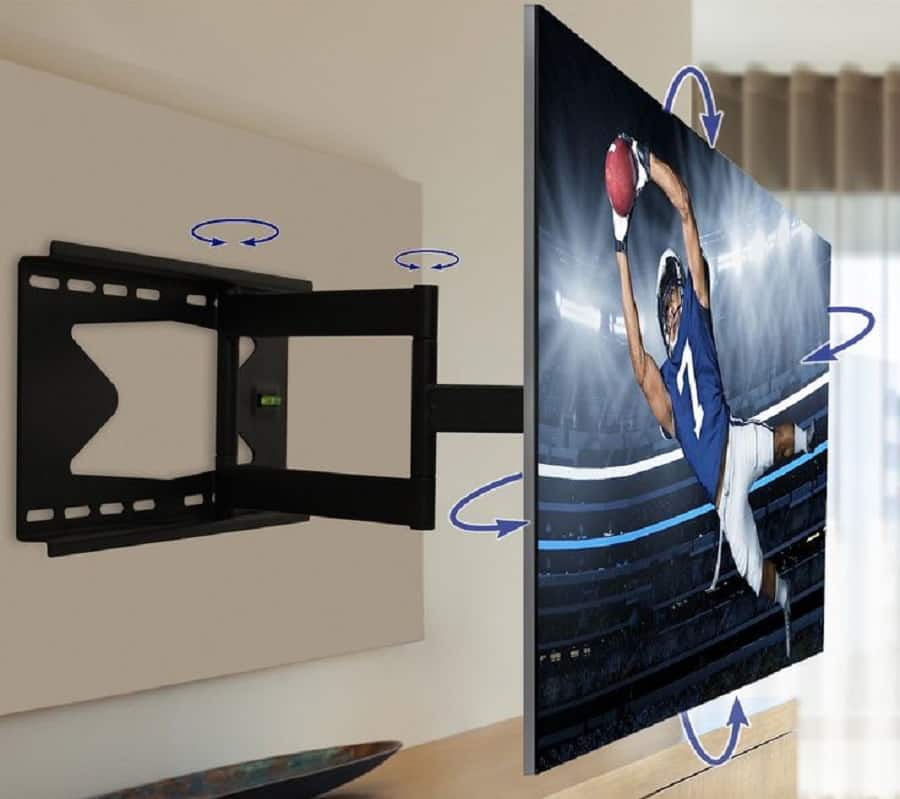 Full motion TV mounts are flooding decor markets today. These mounts have to be installed on walls.
They have an arm that is capable of making your TV screen move according to your needs.
The component has multiple pivots that allow you to find the sweet spot in the room and watch TV from there.
The longest extension available in markets today is the MI-372. It has a mobile arm that can extend up to 40 inches.
The mount has been designed to handle heavy TV screens up to 80 inches in size and 110 lbs in weight.
The most important aspect of the mobile arm extension is to be strong enough to hold the TV's weight.
The MI-372 is a tad bit different from other full-motion mounts.
It has a double-arm structure that is absent in most other models.
The frame that fits into the wall is structured into two horizontal lines.
Each line stands as the source of one movable arm, hence creating a double arm structure.
The mount derives its strength from that structure, which allows it to carry over 100 lbs of weight.
Can a TV wall mount turn 180 degrees?
Full motion TV mounts are nothing short of a revelation. They put the TV screen on a plane parallel to the mounting wall and bridge the gap with an incredible moving arm.
The arm, in all its lucid mobility, can easily turn your TV screen 180 degrees. Most mobile arms are extendable. They are also present in a dual-joint system, quite like human arms.
You can hold up your arm to compare it with a full-motion mount system. The first part of the arm starts at the wall and ends at the first joint. Here, the second part of the arm begins.
The end of the second part of the arm is a plate on which you can attach your TV.
You can extend the mobile arm in a straight line. The largest mounts can extend up to 40 inches.
Now, once you have opened it outward completely, you will notice that the arm closer to the TV can turn away from the normal and turn 90 degrees to the left and the right.
In some cases, the final plank, the one on which the TV is mounted, also rotates 180 degrees. Such features are useful for small rooms.
Ultimately, the 180-degree turn feature allows you to move your TV screen away from unnecessary glares.
Moreover, you can also shift the screen according to the best seat in the house.
Vogel has created one such full motion TV mount that allows you to turn your screen a full 180 degrees.
The stand can handle TV screens with a minimum size of 32 inches and a maximum size of 55 inches.
Do TV Mounts move up and down?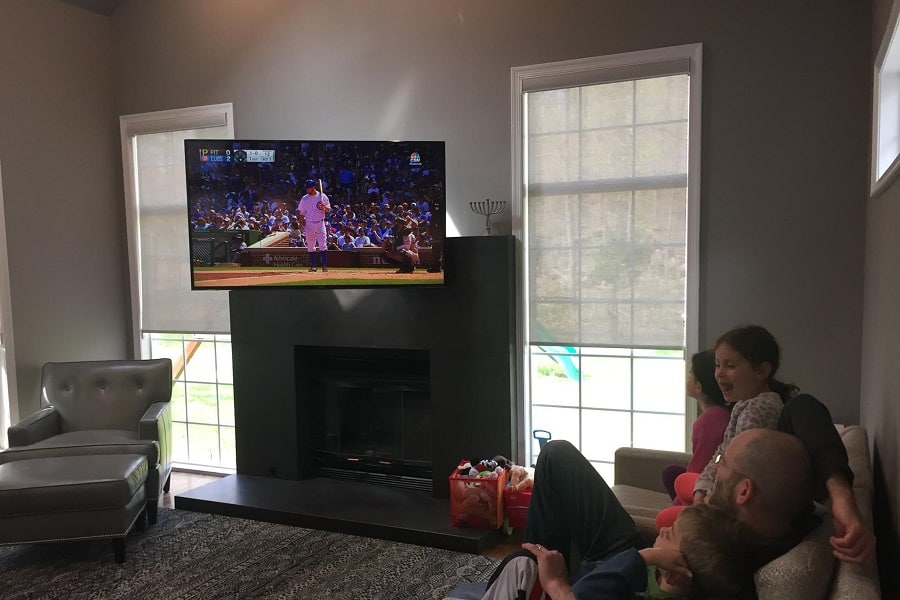 Yes, full-motion TV mounts can tilt up and down. They can mostly move below the horizontal normal, i.e., tilt down.
Every full-motion mount has a double-arm structure, ahead of which we plant our TV screen. The structure at the very end of the arm is a plate of metal or polymers that can be tilted down.
A standard TV mount is adjusted to stay parallel to the wall. Therefore, your TV is mounted straight.
If your TV is placed above the standard viewing eye level, it would be best to tilt it downwards for a fantastic immersive experience.
You might have observed that that is the case in movie theatres – the screen is tilted downward a tad bit so that the spectators can enjoy the movie.
Similarly, to make viewing easy, you can tilt your TV down by a few degrees.
There is another up-and-down motion available in a handful of full-motion TV mounts.
These mounts allow you to pull your TV down from a height to a suitable viewing elevation and then put it back in its place.
For years, TVs have existed in places where people have had to strain their necks to watch.
Full motion TV mounts created a mobile arm to combat such issues that allowed users to pull the TV down to their desired height.
Such mounts, however, are on the expensive side of the market, sometimes costing close to USD 1000.
Conclusion
We hope our buyers' guide helped you in finalizing the perfect full-motion mount for your TV.
Now that you have your ideal fixture in mind, we request following the instructions carefully for a precise installation.
Lastly, avoid mounting these heavy fixtures on the drywall as it can compromise the safety of the TV and wall.
Looking for an expert to install your tv? Visit our tv mounting services page today and get a free quote!