With TV mounts rising in popularity, people are quickly figuring out the benefits of having one in their home. 
While TV mounts can save you a ton of space, installing them does come with its own set of challenges. 
One particular confusion that many people have is how high they should mount their TV. 
In this post, we will discuss how you can determine the best height for your TV mount in order to achieve the highest level of comfort and flexibility. 
Let's get started.
How High on the Wall Should I Mount My TV?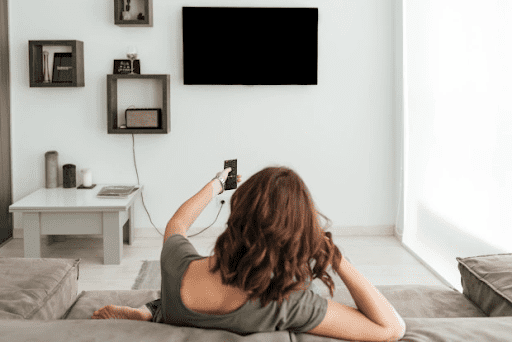 It should go without saying that you should carefully plan the height of your TV mount before you actually start drilling for it. 
Once the drilling starts, the damage will be done and there's really no going back (unless you want a ton of holes in your wall). 
Hence, it's a good idea to have the best height planned before you actually start working on it. 
How Do You Determine The Best Height For Flat Screen TV?
Well, there are certain factors that can help you estimate the best height for your TV.
These factors are: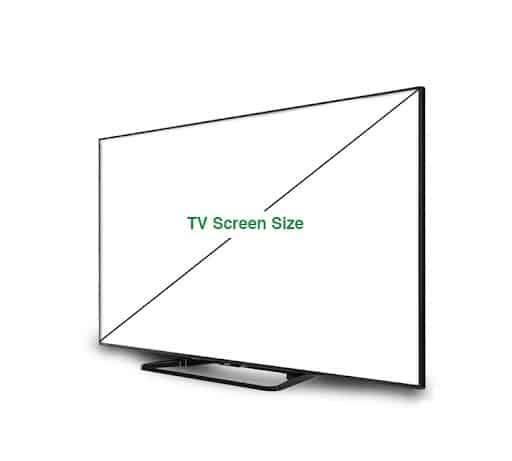 This is fairly self-explanatory. The size of your TV plays a huge part in determining how high up it should be from the floor. 
Before you start with the mounting process, taking notes of the size of your flat-screen TV will allow you to choose an appropriate height while keeping enough room for extra space that might be required for additional add-ons.
It's important to note that when judging TV mounting height, you are not calculating the distance from the floor to the TV's top or bottom. 
Rather, you are calculating it from the floor to the center of the TV. 
Also, please note that the size of your TV refers to its diagonal viewing area. 
This means that a 55-inch TV would have a diagonal viewing area of 55 inches; Not a horizontal or vertical length of 55 inches. 
Some common distances from the floor to the TV center based on TV size are: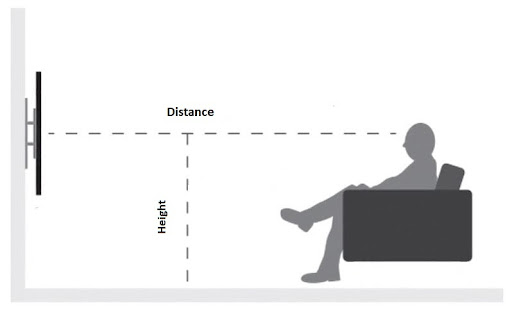 The best viewing distance you can have from your TV is also determined based on the size of your TV.
This needs to be a balance between:
Not so far that you can't make out the details shown on the screen.

Not so close that you have to look around and strain your neck to catch everything.
Why Is Distance Of The TV Screen Important?
Being too far from the TV screen can lead to a less immersive experience when watching the TV.
However, being too close to the mounted TV can lead to headaches. Being at an optimal viewing distance will lead to a better experience altogether.
The Ideal Height For Viewing Distance
Although the ideal height of the TV is based heavily on personal preference, make sure to account for the eye-level height.
The picture quality of your TV will depend on your screen height.
In order to achieve this balance, you can take the help of a simple formula:
To determine the best viewing distance based on your TV's size, you can divide the size of your TV (in inches) by 0.55. 
The answer you get through this calculation will be the best viewing distance (in inches) for your particular TV. 
For example, a 42-inch television has an ideal viewing distance of 76 inches. Similarly, a 55-inch television would have an ideal viewing distance of 100 inches.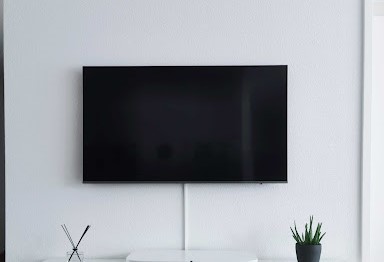 Lastly, you need to worry about your eye level and the angle at which you'll be watching TV. 
Naturally, you don't want to get an estimate of this angle while you're standing up. Instead, you want to calculate it from a position where you'd normally sit and watch TV. 
Sit on your favorite couch or chair that you normally watch TV on and get an approximation of where you'd look if the TV was mounted on the wall. 
You don't need to be super precise here but of course, it's important that you mount it so that the angle is comfortable for your neck. 
General Rule For A Viewing Angle
If you're someone that does want precision, then the Society of Motion Picture and Television Engineers (SMPTE) states that the viewing angle should be no more than 30 degrees. 
While that's the absolute extreme of it, you must know that most people don't recline their heads more than 10 to 15 degrees when they are sitting casually. 
Hence, keep these numbers in mind when you're about to drill holes for your TV mount. 
Quick Tip: If you're not confident about mounting a TV mount at the proper angle, you have a couple of options. 
You can opt to call a professional mounting service that can determine the best height for you as well as install the TV mount. 
You can also choose to invest in a TV mount whose angle is adjustable. That way, even if you mount it at a slightly improper height, you can adjust it later to get the ideal viewing angle.
Factors To Consider When You Mount Your TV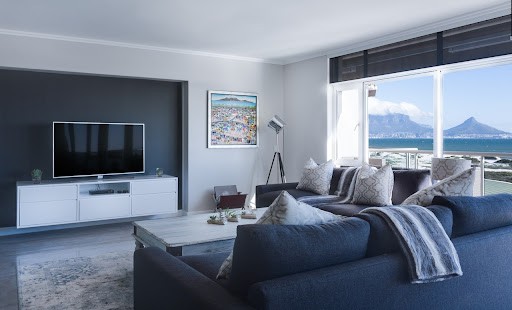 There are several factors you need to consider when you decide on mounting a TV in your room. 
Some of them are more impactful than the rest, however, here is a quick go through some of the most important factors that you should consider when mounting your TV:
The biggest factor to consider would be individual height. This can quickly turn into a problem as the number of people who use the TV increases. However, this could be fixed by not using the same viewing distance for different people.

The hanging height of the TV will decide on what angle the TV will tilt and how deep the tilt is going to be. 

TV sizes also play an important role in defining the distance and height of the TV to be mounted. The bigger the size of the TV, the farther away you need to be to get the full picture.

The location you are mounting the TV in plays a very important role in the process as well. For example, if you decide to mount it in a game room, it's highly likely that you will have a laid-back couch in front of the TV. In such a case, the distance and height of the mounted TV will change.

When deciding the height of the TV, make sure that the center of the screen is at the right height in terms of eye level.
Tools Required To Mount A TV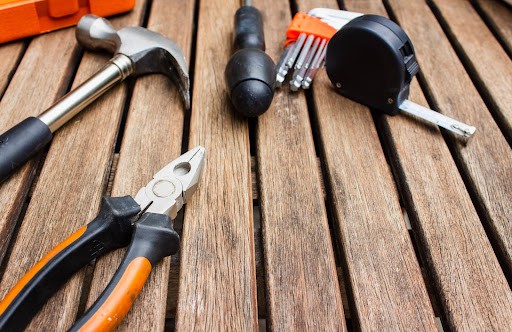 Although the process of mounting a TV can be a little difficult, with the right set of tools, you can streamline the process. 
However, some of these tools are just here to help you make the job easier, while some of them you cannot work without. 
So without any further ado, here's a list of all the tools that you would require to properly mount a TV in your house:
Power drill. You could require a hammer drill if you want to drill in a brick wall.

Screws

Wall Mount

Level checker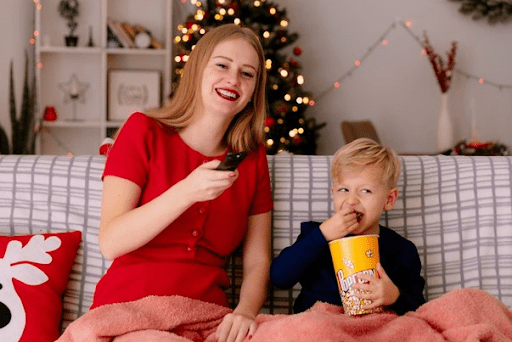 We've talked at length about the best way to determine the height for TV mounting. However, some people may ask themselves: are TV mounts even worth it?
When you ask this question from experts and professional reviewers, you'll be met with a resounding yes. 
That's because TV mounts have a ton of benefits that can make your life much easier. 
The First Benefit
They save you a ton of space. Instead of having a big, blocky table for your television, it will just be suspended against your wall. 
This opens up all of the space underneath your TV and you can utilize it in any way you want. 
The Second Benefit
TV mounts are much cheaper than the TV tables you'll find in the market. Not only do they save space, but they also save your budget too. 
If you have a fireplace, having a TV with a TV table in that particular room can be quite difficult. TV mounts fix this issue as you can mount the TV right above your fireplace. 
How High to Mount TV - Conclusion
That's pretty much how you determine the best height for your TV mount. 
We hope you gained some insight into how you can fix your TV mount perfectly as well as some confidence when it comes to mounting it. 
If you have any further questions, let us know in the comments below.