TVs have become an integral part of our daily lives. No matter what the size of a TV, when mounted on your wall it gives an aesthetic that standings TVs cannot bring. 
However, the risk of causing damage to the wall by a drill can be unappealing for many. Especially if it's a brick wall, many people try to work around the drilling process. 
After reading this article, you'll be able to mount your TV on a brick wall without damaging your brick wall. 
In this article, we will discuss the following things:
Five ways to mount a TV on a brick wall without drilling

Instructions on how to make sure you mount it the right way
Why Is It Important To Avoid Drilling?
It is important to avoid drilling on a brick wall as it leads to significant damage and sometimes even breaks the brick. 
Brick walls are often bare and do not have any coat of paint that can cover up any drilled holes. 
In the case you feel like changing the setting of your room, you would either have to change it around a fixed TV on the way or drill new holes every time. 
This would also come with the added burden of finding pictures or decorations to hide the previous drill holes that would then be visible. 
5 Ways To Mount A TV on a Brick Wall Without Drilling
If you're wondering how you mount a tv on a brick wall without drilling then here are the best methods to try.
Here are the top five ways to do so:
Method 1: Using Brick Clamps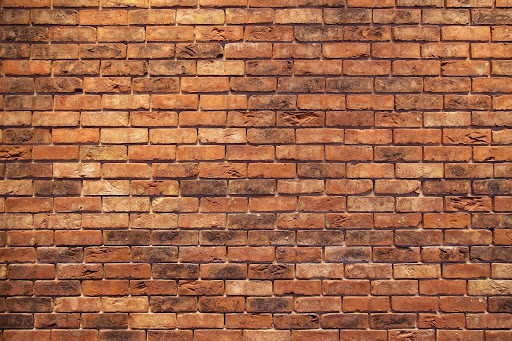 The first method of mounting a TV on a brick wall without drilling is by using brick clamps. 
These clamps have saw-tooth edges that hold onto the brick and can support up to 30 pounds of weight.
If you have a heavier TV you might need to use more.
Here's how to hand your TV with brick clamps:
Start with measuring the depth of your mortar, and then finding suitable clamps for it.

Determine the height at which you are going to be hanging your TV.
Consult an expert or research on the type of wall you have and what type of brick clamps to buy.

Use brick clip-on hangers and hand your TV off of them. Make sure to check if your clamps are in good condition. 
Method 2: Making a Hybrid TV Stand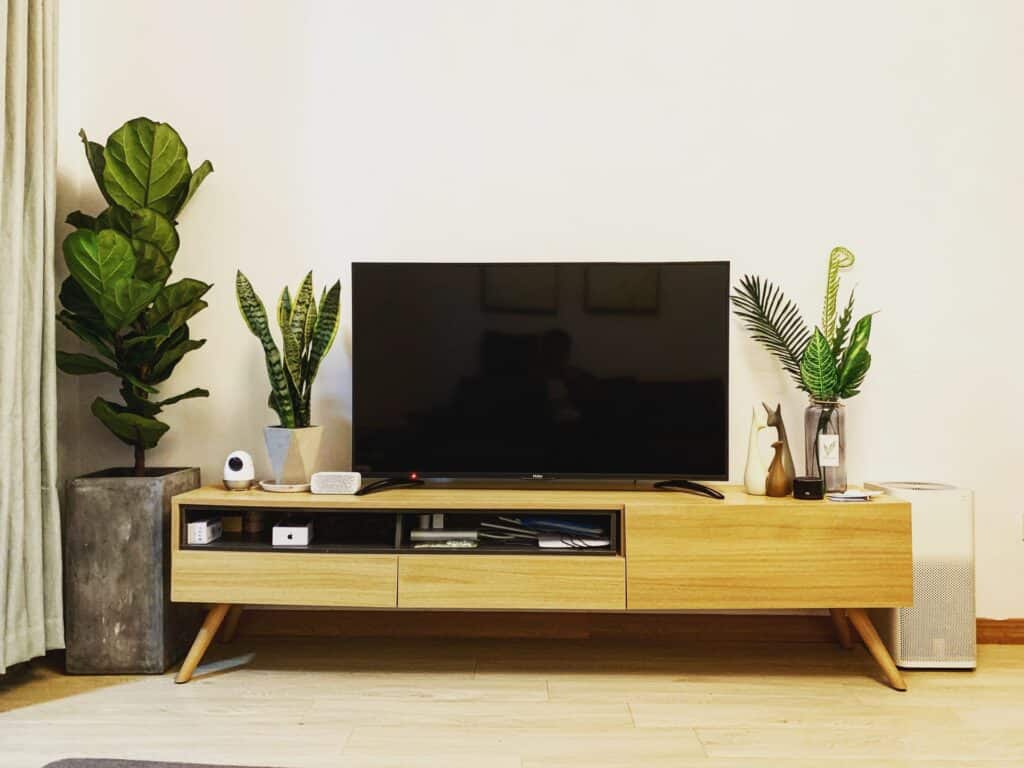 Hybrid TV stands are very popular since they help hang a TV without having to come in contact with the wall itself.
Their metallic frame structure often adds to the aesthetic of a TV set up and many people prefer to use them.
Here's how to make the most of a hybrid TV stand:
Start by measuring the size of your TV and the height at which you want to hang it.

Buy a stand that supports your TV and fits in your living space. 

Mount the TV onto the stand and arrange the wires around the shaft. 

Use a TV table and place it in front of the stand to give a complete aesthetic look.
Another useful method to hang a TV on a brick wall is by using TV rails. Rails help make your TV more moveable and can even add to the look of the room. 
This is because in most cases you can pick the material they are made out of. Wood suits brick walls better than most materials. 
To mount your TV to a rail, here's what you have to do:
Measure the height at which you would like to mount your TV and the weight of it too.

Choose a rail in the material of your choice and have it run across the wall for a better range of movement.
Attach TV mounts to the rail and secure your TV to it. Check if it is well balanced.

Make sure your rail and TV are safely secured, this will prevent falling or any accidents.
Method 4: Attaching a Hardwall TV Hanger
The next method on our list is attaching a TV hanger to mount your TV on. Hardwall hangers simply clamp onto your wall very tightly and can easily hold a 50inch TV.  
Using a hardwall hanger helps give you a clean look without making a mess of the walls.
To attach a TV hanger to your wall, follow these steps:
Measure the width of your brick and the thickness of your mortar. 

Determine how high you would like to mount the TV and mark where the hangers go.

Tightly clamp the hanger in place and check if it is properly installed.

Hang the TV from the said hanger and fix its positioning. 
Method 5: Using Strong Adhesive Tape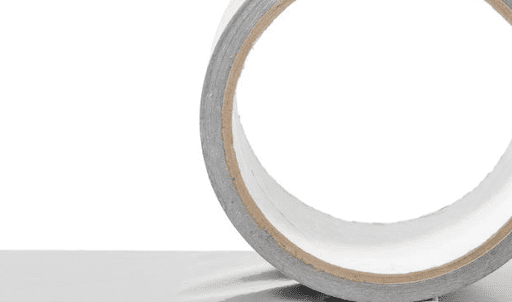 Although it might make you uneasy to hear that we are suggesting hanging your TV to the wall with strong adhesive tape, it is a very viable solution.
The double-sided adhesive tapes will not damage your brick wall and will hold your TV securely in place.
Here's the best way to mount a TV with strong adhesive tape:
Find the weight of your TV and select very solid adhesive tapes accordingly. 

Stick one side of the adhesive on all the parts of the TV that will make contact with the wall. 

Press from the other side to ensure it has stuck well and then peel off the protective layer on the other side.

Fix the TV onto the wall and make sure it is sticking well, good adhesive tape should last you a long time. 
Mistakes to Avoid when Mounting a TV on a Brick Wall without Drilling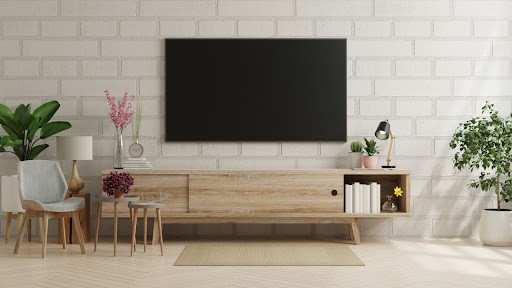 Although the process might seem to be very straightforward, there are quite a few mistakes that can be made along the way when you are wall-mounting your TV without drilling holes. 
In this step, we will tell you of the most common mistakes that you might make when you are going drill-less with your TV wall mount whether it is a TV mount Shelf, a hybrid stand, or TV hangers.
So without further ado, let's get into it:
When you mount a TV without using a drill, make sure to test the strength of the adhesive material and take a professional opinion on the matter. There are quite a few strong adhesives that can bear heavy loads however not all of them carry heavier loads.

Choose your location wisely, the adhesive on these tapes isn't something you can take off and take somewhere else. This is why we suggest always choosing a location that is the most aesthetically pleasing.

Before you make the decision of mounting the TV, make sure your brick wall is able to stick to the tapes you are using and can take the TV's weight along with it.

Although a mounted TV helps in saving space, make sure you do not compromise on the visual effect the viewing angle might have and pick out the most optimal location.
How Do You Mount a TV on a Brick Wall without Drilling - Conclusion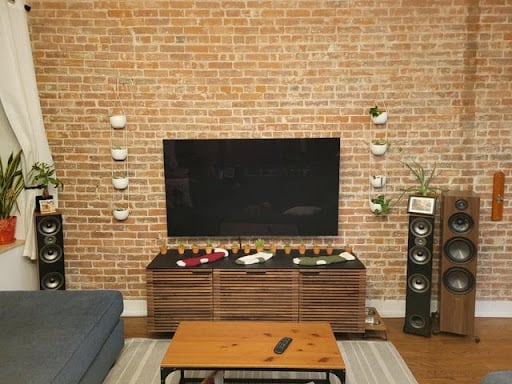 It can be scary to mount a TV on a brick wall, especially if there's the risk of it going wrong. However, the five methods we have suggested are tried and tested and will not fail you.
Now you know how to mount a tv on a brick wall without drilling. Always remember to consult experts as well as prep your wall before mounting a TV in any way.
Regularly check on the mounting to make sure the TV is still secure.
You can also hire a professional to help you out with the process.