PERLESMITH are known for their high-quality and top of the line products. However, in order to test these claims, we will explore every strength and weakness of their products.  
In today's post, we'll specifically take a detailed look at the PERLESMITH PSLFK1 and check what its' pros/cons are. We'll also be looking at some of the viable alternatives. 
Without further ado, let's get you started. 
Quick Summary of the Main Product
PERLESMITH has made its place in the market by developing highly-durable motion mounts. The PSLFK1 full-motion mount follows the same pattern. 
This mount is made with premium industrial-grade Steel-alloy. It has increased durability and resistance towards bends/cracks. 
What makes it different from other brands?
The core quality of PSLFK1 lies in its universal design. You can mount mid to large-scale TVs on it. It features multiple mounting brackets for increased versatility. 
Moreover, the design also complements this core quality. The vertical brackets enable you to mount different sizes without even a lot of adjustments. 
Is the vertical bracket design better than a square plate design?
A square plate design is one-dimensional in its utility. Whereas, the vertical bracket design of this mount leaves space for your curved-screen TVs as well. 
It offers minimum contact with the TV itself while also making sure that the weight is evenly distributed. 
Factors to Consider Before you Decide to Buy PERLESMITH PLSK1 Full-Motion Mount
There are some features that impact the performance of this mount. Let's take a look at them. 
Build Quality
When it comes to articulating mounts, build quality matters the most. A highly durable structure keeps the entire mount in one piece even when mounted at maximum weight capacity.
PERLESMITH has kept this in check with their Steel-alloy build. They have used industrial-grade material for this mount. 
How good is a Steel-alloy structure?
On paper, this mount can easily hold up to 130 pounds. We tested it and found that it can go all the way up to 150 pounds without any trouble. 
A Steel-alloy adds a lot of core strength to the already strong steel structure. It keeps the mount from bending or cracking even at weight capacity. 
Design
The second most important aspect of this mount is its design. It has a dual-arm design that enables articulating motion. 
You can move each arm individually to set the direction of your TV. The arms also feature separate bolts that ensure smooth motion.
What else is unique in its design?
The vertical brackets can be removed from the mount for easy installation. You can remove each bracket with the locking mechanism located on the top end.
Once the brackets are installed on the TV, you can just simply put it back on the wall plate and lock it. 
Are the locks secure?
To keep the brackets in place, PERLESMITH put in a dual locking mechanism. One is locked using a nut and the other with a U-slip. 
Moreover, the locks are made from the same material to ensure your TV doesn't move from its fixed position. 
Compatibility
As far as the compatibility of this mount is concerned, you can use it to attach almost every single TV available on the market that is VESA-approved. 
For the screen size, you can mount any TV between the 37-inch and 70-inch range. Moreover, the VESA dimensions for this mount are at a maximum of 600×400 mm.
Is it important to compare the VESA dimensions?
VESA patterns provide measurements you can use to compare a mount. Every single TV has its own unique VESA measurements and sometimes a different pattern as well. 
If your TV's VESA pattern/measurement matches the one on your mount, it will fit without any trouble. 
Installation
Heavy-duty wall mounts require a solid grip and multiple installation brackets. This is why PERLESMITH PLSK1 comes with a dual mounting bracket design. 
You can mount it using wall studs or wall anchors depending on the thickness of your drywall. Moreover, it has an upper bracket and a lower bracket with multiple holes.
How many holes does it have?
In total, it has 12 mounting brackets. Each corner has 3 of them which you can use. Furthermore, each bracket can hold two studs or one single wall anchor.
It depends on your personal preference what sort of installation tool you want to use.
Mount Motions
As an articulating mount, the PSLK1 comes with three basic mounts. You can use tilt, swivel, and move the extendable arm forward/backward. 
Moreover, each motion has its dedicated joints for seamless motion. The tilt and swivel motions are associated with the TV plate. Whereas the articulating motion is associated with the arm. 
What is the tilt and swivel angle of this mount?
You can tilt your TV forward at a 15-degree angle and backward at a 5-degree angle. This will help you reduce the glare effect from the ceiling lights. 
For the swivel angle, you have a 60-degree arc on the left and right sides. You can use this arc to mount your TV around corners with ease. 
How far can I pull the extendable arm?
At its resting position, your TV sits at merely 2-inches from the wall. However, you can fully extend the arm to a 16-inch length from the wall. 
This provides sufficient room for tilt and swivel motion as well. 
Locking Mechanism
For the locking features, PERLESMITH has used bolt locks. You can adjust the mount in any position and screw in the bolts to fix your TV in one place. 
Each motion joint has its own separate lock that allows you to find the right viewing angle. There is a single lock for tilt, two for swivel, and four locks for the articulating arm.
Are these locks easy to unlock?
The locks are quite sturdy and resist all sorts of unwanted movement. However, you can unlock them with little to no force. This is to make sure that the locks don't wear over time. 
Moreover, the bolts do not require a screwdriver for locking and unlocking purposes. You can just use your fingers to easily lock and unlock. 
Do I have to lock every joint?
Each lock works individually from the other. There is no requirement to lock every joint but experts prefer locking each joint to avoid any unwanted movement. 
Moreover, you can also replace these locks if they loosen up over time. All you have to do is find the right size and threading pattern. 
Let's take a look at some of the pros and cons of this mount. 
Industrial-grade build material for increased durability.

Easy access to mounting brackets for convenient installation.

Dual articulating motion arms for smooth movement.

Removable TV brackets with locking mechanism.

A low-profile design keeps the TV adjacent to the wall.
There is very little room for wire routing which makes wire management difficult.
Our personal experience with PSLK1 has been quite satisfactory. However, we looked at some online reviews to get a better idea about the performance of this mount. 
We found that the majority of customers expressed their positive experience with this mount. They stated that the mount was built according to market standards. 
Some of these customers also praised its ability to hold heavy TVs with ease. They also mentioned that this mount was quite hard to break or bend.
Furthermore, some customers stated that the mount was easy to install and uninstall from any wall. This helped them save time in the redecoration of their living space. 
Other than that, customers also pointed out the removable brackets. They stated it was a lot more convenient for them to install their TVs.
Alternatives to PERLESMITH PLSK1 (Recommendations)
Here are two viable alternatives you can buy instead of the PERLESMITH PLSK1. Let's take a detailed look at them. 
#1: Best Minimalist TV Mount Alternative - Amazon Basics S63A Review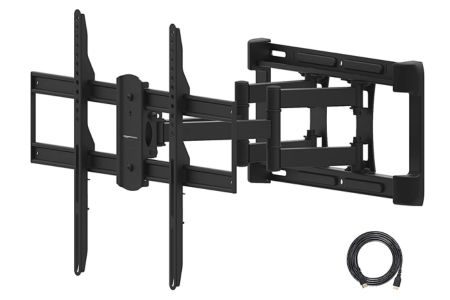 Type of mount: Full motion Tv wall mount | Movement Type: Swivel, Tilt, Articulating | VESA patterns: 200×100 MM to 600×400 MM | Maximum weight limit: 132 lbs| TV size range: 37″ – 80″ inch tv | Wall Type: wood, brick or concrete  | Cable Management: No
Low-profile mounts are quite efficient in saving space. This is why we have selected this mount from Amazon Basics. 
It features a sleek design that you can use to save a lot of space on your entertainment hub. There is merely a 3-inch distance between your TV and the wall when it is fully installed.
The steel construction ensures a secure and sturdy setup, and the mounting holes are strategically placed to fit both vertically and horizontally. With an articulate angle and easy-to-follow setup instructions, this mount makes it a breeze to securely hang your TV on any flat surface, be it drywall or a sheet of metal.
Does this mount have articulating motion?
Even though it has a low profile, the mount has dual articulating arms. You can use these arms to pull your TV forward and adjust the viewing angle in either direction. 
Both of these arms can be moved individually. This enables you to mount your TV around corners without any trouble. 
What is the maximum extension length?
The articulating arms can be extended to a maximum length of 17-inches from the wall. You can use this to accommodate the tilt and swivel angles of the mount. 
Factors to Consider Before You Buy Amazon Basics S63A
Following are some key factors you should keep in mind before buying the Amazon Basics S63A mount. 
Design
This mount features a hollow TV plate design with two vertical brackets. You can adjust these vertical brackets left or right to fit the dimensions of your TV. 
We must point out that these brackets have a built-in locking mechanism to keep them in place. You can unlock them using a bolt located on the backside of the brackets. 
Is a hollow plate design better than a solid plate design?
Both designs have their own perks. However, a hollow plate makes the mount a lot lighter compared to its counterparts. 
As far as the weight distribution is concerned, there is no major distinction between the two. 
Durability
Another feature of this mount is its enhanced durability. Amazon has used Steel-alloy for the entire structure to increase the overall tensile strength of the mount.
Even the bolts are made from the same materials. You can use this mount at maximum weight capacity and it will not show any sign of bends. 
What is the maximum weight capacity of this mount?
The maximum weight capacity of the mount goes up to 130 pounds. You can easily hang large Plasma TVs on it.
Compatibility
You can use this mount for medium and large-scale TVs. This includes LCD, LED, OLED, and Plasma TVs. 
Moreover, the screen size range is between 37-inches and 80-inches. For VESA dimensions, you can go up to 600×400 mm.
Is it compatible with curved-screen TVs?
This mount is compatible with medium-sized curved-screen TVs. However, you might some difficulties in mounting a large-scale curved-screen TV.
Wire Management
This mount features ample space for wire management. You can use the zip ties to attach the wires with the articulating arm. 
One thing you have to keep in mind is that the brackets for zip ties are only available on the front end of the articulating arm.
How many cables can I attach?
Generally, you'll need the brackets for the power and the HDMI cable. Besides that, there is no need for wire brackets. 
Even with 4 wires, you'll have enough space. This is because you can wrap the cables around the arm. 
How many zip ties should I use?
It has 2 brackets for you to manage your cables. Each bracket has enough space for 2 zip ties. However, this is only to ensure that your cables don't slip through the zip ties.
The best minimalist TV mount alternative is the Amazon Basics S63A. This mount comes with 3 different types of motion that you can use to find the optimal viewing angle. Furthermore, it helps you save a lot of space for other things on your entertainment hub.
Low-profile base plate

Highly-durable build structure

Convenient wire management

Smooth tilt and swivel motion

Easy to mount and unmount
Can only be used on drywall
#2: Best Heavy-Duty Mount Alternative - ERGO TAB EBLF7 TV Mount Review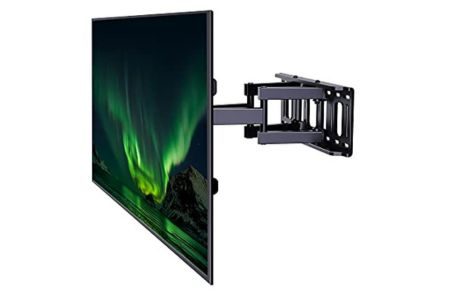 Type of mount: Articulating Tv wall mount | Movement Type: Wide Rotation, Articulating, Full motion, Swivel, Tilt | VESA patterns: 600X400mm to 200X100mm | Maximum weight limit: 132lbs| TV size range: 37-75 Inch | Wall Type: wood stud or concrete  | Cable Management: no
TV mounts are meant to be used for large-scale TVs. This is why our team has picked this mount. ERGO TAB is specifically designed for large-scale OLED/Plasma TVs.
You can use it for all sorts of mounting motions. It has tilt, swivel, and articulating motion. This enables you to adjust the viewing angle to reduce effects like screen glare. 
How much weight can it hold?
At its maximum weight capacity, it can hold 132 pounds. This is due to the hardened steel build of this mount. It is highly resistant to bends and cracks. 
Moreover, the weight distribution of this mount is quite efficient. It will your drywall safe from all sorts of damage over time. 
Factors to Consider Before You Buy ERGO TAB EBLF7
Following are some key aspects you should keep in mind before buying the ERGO TAB EBLF7. Let's check them out.
Design
We noticed that this mount features a unique design for its base and TV plate. The TV plate has two beams instead of a plate to reduce the weight of the mount.
Each beam is attached to the articulating arms with a solid rectangular plate. For TV mounting, you can use the vertical brackets located on each side. 
Can I remove the vertical brackets?
Both vertical brackets are held in place with the help of screw locks. You can easily remove the screw bolts and unmount the brackets. 
After that, you can install them on your TV and mount them back without any trouble. 
Durability
To make sure that this mount stays in one piece, ERGO TAB has used premium-grade Steel-alloy for the build.
You can use it to mount the tv that is large and heavy. It can easily support OLED and Plasma TVs without showing any bends or cracks. 
Is it resistant to rust?
The entire mount is covered with scratch and corrosion-resistant paint. It keeps the mount from rusting or jamming due to dust. 
Compatibility
As we have mentioned earlier, this mount is compatible with large-sized OLED and Plasma TVs. The maximum you can mount on it is 75-inches. 
For VESA dimensions, you can go up to 600×400 mm. Moreover, it comes with multiple variations that can fit your TV conveniently. 
Wire Management
This mount doesn't feature a conventional wire management solution. However, you can use the articulating arms to connect the cables with zip ties. 
Besides that, there is no way to manage the wire around this mount. 
How many zip ties are appropriate for 2 cables?
You'll only need 2 zip ties to attach the cables but don't tie up the wires too tightly. This will cause obstruction in the movement of the arm.
It can also harm the ports of your TV if there is no room for wires to move forward or backward easily.
The best heavy-duty TV mount alternative is the ERGO TAB EBLF7. It can be used to mount large TVs in your living space. Furthermore, it has all 3 mount motions enabled for finding the optimal viewing angle in your living space.
Unique design

Convenient TV installation

Easy wire management

Multiple brand compatibility

Tilt and swivel motion enabled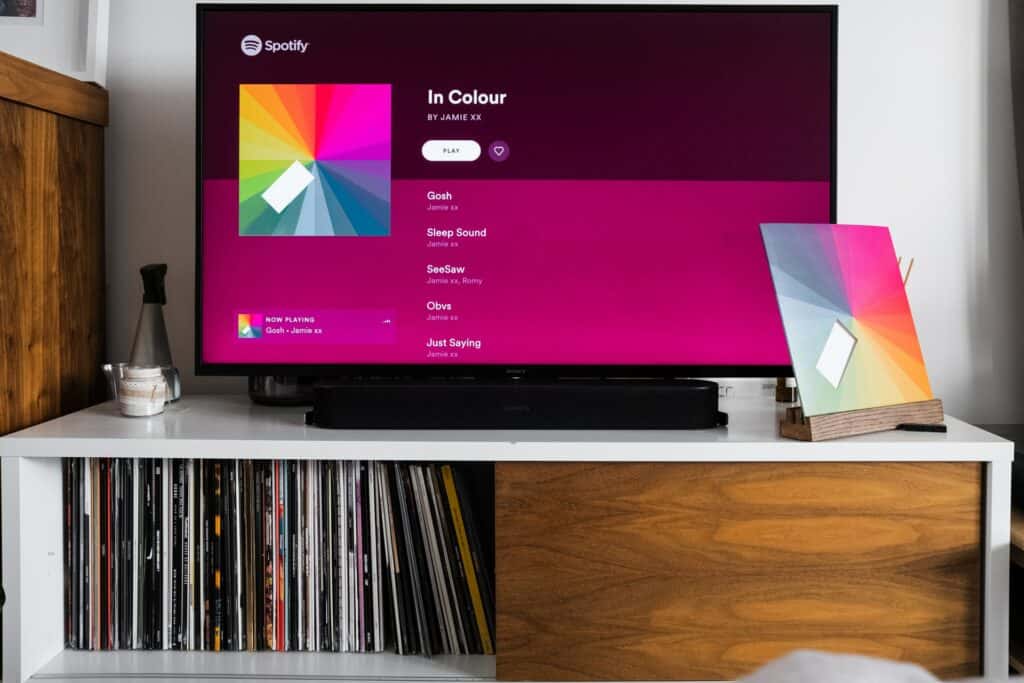 There are many factors related to TV mounts that contribute to the overall performance. Let's take a look at them.
Durability
The main aspect you should focus on when buying a mount is its durability. TV Mounts are a one-time investment that should stand the test of time. 
An easy way to select a highly-durable mount is just by looking at its build material. If it is made from a metal alloy, you can go for it. They are quite sturdy and hard to bend. 
Why are alloy mounts better?
We recommend buying an alloy mount because alloy greatly enhances the core strength of strong metals. Alloys also increase the overall weight capacity of materials like steel.
Another benefit of high-durability is that you don't have to worry about your wall getting damaged due to the weight. A durable mount can easily take on the weight of your TV.
Design
For the design of a mount, you can choose from a variety of options. Articulating mounts are quite unique in this aspect. They have hollow plates, removable brackets, and vertical plates.
We suggest that you purchase a mount that can easily fit your TV. In some cases, the brackets don't fit even though they are made for the same screen size. 
What design should I go for?
Vertical brackets are the most viable option for articulating mounts. You can also buy a mount with removable TV brackets for convenient mounting of your TV.
You can also go for a mount that has removable vertical brackets. This will allow you to mount the brackets separately and just attach the TV once everything is in the right place. 
Compatibility
People often overlook this factor when buying a TV mount. They often end up buying a good mount but it doesn't fit their TV due to different VESA patterns. 
We highly recommend doing your research beforehand. Look for the VESA pattern stated in the user manual of your TV. Compare it with the mount you are going to buy. 
How will this help me?
A VESA pattern will give you the most accurate representation of what type of mounts are compatible with your TV. You can then look for the same pattern in a mount. 
It will save you a lot of time and remove the chance of buying the wrong mount for your TV.
Installation
People often overlook this aspect when it comes to TV mounts. A TV mount's design should allow you to easily mount it and unmount it. 
Whether you have an OLED or a larger screen, the Perlesmith TV Wall Mount is sure to satisfy your mounting needs. Just make sure to use a drill to create the correct holes and avoid any mistake that may compromise the integrity of the setup.
We recommend buying a mount that has multiple mounting brackets that are also easy to reach. This will enable you to save time during the mounting process. 
What type of mounting bracket should I look for?
Mainly, mounting brackets with multiple holes are your go-to option. Besides that, you should always go for a mount that is compatible with different screw sizes.
Locking Mechanism
Locking features directly contribute to the safety of a mount. Without it, a mount will easily move from its optimal position with just a single push. 
You can choose from two main locking mechanism types. Bolt locks and level locks. Each lock has its own unique features. 
Which one should I use?
Bolt locks are designed for people that just want to fix the TV in one position. On the other hand, lever locks are for people that want to adjust the TV again and again. 
Lever locks are easier to lock and unlock but they can easily wear off due to constant use. Bolt locks, however, are sturdy and can easily stand the test of time. 
Are the locks the same for every joint?
Generally, an articulating mount has the same type of locks for every motion. However, some mounts come with bolt locks for tilt/swivel and lever locks for articulating arms.
Wire Management
This aspect is often overlooked by people when they are buying an articulating mount. The forward and backward motion can damage the ports of your TV if they are not tied properly. 
To avoid this, you should always go for a mount that has some sort of wire management brackets. Either they have dedicated brackets or just holes for zip ties. 
What if my mount doesn't have a wire management bracket?
If your mount doesn't have a bracket for wire management, you can use zip ties to attach the wires with the front part of the articulating arm. 
This part is usually static compared to the rest of the mount. It will keep your cables safe and organized. However,  The package includes all the necessary hardware, such as spacers and hooks, to ensure a correct and hassle-free installation. One notable feature is the ability to pull the TV away from the wall, allowing for easy access to cables and making furniture arrangement a breeze.
PERLESMITH mounts are well known for their durability. The PSLK1 checks out all the quality standards as well. 
It features a unique design that distributes the weight of your TV evenly and keeps your drywall safe from cracks. You can use this mount for almost every TV brand and other VESA-approved peripherals. Moreover, it takes no time to install.
This brings us to the end of our review on PERLESMITH mount. We hope this information proves beneficial for you.
Do let us know which PERLESMITH TV mount is your favorite.