Ikea is a paradise for home furnishing fanatics. And among all the best furniture and home decor goods, Ikea deals with some of the best TV stands to complement houses of all types.
You need one piece of furniture to change the appeal of your house. And an IKEA TV stand can be that one for you.
If your new TV unit is about to get delivered in the next few days, and you don't want to get lost in the cosmos of options at IKEA, we have narrowed it down to the five best options for you.
How We Picked the Best TV Stands
We want to let you know that our comparison among the hundreds of options is based on user reviews, budget, aesthetic appeal, and usability.
All of the five listed below are the best IKEA TV stands that have been bought by many homeowners so far. We have also been to several IKEA stores to find any display stock of these options to get the touch and feel of them as well.
Review of 5 Best IKEA TV Stands
Let's begin with an honest and brief review of the five best IKEA TV stands:
Best Overall TV Stand- BESTA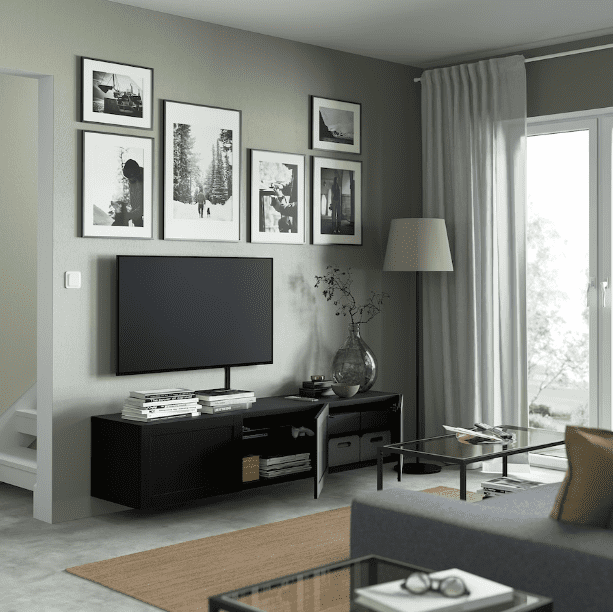 Whether your living room replicates a modern, coastal or traditional design, this black-stained TV stand by IKEA will blend well with it. It sits flat on the ground and has TV outlets to keep the set-up clean.
Specifications:
Pros
Numerous cord outlets at the back of the stand
Adjustable shelves for self customization
Choose between push-open or soft-closing options
Available in various color options
Cons
Complex assembly procedure
Best Budget TV Stand- Brimnes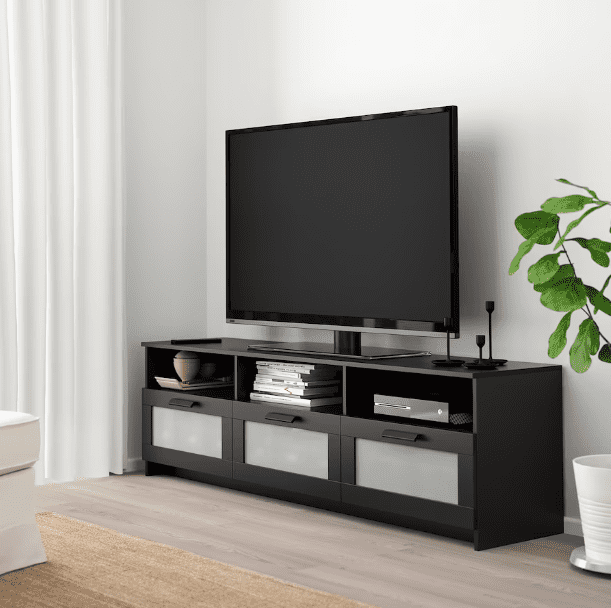 It is a cost-friendly and aesthetic IKEA furniture with an open compartment for storing your gaming consoles, media equipment, and others. You get adjustable shelves to use the storage space as desired.
Specifications:
Made up of particleboard, fiberboard, and honeycomb paper filing
A wall anchoring device is included with the set
Suitable for a TV unit of up to 63 inches
Pros
Adjustable shelves for customizing the storage space
Open compartment for DVD players and game consoles
High-gloss white color makes it aesthetically appealing
Easy to clean with a damp cloth and mild cleaner
Cons
Paint chips off easily when rubbed against any hard object
Best Oversized TV Stand- BESTA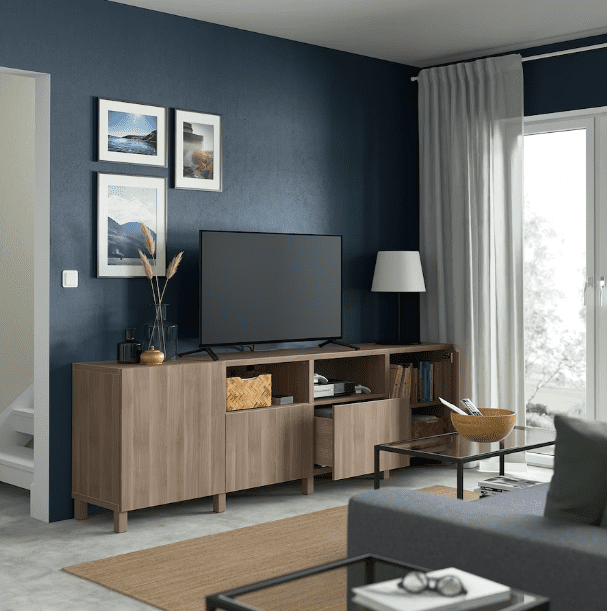 BESTA rules over IKEA in terms of oversized TV stands. If you have an urge to buy a big theatre-like television unit for your living room, then this is the furniture that can accommodate a TV unit of size up to 99 inches.
Specifications
Made up of particleboard, fiberboard, and honeycomb paper filling
Comes with cable outlets at the top and the back
Wall anchors included with the set
Two drawers for storing game consoles or TV accessories
Suitable for TV of up to 99 inches
Pros
Shelves are adjustable for you to customize the space
Legs are made up of solid wood (oak)
Easy to clean and maintain
Drawers come with integrated push openers
Cons
Assembly or installation is very complex
The price is on the higher side for this oversized stand
Best Storage TV Stand- LOMMARP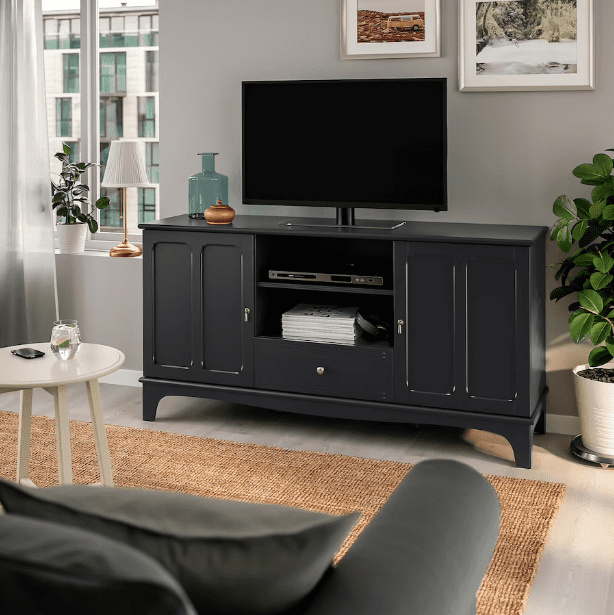 The best thing about this TV stand by LOMMARP is its ample storage space. You can use the given spaces for storing media equipment, game consoles, store books, entertainment DVDs, speakers, and much more.
Specifications:
Dimensions- 62 5/8 x 17 3/4 x 31 7/8 inches
Made with fiberboard, particle board, and polyester paint
Sufficient cord outlets at the back panel
Wall anchoring device provided with the set
Suitable for TV of up to 63 inches
Pros
Combination of open and hidden storage shelves
Silent and soft closing drawers
Durable surface and easy to clean
Available in three different colors
Cons:
Installing it is a two-person job
Best Small Space TV Stand- BRUSALI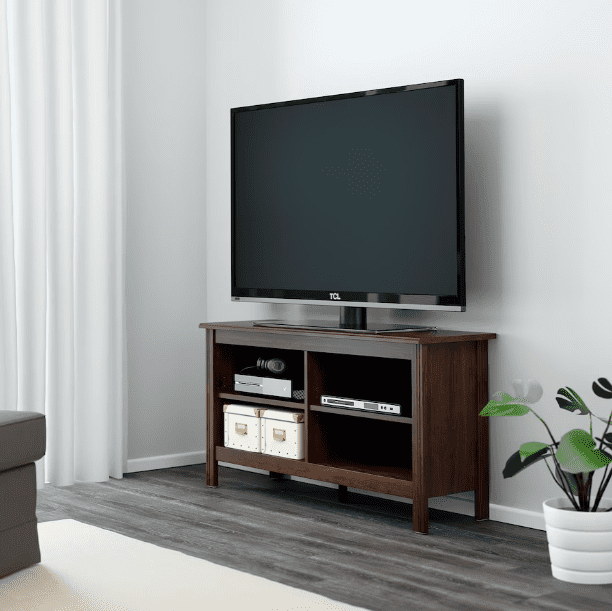 If you are looking for a tiny and minimalistic TV stand by IKEA, this ought to be your best and most affordable pick. There might not be any aesthetic features in it like the others, but it still adds a rugged look to the entire TV setup.
Specifications
Dimensions- 47 1/4 x 14 1/8 x 24 3/8 inches
Made up of particleboard, paper foil, and printed acrylic paint
All open compartments
Hidden cable outlets
Wall fasteners included in the set
Suitable for a TV unit of up to 45 inches
Pros
A lot of open compartments
Embedded with customizable shelves
The price is lower than other options
Available in two colors
Comes with a rugged and robust look
Cons
Not ideal for larger TV units above 45 inches
Things to Consider Before Buying a TV Stand
Now that you have got a glimpse at the best quality TV stands by IKEA, it is time for you to get in the mindset of choosing the best among these shortlisted options.
Here are a few of the things that you must consider before picking the best TV console or stand for yourself:
Materials
The IKEA TV stands discussed in this article are made of particleboard and fiberboard. The side panel, base panel, and legs are often made of different materials. Following that, the paint quality also varies, depending on the cost and overall build.
Some of these stands also have steel, solid wood, and other materials in various parts, which add variation to the quality and durability of the entire product. So, make sure you choose the right bundle of materials that you expect with your new TV stand.
Dimension
Dimension is one of the primary considerations for picking the suitable right stand for your television unit. It is because a stand with inappropriate dimensions won't be sufficient to accommodate your TV.
So, it is better that you measure the dimension of your TV first and then check the measurements of IKEA's TV console. The base of the stand should be wider than that of the TV's screen size.
Make your measurements and find the suitable stand accordingly!
Storage types
Now you are already aware of the storage spaces you are about to get with the IKEA stands. You can either go for all open compartments, all hidden compartments with doors, or a mix of both.
Depending on how you want to use the available space on your TV stands, you can decide on what storage type and how many shelves you need with your television stand.
Almost all of the TV stands at IKEA have customizable shelves to help you maximize the use of the given space.
Style
Depending on your budget, you can pick the appropriate style that you think will go well with the living room and the television. Some of the IKEA television consoles even have multiple color options for you to choose from.
Pricing
If you are looking for a TV stand with a great price that fits your budget and offers excellent value, then these five options can be on your shortlisted names.
The quality and look vary with the difference in pricing. All of the products listed above are reasonably priced as per the features and usability aspects they offer.
You need to assess your budget and place your order for the one that seems fit to you!
FAQs
How much weight can the IKEA BESTA TV stand hold?
Not just BESTA, but most of the moderate TV stands by IKEA can hold a maximum of 110 lbs. Some models are designed with robust materials to enhance their weight-bearing capacity, which adds to the total cost.
Is it fine to have a TV bigger than the stand?
If you consider the aesthetics of a house, then a TV bigger than the size of a stand will add a worse appeal to your living room. It is neither suggested by the designers and experts at IKEA nor by us!
Can we get a TV stand with adjustable feet?
Yes, if you are fond of TV stands supported by legs, then you can pick flexible options from IKEA's stock. It will help you increase or decrease the height of the stand.
Conclusion
You must have made up your mind by now! So, go ahead and visit the product pages of each TV stand to cross-verify your specifications and place the order while stocks last.