If you are planning to buy a 75 inches TV and have so many doubts in your mind that 75 inches TV is good for you or not. Therefore, in this blog, we will clear all your doubts and answer your question "Is 75-inch TV too big ?"
 When it comes to purchasing a television, there is a lot to consider like the size of your apartment and the purpose for which you are buying a TV. You also consider if the size of the TV is suitable for mounting. Large TVs are becoming increasingly popular, with more models in the 75-inch range released by manufacturers.
Hence, in this blog, we are going to let you know about all these things, and we will discuss:
Is a 75-inch TV too big for 4K?
Is a 75-inch TV too big for gaming?
Is it worth buying a 75-inch TV?
How big does a 75-inch Tv look?
Is a 75-inch TV too big for an apartment?
Is a 75-inch TV too big to mount?
Here is the Answer to 'Is 75-Inch Tv too big?'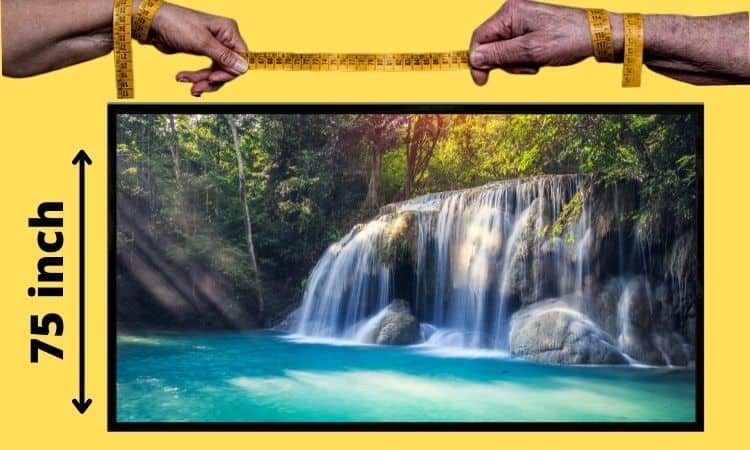 75-inch TV is not too big because you need to maintain a 6.5 to 9.5 feet minimum viewing distance from a 75-inch TV. It means you need to sit 6.5-9.5 feet distance from 75-inch TV. It provides you with better resolution and theatre-like immersion for a normal size living room.  
Is 75-inch TV too big for 4K?
The size of the screenplays a key role when it comes to resolution. If you have a smaller screen, you must sit closer to it to get good quality. If the screen is large, the farther away you sit, you get the best image quality.
Therefore, 75-inch Tv is not too big for 4k it just watching distance that matters if you want a better resolution you need to sit at 6.25-6.5 feet distance. The important factors to consider are the clarity of your vision, the size of the screen, and the distance you sit from it when watching it.
Also, check our guide on the best 75-inch TVs under $1000. 
Is 75-inch Tv too big for Gaming?
The best gaming TVs ensure that your favourite games look their best, whether you're playing on a PS5, Xbox Series X, Nintendo Switch, last-gen console, or even a custom-built gaming PC. 75-inch Tv is not too big for gaming. 75-inch 4k Tv provides picture-perfect 4K visuals and superb sound too, fast frame rates and compatibility for the most recent features.
TCL has a good series of solid gaming TVs. 75-inch TCL series 6 is the first to have THX Certified Game Mode, which not only removes the unnecessary video processing that would slow down the players' response time but meets a slew of other high-quality image criteria.
It also supports all the gaming-oriented features of HDMI 2.1 connectivity, such as Auto-Low Latency Mode (ALLM), which switches to game mode as soon as the console is turned on, and Variable Refresh Rate (VRR), which matches the screen to the frame-by-frame output coming from the TV, synchronizing the two for judder-free gaming.
All this feature support makes it suitable for handling the 4K, high-frame-rate gameplay offered by the PS5 and Xbox Series X.
TCL Series 4 Roku TV  also has 75-inch good colour fidelity and supports HDR10 for better contrast, but not Dolby Vision.
It makes use of Roku's system software, which offers one of the best smart TV experiences available and has a plethora of apps to pick from. With a lag time of 14 milliseconds, this set is also suitable for fast-paced gameplay.
Also, check our guide on the best size for gaming TV to get the best experience. 
Is it worth buying a 75-inch TV?
If you want a good visual experience then larger TVs enable greater immersion and a better overall watching experience. A 75-inch TV is a fantastic choice if graphics are important to you and you want a fully immersive experience.
If you want advanced display technology and 4K resolution. 75-inch TV can have advanced display technology, such as OLED and QLED, as well as support 4K resolution and HDR. All of this will significantly improve your viewing experience.
The 75-inch 4K TV is a fantastic TV with a few features that will appeal to most people. It comes with Google TV as its smart interface, which is simple to use, and there are numerous apps available for download from the Google Play Store.
It's an ideal choice for watching movies in dim lighting because it can display 1080p Blu-ray video as well as native 4k content. Its VA panel boasts an excellent natural contrast ratio; however, even though it uses Mini LED backlighting and the local dimming option, it still generates significant blooming around bright objects in dark scenes.
How big does a 75-inch Tv look?
A 75-inch TV is 75 inches wide diagonally from corner to corner. A 75-inch television will most likely be between 63 and 64 inches wide. The monitor will most likely be 41 to 43 inches tall with a stand, or 37 to 40 inches tall without a stand.
The body of the TV is expected to be between 12 and 15 inches deep with the stand or between 3 and 5 inches deep without the stand. TV of this size often have 4K resolution and always includes built-in internet access. 75 inch TV size is too big for some locations, such as kitchens or small bedrooms, but it would work well in a medium to large living room or as part of a home theatre system.
Is a 75-inch TV too big for an apartment?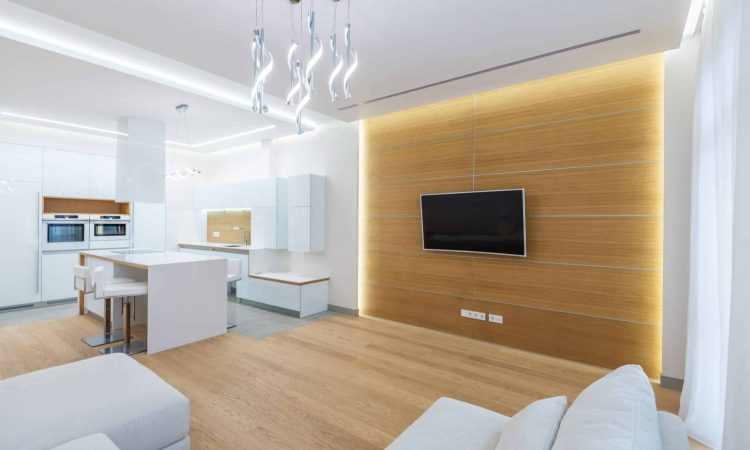 Many people have this one question in their mind that is 75 inches Tv suitable for their apartment, or is it too big. Therefore, the size of the TV depends upon the size of your apartment. When watching a show or TV, the large televisions fill around 30% of your view.
That means you can figure out what size is optimal for your space. In most cases, bigger is better – it's more immersive and easier to view, not to mention more spectacular when showing off to your neighbours. You must know your resolution We recommend 75 inches 4K for almost everyone, but the resolution will affect how close you can sit to it.
Measure the seating distance between where you intend to install the television and where you intend to watch it.You must determine the size and location of the room. The room does not become any bigger to accommodate larger TVs, so choose the perfect size for your room.
Once, you have determined that figure, multiply it by 0.625 that is, if your apartments seating area is 120 inches (10 feet) away, a 75-inch TV will suffice.
Is 75-inch TV too big to mount?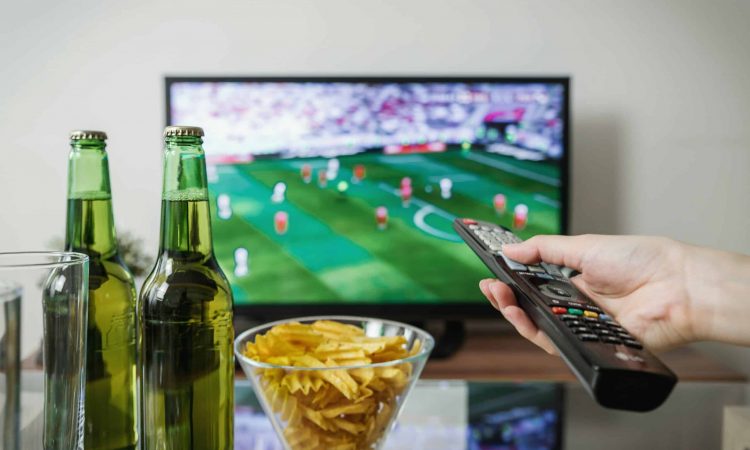 To determine whether 75-inch TV is too big or small to mount. The TV size, viewing distance from the TV eye-level, height from the floor, and reclining sitting angle must all be known.
You can hang your 75-inch TV on the wall. Certainly, safety is crucial.
As a result, it is critical to ensure that the TV mount utilized is TÜV approved. When selecting a TV mount, consider the weight of your TV as well and you need to follow some tips to mount 75-inch TV otherwise, mounting your television onto the wall can be a scary task.
The first step is to determine; what type of wall you want to install on your TV. Most homes only have stud or brick walls therefore installing the television will differ slightly based on the type of wall.
 
Ideally, you must mount your TV to a brick wall because they are quite sturdy and can support a TV. On the other hand, stud walls are far more difficult to install because they are generally built of plasterboard.
It does not make mounting your TV difficult, but it does necessitate the purchase of plasterboard fittings to attach your TV to certain types of walls.
Another thing we would recommend is measuring the space numerous times to ensure that you have chosen the ideal space.
You can do this with a measuring tape and a pencil, or you can make a layer the size of the television you want to hang and pin it to the wall until you find the appropriate spot.
More than one pair of hands
Finally, we encourage you to take your time. In principle, mounting a television to the wall is a simple task, but you must take your time to avoid making mistakes. We would also recommend having more than one pair of hands available, especially if you are mounting a large television, such as one measuring 75 inches.
In short, you should install your 75-inch television between 70 and 72 inches from the floor. This number is derived from the viewing angle and distance and is ideal for peaceful viewing.
So, in this blog, we have explained everything about whether is 75-inch TV too big for you or not also is it too big for 4k. We have also explained where and how you can mount your TV; how big it is and is it worth having a 75-inch TV.