Table could not be displayed.
A TV stand is a versatile unit in many homes. It houses the television at the top, media consoles, and other items on the shelves and cabinets. However, you should buy a TV stand based on the weight and dimensions of your TV. For example, a 65-inch TV requires a large and tall stand than a 55-inch TV. 
Depending on the room's layout and design, you may also have to choose a taller TV stand. After all, the TV screen should be level with your vision and mounted at the right height. So, which TV stand should you buy for a 65-inch television? Let's find out in this post.  
 How We Chose the Best Tall TV Stands for a 65-Inch TV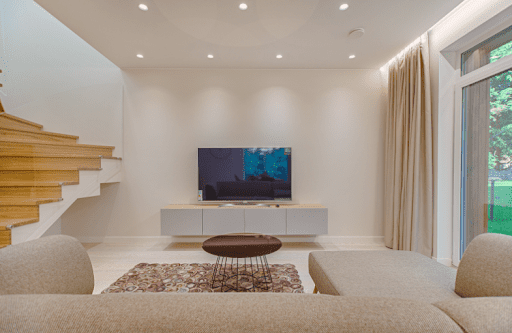 We considered the below aspects to compare several TV stands for a 65-inch TV. 
TV stand size and dimensions
The TV stand has to be big enough to accommodate a 65-inch TV without sagging under its weight or letting the TV's ends extend outside the stand's top.
Material and make
A TV stand will be durable and sturdy if made using materials like wood, iron, stainless steel, etc. The fireplace TV stands should have tempered glass to resist heat and prevent damage.
Color and design
It's good to have a few colors to choose from. Black, white, grey, neutral, etc., are famous shades that blend with most interiors.
TV stand style and type
From farmhouse style to modern, contemporary, and industrial, TV stands are available in different styles. You can also choose between open shelves, closed cabinets, and both.
Features and functioning
Some TV stands have additional features like LED lights, locked cabinets, sliding doors, adjustable shelves, and so on. Consider your requirements when finalizing a TV stand for your 65-inch TV.
Ease of installation and use
Most TV stands are assembled at home by following the instruction manual. Some are easy, but a few take time and effort. Choose the model that suits your comfort level (you can ask a friend to help or hire a technician).
Top 5 Best Tall TV Stands for 65 Inch TV
JUMMICO classic 4 cubby TV stand is a great choice if you want something less expensive and sturdy. You can place the flat-panel TV at the top of the stand or mount it on the wall above. The four open shelves are deep and wide enough to store DVDs, DVD player, media equipment, books, photos, etc. 
You can hide the cables by passing them neatly through the holes provided on the back panel. Check the numbers on the individual panels before assembling the TV stand. The TV will be at your eye level from the sofa when placed on this stand. 
Specifications 
Dimensions: 15.75″D* 58.13″W* 23.42″H
Weight: 61 lbs
Universal mount design for multiuse 
Cable management at the back 
Available in three colors- black, brown, & natural 
Made of engineered wood 
Of the height of the screen when watching TV
Pros 
Sturdy and solid 
Easy to assemble 
Smooth finish 
Value for money 
Sufficient storage space 
Budget-friendly 
Cons 
The instructions could be better 
Should not be pushed or slid 
JOYSOURCE farmhouse TV stand is the right fit for homes with countryside or modern interior design. The TV stand looks solid and attractive with its smooth finish. It has two center shelves, two cabinets, and a three-level adjustable shelf. The sliding doors are a great touch if you are cramped with space. 
The TV stand can support a TV of 35 inches to 65 inches with ease. It is tall and deep enough to handle the dimensions of different types of television units. Assembling the TV stand can be tricky unless you have some experience with DIY. 
Specifications 
Dimensions: 59″W* 15.7″D* 28″H
Weight: 88 lbs 
Ample storage space 
Weight capacity: 200 lbs at the top and 22 lbs on the middle shelves 
Made of certified particleboard and Melamine finish
Waterproof and scratch-resistant material 
Cable management ports 
Sliding barn doors for convenient storage 
Pros 
Suitable for small apartments 
Compact and spacious 
Easy to clean and maintain 
Rustic look with open shelves
Suits three TV sizes 
Cons 
Assembling requires some experience 
The doors are tricky at times 
The LGHM white TV stand comes in models- with and without an electric fireplace unit. The tempered glass doors and five adjustable shelves make the TV stand look compact and trendy. Though the stand is designed for modern farmhouse interiors, it suits contemporary homes and a minimalistic design. 
The manufacturer provides a manual and video with detailed instructions for assembling the TV stand. Pay attention when fixing the hinges. Be doubly careful if setting up the electric fireplace model. 
Specifications 
Dimensions: 29.5″ H* 58″ W* 15.9″ D
Weight: 93 lbs 
Comes with five adjustable shelves 
Double wood glass doors 
Made of laminated MDF wood with a white finish 
Cable management ports 
Versatile to use with lots of storage space 
Pros 
A sturdy TV stand that can take the load 
Good customer service 
Suits modern and contemporary interiors 
Perfect height to mount the TV 
Beautiful design 
Cons 
The hinges are a little complex 
The price difference between both models is more than $100 
The Yaheetech Industrial TV stand is made of solid wrought iron and comes with a wood top and shelves. It is an open design with no doors or cabinets. The assembling is easy compared to other models and takes less than 30 minutes. 
The TV stand looks a little small, though it can accommodate a 65-inch TV. However, ensure the TV is not too heavy as its weight capacity is less than 70 lbs. With a practical design and large storage space, the TV stand can be set up in any room. 
Specifications 
Dimensions: 55" L* 16" W* 24.5" H 
Weight: 60 lbs 
Weight capacity: 66 lbs on the top and 55 lbs on the shelves 
Practical structure and design 
X-shaped reinforced sides for additional strength 
Water-resistant surface 
Wrought iron and good-quality wood 
Pros 
Heavy-duty and durable 
Vintage design and elegant 
Fast and easy assembly 
Comes with additional bolts 
Versatile and multipurpose 
Cons 
Just fits a 65-inch TV 
Doesn't have much weight capacity 
YESHOMY modern farmhouse TV stand should be your go-to choice if you want a pleasant TV viewing experience in your country-style living room. The stand can accommodate a TV larger than 65 inches and store media equipment, a DVD player, and cables. 
It aces the rustic look with barn doors and metal hinges. The TV stand is tall enough to keep the TV screen at a viewing angle. Though height adjustment is not possible, you can mount the TV on the wall or place it on the console.
Specifications 
Dimensions: 24" H* 15.75" D* 58" L
Weight: 74 lbs 
Adjustable shelves 
Ample room to store items   
Sturdy farmhouse-style design 
Two barn-style doors and two open shelves 
Cable management port 
Pros 
The instruction manual has pictures 
Can accommodate a TV up to 70 inches 
Good quality materials 
Classy design and looks 
Great value for money 
Cons 
Takes time to assemble 
Some holes are not pre-drilled 
Conclusion 
The TV stands in the market for 65-inch television units tend to appear similar but have different types of shelves and vary in performance. Choose a tall TV stand that is the right fit for your TV size, weight, dimensions, and model (flat-screen TV, LCD TV, etc.). Don't forget to check the warranty period offered by the brands. 
 FAQs
What is the ideal height for a 65-inch TV stand?
A 65-inch TV should be mounted at 25 inches height from the floor. The TV stand should be around the same height or smaller if the TV already has a small metal stand. 
Can I use a 60-inch TV stand for my 65-inch TV?
Technically, a 60-inch TV stand is suitable for 65-inch flat-screen TVs. In the long run, it is not recommended to use it. 
Do all 65-inch TVs have the same dimensions? 
No. Each brand uses different dimensions to manufacture a 65-inch TV. Also, the dimensions of a flat-screen TV are different from that of a curved screen.