Have you ever noticed sitting on the front couch your TV has perfect image quality? But if you watch the TV from a side couch or at a different angle, the image quality gets distorted. 
You might be wondering why picture accuracy changes when viewed from the side or off-angle. Actually, your TV has a narrow viewing angle. Yes, if your TV can't retain image accuracy from different sides or angles, it has narrow viewing angles.
If you are facing this problem with your TV, the solution is to replace the TV with a TV with wide viewing angles. If you want to know what type of TV has the best viewing angles, stick to this article. 
Here we'll explain what type of TV has the widest viewing angles and will also recommend the 5 best TVs with the widest viewing angles. 
What Is a Viewing Angle?
A TV viewing angle means the angle at which you can watch the TV and get clear and accurate picture quality at an angle.  Determining the viewing angle for TVs involves considering multiple factors, but the two primary aspects are image distortion and image quality variation. A TV with a good viewing angle is based on at what angle the image 
Color Washout: Angle at which the color loses saturation.




Color Shift: Angle at which some colors change, becoming more blue or red.




Loss of Brightness: Angle at which it loses lightness, appears darker. 




Raise Black Levels: Angle at which black color washes out to gray.




Gamma Shifts: Angle at which gray color starts to change.



For a TV that has a 0 degree viewing angle, you will have to watch that TV from the front for an accurate image. If you watch that TV from different sides, the TV image would get washed out, and look dark and less saturated.
The larger the TV viewing angle, the more off-angle you can watch the TV without any distortion. Whether we've realized it or not, an image looks different when we view our TV from the side. Therefore,  for a wider seating arrangement, you should choose a TV with a wide viewing angle to get an accurate image even from the sides. You most likely don't need a wide viewing angle if you usually watch TV alone.
The best TVs give accurate picture quality even at 70 degrees. 
WHY DO VIEWING ANGLES MATTER?
Viewing angles matter because they determine how well a TV retains picture quality at different angles. OLED TVs typically have the widest viewing angles, while QLED and LED TVs vary in this aspect. For the best viewing experience, consider the size of your TV and seating arrangement.
TVs with VA panel types may have narrower viewing angles and are ideal for gaming or watching TV directly in front. OLED TVs have excellent picture quality even at off-center angles, reducing distortion. In 2023, QLED TVs and new TV models will likely offer improved viewing angles and overall picture quality.
Horizontal & Vertical TV Viewing Angle
Variation in viewing angles, whether vertical or horizontal, changes the picture quality. Horizontal viewing angle affects how much the TV image remains accurate from a side. A TV vertical viewing angle means how accurate the image of the TV looks from below and above.
With evolution in technology, now viewing angle and quality of TV pictures isn't much of an issue. Currently, TVs are displaying much wider and accurate off-angled images. The larger a TV's viewing angle is, the more off-axis you can watch it without any degradation.
You might also want to check the best TVs for the bright rooms
What is the maximum viewing angle a TV can have?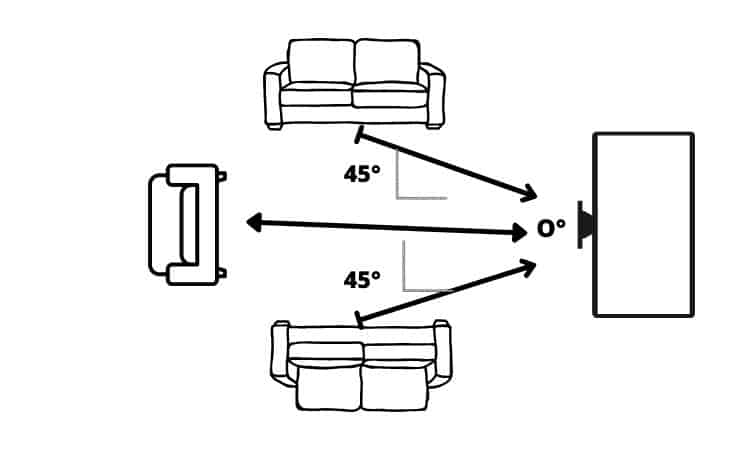 For TVs, the vertical maximum viewing angle or viewing distance is 70 degree below/above the center. The maximum horizontal viewing angle is also 35, right and left from the center of the TV screen. But in most cases, a TV with 20-40 degree viewing angle is regarded as good.
However, we have searched some really decent TVs which almost have perfect viewing angles. 
How to know viewing angle of your TV?
Want to check whether your current TV has a wider viewing angle. It's something you can test yourself at home. All you need to do is turn on the TV and walk around. Observe, if the picture quality changes when you are moving to a different side. If the screen distorts, it means your TV has narrow viewing angles. Whereas, if it stays the same. Then your TV has wider angles for viewing.
Which TV has the Best viewing angles?
You might have heard of various display types such as LCD, LED, QLED and OLED. Which of these types support wide viewing angles? From our research, the televisions with best viewing angles are the OLED TV screens. 
OLED TVs are an excellent choice for watching a movie or show in larger seating arrangements. OLEDs have an average of around 70 degrees of viewing angle from the center.The QLED and LED TV have a viewing angle of an average of 20 to 40 degrees.
Best Panel Technology for viewing Angles
For LED-backlit LCD TVs, two different types of panels are used i.e. VA or IPS. IPS panels LEDs are better than VA panels for better viewing angles. IPS panels are recommended for wider seating arrangements because they do not lose accuracy, when viewing from the sides.
Whereas VA panel image gets distorted when viewed from sides. The difference is pretty noticeable even by a layman eye at wider angles. However, IPS panels are still not perfect. They have a low contrast ratio and VA Panels have a higher contrast ratio. So if you are buying a TV, think what's more important to you, image contrast or a wide viewing angle. But yes, neither of them is as good as OLED TV screens.
Brands like Samsung and Sony have introduced Ultra Viewing Angle and X-Wide Angle on VA panels. These TVs displays are also a good balance between contrast and viewing angle.
Why Do OLEDs Have Better Viewing Angles?
OLEDs are way better, when it comes to a wider viewing angle. Because OLED uses a different technology than the LED and QLED technology. While LED and QLED lets the LED lights filter through a backlit panel to display the image.
The OLEDs have a self-emissive pixel technology. OLED is a screen display panel that emits light itself at every angle. In OLED each pixel can turn itself off and on independently. Hence, OLEDs have wider viewing angles, winning the game from IPS panel displays. They also have a near infinite contrast ratio.
Hence, OLEDs are famous for displaying accurate colors. They have made their name in homes, apartments and the lives of people. Their compact and thinner design allows clearer wide angle viewing.
 Picture quality: outstanding black levels with better contrast ratio




 Viewing angles: incredible picture quality when viewing from different angles




 Low response time: good fast-moving picture




 Power: requires low power – excellent for green world




 Home theater: excellent performance in a darker room for movies



Top 5 Picks for Wide Viewing Angle TV's
Here, we would be looking at 5 of the best wide viewing angle TVs. We chose these top 5 wide angled viewing TV's after hours of research and comparison study. This study is actually based on off-angle view picture quality. It includes the change in color, brightness, black levels and gamma when viewed from different angles. Then trust on the brand, customer reviews, sound quality and durability.
Now, let's get to the main point! The top 5 wide viewing angle TVs are;
Screen Size:

55-Inch

Display Type:

OLED

Resolution:

4k

Refresh Rate:

120Hz
Smart Apps:

Spotify, Netflix, Hulu, Skype, YouTube, Amazon Instant Video

Brandt:

SAMSUNG

Connectivity:

Bluetooth, Wi-Fi, Ethernet, HDMI
This Samsung S95B OLED has exceptional wide viewing angles. It's nearly perfect, though the image still fades away a bit at oddly wide angles. The color washes out and changes at a 70° angle. Upon further research, this Tv also loses its brightness and the black levels rise, if you watch it from a 70° angle. 
This TV uses a QD-OLED Panel. This new panel uses a blue OLED panel along with Quantum dot color. These panels together display much brighter colors than traditional oleds. HDR content looks great and is best for binge watching seasons and movies.  
Like Samsung lineups, this Tv also has Samsung Proprietary Tizen OS smart interface. This TV has a lot of focus on games and apps. It also supports Google Duo and lets you connect a webcam, allowing video calls with your loved ones. It also has FreeSync and supports HDMI 2.1 on all four ports.
Exceptional wide viewing angle

Nearly-infinite contrast ratio

Incredible bright colors

Good reflection handling
Raised blacks in a room with ambient light

ABL (automatic brightness limiting) gets aggressive during large bright scenes
Screen Size:

65-Inch

Display Type:

OLED

Resolution:

4k

Refresh Rate:

120Hz
Smart Apps:

Netflix, HBO Max, Prime Video, Disney+, Apple TV

Brand:

LG

Connectivity:

 Bluetooth, Wi-Fi, USB, HDMI
LG B2 has an outstanding wide viewing angle. The image consistency is great even at wider angles. But, this Tv loses its brightness and black levels rise at 70° angle. The gamma shift i.e. the grayscale shades also change at 70° angle. It is one of the best choices for wide seating arrangements. Yes, colors do shift a bit at 49° at wide angles. The color washes out an angle of 70°. 
LG B2 OLED is a fantastic TV. Its great for watching movies in dark living rooms. Its nearly infinite contrast ratio displays perfect blacks displaying HDR content outstandingly. Some colors aren't vivid. The reflection handling of glare is impressive in bright rooms.
It is supported by webOS smart platform so you can easily watch your favorite content. Its good for gamers, this TV has two ports with HDMI 2.1 bandwidth. It also supports HDMI Forum VRR (variable refresh rate), G-Sync and FreeSync. You can connect and play PS5 and Xbox putting all its features to use. It is one of the best 75 inch TVs with a wide viewing angle.
Excellent Wide viewing angle

Perfect uniform and Deep Blacks

Easily upscales content
Some colors are vague

Permanent Burn-in Risk with Static content
Screen Size:

48-Inch

Display Type:

OLED

Resolution:

4k

Refresh Rate:

60Hz
Smart Apps: Netflix, Prime Video, Hulu, Vudu, YouTube
Brand:

LG

Connectivity:

 Bluetooth, Wi-Fi
This TV is an excellent option for every kind of usage in wide angled TVs. It displays a good contrast ratio in dark rooms and uniform black levels that distort at a 70°. The color hues will start changing at 32°. If this TV is being viewed from an angle greater than 70°, the display image will lose its brightness and color.

It is one of the best budget TV wide viewing angles even in a dark room. The input lag is low and response time is almost instant. It gives an amazing gaming experience in SDR or HDR. Thanks to wide viewing angle and reflection handling, it is great for watching sports in a group.
The LG A1 OLED displays a good picture quality. Its refresh rate is 60Hz. It neither has HDMI 2.1 ports nor supports the VRR technology. It comes with a Magic remote and smooth interface. The interface is supported by webOS. Though it works great in the dark rooms but can't get much brighter. The HDR content doesn't look great on this TV.
Superb wide angles

Displays perfect blacks

Almost infinite contrast ratio
Permanent Burn-in risk if static content

Not bright enough for HDR content
Display Type:

OLED

Resolution:

4k

Refresh Rate:

120Hz
Brand:

LG

Connectivity:

 HDMI

Hardware Interface:

HDMI
This TV has remarkable contrast and awesome off-angle viewing. Its color washes out at an angle wider than 57° only. Its black levels are just amazing and raise only if viewed from an angle of 70°, making it perfect for darker rooms. This is a remarkable TV that you can use for movies, games or as a PC screen. It comes in various sizes ranging from 48 to 83 inches.
This OLED is a smart choice and the best TV for off angle viewing with easy to use apps and gaming features. It has low input lag and VRR (variable refresh rate). Both of the features are important for high-end gaming. It is the perfect companion for Play station 5 or XBox new series.
Cherry on the top, every individual pixel of the OLED emits light rays in all the directions. It means watching a show on an LG C1 in a dark room is the best choice with its perfect blacks. Hence being a good choice for a wide seating arrangement as the image will remain consistent.
We also reviewed the newer version of C1, the LG C2. Both TVs have nearly identical picture quality with some minor improvement. C2 is lighter in the weight. If you are looking for something brighter, you should opt for LG C2 because the former loses its brightness at 69° angle. But Yes, the C2 OLED also costs more. 
So we would recommend getting C1 as the best screen with 55 inch TV wide viewing angle.
 

Best wide viewing angle

 Four HDMI 2.1 ports

 Lots of gaming features – low input lag

WebOS is incredible

 

Array of amazing features
 

 

Expensive

 

 

No HDR10+

 Brightness not good enough for HDR
Screen Size: 55

-Inch

Display Type:

LED

Resolution:

720p

Refresh Rate:

60Hz

HDR: HDR10+
Smart Apps:

Spotify, Netflix, Hulu, Skype, YouTube, Amazon Instant Video

Voice Assistant:

Alexa, Google

Connectivity:

3 HDMI, Wi-Fi, USB
One of the best Sony's 4K TVs that we have listed for you is, Sony A90J OLED. It's a successor to Sony A80J OLED. Like OLED screens, this TV also has near-infinite contrast ratio and color washes out at about 51°. It displays uniform blacks even at 70° angle without significant blooming around objects.
Sony A90J is a good choice for wider seatings with extraordinary wide OLED TV viewing angle. The display image remains accurate and doesn't lose brightness till 64°angle. In comparison to other Sony TVs we had chosen in our research. This Sony A90J has incredible color accuracy. It doesn't show any issues in up scaling lower-resolution content.
Unfortunately, like former Sony TVs, this one is a bit limited in gaming. It is not supported with FreeSync VRR. It supports G-Sync (after firmware update) and HDMI Forum VRR. It works fine if you are a casual gamer and has a quick response time. Its peak brightness looks good in SDR, whereas its brightness in HDR is way better than many OLEDs. 
We think Sony A90J is one of the best 65 inch TV wide viewing angles today.
Outstanding picture quality and angle

 

Has high quality Audio

Google TV interface is friendly
Not Cheap

 

Many ports do not support HDMI 2.1 standard

 

No FreeSync Support available
The LG C2, TCL's QLED 4K, and Samsung's 8K LED TVs offer excellent image quality and measure viewing at wide angles up to 70 degrees. These TVs like TCL's and Samsung's with IPS and VA panel technology degrade image quality beyond 40 degrees from the front of the screen, causing the image to look darker. 
For the best overall picture quality and minimal eye strain, consider TVs like LG C2 with OLED panel technology, which emits light from individual pixels. If you usually watch tv alone or don't have a large seating arrangement, you can sit in front of the screen. 
Get whichever TV you want. If you are looking for a TV with wider viewing angles, go for an OLED or an IPS panel display.