Believe it or not, a TV of 80 + inches provides an extraordinary experience with cinematic visuals and better immersion. But, due to having too many options on the market, it becomes quite hard to go for the best one.
That's why we are with our  list of 10 best 82-83-inch TVs from the leading brands for you, like LG, Sony, and, of course, Samsung. We have years of experience in mounting TVs, and have tested almost all popular models out there. 
So, you won't regret going with any of these options. 
Top 8 Picks for 82-83 Inches TVs Reviewed
I'm going to review the top 10 best 82-inches and 83-inches for you now. I'll tell you everything I liked and disliked about televisions so you don't buy the wrong one.
I have also included a FAQ section at the end of the article that will answer all of the questions that you might have about the topic.
1.LG OLED Evo C2 Series (Overall Best 83-inch TV)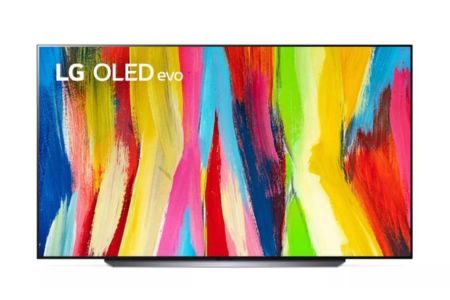 Screen Size: 83-Inch | Display Type: LED | Resolution: 4k | Refresh Rate: 120Hz | Smart Apps: Netflix, HBO Max, Prime Video, Apple TV, Disney+ and more | Voice Assistant: Alexa, Google | Connectivity: USB, HDMI
LG is one of the best OLED TVs on the market, with a slim and stylish design and a crisp and clear screen display. The TV includes a 120Hz refresh rate and 1.5ms input lag, which makes it an ideal option for gaming.
Because the LG C2 TV supports self-light emission technology, videos appear brighter in bright rooms. It means no more turning off the lights to enjoy your favorite TV shows.
This thing makes it better than many other OLED TVs out there. The C2 has some new smart features, such as a hands-free voice command feature and smart interface support for user profiles.
This allows you to personalize the user experience for each member of your family. Sounds interesting?
In myu own experience, the LG C2 includes a lot of streaming apps. such as Netflix, YouTube, Prime Disney+, Apple TV, and many more. It means you won't need a service provider to enjoy the best TV shows, serials, and anything else that interests you.
Further, the use of virtual 7.1 speakers with Dolby Atmos TV speakers may eliminate the need for a separate speaker system. In terms of connectivity, the TV has HDMI Inputs 2 (bottom) and 2 (side) and USB Ports 2 (bottom) and 1 (side).
Also, HDMI Audio Return Channel (eARC) (HDMI 2), RF Input 1 (Side), including LAN 1 (Bottom), and Digital Audio Out (Optical) 1 (Bottom) are included in the TV. With these many connectivity ports, you're not going to have any problems while connecting your device to this TV.
Since the TV has a lot of amazing and unique features, I guess there must be a booklet in which the user is taught how to use different functions of the TV. Unfortunately, the LG C2 doesn't come with any such thing.
The other downside is that, so far, the only drawback is that picture-in-picture and split-screen do not work.
Despite the fact that the split screen does not work well in this TV, despite its high price, this TV is worth considering. It can help you do low-end gaming because of its atmos speakers, 120 Hz refresh rate, and low response time. Also, this TV would be best for those who want to enjoy watching movies.
Gamers will appreciate the low input lag and impressive motion handling of the LG C2 Series. The OLED technology ensures smooth visuals and rich colors, making gaming sessions truly immersive.
"The OLED Evo display technology truly shines here. With vibrant colors, deep blacks, and exceptional contrast, the LG C2 Series offers a visual feast for your eyes. The 4K resolution is incredibly sharp, and the AI-powered upscaling enhances the quality of lower-resolution content."
Brighter Display even in more light

OLED display

120HZ refresh which is good for gaming.

Stylish and sleeker design

Dolby Atmos speakers 7.1
Expensive

Split screen doesn't work
2.LG OLED C1 Series Smart TV (83-inch Budget Option)
Screen Size: 83-Inch | Display Type: OLED | Resolution: 4k | Refresh Rate: 120Hz | Smart Apps: Netflix, Prime Video, Hulu, Vudu, YouTube | Voice Assistant: Alexa, Google | Connectivity: Bluetooth, Wi-Fi, USB, Ethernet, HDMI
LG's OLED C1 Series is another excellent OLED TV with tons of amazing gaming features. If you like playing PS5 and XSX, then this TV is the best option for you. The LG C1 offers flawless picture quality due to AI Picture Pro technology installed in it.
In our testing, this technology will instantly analyse the data and detect faces, bodies, or other objects in the image. It will instantly enhance the detail to understand what it is seeing.
Not only that, this TV includes Dolby Vision IQ as well, which improves the picture quality even more. So, for those who like gaming or watching movies, the LG C1 is going to be a jackpot for you.
In terms of connectivity ports, it has one HDMI input, two USB connections, coax, and ethernet, as well as a headphone jack for audio, a service port for headphones, and digital audio output. The left-facing panel has three HDMI 2.1 ports, one with eARC, and one USB input. What about the speakers?
Since the TV supports both Google Assistant and Alexa, it'll be easier for you to make the TV work with your voice commands. Furthermore, the LG C1 TV comes with a lot of amazing streaming apps.
such as Netflix, Youtube, Hulu, Prime Video, Apple TV Plus, Disney+, and other LG channels, which put all of your favourite channels right at your fingertips.
To make it easier for you to control the TV, the LG C1 comes with a good-quality remote control as well, which has a floating cursor just like a Wiimote.
But, compared to other LG TVs, this remote seems quite bulkier, which may not impress many of you. However, it is made of high-quality materials that will last for a long time. 
The TV is great for those who like watching movies or any other TV shows, as it comes with pretty wide viewing angles. Also, it includes Picture AI Pro, which improves picture quality significantly. So, if you have deep pockets, then no TV would be as good for you as the LG OLED C1 Series.
LG's webOS is one of the most user-friendly and intuitive smart TV operating systems, and the C1 series is no exception. The interface is clean, easy to navigate, and offers a wide range of apps and streaming services.
"The LG C1 Series 65-inch Class OLED Smart TV is undoubtedly a premium product that lives up to its OLED reputation. The picture quality is mesmerizing, and the overall performance is top-notch.
"The LG C1 is equipped with a powerful processor that ensures smooth navigation and quick app loading. It handles demanding content and heavy multitasking with ease, leaving no room for lag or performance issues. The TV also comes with HDMI 2.1 ports, making it a great choice for gamers who want to experience the latest gaming consoles' full potential."
Includes AI Picture Pro

Dolby Vision IQ

Good quality speakers

Stylish Design

Good Remote Controller

120Hz refresh rate

Wide viewing angles
Expensive

Remote Is quite bulkier
3. LG OLED G2 Series Gallery (Best 83-inch TV for Gaming Performance)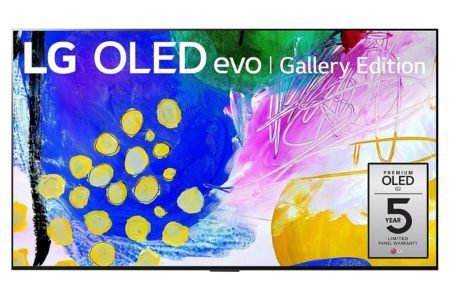 Screen Size: 83-inch | Display Type: OLED | Resolution: 4k | Refresh Rate: 120Hz | Smart Apps: Netflix, HBO Max, Prime Video, Apple TV, Disney+ and more | Voice Assistant: Alexa, Google | Connectivity: Bluetooth, Wi-Fi, USB, Ethernet, HDMI
Well, I'd heard about the LG OLED EVO Gallery Edition TV already before even buying it. Some of my friends told me how amazing its display quality is. They said that this TV is the brightest TV ever manufactured by LG. It really shocked me, and I thought of giving this TV a shot.
So, how did I feel? Yes, my friends were right. Gallery Edition TV comes with the latest second-generation display panel. It has a dedicated heat dissipation system, which allows the picture to become brighter without causing an OLED burn-in.
But, when I tested this TV in a bright room, I found the picture quality got too dark, which may seem a little awkward sometimes but not all the time.
The LG Gallery Edition TV is chock full of tons of amazing features, including Nvidia G-Sync, AMD Freesync, low input lag, a generic variable refresh rate, and a gaming dashboard.
Not only do these features exist, but this TV also supports Stadia streaming and GeForce gaming. Considering all these features, I'd definitely say that this TV is the best for all types of gaming.
If you have an internet connection, then this TV makes hundreds of amazing streaming channels available to you. Such as
And a plethora of other fantastic free streaming channels. If we talk about the connectivity ports of the TV, what about the design of this TV? It has a minimalist and elegant aesthetic, with the frame that surrounds the screen being more of a frame.
When applied, the covers for the back panel appear slightly less fragile. But the bad thing is that its TV is its stand-mount option. You have to purchase the stand separately, as LG intended for the TV to be mounted on the wall (hence the included wall mount).
LG's Class OLED Evo Gallery Edition G2 Series includes all of the features you need to take your gaming to the next level. Since the picture quality is great too, you'll get a great viewing experience while watching movies or your favorite shows.
So, if you're a gamer or like watching movies, then TV is the way to go.
"The LG G2 Series doesn't disappoint when it comes to connectivity options. With multiple HDMI ports, USB ports, and Bluetooth support, you have the flexibility to connect a wide range of devices, including gaming consoles, soundbars, and streaming devices.
"One of the standout features of the LG G2 Series is its elegant design and unique gallery stand. The slim bezels and minimalist aesthetics make this TV a stylish addition to any living space. The gallery stand provides stability and the impression that the TV is floating, adding a touch of sophistication."
"The LG G2 Series 77-Inch Class OLED evo Gallery Edition Smart TV is an exceptional choice for those seeking a top-tier home entertainment experience. The stunning OLED display, AI-powered 4K technology, immersive audio, and built-in Alexa integration provide a future-forward entertainment package."
Great Picture quality

Includes generic Variable refresh rate, low input lag, gaming dashboard, AMD Free-sync, and Nvidia G sync

Supports Stadia streaming and Geforce gaming

A lot of streaming apps

Stylish design
You have to buy the mount stand separately

The picture may get too dark in a bright room

Expensive
4. LG 86QNED90UPA Smart TV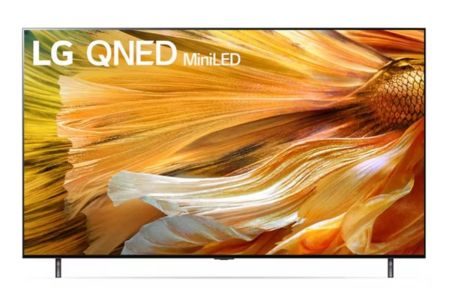 Screen Size: 86-Inch | Display Type: Mini-LED | Resolution: 4k | Refresh Rate: 120Hz | Smart Apps: Netflix, Prime Video, Disney+, Apple TV, Hulu, CBS All Access, Peacock, Youtube TV, Spotify, iHeartRadio and More | Brand: LG | Connectivity: Bluetooth, USB, Ethernet, HDMI
If you have a dark room and want a TV to fill it with bright light, you can choose this smart QNED LG TV. With good handling of reflections and a wide range of viewing angles, it has become a great choice for games. 
This high-quality 82-83-inch TV has the best type of Mini LED display and NanoCell technology, which is backed by the LG quantum dot NanoCell display.
The display offer has a high contrast ratio and shows a wide range of bright colors on the screen. This makes the dark deeper, even when there isn't much light. Also, this NanoCell color technology lets movies show pictures with more accurate colors that are richer and more beautiful.
Even though it's a good choice for playing video games, it's missing some important features. It's a smart way for sports fans to stay up-to-date because it lets them connect two LG Bluetooth speakers for a true surround sound wireless experience. 
Also, this TV is about 75.5 x 43.2 x 1.2 inches (lxwxh), which is a great size for big rooms. 
The slim design also has a 7 Gen4 AI engine that can help improve the tone of every scene. With a native resolution rate of 4K and a refresh rate of 120 Hz, you can see smooth activity on the screen.
This TV is black and has speakers built in so you can enjoy great music while you play games. It lets you play HGIG and ALLM games, has free sync extra, and has Alexa built in. So you get good features and a good size as well.
If you want a TV that is huge in size and can provide you with vibrant colors in addition to all of the other one-of-a-kind qualities that you desire in a TV, then the clever QNED LG TV is the best option for you to go with.
"The QNED MiniLED technology is where the magic happens. Unlike traditional LED TVs, this TV boasts an array of tiny, powerful LED backlights, creating a stunningly vibrant and detailed picture. The local dimming zones ensure deep blacks and brilliant whites, adding a jaw-dropping contrast to your favorite movies, shows, and games."
"If you're looking to create an immersive home theater or simply want the best in TV technology, this LG model is undoubtedly worth considering. And with the added safeguard of Epic Protect's extended warranty, you can indulge in your favorite shows and movies with confidence."
Outstanding contrast with local dimming. 

Impressive response time. 

High picture quality

Great value for money
Blooming around text detracts from viewing.
5. LG 82UM8070 (Best 82-inch LG TV)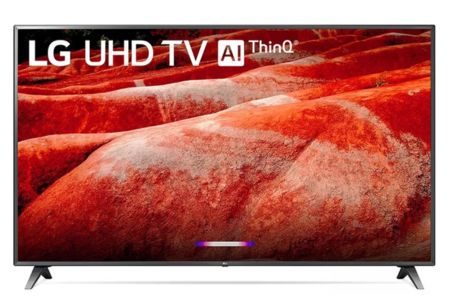 Screen Size: 82-Inch | Display Type: LED | Resolution: 4k | Refresh Rate: 120Hz | Smart Apps: YouTube, Browser | Voice Assistant: Alexa, Google | Connectivity: Wireless, Bluetooth, USB, Ethernet, HDMI
The LG 82M8070 is the best affordable TV available, with a 4K screen resolution and an 82-inch LED display. The TV is compatible with the newest digital technologies for the best possible home theatre, TV, and audio experiences. The TV supports HDR10, the most recent high dynamic range video standard.
Using LEDs, the TV also features sophisticated local dimming, which reproduces deeper colors and richer blacks. The screen appears brighter as a result. It is also possible to expand the screen to increase immersion. 
The TV has a 120Hz refresh rate, which makes it good for playing some low-end games as well.
And when it comes to its connectivity ports, it includes wireless, Bluetooth, USB, Ethernet, and HDMI.
Even though the black colors might not look so good on the LG 82UM8070 TV, it is still a very good 4K TV that can take your viewing experience to the next level. 
Because it includes HDR10 and a 120 Hz refresh rate, which can help you play games on it as well, However, playing high-end games like GTA 5 on it might not be possible.
The LG comes with a generous selection of ports, including HDMI, USB, Ethernet, and more. This allows you to connect various devices like gaming consoles, Blu-ray players, and sound systems without hassle. The TV also supports Wi-Fi connectivity for wireless streaming and browsing.
"When it comes to picture quality, the LG 86UM8070 truly shines. With its 4K LED UHD panel, this TV offers stunning visuals with vibrant colors, deep blacks, and remarkable contrast. The combination of LG's advanced image processing technologies ensures sharpness and clarity, even in fast-paced action scenes."
k Screen Resolution.

LED display

Affordable

Includes local dimming
The black colors might not look so good
6. VIZIO 75-Inch P-Series
 Screen Size: 75-Inch | Display Type: LED | Resolution: 4k | Refresh Rate: 120Hz | HDR: Dolby Vision HDR | Smart Apps: Spotify, Netflix, Hulu, Skype, YouTube, Amazon Instant Video | Voice Assistant: Alexa | Connectivity: 3 HDMI, Wi-Fi, USB
Vizio launched the P Series Quantum in 2021. Since then, it has been one of the best 82-83-inch game TVs. Deep blacks have a good contrast ratio by themselves, and the full-array local dimming function makes it even better.
In my opinion, It has a great picture for watching movies and playing games. It has amazing control over high peak brightness and perfect reflection even when there is a lot of light.
 If you like 4K HDR movies, you'll love this. But if you want to watch old movies on DVD, you might have trouble upscaling some of the lower-resolution videos.
Based on the results of the tests, the Vizio P Series is a great TV with a great picture in both dark and bright rooms. It's a little bit better than the Vizio P Series Quantum 2020, but it still has many of the same problems.
Even in bright places, it can get bright enough to reduce glare and is very good at dealing with shadows. It also has a wide color range and can get pretty bright, which makes it a great device for watching HDR content. The reaction time is pretty good, but it has trouble showing text that can be read with certain signals. Still, it has a few features for gaming, like being able to handle a variable refresh rate.
"The P-Series TV supports HDR10+ and Dolby Vision formats, enhancing contrast, brightness, and color accuracy. Watching HDR content on this TV is simply stunning – it feels like the scenes come to life right before you."
"This TV offers a 120Hz refresh rate, which means smoother motion and reduced motion blur during fast-paced gaming. When paired with 4K resolution, the gaming experience becomes truly next-level. I tested it with various games, and the results were fantastic – a must-have for any gaming enthusiast."
This monitor has deep blacks due to its high contrast.

Good full-array local dimming improves contrast.

Brilliant SDR and HDR brightness peaks.

120Hz and VRR panels.

Dolby Vision HDR enhances TV brightness, contrast, and color.
Only average response time; black smearing is noticeable.

Plagued with bugs and errors.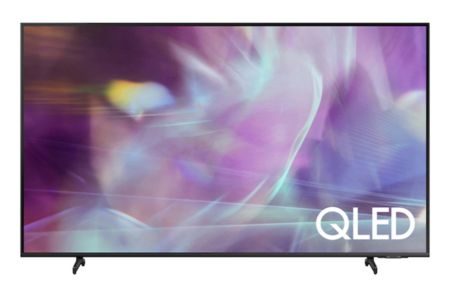 Screen Size: 75-Inch | Display Type: QLED | Resolution: 4k | Refresh Rate: 60Hz | HDR: Quantum HDR | Smart Apps: Spotify, Netflix, Hulu, Skype, YouTube, Amazon Instant Video | Voice Assistant: Multiple | Connectivity: 3 HDMI, Wi-Fi, USB
The Samsung Q60/Q60A QLED will replace the Q60/Q60T QLED in 2020. It's on our list of the best 82-83-inch TVs because it's cheap and has a high peak brightness and contrast. It's a good choice for people who want an inexpensive TV with a good picture.
But like most of Samsung's high-end models, this one has no powerful game or motion enhancement features. 
So, gamers who use the PS5 or Xbox One X will be limited by the devices' HDMI connections, which can only handle a speed of up to HDMI 2.0.
It also comes with Alexa built-in, which lets you use apps, change stations, find music, and control smart home devices. Hold the mic button on the remote while you talk to Alexa and watch the magic happen.
It uses the smart design of the Samsung Tizen OS. We tested Tizen and found that it has a simplified version with fewer graphics, which makes it easy to use. 
This model has some problems, like bad viewing angles and restricted HDR support, because it doesn't have local dimming and a low maximum HDR content brightness. 
But the test results showed that it is generally a good TV, though it is only 60Hz and has no extra features.
The Q60A from Samsung is one of the best 82-83-inch TV. It's great for watching TV or sports in bright environments because it improves vision. TV has an excellent contrast ratio and wide color gamut range but limited viewing angles. Also, it has a minimal input lag for gaming and lacks a local dimming feature.
"Samsng's Q60A comes with a sleek and modern design. The slim bezels allow for a maximized screen-to-body ratio, making the viewing area feel more expansive. The TV is sturdily built, and the overall aesthetics blend seamlessly with home decor."
"Gamers will appreciate the Q60A's impressive gaming performance. The TV ensures smooth and responsive gameplay with a low input lag and a high refresh rate. The Auto Game Mode also automatically optimizes gaming settings, minimizing input lag."
Sleek and slim design.

Sharp blacks are on display.

 The upscaled low-resolution content looks amazing.

Separate warm and cool LED backlights improve contrast.
Narrow viewing angles.

No local dimming.
8. SAMSUNG UN82TU7000FXZA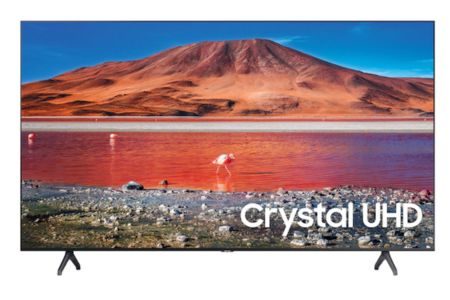 Screen Size: 82-Inch | Display Type: LCD | Resolution: 4k | Refresh Rate: 60Hz | Smart Apps: Netflix, Hulu, Amazon Instant Video, YouTube, Browser | Voice Assistant: Alexa, Google | Connectivity: HDMI
Talking about the best TVs and not including any model of Samsung It's not possible. Here I have a Samsung UN82 series, which is a 4K TV. The best thing about this TV is that it's quite affordable. The VA panel gives it a great contrast ratio and excellent black uniformity.
This makes it ideal for dark rooms. It has subpar peak lighting in SDR and only okay reflection handling, so visibility is a problem in bright rooms. It offers a great gaming experience with low input lag.
But the bad thing about this TV is that it has a slow response speed and doesn't support advanced gaming features like HDMI 2.1 or variable refresh rate technology.
As a result, I can't guarantee that you'll be able to play high-end games like GTA 5. But you can play other low-end games on it.
When it comes to HDR, it supports HDR 10 and HDR 10+, but they don't seem to be working well. The image doesn't get as bright as it should. So, you might not be able to get such good colour accuracy.
Not just that, the viewing angles of the TV are also narrow, which causes the image to lose color accuracy.
Another thing I didn't like about the TV was its weight. I literally had to call two friends of mine to set it up. Can you even believe it? So, it's definitely not for people who like having lightweight TVs.
Furthermore, the TV comes with tons of amazing streaming channels that you'll be able to enjoy for free. Also, the TV is durable and will be with you for a long time.
If playing high-end games isn't your aim, then the Samsung UN8200 Series is the best for you. because it lacks all the main functions that would help you do good and lag-free gaming. So, playing high-end games won't be possible with this TV.
"The Samsung TU-7000 offers a budget-friendly option for those seeking a 4K smart TV. With better picture quality and a user-friendly interface, it's a solid choice for casual viewers. However, it lacks advanced features found in higher-end models."
"Samsung's TU-7000 is an affordable 4K smart TV that caters well to everyday entertainment needs. Its satisfactory performance and intuitive interface make it suitable for the average consumer, though enthusiasts might miss some premium features."
Includes VA panel

4K

Good for low-end gaming.

Affordable.

Includes HDR10 and HDR10+
Viewing angles are narrow

It has a low response time

It doesn't include HDMI 2.1 and a Variable refresh rate
Key Factors for Buying 82 83-inch TVs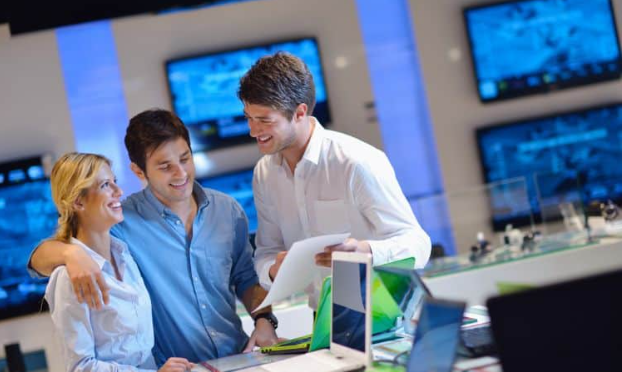 Below are the things that you need to consider while buying a TV. 
Make sure that you're buying a 4K tv as this provides you with a good enough viewing experience. 

Your TV must have a 60 to 120HZ refresh rate. The more, the better.

Your TV should be HDR compatible.

Your TV must be OLED.

Try to go for at least 4 HDMI Ports.

Buy a soundbar if you want to enjoy the best sound quality. Because the built-in speakers in TVS aren't so great these days.
So, these are the things that you should consider when buying a TV for yourself. It's time for me to answer some of your frequently asked questions. 
Final Words!
We've reviewed the best 82-83 inch TVs in different types of price ranges.  I hope, by now you'll be able to decide on the tv that you want to buy. If you have any questions related to the topic, you can put them down below in the comment section. I'd love to help you out.
1) Is QLED or OLED better?

Even though there isn't much difference between QLED and OLED, Both technologies come with pretty much the same features. However, QD-OLED can provide you with improved color quality.

2) At what size is 4K noticeable?

For a 4K experience without being too close to it, experts recommend a screen size of 42 inches. A larger screen may allow you to sit further away while still receiving the best possible visual quality. It is essential to keep all of this in mind as televisions with even greater pixel counts hit the market.