While shopping for a new TV, it eventually becomes a real challenge for you to decide on Android TV vs smart TV. You get confused and wonder whether android tv is better or smart tv? Then, On top of that, the jumbled terminologies of televisions work like a chef's kiss in that puzzling situation and you end up buying a TV model you never wish for.
That's why it's crucial for you to know the main difference between Android TV and smart TV in order to get the right television for yourself. Always keep in mind that each TV has features and drawbacks of its own, so it's best to first do a complete analysis of what you desire or what you need. Such analysis will make it easier for you to get your perfect TV model.
Android TV Vs Smart TV: The Summary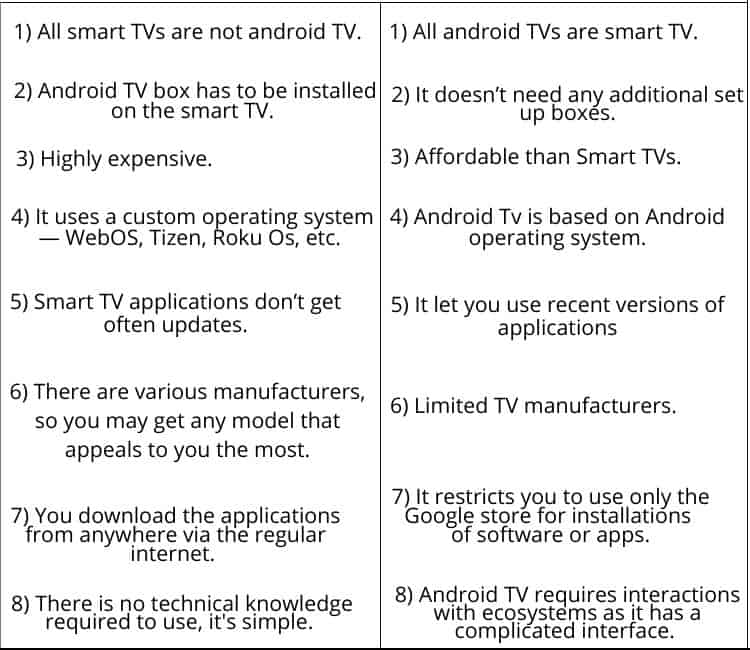 What Is Android TV?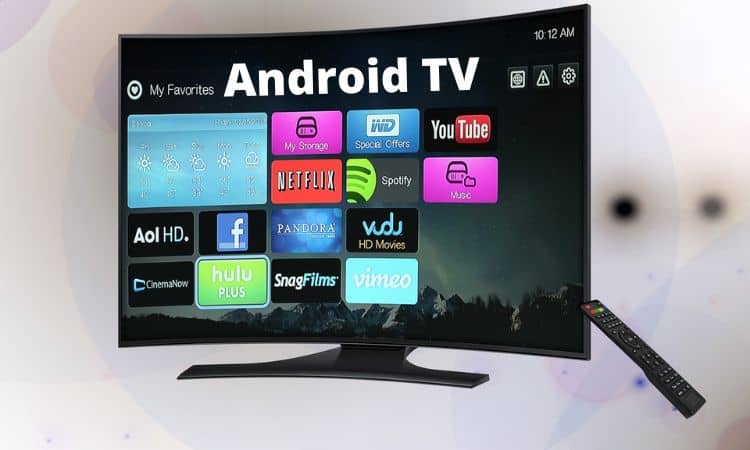 Android TV, the term is very simple and easy to explain as this TV is basically the variant of smart TVs based on the Android operating system. They are built by Google, specifically for TV sets, digital media players, sound bars, etc. Android has 40% of the market share of the leading TV and it's already a well-known brand since it has its own operating system (OS).
Android TVs are simple to connect to mobile devices via the Google Play Store and also support voice control. The TV remote has a microphone that connects to Google Play, Music, Movies, and other Google services so you can quickly access your preferred app with a single voice note.
However, you won't need to worry about app updates because Android TV has a big choice of various applications that are connected to the play store and are automatically updated often. On top of that it also boasts the most user-friendly and media-focused interface, if you don't know how to operate the TV properly, it could become challenging.
Pros:
Affordable than smart TV




A broad range of applications



Cons:
Has Limited manufacturers means fewer variations in TV models




A bit complex interface (if have less knowledge)



What Exactly Is Smart TV?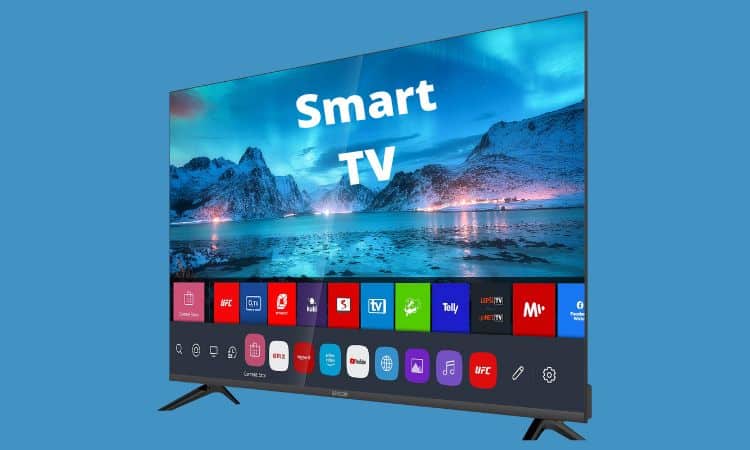 The statistics show that in 2020, more than 70% of Americans have access to a smart TV, and by 2021, more than 56% of houses in the same country had also integrated the same TV sets. But what exactly this TV is? A smart TV, often known as a connected TV, has revolutionized the regular TV system by integrating processors and internet connectivity. However, it is impossible to happen on a smart TV without other projection equipment, which means an additional cost and effort.    
In addition to online videos, movies, games, and surfing, smart TVs offer a superior cinema experience for Television programs. They also fully support Web 2.0 functionalities. The big 4K UHD smart screen tv, extensive compatibility for internal and external sensors, and advancing operating system of a smart TV undoubtedly make this device a nexus for smart homes.
It is based on the same operating system you commonly see on PC or mobile phones. Instead of being limited to installing programs exclusively from a set browser like Google, a smart TV lets you add apps according to your own preferences from any browser. Although a smart TV in terms of cost are more expensive than an Android TV, many of us still choose them because of their ease of use and user-friendly interface.
Pros :
User-friendly




Can operate with a single remote



Cons:
Expensive




Updates are not available often



Difference Between Android & Smart TV
Operating System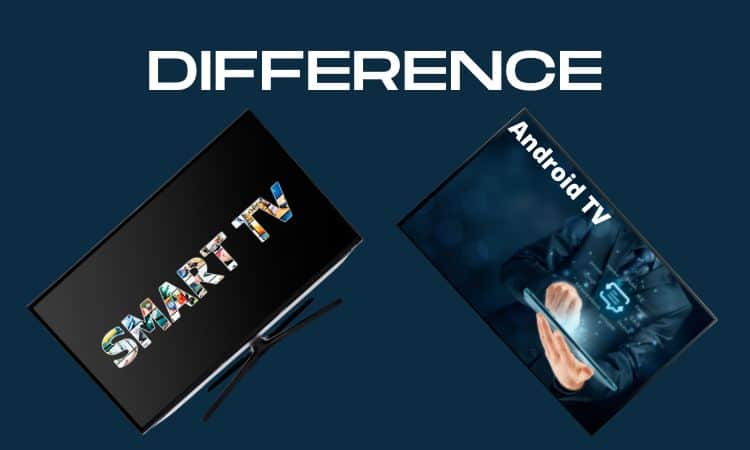 The operating systems create a lot of differences between smart and Android TV. Smart TVs' operating systems depend on their brands as this TV has a number of manufacturers. Smart TVs can have various operating systems, such as Tizen OS or webOS, and proprietary systems. The main difference between Android and Smart TV is their operating system. For example, Samsung Smart televisions come with an OS called Tizen that is massively popular as it's a Linux-based, open-sourced web OS, Whereas LG uses its operating system called WebOS.
On the other contrary, Android TV is based on the android OS. Android TVs run on the Android operating system powered by Google. It's known as an internet TV and runs on the Android operating system. Many Android TVs offer a familiar Android experience. It's a free operating system integrated into all android TV sets. With this operating system, you can access resources like the Google Smart Speaker and download apps and games from the Google Play Store.
Availability Of Applications
The built-in and downloaded applications are where Smart TVs and Android TVs differ significantly from one other. More than 7000 downloaded apps are available in the Android TVs' own huge application store. Because the operating system can execute any Android app, sideloading applications on Android TV is a popular approach.
Whereas, a majority of the downloadable applications are not available on smart TVs as it supports a limited number of apps, unlike on Android televisions. On a smart TV, you can only install applications that are accessible in the App Store, but you can easily access your favorite video streaming services like Netflix, Hulu, Prime Video, or Vudu.
What is the best way to install apps on your smart TV that is not available on the app store?
Open a web browser on your TV, such as Google, Firefox, etc.




Now put the name of the application you want into the search engine. Give a space after you've typed your name, then type "apk" before clicking the search button. There will be several apk apps accessible if you open the first web link that appears on your screen.




Select "Download APK." After that, there is another download option; tap on it.




A warning notice will appear on the screen once you have finished clicking. Your app will download in a few minutes after you click OK.



Screen Mirroring
The Screen mirroring function is a way to view photos, videos, and websites from a mobile device on a TV. The feature is directed in android TVs via Android phones. It is quite possible in Android TV user can directly screen mirror their favorite application from an Android phone to an Android TV by Google Assistant and built-in Chrome cast.
The built-in Chromecast and Google Assistant on Android make this feature accessible. There are no monthly costs associated with watching Android TV, It's free. The sole expense is the cost of the app subscriptions, which are determined by the manufacturer before purchase.
How can you mirror your Android to your TV?
Ensure that your tablet or smartphone is connected to the same Wi-Fi network as your Chromecast.

Activate the Google Tv Home app.

Tap and hold the device's icon to cast your screen to it.

Click Cast. After a little interval, your screen will be mirrored.
Whereas in smart TVs, you have to attach some compatible device or screening tool to support this feature and of course, it will require more cost. However, Android TV boxes like the MI box, NVIDIA Shield TV, Chromecast, etc. can convert the Smart TV to Android.
Pricing Factor
It's unquestionably the issue of the most fierce debate between a smart TV and an android TV. But the cost of both TVs is totally determined by their features. Both Android and Smart TVs have advantages and disadvantages, but this is not an issue at all if you know exactly what you want to buy.
Nevertheless, It has been observed that Android TVs are slightly more affordable than smart TVs. If handled appropriately, a quality Android TV will last about up to seven years. And for a long time, it will get software and firmware upgrades, including critical security protections.
Therefore, an Android TV will continue to be more effective if you want to get one for a while than Smart TVs. After a few years, other smart TVs will probably discontinue receiving software and firmware upgrades, which might have a deleterious impact on compliance and functionality. However, to properly get benefits from the Android TV, users will need to be more familiar with the Android ecosystem, as it has a more complex interface than Smart TVs.
Automatic Upgrading
Another main difference between Smart TV and Android TV is the pace of application updates. Because Android TV developers frequently release new updates for various applications, we can always utilize the most up-to-date apps because the downloaded apps are updated automatically.
Android TVs outperform smart TVs in this situation by a significant margin. Because updates for smart TV applications are difficult to get often. If you choose Smart TVs, you might have to buy the latest version to access the most recent apps.
Where can you find updates on your Smart TV?
Go to settings in your TV and select support.

Select the button software update then tap on "Update Now".

When there are no updates available, select OK to exit the Settings menu.
Apps Integration:
Android TVs offer many Android apps and have access to the Google Play Store, making it easy to download and install a wide range of apps.
Smart TVs may have app stores, which may have a more limited selection of apps compared to Android TVs.
Chromecast Support:
Android TVs often come with Chromecast and built-in google assistant, allowing you to cast content from your smartphone or other devices.
Not all Smart TVs have Chromecast support, and it may vary depending on the brand and model.
User Profiles:
Android TV may support multiple user profiles, allowing each user to have a personalized experience.
Smart TVs may or may not offer user profile support, and it varies among different TV manufacturers.
Voice Assistant:
Many Android TVs come with built-in Google Assistant, offering voice control and search functionalities.
Some Smart TVs come with their voice assistants and may also have Google voice assistant, but it varies, and not all models offer this feature.
Device Compatibility:
Android TVs are designed to work seamlessly with Android smartphones and other Android devices, creating a smart home ecosystem.
Smart TVs can connect your smart home devices like Android smartphones, but the integration may not be as extensive as with Android TV.
What Should You Choose?
When choosing between a smart TV vs android TV, a lot of factors should be considered (some of them are already mentioned above). A Regula Smart TV often costs more, but even if it can't match its rivals' many capabilities, it gives you a lot simpler experience—especially if you've never used an Android device before.
Contrarily, Android TV enables you to personalize the content on your television, stream video online, and mirror content from your smartphone or Chromecast. In addition to supporting voice input for instructions and all-purpose search across many services, it is far less expensive than smart TVs. Moreover, as per the company, Android TV OS is now installed on more than
80 million devices monthly, including Chromecast and smart TVs.
Now, it's solely upto you which TV you want to go with. But, bear in mind that no TV can provide you with a plethora of benefits before making a purchase. However, according to market research, Android TVs are significantly more successful than smart TVs because the latter lack several advanced features and are not expanding as predicted.
1. What's the difference between a Smart TV and an Android TV?

A Smart TV is a television that can connect to the internet and offers various smart features. An Android TV is a type of Smart TV that runs on the Android operating system, providing access to a wide range of apps and Google services.

2. Can I upgrade my Smart TV?

Generally, Smart TV cannot be upgraded in terms of their operating system. However, you can often add external devices like best streaming sticks or boxes to enhance their capabilities.

3. What is the major difference between Android and other smart TV operating systems?

The major difference is that Android TVs are powered by the Android operating system, offering a more extensive app ecosystem and integration with Android devices like smartphones and tablets.

4. Do Android TVs offer a better gaming experience compared to regular Smart TVs?

Yes, Android TVs often provide a better gaming experience due to their access to a wide range of gaming apps and compatibility with game controllers.

5. Are there Smart TVs that support voice assistants like Google Assistant or Amazon Alexa?

Yes, some Smart TVs, including Android TVs, come with built-in voice assistants like Google Assistant, making it convenient to control your TV and search for content using voice commands.