It is crucial that you have the best operating system for your television so you can access all of its features. One of the top Operating systems today are, Android TV and WebOS. 
This Webos VS Android tv comparison post will help you decide which operating system is the best, so stay around till the end.
WebOS VS Android TV( Quick Answer & Comparison Summary)
The WebOS interface is very user-friendly and easy to navigate. In contrast, the Android TV OS's interface is quite complicated. 
A TV with WebOS is quite expensive, so budget-conscious people may not be able to afford them. On the other hand, the Android TV OS is available to almost everyone, and you can own a TV for much less money.
Our winner is WebOS, but Android TV is also a good OS to go for.
| Feature | WebOS | Android TV | Winner |
| --- | --- | --- | --- |
| User Interface | Easy To Use | Difficult to Use. | WebOS |
| Remote Controls | Best | Best | Both |
| Apps | Don't Include Google Play Store. | Includes Google Playstore. | Android Tv |
| Screencasting | Best | Best | Both |
| Voice Assistant | Google Assistant | Google Assistant | Both |
| Supported TVs | KMC Walton, Seiki, and Croma | A4 and A6, as well as the H55, A6G, H56, and U6G series | Android Tv |
| Wireless Technologies | Bluetooth/wifi/ MiracastTM | Bluetooth/Wifi. | Both |
| Screen Resolutions | HD, Full HD, HDR, 4k. | HD, Full HD, HDR, 4k. | Both |
| Lifespan | 5-7 Years | 5-7 Years | Both |
| Price | Expensive | Affordable | Android TV |
Best Web OS TVs That You May Consider
| TVs | Resolutions | Screen Size | OS |
| --- | --- | --- | --- |
| LG Class UQ9000 Series | 4k | 65-Inches | WebOS |
| LG Class UQ9000 Series | 4k | 55-Inches | WebOS |
| LG OLED C1 Series | 4k | 65-inches | WebOS |
| LG Class 76 Series | 4k | 50-Inches | WebOS |
Best Android TVs That You May Consider
| TVs | Resolution | Size | OS |
| --- | --- | --- | --- |
| Hisense Class R6 Series | 4K | 65-inches | Android TV |
| Sony 4K Ultra HD TV X85K | 4K Ultra HD | 43-Inches | Android TV |
| Sony 4K Ultra HD TV X80K Series: | 4k ultra HD | 55-Inches | Android TV |
| TCL Class 5-Series | 4k ultra HD | 65-Inches | Android TV |
WebOS VS Android TV: An Overview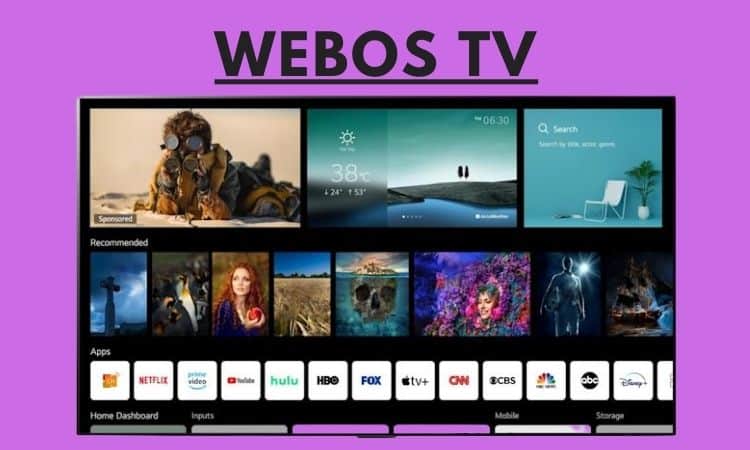 The LG WebOS System is a Linux-based operating system that was initially created by Palm and later adopted by LG to operate as an operating system for premium televisions. 
Users can access applications running on this WebOS using a browser, and this isn't typical. It is a web-based application.
The most notable aspect of this LG WebOS Smart TV operating system is the quick launch bar beneath the screen.
The applications that are available in the Quick Launch Bar are listed at the bottom with a simple and slanted design. 
Simply click the "Home" button on the remote control that is motion-sensitive as well as it will be a quick launch bar.
The quick launch bar will immediately appear at the bottom of the screen. Using the remote control, you can select it either left or right. 
This will allow the quick switching of applications without returning to the interface that you are currently using.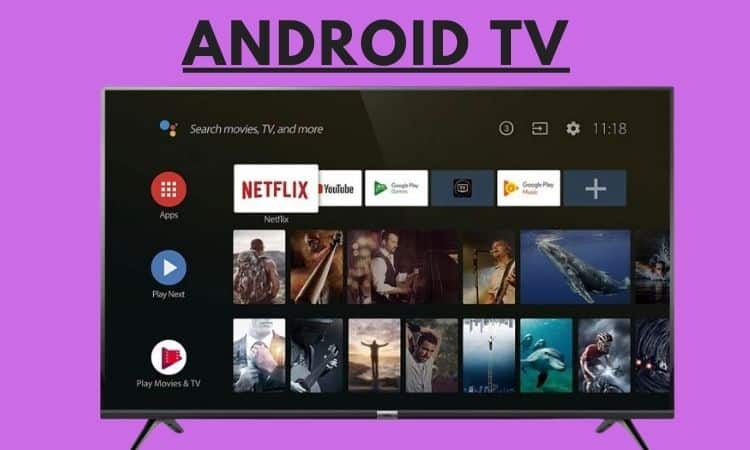 AndroidTV is one of the more popular smart TV operating systems available from various manufacturers.
The majority of Chinese companies prefer using Android TV to power their Smart TVs in order to provide the best value for money. 
Sony is one of the leading brands that uses AndroidTV OS to power its Bravia line of televisions.
According to the TV manufacturer, your Smart TV experience will be different since most TV manufacturers apply their own skins over Android TV. 
The bright side is that AndroidTV is equipped with Chromecast support straight out of the bag. You can stream content via your Android tablet or smartphone easily.
To control voice commands, Android TV, no surprise, comes with Google Voice Assistant. If you buy the Sony Android TV, you will receive both Google Chromecast and Google Assistant straight out of the box.
Android TV can also allow you to monitor other devices in your home, like Google Hello and other IoT devices.
The main benefit of AndroidTV is its catalogue of apps. With access directly to the Google Play service, users can download and install the most popular games and apps easily.
Now you know about both of the operating systems, Webos and Android TV. But, the question remains the same: which one should you go for? 
For that, we'll have to get deeper into the features that both Operating systems provide. Let's dive in.
Features of WebOS VS Android TV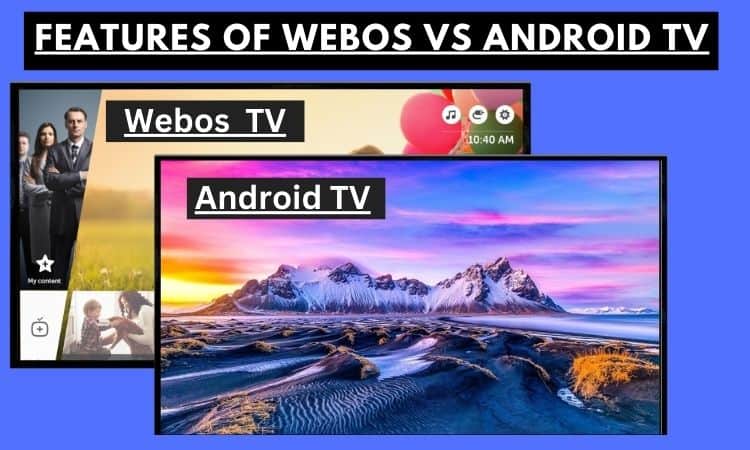 Both operating systems come with a variety of amazing features. So, let's compare all of them to find out the OS that is worth going after.
Each time a new update comes to the operating system, the OS becomes better and easier to use. 
Therefore, over the years, a lot of changes have been made to both the OS, Webos and Android TV.
When it comes to WebOS, a lot of new features and changes have been added to its interface to make it easy and very efficient to use. 
In the beginning, WebOS had only one bar at the bottom of the screen.
Users can now use everything that the operating system provides, including games, apps, web searches, e-mail, and other features.
Their latest update features a full-screen interface instead of a simple bar. The latest update of the Webos has changed the simple bar to a full-screen interface, which looks more attractive and is easy to use.
The webOS 6.0 update has given webOS an edgier look since then. Users will have an interface that covers their entire device screen in the update.
The new interface is one main screen, with options for streaming, apps, and recommendations, as well as other functions the TV has to offer.
However, this update isn't yet available for all smart TVs with webOS but will begin rolling out on LG's latest models in 2021. 
For those with older models, they are restricted to earlier versions of the webOS. They'll have to buy new televisions to run the most recent versions of WebOS.
What about the Android TV interface? Over the entire home screen, Android TV displays a row of content.
But, some modern devices are moving to an identical Google screen in the near future. Those who are familiar with Android tablets and phones will be able to master Android TV.
The drawback of the Android TV interface is that it is difficult to use.  So, our winner for the best user interface is the WebOS operating system.
Related: Disadvantages Of Android TV
No matter what good quality TV you're using, if it has bad remote controls, it'll give you one of the most pathetic viewing experiences. Because, with remote controls, you'll not be able to use the streaming features with ease.
Both the OS remote controls have a lot of great controls that make it easy to use all of the features of the TV.
With the Webos TV remote, you will find the power button, the numbers as well as buttons for volume down and up, back, guide mute, home rewind, settings, and forward. Netflix and Amazon Prime Video buttons are also included.
Within the centre of the remote, you'll find a pointer that allows you to navigate effortlessly on the TV, just as you would use a mouse on your computer.
By using the circular pad, you can also move between up and down and also increase or lower the volume on the TV. In addition, the TV features a voice assistant that allows you to manage your TV using your voice.
What about Android TV? In this OS, there are buttons for Home Back Mute, Power Input/Source, and the Microphone LED. Additionally, it has buttons for YouTube as well as Netflix.
Right on the remote, you can adjust the volume up and down. You'll find the direction pad on top of the remote.
From the middle of this directional pad, you can choose anything that is on the remote. The directional pad moves it up and down, left and right.
The Google TV remotes also include buttons to activate Google Assistant, using which you can speak to manage your TV.
Overall, both operating systems offer the same and best functionality.So, we can't declare any of them better than the others.
The selection of apps is an essential aspect of using a Smart TV. Luckily, Android TV and WebOS offer a wide range of apps and content.
Even though most of the needed apps come pre installed on both of the operating systems, we still sometimes want to have the apps of our own choice.
And to download them, we need to have a Google Play store that allows us to download thousands of apps in one place. But, the bad thing is that Webos doesn't allow you to use the Google Play store.
Yes, you heard that right. While Android TV lets you access the Google Play Store and download any app you want,
WebOS, on the other hand, includes an LG content store from where you can download all of your apps. 
There are numerous streaming apps and other functions. While Google Play provides more options, the LG Content Store is a good alternative.
The LG Content Store provides enough applications to satisfy the majority of smart TV owners.
We'd say, Android TV is the winner of this app comparison category as it supports the Google Play store, which has tons of apps for you to install. 
Even though the LG content store has enough features, it still stays behind the Google play store.
What is screencasting? It is imperative that you ask yourself this question. Let's learn it first. In a similar way to mirroring, screencasting allows online content, like videos, movies, and music, to be streamed from tablets, phones, or computers to televisions.
Since only the content is streamed, you can use your device without interrupting the stream.
At present, most smart TVs come with screencasting technology. There are differences in the technology between each version that runs on different operating systems. 
For instance, the feature of smart sharing in WebOS lets users view all types of video content on their TV.
The Android TV Chromecast allows users to share content from applications that support Chromecast, such as Netflix, Hulu, Prime Video, and YouTube.
Screencasting of both operating systems is on footing, so they are both winners.
Voice assistants use speech recognition and natural language processing as well as speech synthesis to perform actions on user input to assist them.
Voice assistants are now synonymous with Google Home as well as Amazon Echo.
When it comes to the voice assistants of Webos and Android TV, both of them are compatible with Google Assistant. On Android TVs, it is possible to turn it on at the time you set up the device or activate it later.
Android TVs support Google Assistant in English, French, German, Indonesian, Italian, Japanese, Korean, Portuguese (Brazilian), and Spanish. So, both of them win in this category.
What TVs support Webos and Android TV operating systems? Television companies that utilise WebOs are KMC Walton, Seiki, and Croma; mostly lower-end brands or those that are entry-level. TV companies such as Konka and Blaupunkt began licensing webOS in 2021.
LG launched the webOS's first version on their own televisions back in the year 2014 following buying the software from HP.
What about Android TV? In 2022, the majority of its televisions will run Android TV. This includes the A4 and A6, as well as the H55, A6G, H56, and U6G series of TVs. Since Android TV OS supports more TV companies than WebOs, it's the winner of this category.
With wireless technologies, you can connect your tablet, laptop, or any external device to your device when needed. When it comes to wireless technologies, WebOS comes with Bluetooth and WiFi, which make wireless streaming very easy.
Plus, webOS 3.0 offers Magic Mobile Connection, so you can stream all of your favourite content wirelessly from devices through Bluetooth(r) or MiracastTM.
The Android TV(TM) comes with a built-in wireless adapter, which allows it to utilise Wi-Fi(r) technology for connecting to networks. If, however, you prefer an unwired connection, an Ethernet cable (not included) is required.
However, this OS doesn't include MiracastTM, but in place of that, it includes a built-in wireless adapter that does similar work. So, both of the OS are winners in this category.
All TV viewers consider price to be the most important factor. This is the first thing considered while buying a TV. 
Isn't it? So, what about the price of Webos and TV Android TVs? Webos TVs are usually more affordable than Webos.
Because Webos OS is usually included in big brands like LG, which cost hundreds of thousands of dollars for a high-end TV. While Android TVs come in affordable brands like TCL and Hisesnes, they're quite affordable.
Usually, the lifespan of both TVs is the same, which is 5 to 7 years. However, according to Reviewed.com, Android TVs last longer than 7 years, even if you use them quite roughly. But still, we can't declare any brand a winner in this category as both of them have the same durability.
Both of the operating systems come with the compatibility of HD, Full HD, HDR, LCD, and 4k. As a result, both brands have won this category.
WebOS Vs Android TV/ Which Operating System is the Best?
Is WebOS better than Android TV? Yes, it provides you with a very user-friendly and clean interface. You can easily navigate it for any function you want. 
On the other hand, Android TV comes with a difficult-to-use user interface, which makes it hard for you to use. 
But, the user interface isn't the only thing that needs to be considered before declaring one the winner. As you can see, both operating systems are covering more than half of the ground. 
So, Android TV isn't a bad OS either, but in terms of the interface, which must be user-friendly, it fails.
Compared to WebOS TVs, Android TVs are way cheaper. Budget-conscious people will appreciate them.
So, our final winner is WebOS, which is the OS of LG and is used by a number of TV companies.
WebOS VS Android Tv, Which is the best? Even though both of them are the best WebOS Outperforms Android tv in terms of the user interface. WebOS offers an easy-to-navigate user interface, while Android TV OS's TV interface is quite difficult to use. 
In both operating systems, the rest of the features are almost identical. We recommend Android TVs if you're on a budget. If you don't have a budget, we suggest WebOS TVs.
That's all for today. Which OS would you like to go with? Feel free to share your thoughts in the comments.
1) Is WebOS better than Android TV?

Yes, WebOS is better than Android TV OS as it provides you with an easy-to-use interface.
2) Are WebOS TVs good?

Yes, WebOS TVs are great as they're equipped with a lot of streaming features. They're user-friendly and very fast to operate.
3) Is webOS identical to Android TV?

Android TV was created by Google and is available across a wide range of devices, such as streaming sticks, smart TV set-top boxes, and much more. 

webOS, on the other hand, is a Linux-based operating system developed by LG. It's mostly accessible in LG's selection of TVs with smart features.

4) Which OS is Best for Smart TVs Between Android TV and WebOS?

The best OS for smart TVs depends on your preferences and needs. Android TV offers  a wide range of  apps and Google integration, while WebOS is much more minimalist & known for its user-friendly interface and simplicity.

5) Is Android TV the Same As Google TV?

No, Android TV and Google TV are different. Android TV is an operating system for smart TVs, while Google TV is a user interface and content recommendation system that can run on some Android TV devices.

6) Is the New WebOS 6.0 interface Available for LG Smart TVs?

Yes, WebOS 6.0 is only available for select LG smart TVs, offering new features and improvements.

7) Are There Any Game Optimization Features for Android TV?

Android TV offers game optimization features, including support for game controllers and access to a variety of gaming apps from the Google Play Store.

8) Can I Use Google Assistant on WebOS Smart TVs?

Some WebOS smart TVs may offer Google Assistant integration, allowing you to control your TV using voice commands.

9) Can you share your smartphone screen on Android TV and webOS?

Yes, both Android TV and WebOS often support screen mirroring or casting, allowing you to share your smartphone screen on your TV.

10) Can you play games on WebOS like Android TV?

Yes, you can play games on WebOS smart TVs, but the selection of games may be more limited compared to Android TV.

11) Can you control Android TVs and webOS TVs with smart speakers?

Yes, you can control some Android TVs and WebOS TVs using compatible smart speakers like Google Home or Amazon Echo.

12) Do WebOS TVs have an app store?

Yes, WebOS smart TVs have their app store where you can download and install various applications.

13) Does Android TV support Disney Plus?

Yes, Android TV supports Disney Plus, allowing you to stream Disney content on compatible devices.