You have a few options to get more use out of your LCD TV, regardless of whether it has issues with the speaker, the display, cracking, or any other problem.
Eventually, you'll need a new TV if your current one has dead pixels, a fuzzy screen, or distorted colours.
What should you do with your old screen, though?
In this article, we'll discuss what to do with broken TV or LCD screens and give some tips and advice for recycling broken TVs.
Let's begin now.
What To Do With Broken TV
Have you ever thought about recycling an old flat-screen TV lying in your garage?
You may turn a dull blank screen into some fun projects in addition to saving an old piece of technology from the trash heap.
We've selected some things to do with a broken LCD screen to give you an idea of what you may do with your old screen.
Who knows? You might be able to learn how to fix them if you're successful with these LCD recycling and repurposing projects!
What To Do With a Broken Samsung TV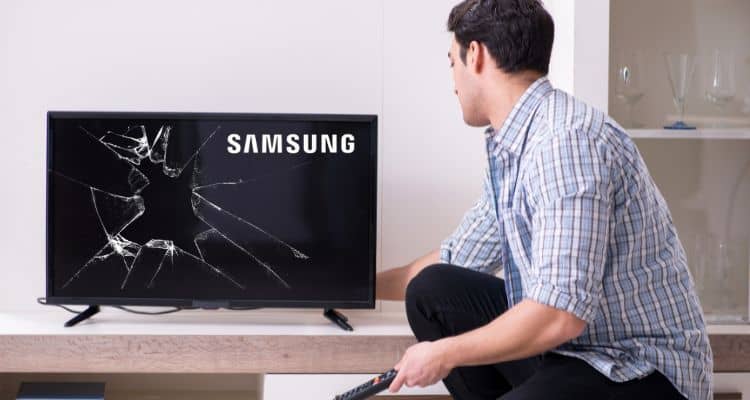 You don't need to worry about your Samsung TV's cracked screen. For servicing your curved, flat, LCD, LED, QLED, UHD, or Full HD TV,  the company has all the information you need. To guarantee that your service goes smoothly so you may start enjoying your TV, follow our suggested guidelines.
Note: Your TV's screen must be 32 inches or lower for the mail-in service.
Find a service location and track your repair.
When setting up your TV for service, you must pick the area closest to you. Then you may schedule a time and track the progress of your repair.
To help you in getting started, we've provided some links.
Find a Samsung Repair Center by using the Service Locator. Once your repair service is set up, you can track your repair status by entering your service request number and phone number.
Set up service for a TV 32 inches or smaller
You can mail your TV for service if it is 32 inches or less. Before shipping your TV, there are a few things you need to take care of.
Verify that you have a copy of all of your login credentials for the TV apps. When your TV comes back on, you can log back into your apps in this manner. As an illustration, you might be streaming content from Netflix, Hulu, HBO Now, VUDU, Prime Video, and a Samsung Account on the TV.

Take away any USB drives, dongles, or other accessories connected to your TV and keep them safe.

Your TV's power cord must be sent with it; be careful to do so.

 After that, send your TV for repair. You should have received postal instructions if you made arrangements to have it repaired.
Contact Samsung Support if you didn't get instructions or if you misplaced them.
Set up service for a TV larger than 32 inches
You can take your TV to a nearby Samsung Repair facility for service if it is larger than 32 inches. Before having it serviced, there are a few things you need to take care of.
Locate a

Repair Center near you

and schedule an appointment if you haven't already.

 Ensure you have a copy of all your login credentials for your TV applications before your appointment. After your repair, you can log back into your apps. As an illustration, you might be streaming content from Netflix, Hulu, HBO Now, VUDU, Prime Video, and a Samsung Account on the TV.

Remove any USB drives, dongles, or other accessories connected to your TV and keep them safe.

The power cord must be with your TV if you bring it to a nearby service facility, so be sure to do so.
If you have a carry-in service scheduled, bring your TV to the scheduled appointment time. Once it's been delivered, you can track your repair status on the official website by entering your service request number and phone number.
Also Check:
How To Cast Oculus Quest 2 To Roku TV
Recycle Your LCD Tv
If your LCD or LED TV has a broken screen or is just old and no longer needed, recycling it is the responsible choice. There are many electronic recycling programs like MRM recycling and one from Samsung recycling that will take care of your damaged TV. Safely dispose of your old or broken Television at a local recycling facility or electronic recycling like MRM Recycling or Samsung Recycling. 
Recycling services is the best way to ensure that electronic waste, or e-waste, doesn't harm the environment. You can also explore options to sell your old TV properly, ask for offers on classified sites, or even repurpose parts like LED lighting strips for a simple DIY project. 
Don't let your old television harm the environment; choose eco-friendly disposal methods and consider upgrading to a new, modern flat-screen TV for your home.
Let's get to Some Fun Tricks!
Transform the TV into A Fish Tank
If you are trying repurpose your old or broken LCD or LED TV to add some fun? Consider transforming it into a unique fish tank/ aquarium for your pet fish in your modern apartment.
Instead of letting your old or broken TV harm the environment as e-waste, you can turn it into a creative DIY project. Remove the LCD screen, use LED lighting strips for ambiance, and safely dispose of any hazardous components at a recycling facility.
This way, you can ensure eco-friendly electronic recycling and provide a stylish home for your aquatic friends while keeping harmful e-waste at bay.
Check with local charities or classified sites if someone wants to buy your old lcd screen components like the backplate, or simply enjoy your innovative modern apartment for your pet fish in an environmentally responsible way.
What To Do With a Cracked LED TV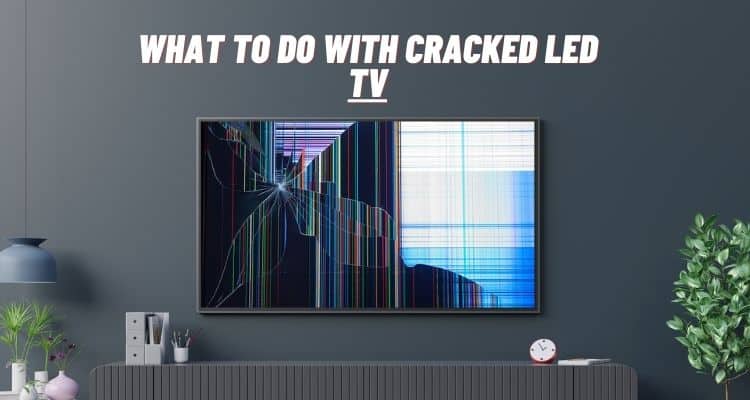 There are several levels of severity for TV screen cracks. Thus, you may face anything from a completely dead screen to faint lines in the image, no sound, no picture, or poor picture quality.
Before giving up, you should take a deep breath, assess the damage, and consider your options.
You shouldn't attempt to resolve the issue yourself, especially if it involves a flat-screen CRT. Unless you have experience working with electronics, you almost always touch it incorrectly and are likely to get a strong jolt.
Here's what you need to do:
Check Your TV Warranty:
A reasonable thing to do here is to bring out the paperwork and see if the TV is still within the warranty. If so, all you have to do is bring the TV to the designated service centre. 
Please, make sure to contact the guys only at an authorized service centre to get genuine services). The likelihood of you receiving a free tv repair shop, a paid repair, or a replacement depends on the cause of the damage. It also depends on the specifics of the warranty agreement with the tv manufacturer or supplier of your TV.
Get A Professional, Authorized Repair:
Your best option for bringing your TV back to life is to take it to a professional, authorized service centre. Skilled TV specialists will examine it, provide accurate damage details, and recommend a quick and affordable repair.
What to Do With a Broken TV That Can't Be Fixed
Here are three things You Can Do With a Broken LCD TV or broken TVs that can't be fixed:
1-Bring It to Your Community's Recycling Center
If you're going to throw your TV away, it is better to recycle it. Electronics can be recycled at recycling centres in most towns and cities. It's better and more environmentally friendly to recycle your TV than to let it end up in a landfill. 
Most flat-screen TVs contain a significant amount of mercury, which is dangerous to the environment if released. You may find the location of your local recycling facility online if you don't know where it is.
2-Create a transparent LCD screen
How awesome is seeing though a transparent screen while watching movies or playing games? Even if this is not a project for beginners, getting a broken LCD TV and building a transparent screen is possible.
You will need to disassemble the TV, separate each screen layer, and develop a unique design and housing to accomplish this.
Also, you'll need some backlighting, but if you watch this fascinating guide, anything is possible with an LCD!
3-Sell Your Television
A television with a cracked screen that cannot be fixed and if there are no replacements available, you have the option to sell it. Since the screen is the most expensive part of the television and you don't want to attempt to fix your TV, go for selling. Of course, this will depend on the severity of the damage.
Who Makes Onn TV: All You Need To Know
Conclusion
A broken or old TV can have many purposes. You don't need to throw it right away. Check to see if you can recycle it for cash as an alternative. Or, if you're feeling charitable, give it to someone who could use it. You might make someone's day better. You can take that old LCD that has been gathering dust and transform it today! It's all up to you what to do with broken TV. Good Luck!