It's a sight that's extremely common in many households: an expensive, beautiful flat-screen TV that has a whole bunch of ugly wires sticking out of it. 
There are very few things that can make your living room look as untidy and cluttered as a whole mess of wires and cords. 
Quick summary
In this post, we will provide several different solutions to hide TV wires when your TV is mounted to the wall. 
We will provide solutions that don't require you to cut into your wall as well as one solution for which you do need to cut into it. 
So without further ado, let's get started.
How to Hide TV Wires Without Cutting into the Wall?
One of the best methods to hide cords and wires is to cut into your Drywall and hide them behind them. 
However, you require many different tools and supplies to achieve that. Not to mention that it's a lot of work and if you don't do it properly, it can become a safety hazard. 
If all of that is not something you want to deal with, you're in luck because there are a few other ways to hide your wires that don't involve cutting into your wall. 
These methods are:
Use Decor to Hide TV Wires
This is by far the simplest way to hide wires since it does not require you to go out and buy any extra equipment. 
You can just use decoration pieces such as flowers, vases, books, busts, etc. to hide the wires. 
If you have a wall-mounted TV above a table or something similar, you just need to place some decor pieces on top of it to hide your wires. 
You can even use decorative boxes to hide your cable management box or other peripherals that may plug into your TV. 
A quick tip: When you are hiding wires and peripherals with decorative items, make sure that you don't block any important sensors for the TV or the peripherals. 
If you do that, they can become extremely difficult and annoying to operate.
Use Cord Clips with Furniture
This is a method that may not work if you just have a wall-mounted TV with no furniture around it. 
However, if you do have furniture underneath it, this method works great. 
Firstly, you will have to buy some adhesive hooks. You can get them at your local hardware store or off of Amazon. They are relatively cheap so you can get them without worrying about your budget. 
As the name suggests, they have an adhesive back that you can use to stick them to the back of your furniture. 
Next, all you need to do is insert all the wires into the clips in order to tidy them up. 
Not only does this hide your TV wires but it also keeps them organized and prevents them from tangling up. 
Important note: This method can also work perfectly to hide TV wires if you have a TV mount stand instead of a wall-mounted TV.
Just use the stand itself to hide the wires with the hooks at the back of it.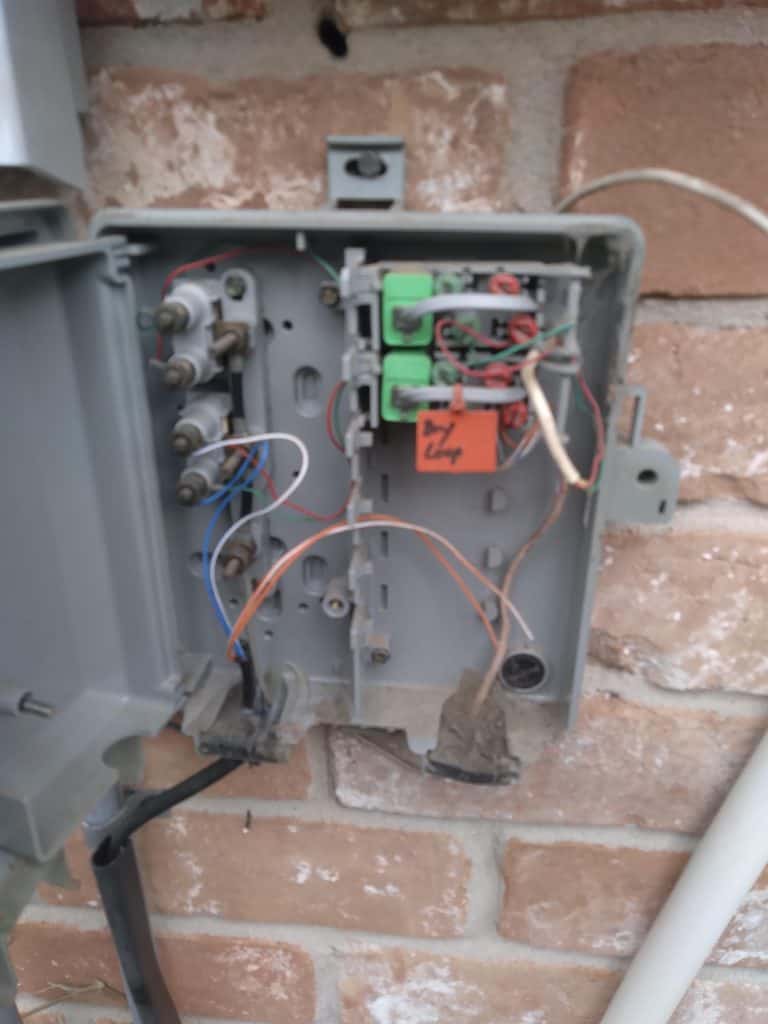 Image Courtesy: Reddit
A cable box or cable management box is something that you can easily find online or at your local electronics store. 
It's a plastic box that allows you to house power strips and wires inside of it. They can be large enough to hide your wires and even small surge protectors.
Always ensure that when you buy a cable box, you buy one that has multiple holes and/or slits around it. 
This will allow you to add wires to it that are coming from all directions. Once you've added all the wires properly, you can add the lid to conceal all of them. 
It's a good idea to keep the cable management box itself in an obscure or concealed place. This will prevent them from getting in the hands of your children or pets. 
You can find cable management boxes in many different sizes and colors. 
Hence, you should get one in a size that is big enough to accommodate all of your wires but also small enough that it doesn't take up a ton of space. 
Also, make sure that you get it in a color that matches your living room's aesthetic. You don't want it to pop out at all; You want it to blend in. 
Utilize a Wall Cord Raceway Kit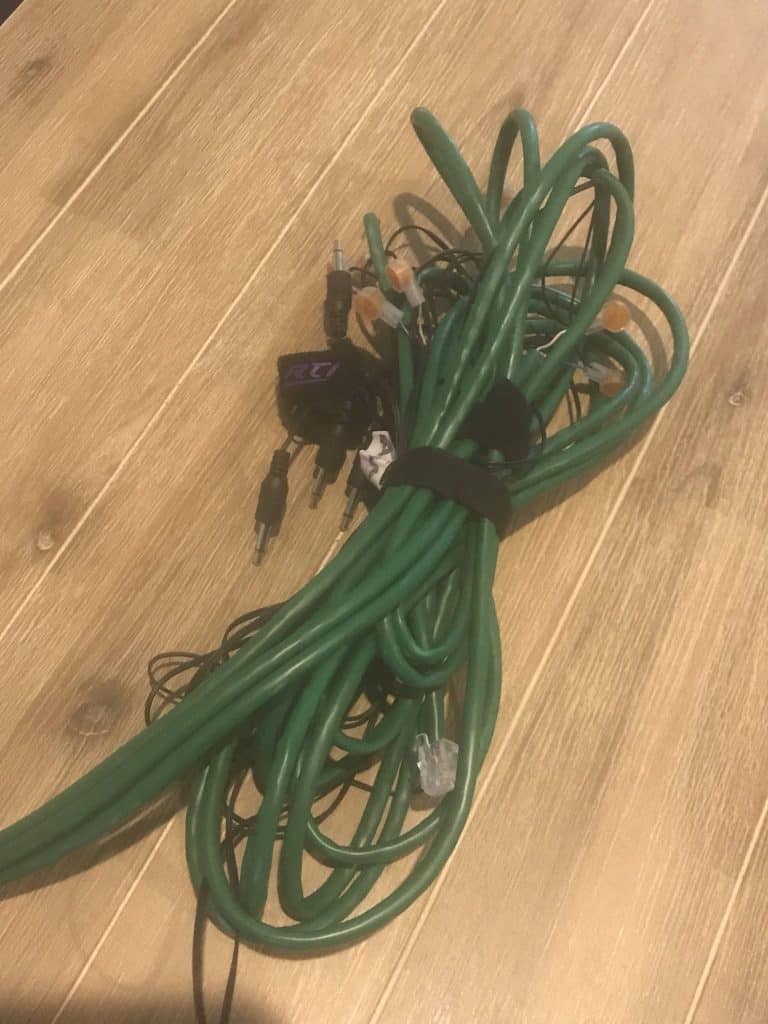 Image Courtesy: Reddit
If you have a wall-mounted TV, then a wall cord raceway kit, also known as a cord concealer, can work perfectly. 
These types of raceways typically have an adhesive strip on their backs. That allows you to securely attach them to your wall without drilling into it or damaging it in any way. 
Just attach the raceway to your wall so that it leads from your TV to the power outlet (or power strip). Next, organize and add all of your wires into the raceway. Once all of the wires are inside, snap the cover on to hide them completely. 
A quick tip: If you're having trouble keeping all of the wires inside the raceway, it can be a good idea to use zip ties to tie the wires together before you snap the cover on.
When you have a raceway, you can add or remove cables from it in the future any time you want. 
However, when you work with raceways, your wires will have to travel a longer distance in most cases. 
In certain cases, you may find that you'll have to get new, longer wires if you are to use the cord concealer. 
If your cord concealer itself is too long, that's not much of a problem in most cases. Since they are made of plastic, they can easily be cut down to the appropriate size. 
We also recommend that you paint your cord concealer the same color as your walls. This will help them blend in a lot better. You don't want them sticking out like a sore thumb. 
If you want to get the best paint match, you can take a small chip from your wall and take it to your local hardware store. They'll help you find the perfect match to paint the cord concealer with. 
Lastly, you should also use a vertical level when you install the raceway to ensure that you're not installing it crooked.
If your electrical outlet or extension cord is not right behind your TV stand or wall-mounted TV, you can use a baseboard raceway to hide your wires. 
Baseboard raceways work in the same way as raceway kits we described above do. The only difference is that they sit just above your baseboard. They blend right in and once you install them, you won't even be able to tell they're there. 
Similar to raceway kits, baseboard raceways also have adhesive strips on their back. You can use it to securely attach them to your baseboard without damaging it or having to drill into it. 
Also similar to raceway kits, baseboard raceways are also made of plastic. That means you can cut them down to size so they attach perfectly to your baseboard. You can also cut them at a 45-degree angle so that you can run cables around corners in your home. 
You can either paint them or just find a baseboard raceway that matches the color of your baseboard. That way, it will entirely blend in and no one will be able to tell that anything extra has been installed. 
Baseboard raceways are great for TV stands but if you have a wall-mounted TV, your wires will still be visible as they run down from your TV to the baseboard raceway. 
To fix this, you can use a combination of the vertical raceway kit and baseboard raceways. 
Use the former to hide wires coming from the TV down to the baseboard and use the latter to hide the wires going along the baseboard to the power outlet.
Use a Fabric Cable Management Sleeve
Fabric cable management sleeves or fabric cord concealers can be a great option for you if your TV is somewhere in the middle of the room; Not against a wall or on a piece of furniture next to a wall. 
Since your TV is in the middle of the room, raceway kits and baseboard raceways are out of the question. The simple solution of using a fabric cable management sleeve will allow you to hide your cables and also keep them organized. 
Not only that but it will also keep them safe from children and pets.
Fabric cord concealers typically come in a variety of different sizes and colors. Hence, always try to get a size that is suitable for your wires and a color that blends well with your living room surroundings.
With fabric cord management sleeves, you can't cut them down to suit your size like you could with raceways. However, you can get smaller ones and keep adding as many as you need. 
Hide Wires Behind a Panelboard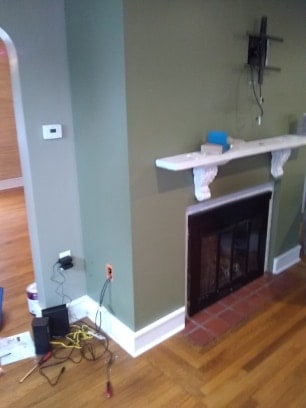 Image Courtesy: Reddit
This is for the craftier ones out there. You can invest in a panelboard and hide the wires that hang from your wall-mounted TV behind it. 
As you may already know, panelboards come in a wide variety of different sizes, patterns, and designs. 
You can choose to go for a flashy, poppy pattern that really makes your TV stand out or you can choose something that blends in with your room's surroundings. 
If you're unable to find a design that you like, you can even cover the panelboard with a fabric of your choice. 
If you don't want to add fabric, you can even paint the panelboard yourself according to what suits you. Again, you can paint it so that it stands out or blends in with your room's interior design. 
If you don't want to spend a ton of money on a panelboard, you can even use a simple wood pallet. 
The concept would be the same and you could even paint the wood pallet board to match your room's aesthetics. 
On the other hand, you can also leave the wood pallet board as it for a more rustic aesthetic.
Hide Wires By Turning Them Into Something Beautiful
This method will take a lot of time and effort but it's definitely worth it if you want to go for something more unique and out there. 
All you need for this method are some adhesive hooks, double-sided tape, clear adhesive clips, or anything similar that is unobtrusive. 
You want something that can securely hold the wires to the wall without standing out too much. 
Next, you have to design the pattern you intend to have on your wall with the wires. This pattern can be anything such as a city skyline, computer chip patterns, spirals, etc. 
Let your imagination run wild as you try to decide what design would look best on your wall. Take a pencil and make a rough outline on your wall for what the pattern will be like. 
Next, take your wires and start pasting them onto your wall using adhesive hooks or whatever equipment you are using to paste them. 
With this method, your wires are anything but hidden. However, that's exactly the way you like it. 
How to Hide Wires of a Wall-Mounted TV by Cutting into the Wall?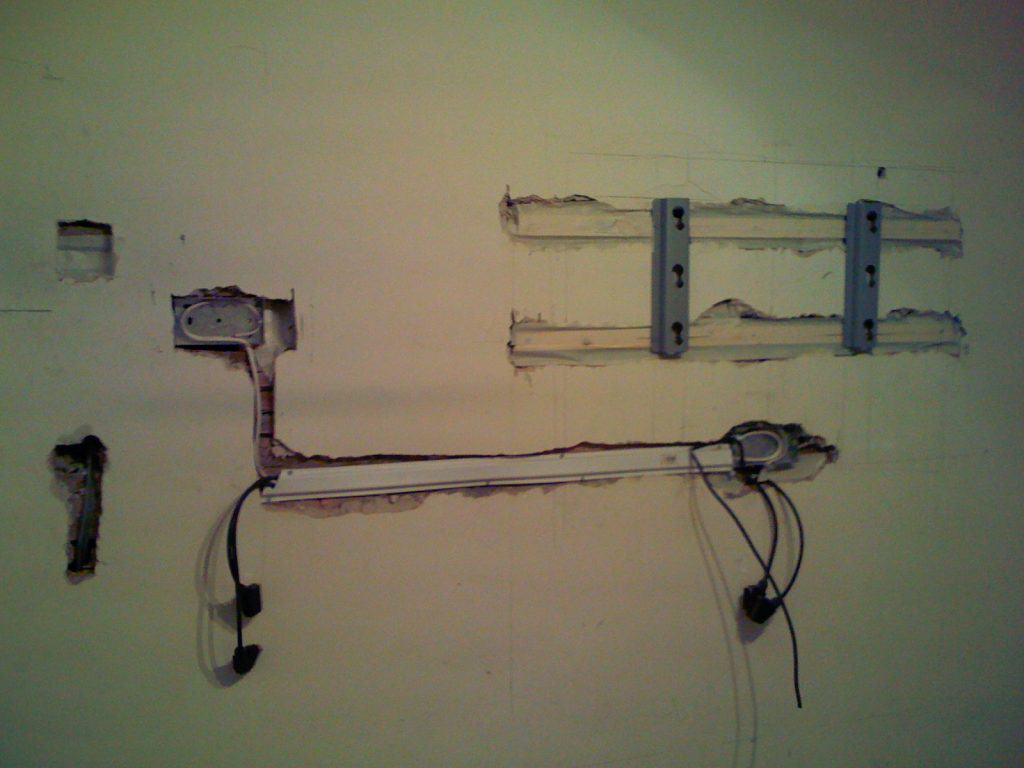 Image Courtesy: Reddit
If you have Drywall and are not afraid to cut into it, then you can take advantage of a much more sophisticated method of hiding wires. 
It'll take a lot more effort than any of the methods we have described above but in the end, you'll see no wires at all. 
Firstly, you'll have to buy an in-wall power extender. 
An in-home power extender has 2 receptacles that connect behind your wall. You can refer to them as the lower and upper receptacles. 
When you provide power to the lower receptacle with a power outlet, the lower receptacle in turn provides power to the upper receptacle. 
All you have to do is find appropriate spots for the 2 receptacles on your wall. 
The upper receptacle should be directly behind your TV and the lower receptacle should be directly underneath it. 
The lower receptacle should be at least 6 inches off the ground and close to a power outlet.
Next, use a Drywall saw or anything similar to cut out the locations you have marked for the 2 receptacles. 
Once this is done, you can utilize fish tape to fish all of the relevant cords through your wall. 
Just do this by feeding the fish tape into the upper receptacle hole, pushing it straight download, and pulling it out of the lower receptacle hole. 
Next, attach all of the relevant TV cords to the fish tape and pull it back out from the upper receptacle. Your wires will now be inside your wall. 
The hard part's over. All you have to do now is attach the power connector between the two receptacles and plug the lower one into an electrical outlet. 
For a more detailed step-by-step guide on how to run cables through your walls to hide them, check out this post. 
As you can see, hiding wires isn't that difficult of an ordeal. We've provided you with several methods ranging from barely any effort to extremely high effort. 
Just go through the post and find the method that works best for your needs. 
If you have any further questions or know any other way to hide TV cables, please let us know in the comments below.