Table could not be displayed.
Creating an outdoor living space without a TV entertainment unit might seem bland.
Most homeowners are scared to install their TVs outdoors because of all the harsh natural elements.
However, using a high-quality outdoor TV mount can undoubtedly ensure a great fit and safer installation than any indoor mount.
These outdoor mounts are comparatively different and built with sturdy materials.
Such outdoor mounts are manufactured using anti-rust materials, which serve well even with prolonged exposure to the weather.
Upon installation, buyers can relax as these mounts even hold mega-inch TVs with utmost ease.
Apart from the structural integrity, these sturdy mounts are highly compatible with various outdoor surfaces like stucco, concrete, vinyl siding, plaster, or brick walls.
But the versatility of these fixtures does not end to residential uses only. You can install TV screens for many commercial projects at airports, hospitals, clinics, parks, daycare centers, restaurants, etc.
Best Outdoor TV Mounts
Scroll down as this buyer's guide will walk you through five of the most sturdy and well-manufactured TV mounts for your outdoor adventures.
If you have any further doubts about TV mounts, we highly recommend reading our FAQs to understand this topic better.
#1 ECHOGEAR TV Wall Mount for Large TVs Up to 90″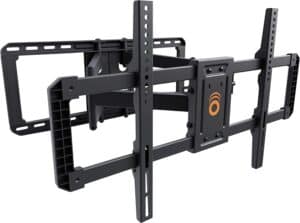 Specs:
TV Size: 42 to 90 inches
Minimum Compatible Size: 42 inches
Tilt Angle: 15 degree
The Echogear Outdoor TV mount is an outstanding solution to keep your TV mounted outdoors.
This product is dual-arm full motion TV mount with 22-inch extension. You will get 15 degree to 90 degree tilts angles and 130 degree swivel.
The mount is very durable that can withstand outdoor environment very well. Buyers with TV units from 42 to 90 inches can easily rely on this impeccable outdoor mount.
Its quick installation feature is undoubtedly its biggest pro which makes the entire installation a breeze.
Our winner, the Echogear TV Mount, is a classic outdoor fixture. It is compatible with different VESA patterns such as 200mm x 100mm to 600mm x 400mm.
Its standard dimensions make it extra easy for owners to attach flat screens measuring 42 to 90 inches. Its impressive 90-inch maximum size bracket is ideal for giant TVs that need a sturdier and heavy mount. This mount bracket is constructed using strong, heavy-gauge steel with an ultra-durable finish coating.
You can use its swivel mounting bracket to enjoy multiple viewing angles with a simple push and pull. Its up to 15 degree tilt gives a lot of adjustment room when viewing the TV from different surface levels. The tilt ability is very helpful in reducing the glare of the TV.
You are also getting a swivel ability of up to 130 degrees. Further, you can easily adjust all the wires and cables such HDMIs very easily with this mount. 
We highly recommend this outdoor TV mount if your requirements include a sturdy case to lock the TV. If the exterior of this product doesn't go with your wall color or theme, you can paint the shell with suitable plastic paints.
Pros
This product is relatively straightforward to assemble.
Users love its built-quality and sturdiness to hold heavy TVs
It can hold 42-inch 90-inch  TV models.
This mount comes with a standard VESA mounting interface.
This outdoor mount gives an impressive 15 degree tilt angle for comfortable viewing.
The manufacturing process uses heavy gauge metal for the base of the product.
Cons
The company has below sub-par instructions on its official manual, making the installation process difficult.
The included VESA screws are not sufficient for mounting current generation Samsung QLED TVs
#2 Runner-up: VIVO Electric Ceiling TV Mount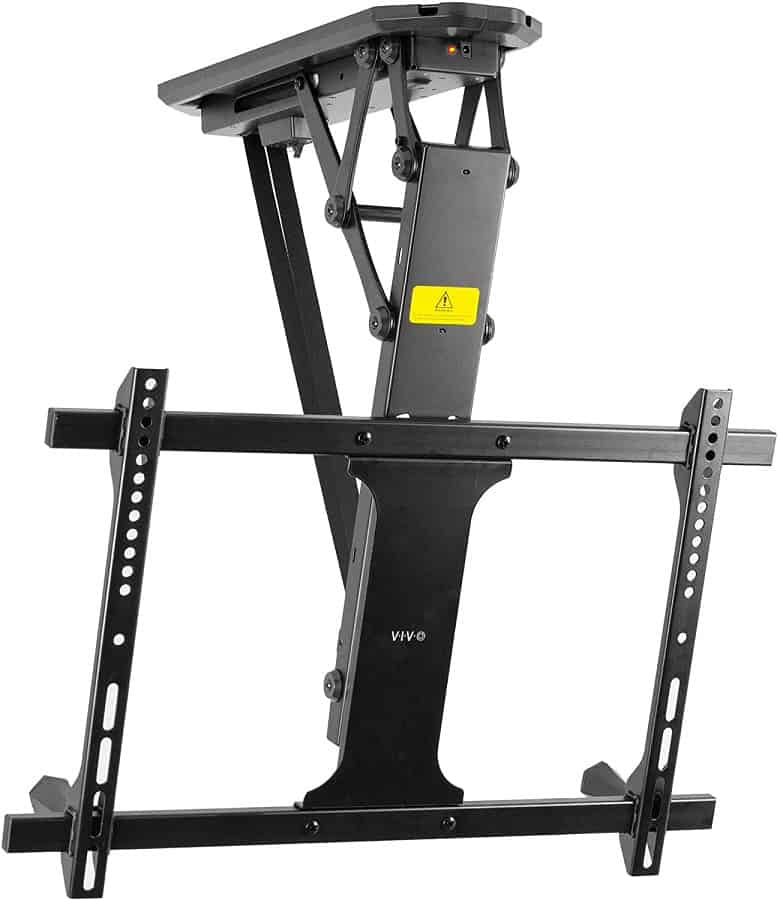 Specs
TV Size: 32 to 70 inches
Minimum Compatible Size: 32 inches
Tilt Angle: 0 to -75 degree tilt
If you wish to invest in a full-fledged electric TV mount, we highly recommend opting for VIVO Electric Ceiling TV Mount.
This mount has VESA mounting patterns for a more stable and secure installation.
The smooth remote control is highly reliable and operates with defined smoothness without any lags.
This outdoor product is excellent for senior citizens and young users alike, making it the best outdoor tv ceiling mount with remote control.
This outdoor flip-down tv mount fits all universal size ranges starting from 32″ to 70″. Buyers with TVs till 77 lbs can easily attach their entertainment set without any fear.
This product is compatible with various VESA mounting patterns starting from 200x100mm, 200x200mm, 200x400mm, 300x200mm, 300x300mm, 400x200mm, 400x300mm, 400x400mm, till 600x400mm.
This ceiling electric TV mount is compatible with both pitched and flat ceilings, so users can attach their TV at their desired locations without worrying about the ceiling's texture, slope, and curve.
Its unique electric-powered lift system can lower your flat screen tv for viewing or conceals it back towards the ceiling with just a push of a button.
The smart remote encompasses radio frequency and programmable memory settings with personalized height adjustments.
Comfortable viewing is the product's USP as it offers 0° to -75° tilt and +2° to -2° screen leveling. Additionally, the remote's wide range allows users to operate the remote even from a distance.
The body of this mount comprises solid steel with a sleeker modern design that is perfect for various residential and commercial spaces.
This solid steel ceiling mount is built to last and fits well in any home or office environment.
Buyers can experience the manufacturer's quality even after years of use. Buyers with both flat and curved screen televisions can enjoy this electric ceiling mount.
For a proper installation and even easier assembly, the seller provides the necessary hardware and detailed step-by-step instructions with each order.
This sturdy motorized model is backed with a 3-year manufacturer warranty in case of any manufacturing defects.
This motorized product is an efficient way of mounting and storing your outdoor TV in an out-of-the-way style.
Pros
This outdoor product is a full-fledged motorized electrical TV mount.
The remote comes with programmable memory settings with height adjustments.
The mount is VESA compatible.
The manufacturer gives a whopping three years warranty.
You can install this mount on pitched or flat ceilings for any flat or curved TV.
Cons
The power port at the front doesn't give the cleanest of installs.
Users may experience an occasional frozen belt because of mechanical malfunctioning.
#3 Alternative: WALI TV Ceiling Mount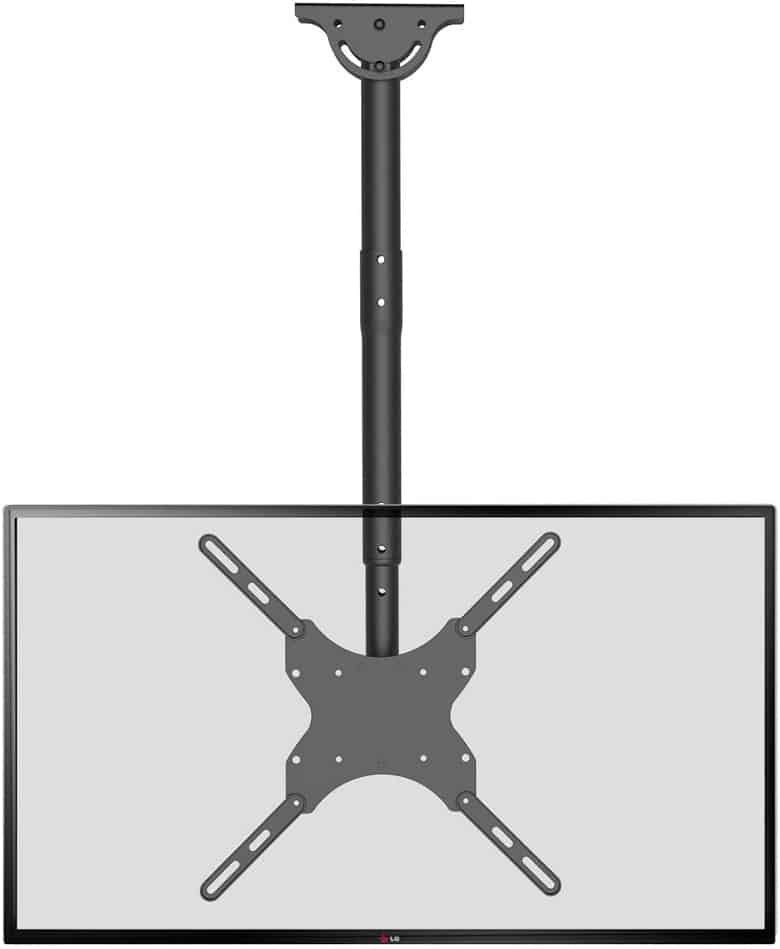 Specs
TV Size: 26 to 65 inches
Minimum Compatible Size: 26 inches
Tilt Angle: 0 to -25 degree tilt
This WALI TV Ceiling Mount is a perfect mounting solution for numerous outdoor commercial uses, including restaurants, clinics, stations, offices, etc. Its rotate, swivel, and tilt function can help the installers adjust the TV to a perfect position.
TVs with displays of 26 to 65 inches are highly compatible with this ceiling mount contraption.
Lastly, the cable management systems give a neater look to the entire installation.
This outdoor flip-down TV mount comes with highly adjustable brackets that fit most OLED, LED, LCD, and Plasma Flat Screen.
In terms of TV display sizes, this product is the most inclusive of all the products mentioned on this list.
TV displays from 26 to 65 inches with their weight up to 110 lbs are easily compatible.
The 110 lbs upper limit is truly fascinating as most TV sets fit this weight criterion.
You will also find VESA mounting hole patterns of 400×400, 400×200, 300×300, 300×200, 200×200, 200×100, or 100x100mm for a sturdy and secure fit.
The ultra-solid steel construction holds the display for the longest time without any potential risks of dents and bends. This mount can be installed on various ceiling types starting from flat, vaulted, sloped to even 90° flat against the side of the joist.
A classic 25-degree tilt with a 365-degree swivel of both side rotation makes this product highly useful, user-friendly, and glare-resistant. The package comes with a ceiling mount, hardware kit, user manual, and customer support assistance for seven days a week.
Lastly, the cable management system keeps the wires inside a pole for a cleaner and tidier appearance.
Pros
This product comes with a fully adjustable 360-degree swivel for perfect viewing angles.
The ceiling mount is highly compatible with the VESA mounting hole pattern.
It comes with a cable management system for a cleaner look.
Buyers can attach the mount to various types of ceilings.
TVs starting from 26 inches to 65 inches are compatible with this mount.
Cons
The screws supplied with the product are shoddy and tend to strip way too quickly.
A hefty 65 inch TV can overwhelm the stand causing it to swoop or bend in certain places.
#4 Alternative: Mount Plus MP-LPA36-443W Outdoor TV Mount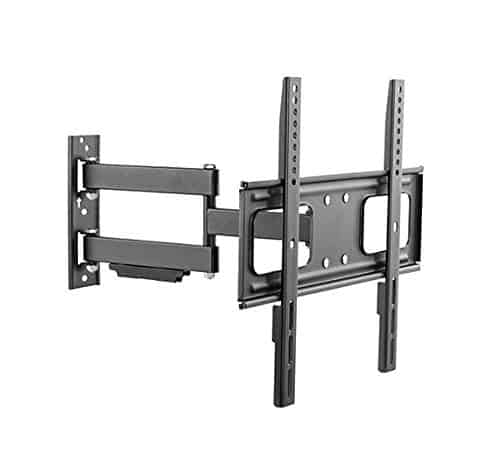 Specs
TV Size: 32 to 60 inches
Minimum Compatible Size: 32 inches
Tilt Angle: +10 to -20 degree tilt
Your search for the best outdoor full motion swivel and tilt mount ends here.
This full-motion mount is a perfect product for outdoor TV installations of 32 to 60 inches.
The metal frame comes with a powder-coated finish to prevent rust and scratches.
Integrated cable management further keeps the installations clean and mess-free.
This full-motion outdoor mount is specifically designed for users who enjoy or wish for a complete swivel.
The mount easily fits most 32 to 60 inches TV sets with an upper weight limit of 110 lbs.
Users can install this mounting stress-free as it complies with the VESA mounting points for extreme protection.
You are bound to receive a +10 to -20 degree tilt range along with a +90 to -90 degree swivel range.
The TV can move further from the wall from 2.4 to 18.6 inches.
We highly recommend this product for people near sea areas as the product has successfully undergone 90 hours salt spray test.
The galvanized steel frame comes with a high-quality powder-coated finish that prevents rust and scratches.
The additional stainless steel screws help keep the structure rust-free and safe from salt air. A basic anti-theft design gives a layer of protection when the TV is in an outdoor environment.
Users can install their TV and wires neatly with the already included cable management system.
Pros
The product comes with a full-motion swivel and tilt.
Each metal surface is coated with three layers of protection- steel, electroplating, and outdoor powder coating.
You are bound to have a cleaner installation with the cable management system.
This mount is an exceptional product for sea-side properties and projects.
The outdoor mount fixture is VESA compatible.
Cons
The lag bolts of this product are not galvanized, so they have a high chance of rusting immediately.
The full motion sometimes makes the frame move automatically.
#5 Alternative: 
MOUNT-IT! RV TV Mount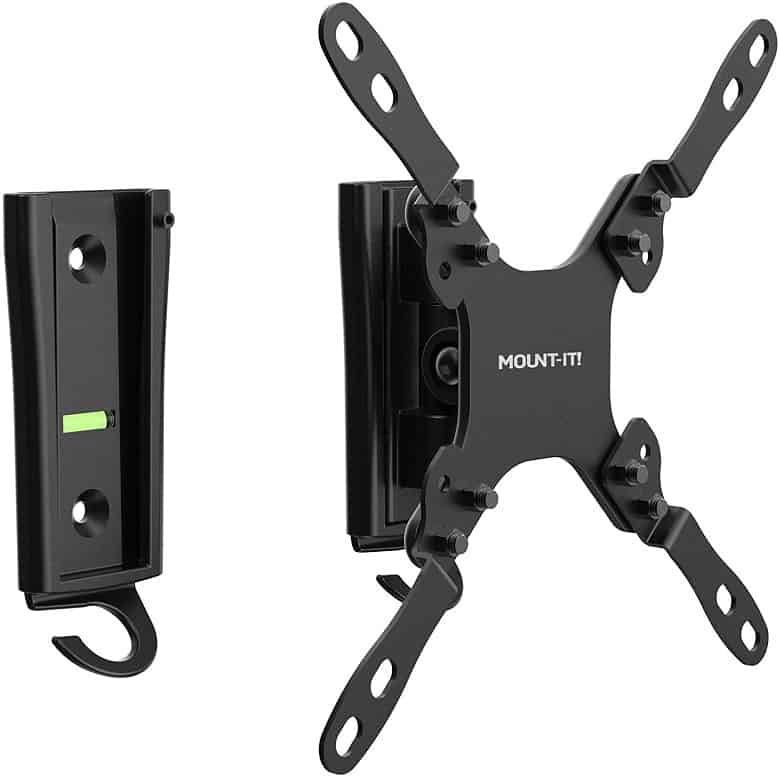 Specs
TV Size: 17 to 43 inches
Minimum Compatible Size: 17 inches
Tilt Angle: +0 to -30 degree tilt
Our last but surely not the least is the MOUNT-IT! RV TV Mount. This device has an exceptional balance between lightweight design and strength, making it a perfect outdoor tv mount for RV.
The mount fixture is easy to install and comes with a whopping 5-year warranty from the makers.
This quick-release outdoor TV mount is a dual location fixture for outdoors.
Campers can use the quick-release system both inside and outside the RV.
The exterior mount is made using aluminum and a heavy-duty powder coating to protect rust and other natural elements.
The installation is relatively easy and requires mere three steps from start to finish. The VESA plate can expand up to 200×200 mm patterns for attaching larger TVs.
The wall plates come with a bubble level to measure the degree of the installation for alignment accuracy.
This camper TV mount is adequately strong and holds up to 33lbs of weight without harming the TV.
Its swivel 60-degrees and 30-degree tilt function allow perfect viewing angle every single time.
The cable-free built-in cable management systems keep the tiny camper clutter-free and more organized.
The additional 5-year warranty on all the wall mounts is a spectacular feature that will surely entice all the campers.
Pros
This product comes with a simple attach and detach slide-in wall plates.
A discrete cable channel keeps the cables and wires hidden from the public eye.
All buyers receive a 5-year warranty on each purchase.
The design includes a VESA plate for more giant TV screens.
The product is highly lightweight and doesn't add any extra weight to the camper.
Cons
This outdoor mount cannot handle heavier TVs.
The aluminum plate may bend upon extreme force.
Outdoor TV Mount FAQs
Let's talk about the most often asked questions when it comes outdoor TV mounts
Can TV mounts be used outside?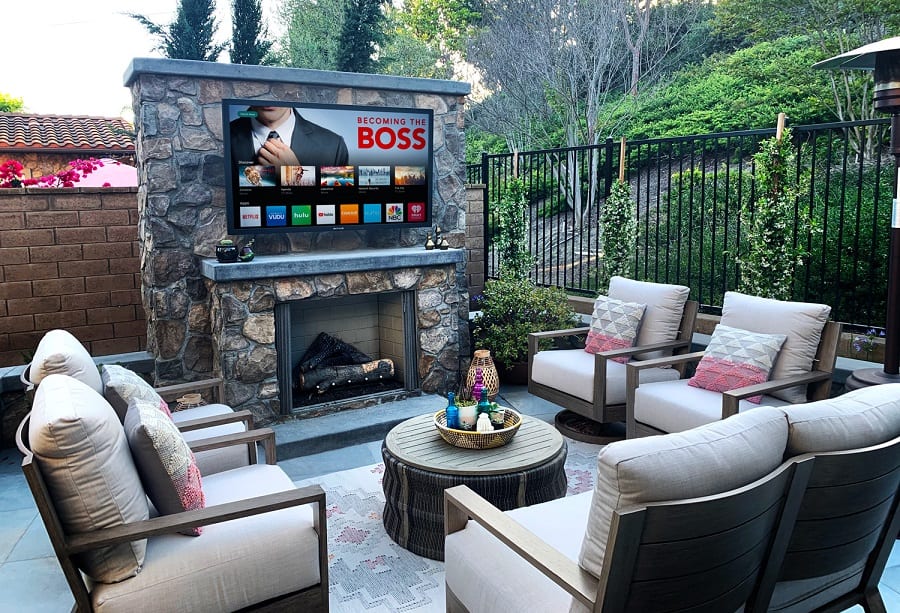 Yes, you can use a TV mount in the outdoors. Indoor TV mounts are created for the house, so you cannot use them outside the home.
Fret not, just like there are special TV screens designed for outdoor use, and there are also some unique TV mounts available for the great outdoors.
You cannot use regular indoor mounts outside because they are not designed for those conditions.
Outdoor television screens are heavier than indoor ones. Consequently, outdoor mounts are also heavier and sturdier than indoor ones.
If you are looking to purchase an outdoor mount, it would be best if you start by checking the specifications of your outdoor TV.
Like we said, outdoor TVs weigh more than indoor ones, and you need to know the capacity of your outdoor mount.
Another facet of purchasing an outdoor TV mount is to decide how much swivel you are looking for.
Most mounts allow you to turn the screen 180 degrees and tilt it downwards by 20 degrees.
If you are looking for more features in your stand and mount, you need to list them down.
You also need to decide if you want to buy a mount with an arm.
Mounts with an arm will allow you to extend the TV in the direction of the crowd and then swivel it according to their comfort.
How do I proof my TV for outdoors?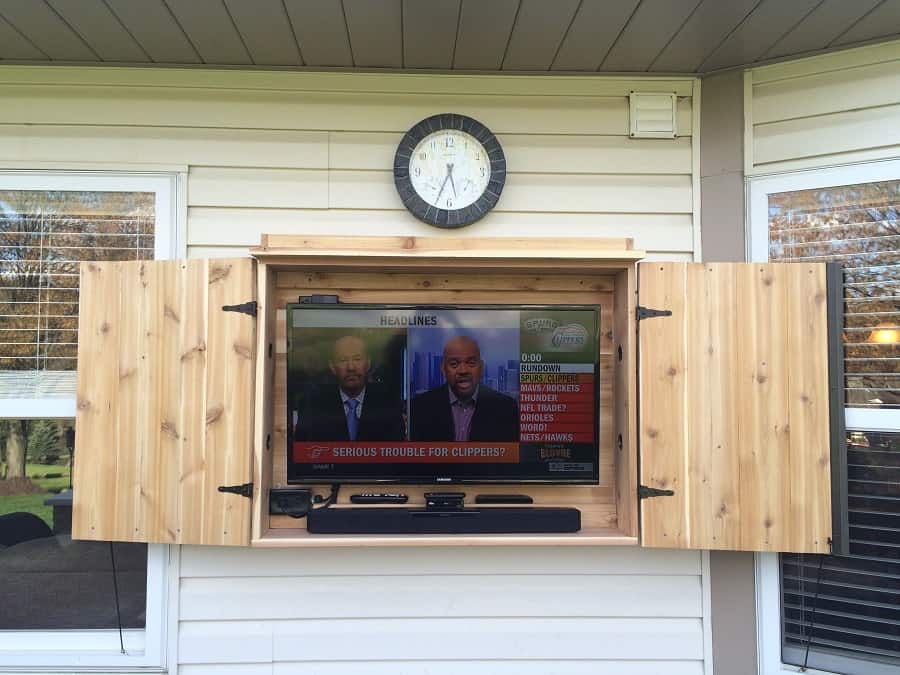 We assume you have just bought a very big, very cool TV screen for you and your family to enjoy outdoors.
However, you aren't sure how you will protect it from the wrath of natural conditions.
Fret not. We will tell you precisely what you need to do to keep your TV safe.
There are two benefits to keeping your TV inside a shade. Firstly, position the TV screen under an apex roof.
You can mount it on the wall inside the patio or any other similar area so that it stays away from direct sunlight and rain.
Since it has no contact to direct sunlight, your TV is automatically glare-proof. Secondly, keeping the screen out of direct sunlight extends its life.
It would help if you also mounted the TV high enough so that a large group of people can easily watch it.
You can even buy a suitable mount that allows you to tilt the screen a little. You can also invest in an outdoor TV cover that you can put on when the screen is not in use.
Choose a strong, robust, and stable outdoor mount for your TV. Doing that goes a long way in adding a few more years to your TV.
Additionally, you can look to purchase special cables for an outdoor TV. These cables should be durable. Alternatively, invest in a box cover for your DVD players or other utilities.
You can also purchase an excellent outdoor TV cover. The cover should be made of waterproof material. Also, ensure that the cover is easy to operate.
How high should I mount an outdoor TV?
Mounting a TV outdoors is not an easy task. However, there are a few directives that can be considered universally.
We will assume that you are mounting a TV screen outdoors because many people will gather there and watch something together.
In that case, you have to put the screen above everybody's viewing angle.
That is because if the TV is slightly elevated, everyone in the crowd can easily see the screen without having to peer above anyone's shoulders.
The best height for mounting a TV is decided by its size. For example, a 42-inch TV needs to be mounted approximately 56 inches from the floor.
As you might have guessed, the bigger the TV screen, the higher is its elevation from the floor.
We suggest that you decipher the best mounting height for your TV and add another 10-15 inches to it.
You can always use a tilting full-motion mount to ensure the best viewing angle for the spectators.
There is another reason why you should mount the TV high up and then tilt it downward.
If you're outdoors, you're more likely to sit down, recline, or lie down, with your eyesight upwards.
How long will TV last outside?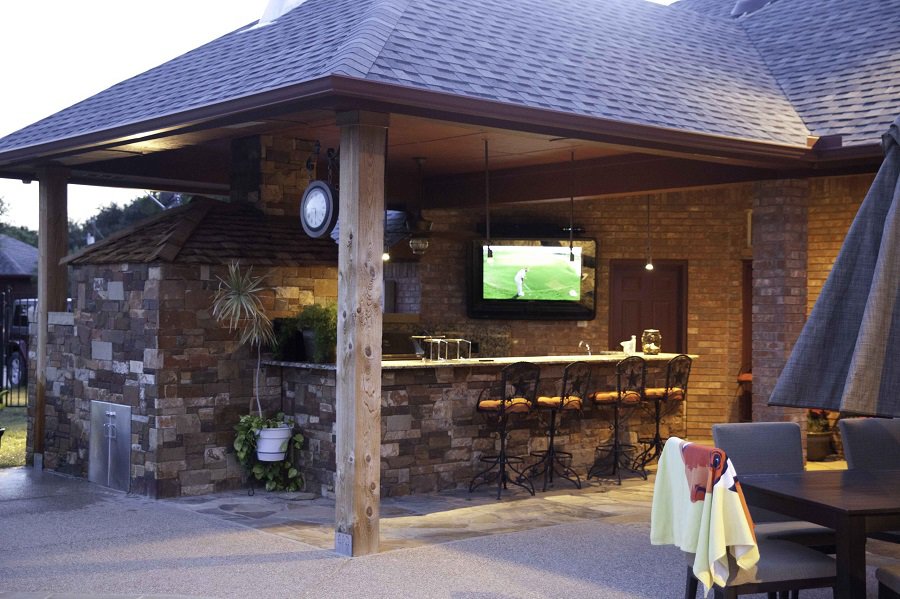 Do you have a recently broken outdoor TV set, too? Because those are the people who frequently ask this question.
They want to know if their TV could have lasted longer. Firstly, if you use an indoor TV outside, it is not going to last long.
It would be best to use an outdoor TV screen because those are built for conflict against sunlight and rain.
An indoor TV set, when put outside, will last a few weeks, tops.
On the contrary, a well-planned outdoor TV setup will have a lifespan of 6-12 months.
The one thing that makes a difference in the lifespan of an outdoor TV is the coverage above the screen.
Be it a porch, patio, or gazebo; an outdoor TV needs to be covered substantially.
Direct sunlight can be harmful to the hardware, and it would also keep you from enjoying the big outdoor screen.
Secondly, the rain or other harsh weather conditions can easily damage your TV. The unfortunate thing – it doesn't matter how much you cover up your TV outside.
That is because condensation will always seep into your machine and slowly rust the cables and other hardware. We all know by now that repairing TV spare parts is more expensive than buying a new TV set itself.
Therefore, many people choose to replace their outdoor TVs whenever necessary simply.
Another canonical problem of the outdoors is bugs. Insects, pests, and bugs are all enemies of hardware.
An outdoor TV set is one of the first targets of bugs.
There have been cases where people have discovered wasp nests inside their TVs. Bugs are possibly attracted to the heat and light radiated by the TV.
Eventually, they get stuck inside the machine, forming nests or burning up in some cables.
Lastly, the TV is a high-voltage machine, and it can be the victim of odd surcharges of electricity anytime.
It is risky business to keep a TV outdoors.
Conclusion
There you have it, some of the sturdiest outdoor TV mounts on the market.
We highly recommend weeding out those that do not fit the bill for a perfectly matching mount fixture.
Lastly, don't forget to check the nut bolts and screws every couple of days to avoid unwanted mishaps.
Are you ready to maximize your entertainment with our trusted list of the best outdoor TV mounts on the market?
Visit our services page today to get a free quote on mounting your tv!