Table could not be displayed. Updating your old TV stand may feel like a burdening task with its reliability, but with changing times, even your TV stand should be innovative and highly functional. Currently, TV owners are raving about TV stands with built-in mounts. These types of mount fixtures are way more secure and stable than your regular standard TV stand. These media console stands are highly functional, sleek, take up less space and keep your TV out of the way.
One more significant advantage is its child-proof nature.
Since the TV is locked with a grippy mount, children cannot stumble and topple like old TV stands. Are you still apprehensive about buying a new TV stand mount for your TV set? Fret not; our well-researched and curated list will clear your doubts and help you decide. This detailed review talks about five of the most functional, unique, and
sturdy TV mounts on the market
. We have included a wide range of mounts of different shapes, sizes, uses, and dimensionality to give you an appealing variety of options.
Best TV Stand With Mount
#1 Winner: Walker Edison Wren Classic Tv Stand With Mount
Specs
TV Size: 58 to 65 inches
Minimum Compatible Size: 58 inches
Swivel Angle: Nil
Walker Edison Wren Classic Tv Stand With Mount is a perfect addition to your home if you enjoy wood's warmth and rustic feel. This stand can easily hold a 65 inch TV with additional space and cubbies for decor, trinkets, and gaming consoles. The features and quality of this product truly make it an Amazon bestseller tv stand with mount. This 58 inch TV stand mount showcases a classic wood cubby entertainment unit for homes that enjoy maximalism. This TV stand is crafted using high-grade MDF and coated with a durable laminate for a rich finish and textured surface. The storage console of this TV stand houses two mega adjustable shelves that users can arrange according to their needs and requirements. This media stand is highly suitable for houses that enjoy traditional-style entertainment sets with a touch of modern look.
The sturdy metal mount can easily support 65 inch TVs with complete ease
. One major drawback is its stationary TV mount. The metal mount does not feature any tilt and swivel function for optimal viewing. This wooden TV stand can handle up to 150 lbs of weight without any difficulty. With various cables tangled behind the TV, the entire room can look messy. Buyers thus can arrange their lines tidily with four cord management ports available in the fixture. The seller also gives a 106-day limited manufacturer warranty in case of any physical and manufacturing defect. This entire TV mount system weighs 85 pounds, thus providing a heavy base for all types of heavy TV sets. On the other hand, the installation process is relatively straightforward and does not require any drilling machines. A plain screwdriver is all you need to turn unassembled wood pieces into a functional entertainment unit.
Pros
This product features a warm tone wooden finish to bring a homely feel to your living room instantly.
One does not have to use various power tools. A simple screwdriver does the job.
The table is considerably heavy, thus reducing the chances of toppling because of weight imbalance.
The cord management posts arrange all the cables neatly.
The additional adjustable shelving planks can help buyers adjust their TV mount according to their needs.
Cons
Buyers may notice the stickers that cover the screws fall off after a while.
The predrilled holes do not always line up exactly, which can make the installation difficult.
Extra force may split or chip the board from the corners.
#2 Runner-up: Swivel Floor TV Stand with Mount
Specs
TV Size: 32 to 65 inches
Minimum Compatible Size: 32 inches
Swivel Angle: ±30 degrees
This Swivel TV Stand With Mount is undoubtedly the best tv stand with mount for consoles. The TV stand has high-quality tempered glass that does not shatter quickly and comes with clean cable management to hide the messy cables. The height adjustability is yet another feature that makes this product very versatile as well as functional. This Swivel TV stand is ideal for homes that require a little storage without the bulk of traditional furniture. If you're looking for something on the wall however, we recommend a
full motion tv mount that is safe for all sizes
The mount works flawlessly to secure most 32-65 inch TVs from all the standard brands. The fixture is compatible with VESA patterns starting from 100x100mm to 400x400mm. This sturdy metallic mount can also hold TVs weighing up to 110 pounds. The smooth swivel performs exceptionally well and
gives approximately ±30 degrees on both sides
for an optimized viewing experience from a comfortable viewing angle. The stand does not require any wall holes to attach the mount. The unique shape of this TV stand comfortably fits around corners to utilize odd negative spaces. The ample storage at the bottom is ideal for affixing your soundbar, gaming consoles, decor, and other media. The base of this mount is built using heavy-duty tempered glass that has an irresistible glossy finish to it. Apart from the sturdy build, the makers have put in efforts to make this mount genuinely safe. The rounded edges ensure complete safety while its non-slip pads protect your flooring. The safety screw adds a safety layer to keep the TV from falling or tipping over. Buyers can experience a tidy install as the center of the pillar is hollow, which houses all the cables very skillfully. The streamlined approach and no visible wires discourage children from pulling it. A neat height adjustable feature allows the TV to move between two levels according to the seating requirements. Lastly, its ten-year product support is truly the cherry on the pie.
Pros
This TV fixture can mount various 32 to 65 inch TVs very comfortably.
Buyers can swivel the mount up to ±30 degrees for a visually exciting glare-free viewing.
The cable management system keeps the area tidy and clean.
Strong reinforced tempered glass can bear a lot of weight while looking sleek.
Its rounded edges and safety pads provide additional safety.
Cons
This TV mount set can fit a 65 inch TV, but the entire structure may look very off in visual appeal.
The plastic inserts to support the metal tubes are of inferior quality.
#3 Alternative: FITUEYES TV Stand With Mount
Specs
TV Size: 32 to 65 inches
Minimum Compatible Size: 32 inches
Swivel Angle: ±25 degrees
Our first alternative, The FITUEYES TV Stand With Mount is a genuinely exceptional fixture that does not require much space and looks very sleek. Its 30-degree swivel undoubtedly adds excellent functionality to the entire unit. The durable material keeps the mount solid and sturdy to hold any TV screen from 32 to 65 inches. This universal fit TV stand and mount is a perfect choice for people who like walnut furniture shades. The in-built TV stand easily fits most TV screens from 32 to 70 inches, while its VESA compatible bolt hole pattern ensures extreme safety.
Your TV screen always sits at a comfortable height
, but the additional 25 degrees left and right swivel makes the TV even more accessible for viewing. The bottom part of this mount is made using high-quality tempered glass that can withstand a lot of weight. This mount also features two shelves that can act as a decent storing unit. A good height ensures that people can store gaming systems, books, cable box and much more without making the living room look cluttered. This flat panel TV console truly adds a contemporary look to your decor while acting as a valuable part of the furniture. Each mount has a good 88 pounds weight capacity, so users can store a lot of stuff without causing any harm to the mount fixture. A clean and reliable cable management system perfectly organizes and hides all the cables between the TV and A/V components. Users can also adjust the sturdy metal brackets to push the height of the TV mount as per the requirements. This model is excellent for people who wish to have ample storage space with a non-cluttered-looking furniture piece.
Pros
Buyers can very easily install this TV mount against a plain wall or utilize a corner.
The high ±25 degrees swivel angle allows people to enjoy the TV from any spot.
Ample space makes it easy to store various decor pieces and electronic accessories all in one area.
This model holds all 70 inch TVs with excellent grip and strength.
Consumers should not worry about the tipping as it is adequately balanced and heavy.
Cons
The bolts that hold the TV secure in place do not go all the way through. Loose bolts can cause the TV to swivel very easily without barely touching it.
The size of this TV stand and mount feels a little small.
#4 Alternative: FITUEYES Wood TV Stand With Mount
Specs
TV Size: 32 to 70 inches
Minimum Compatible Size: 32 inches
Swivel Angle: ±30 degrees
This FITUEYES Wood TV stand with mount is ideal for areas that do not have a lot of floor space. The single stand keeps the TV erect while its safety grip ensures it stays in place no matter what. You also get a sturdy metal plate that works like a shelf. Overall, this swivel TV floor mount is a good buy for cramped or small spaces. This slim TV stand can easily mount various 32 to 70 inch TV screens, be it LCD, LED, Plasma, OLED, or any curved or flat panel screen. Its innovative mounting pattern is highly compatible with VESA mounting holes from 100x100mm up to 600x400mm. This entire structure is made using a sturdy metal pole and tempered glass base that incorporates style and sturdiness together. The heavy base ensures that kids or pets do not tip the entire fixture while playing around its vicinity.
Buyers can adjust the metal shelf to various heights according to their needs
. The safety lock, on the other hand, holds up to 110 lbs of weight. The sleek design can hold a great deal of weight irrespective of its dimensions. Its 30-degree swivel motion is perfect for enjoying your entertainment from any desired angle. You can very easily adjust the height of the swivel mount with five levels for various seating arrangements. Each package is shipped with easy-to-understand directions and all the necessary hardware for quicker installation. The cable management keeps the whole place clean and tidy. Lastly, the manufacturer gives a five-year warranty from the date of purchase in the unfortunate event of any manufacturing defect.
#5 Alternative: Rfiver Swivel Glass TV Stand with Mount
Specs
TV Size: 32 to 65 inches
Minimum Compatible Size: 32 inches
Swivel Angle: ±45 degrees
This FITUEYES Universal Swivel Floor TV Stand With Mount is famous for its highly minimalist and vertical mounting options. Even with such a thin profile, it easily mounts all types of curved and flat back TVs. This slim TV stand with a TV mount is fully compatible with most 32 to 65 inch TVs and features VESA compatible mounting holes between 200x200mm to 600x400mm.
The iron base keeps the entire fixture well balanced
, while the additional cool strips add a sleeker design element to the mount. You can swivel this minimalist piece up to ±45 and adjust the height according to your requirements. Users do not have to drill holes in their walls to affix this structure, even with a thin profile. The fixture package comes with all the necessary hardware and tools for mounting this floor TV mount. Its thick adjusting feet keep the floor from getting damaged. Since the feet are self-adjusting, buyers can install this mount on uneven ground. Its organized wire cavity gives a clean look after the installation.
Pros
The adjusting feet protect the floor from scratches and damage.
Its cable organization system adequately hides messy cables from plain sight.
A standard ±45 degree swivel makes this floor mount very user-friendly by increasing its adjustability.
This fixture is a truly minimalist design, perfect for people who are looking for the sleekest design.
This product is VESA compatible and fits most curved and flat back TVs.
Cons
This TV stand is not ideal for heavy TV sets.
The cables are neatly hidden from the front view. However, it may look messy from the sides.
TV Stand With Mount FAQs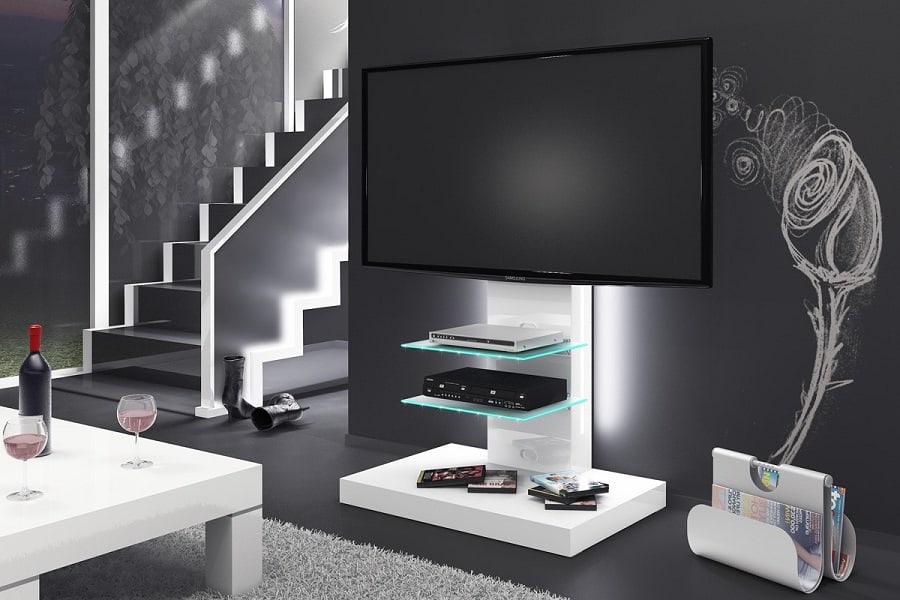 Is it better to wall mount a TV or put it on a stand?
Both wall mounts and TV stands have their advantages and disadvantages. With the advent of flatscreen TV sets, deciding whether you should mount your screen on a wall or keep it on a stand is a tricky question to answer. There are a few evident virtues of putting your TV on a stand. The first one is pretty obvious, and you can guess it prima facie – you can easily access all the ports behind the TV set. All essential ports – HDMIs and USBs – are on the very ends and backs of the TV. When you do not mount your TV, it might become difficult to access them unless there is room for you to reach in. Most TV stands will also have shelves or spaces to include other entertainment units like soundbars, multimedia players, or gaming consoles. Lastly,
you can quickly move your TV if needed
, especially if you have to clean the area under the TV stand. One of the clearest disadvantages of using a TV stand is that the stand requires a surface – you certainly cannot keep the stand on the floor. Therefore, a TV stand almost always requires a table-top to work. There might be times when the base of the stand is broader than the table-top itself, and this would only mean additional work for you. Lastly, a TV on a stand is constantly at risk of tipping over with the slightest of shoves. When it comes to mounting the TV to the wall, there are a few clear advantages. You save a considerable amount of space when you hook your TV up to the wall. You do not have to employ a table-top, and you can easily clean the area under the TV since it is not touching the floor. The method of mounting the TV up to a wall is a tad bit complicated and almost always needs professional work. Also, while mounting the screen onto the wall, you need to fix a height. However, most TV stands in the market today allow you to have flexible heights for the screen.
How tall should a TV stand be for a mounted TV?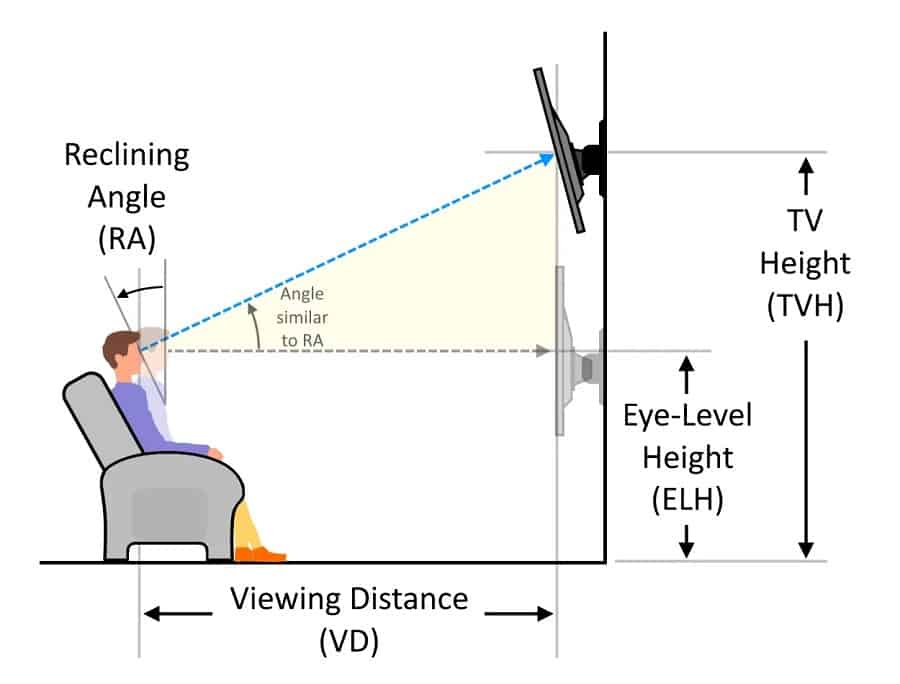 There is no hard-and-fast rule about the height of a TV stand with a mount. It is all mathematics that depends on the size of your TV, your viewing distance, and your viewing angle. The ideal position for the TV has zero glare and allows you to watch the screen with minimal strain on your neck, You can find out your TV size by looking at the product description or googling your product name. It is measured in inches and stands for the diagonal distance between the corners of the screen. Using the TV size, you can easily calculate the ideal viewing distance. The perfect viewing distance is approximately twice the size of your TV (for the most accurate distance, divide the TV size by 0.55). Therefore, for a 40 inch TV, the ideal viewing distance would be somewhere around the 80-inch mark from the screen. Calculating the viewing angle is a tedious task. However, there exist some industry standards that can help you get the perfect height for your TV. You should mount a 42-inch TV at the height of approximately 50-55 inches from the floor, a 55-inch TV should be at roughly 60 inches, and a 65-inch TV must be at around 65 inches.
How can I increase the height of my TV stand?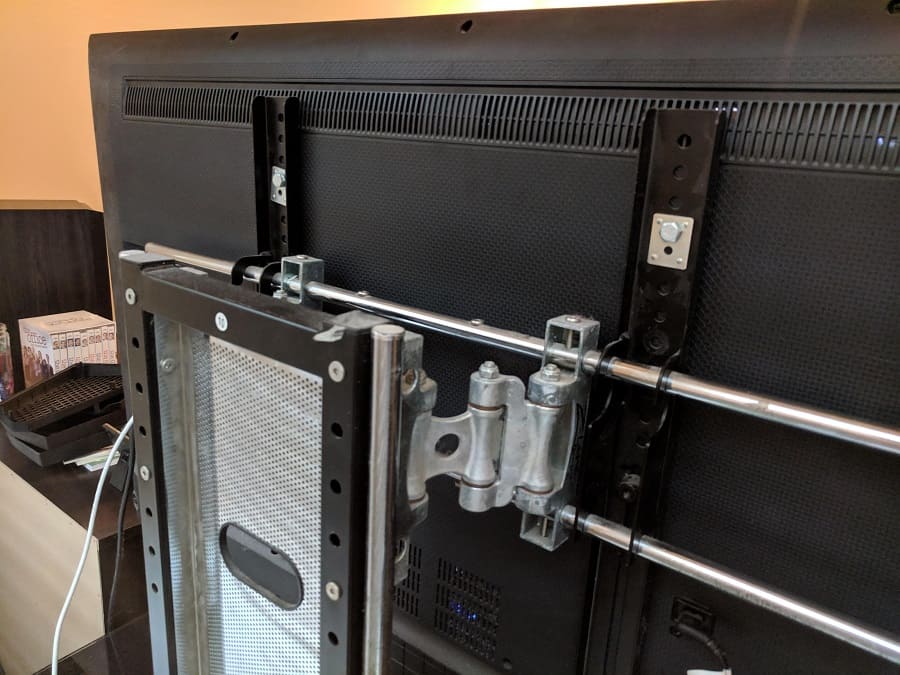 The first step is to remove the TV screen from the stand to prevent any damage to it. Then pull the stand from the wall and check for adjustment brackets that would allow you to increase or decrease the height. Most TV stands in the market allow users to adjust the height of the product. If your stand is adjustable, lift the bass to the desired elevation and fasten the safety brackets. These safety brackets or fasteners are the most crucial part of adjusting the height of your TV stand. If you do not secure them, the TV screen may plop down on the stand and tip over. Alternatively, a trustable option is to check the user manual for your TV stand. It will clearly illustrate the process of adjusting the height of the product.
How far should you sit from a 65 inch TV?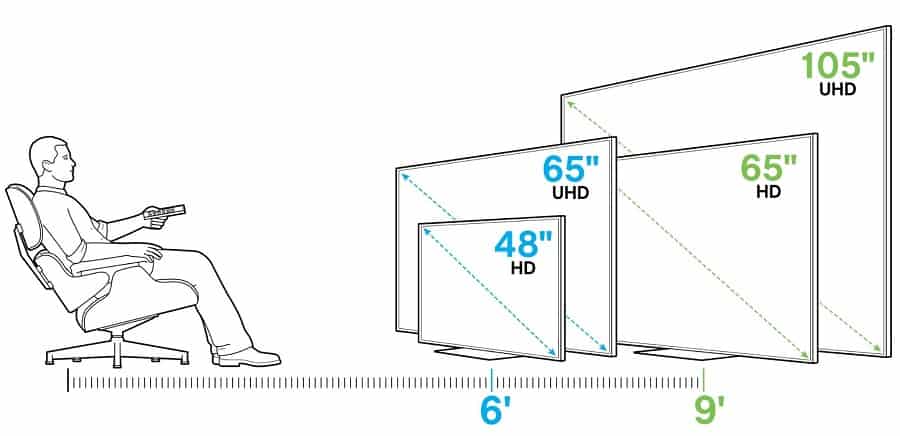 There is no clear rule for the distance you need to maintain from your TV screen. So, you might want to find the sweet spot in your room. The ideal viewing distance for each TV size is different. You cannot sit too close to a large TV screen – you will only risk damaging your retinas because of the bright lights. However, sit too far, and you lose out on the immersive experience of a gigantic screen. The ideal viewing distance for each screen size can be calculated with mathematical precision using a simple formula. Divide the TV size by 0.55. Therefore, if you have a 65 inch TV, the ideal viewing distance would be 118 inches. Now, these numbers work best when the room is lit perfectly and the TV is angled just right from your viewing position. So, to factor in these variables, you can take a rough estimate and enjoy your 65 inch TV from anywhere between 100 and 130 inches.
Conclusion
These were five of the best TV stands with mounts currently available on Amazon. We took the liberty to include five structurally different fixtures to give you various options. If you are looking for a chunky, heavily built entertainment set, we highly recommend our winner for all the obvious reasons. But if you enjoy the simplicity and sleek look of modern stands, you can opt for any one of the four options. Lastly, consider checking your TV's weight before purchasing any TV mount, irrespective of its style. Safe and securely install your TV today by getting a free quote from our
tv mounting experts
!