It can be a great idea to have a TV mounted outside for pool parties, BBQ parties, and other fun gatherings. 
However, mounting a TV outdoors does come with its own set of challenges that many people aren't aware of.
Quick summary
In this post, we will go over all the tools you'll need and the entire step-by-step process to install a TV on a mount outside. 
We will also go over the pitfalls and problems you may run into and how to avoid them. 
So without further ado, let's get into it.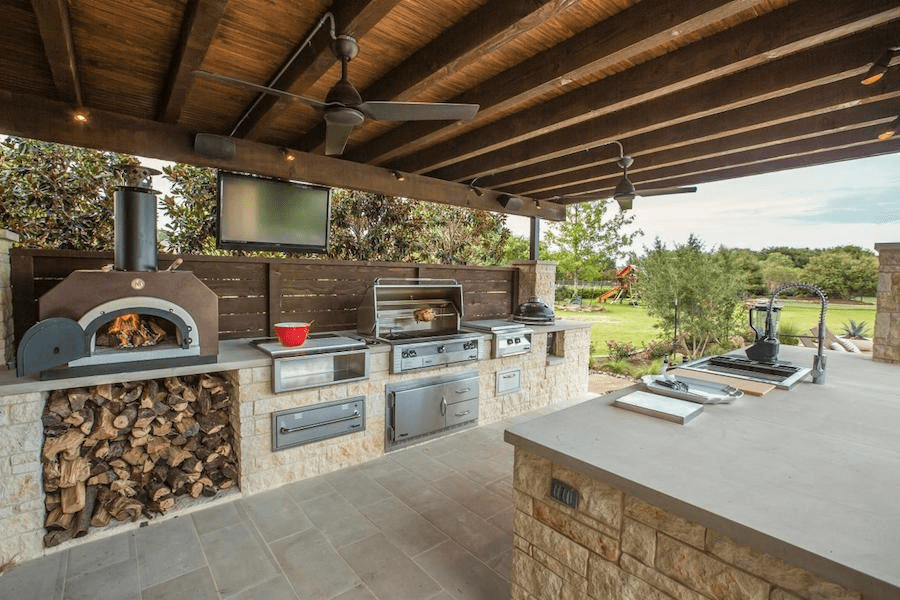 Image Courtesy: Reddit
In most of our posts, we like to dive immediately into the process as that's what you're really here for. 
However, when it comes to mounting your TV outdoors, there are a few things that you must take into account first. 
If you don't think about these factors before you begin the installation, you will run into a ton of problems later on. 
Essentially, the thing you have to plan before you actually start installation is where your TV will actually be mounted. 
The location of your TV will play a huge part in determining whether or not you have a good time with installation or not. Hence, don't rush to this stage. 
Firstly, when it comes to determining the location, you must ensure that your TV will not have direct sunlight or rain falling on it. Even if you have an outdoor TV, you should still ensure that it's protected from the weather. 
Having your TV at a location where it's protected from sunlight and rain will lengthen its lifespan and ensure you use it for a long time. 
Another reason why you wouldn't want your TV directly in sunlight is because of glare. Have you ever looked at an electronic screen while out in the sun? It's unwatchable. You don't want that for your TV. 
Secondly, you must take into account where the TV will be plugged in. It's a good idea to choose a location that is close to a power outlet outside. That way, you won't have to get any sort of extension cord. 
If you don't have an outdoor power outlet, then your only option is indeed the extension cord. If you intend to use an extension cord, make sure that you take your time to ensure it's not getting in anyone's way. 
People trip over wires all the time and you don't want someone tripping over your extension cord during a party and hurting themselves. Not to mention that a yank like that might even be powerful enough to damage wires or sockets. 
If you intend to use an extension cord, make sure that you make the wire for it unobtrusive by neatly clinging it to the wall with adhesive hooks, tape, or something similar. 
You can even attach the extension cord to the wall with double-sided tape so that it does not sit on the ground where people may accidentally kick it. 
How to Mount a TV Outdoors (Step-by-Step Instructions)
In this section, we have tried our best to provide the most general instructions to mounting a TV outdoors that can apply to everyone. 
Obviously, depending on some factors such as the type of mount, the type of wall, and others, the process for installation may vary slightly. 
Make sure that you read all the instructions provided by both the TV as well as the TV mount manufacturer.
Before getting started with the installation process, it's a good idea to have your tools gathered and at the ready. That way, you won't waste any time when you have to move on to the next stage of the process.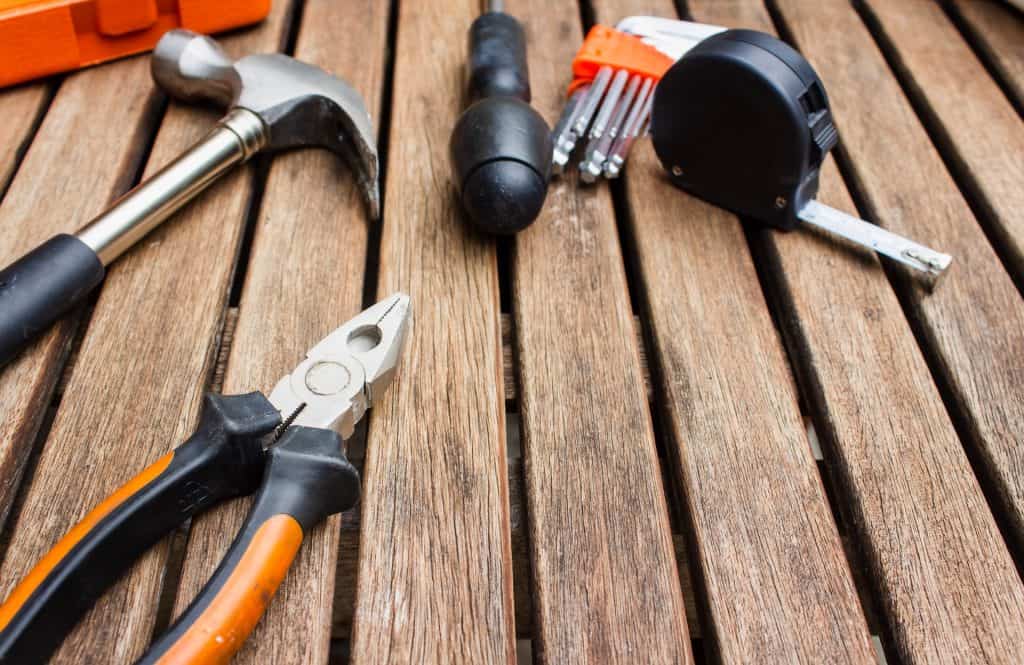 The tools and materials required for the process are:
A wrench 

A hammer 

A drill 

A pencil or marker

A level

The TV mount 
Once you have gathered all of the tools, you can get started with installation: 
Step 1: Ask a friend or family member to hold the mounting bracket or wall mount up to the location on the wall where you intend to install it. 
Use a level at this stage to ensure that your friend is holding up the mount properly and it's not crooked at all. 
As your friend holds the mount, take a pencil or marker and use it to mark all the locations needed to correctly install it. 
Once you've marked all the holes, go ahead and ask your friend to put the mount back down. 
Step 2: Once all the spots have been marked, take your drill to drill holes into the siding for the plastic anchors.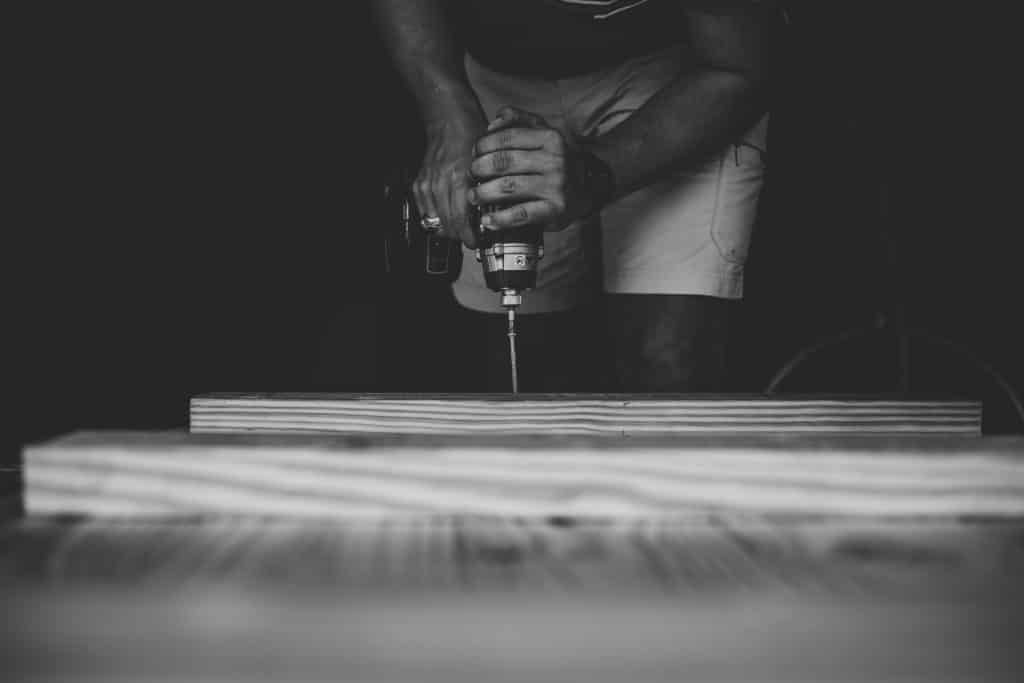 You will need to make holes that are approximately ½ an inch deep. If you make holes deeper than a half-inch, the anchors will be too loose. If you make them shallower than half an inch, the plastic anchors won't be securely attached to the siding.
It's also a good idea to check the specifications of the plastic anchors that you get so that you have a better estimate of what the ideal length for them would be.
Step 3: After drilling the appropriate holes in the siding, you can proceed to attach the plastic anchors into the holes.
You can do this by using your hammer.
Be very careful and calculated when you hammer in the plastic anchors. If you hammer them with too much force, you can definitely risk making cracks in the wall outside.
If you damage the wall, not only will you have a damaged wall but the hole itself will be unusable as well. In this case, you would then have to repeat the first two steps again.
Step 4: Once the plastic anchors have been hammered, it's time to focus your attention on the lag bolts.
You can install the lag bolts into your outdoor wall by using a wrench.
Again, you must be very calculated with the tightening and ensure that you don't go overboard.
If you tighten them too much, they can definitely break or become damaged. This can cause them to be unsafe and you may risk your TV falling on the floor a few days or weeks after installation.
If you have a sturdy outdoor TV mount, it might have a bolt-mounting mechanism that can allow you to install it onto the wall super easily. Not only that but it also makes the mount super sturdy and secure.
Step 5: Once the mounting bracket has been successfully installed onto the wall, the next step is to attach the TV to it.
This stage of the process can definitely differ slightly depending on the model and manufacturer of both your TV as well as the wall mount.
Read and follow all of the instructions provided very carefully and you should be good to go.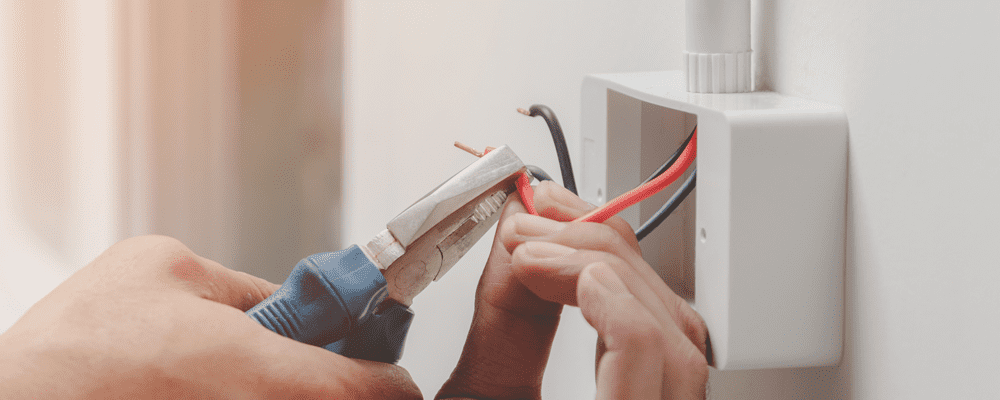 Image Courtesy: Reddit
Step 6: Once the TV has been attached, the last step that many people tend to skip is cable management. 
Depending on what you will use your TV for, you might deal with a ton of wires or little to no wires at all. 
Firstly, you have to attach the power cable to the TV. We've already explained above how you must attach it to a nearby outdoor outlet if you have it. If you don't have one, then you will have to make use of an extension cord. 
Make sure that you take the proper measures that we have described earlier to ensure that the extension cord, as well as, its wire is not in anyone's way. 
If you have a smart TV and just want to use it to watch content online such as Youtube, Netflix, Hulu, etc., then you're pretty much done. 
However, if you want to attach other components to it, then you will definitely need an HDMI cable. 
If you want to use an HDMI cable, we highly recommend that you use adhesive hooks or something similar to neatly attach it to the wall so that it doesn't get in anyone's way. 
One end should be attached to your TV and the other should be near whatever component you want to connect it to. 
A quick tip: If you want to have other components outside to use with your TV such as a Blu-ray player, game console, etc., then it can be a good idea to get a small cabinet or something similar. 
This can protect and house those components while they are attached to your TV.
Additional Tips for Installing a Wall Mount for Your Outdoor TV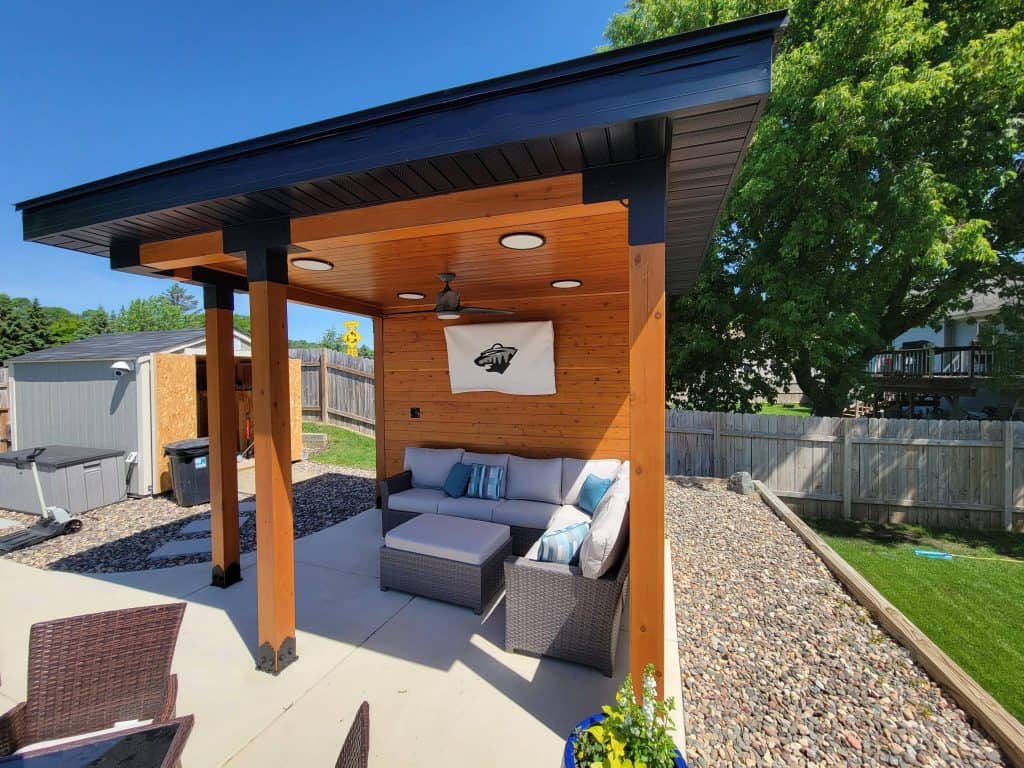 Image Courtesy: Reddit
If you haven't already bought a TV but want one for outside, we highly recommend that you buy one that is specifically designed to be placed outdoors. 
Outdoor TVs are much more durable than regular ones and are designed to stand up to the weather outside. 
Hence, always get an outdoor TV if you intend to mount it outside. 
If you don't have an outdoor TV, then we highly recommend you get some sort of protection for it when it's not in use. 
This can be any sort of TV cover or TV enclosure. TV enclosures are typically water and weatherproof. They will increase the lifespan of your TV by a lot by protecting it from rain, snow, sun, and sleet.
That's pretty much it for our post on how to mount a TV outside. 
While there are certainly additional factors you must think about when you want to watch TV outside, the overall process for installation is fairly similar to regular installation. 
We hope you have a better understanding now of how you can install a TV for outdoor use. 
If you have any further questions, please contact us by commenting below.