We've tested many Echogear products in the past and they've almost never disappointed us. 
While it's true that they make high-quality products, you still have to consider what your needs are. 
In this post, we will highlight what the full-motion mount from Echogear has to offer and whether it's suitable for you or not. We've also provided some alternatives. 
Quick Summary of the Main Product
This full-motion mount from Echogear is really something that is extremely versatile and can work for most consumers. 
The only thing you need to worry about is the space in your room. As long as you have that, this mount is probably one of the best options you can go for. 
It comes with all its components in pre-labeled bags to ensure you have an easy time assembling and installing it. 
Furthermore, the arms are very smooth to move as well. There's no rigidity or resistance even when the product is new. Also, the arms lock into place once you reach the desired position to ensure your viewing angle does not get messed up. 
Supports a Large Range
Firstly, as we mentioned above, the mount can support TVs ranging all the way up to 90 inches. 
This makes it an extremely versatile mount. Not only that but you can buy it even if you have a smaller TV. That's because if you upgrade to a bigger TV in the future, you won't have to get a new mount for it. 
Heavy-Set Structure
It's constructed from heavy-gauge steel that ensures it will be able to securely support the weight of your TV. 
Even though the components are heavy and polished, they still present no difficulty when trying to adjust the mount. 
Drilling Template Included
The mount comes with a handy drilling template that you can utilize to easily drill the holes within your wall for the mount. 
This eliminates the inconvenience of having to hold up the mount to mark the sights of the drilling holes.
Factors to Consider Before you Decide to Buy the ECHOGEAR Full-Motion TV Wall Mount
Price 
Echogear products are almost always priced extremely fairly and this product is no different. 
You can get the Echogear full-motion mount at a competitive price and its durability ensures that it will serve you for many years to come. 
Mount Type 
It's a full-motion mount and a really good one at that. 
You can expect it to have all the bells and whistles that a full-motion mount has such as extension, tilting, swiveling, and rotation. 
TV Size and Weight 
As mentioned earlier, the TV mount can support TVs ranging up to 90 inches. As for the weight, it can support a maximum of 125 pounds.  
Compatibility
The TV is fully VESA-compatible and supports TVs with VESA patterns up to 600 x 400 mm.
Sturdy exterior

Responsive customer service

Smooth to move and adjust

Supports a wide range of TV sizes

Easy installation
As with most, if not all of our single reviews, we're just not satisfied with our experience of the product. 
We were curious about what other people's experiences were like. Hence, we scoured Amazon to see what others have to say about the product. 
We're pleased to inform you that a majority of the people who bought the Echogear mount reported it to be satisfactory. 
Most people love its premium components and feel. They love how easy it is to move and adjust as well as how simple it is to install. 
Here are some of the reviews we came across on Amazon: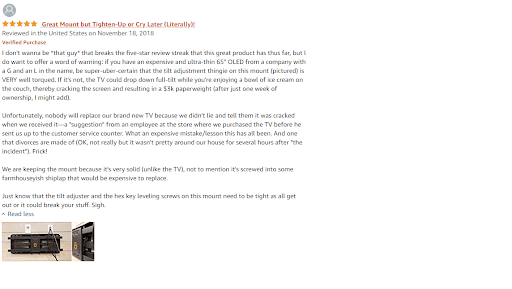 Similar to the ECHOGEAR Full-Motion TV Wall Mount (Recommendations)
#1: Best Long-Arm Alternative - FORGING MOUNT Long Extension TV Mount Review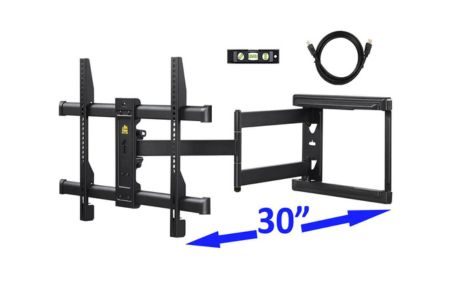 Type of mount: Full motion wall mount | Movement Type: Articulating/swivel/tilt/full motion | VESA patterns: 200*100mm to 600*400mm | Maximum weight limit: 99 lbs | TV size range: 37 to 75 inches | Wall Type: wood studs spacing "16" | Cable Management: yes
This long-arm extension mount allows you to extend your TV up to 30 inches from the wall. 
In addition to that, it has all the full-motion capabilities you need including swiveling, rotation, tilting, and more. 
It's the perfect mount to get for parties, gatherings, and events. 
Factors to Consider Before you Decide to Buy FORGING MOUNT Long Extension TV Mount
Price:
In my opinion,
It's the most expensive mount on this list and we definitely feel you should buy it if you absolutely have the need for a long arm. Otherwise, you can get away with just having a regular full-motion mount.
Mount type:
As mentioned, it's a full-motion mount with a
long arm.
Hence, you can use it to position your TV to accommodate any viewing angle.
TV size and weight:
In my experience, It can support TVs ranging from
37 inches
to
75 inches.
It can hold a TV with a maximum weight of
99 pounds.
The best long arm alternative is the FORGING MOUNT Long Extension TV Mount thanks to its superior extension capabilities, solid construction and versatility.
"We highly recommend the FORGING MOUNT Long Extension TV Mount for its excellent performance and ease of installation. It's time to elevate your TV-watching experience and optimize your space with this exceptional TV mount."
Excellent build quality

Comes with an HDMI cable

Can fit onto different types of walls

Comes with the necessary mounting hardware

Easy installation
Takes up a fair amount of space
#2: Best Compact Alternative - Mounting Dream Small Full-Motion TV Mount Review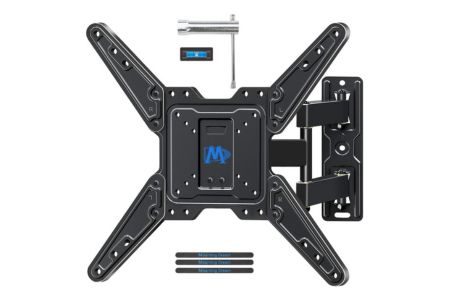 Type of mount: Full motion wall mount | Movement Type: Articulating, Swivel, Tilt, Ful motion | VESA patterns: 75x75mm to 400x400mm | Maximum weight limit: 77 lbs | TV size range: 26 to 55 inches | Wall Type: wood studs spacing | Cable Management: yes
If you have a relatively smaller TV (for example, 50 inches), you can easily get away with a smaller mount rather than buying a full-sized one. 
In my experience, This smaller mount from Mounting Dream is much more affordable than full-sized mounts and it can easily support TVs up to 55 inches. 
Factors to Consider Before you Decide to Buy Mounting Dream Small Full-Motion TV Mount
Price:
Since it's a smaller mount, you can get it at a much cheaper price than a full-sized mount even though it has full-motion capabilities. 
Mount type:
It's a full-motion mount. Hence, you can use it to move your TV in many different directions. It can swivel, rotate, tilt and extend your TV from the wall. 
TV size and weight: In our testing,
the mount is designed to support TVs with sizes ranging from
26 inches
to
55 inches.
The best compact alternative is the Mounting Dream Small Full-Motion TV Mount thanks to its sturdy exterior and small form factor. You can also get it at a comparatively cheaper price because of its smaller size.
"The Mounting Dream TV Wall Mount is a reliable and feature-packed choice for anyone looking to mount their 26-55 inch TV. Its sturdy construction, full motion capabilities, and easy installation process make it a standout product. With its perfect center design and articulation, you can enjoy optimal viewing angles from anywhere in the room. Overall, the offers excellent value for money and is a highly recommended TV wall mount option."
"The Mounting Dream offers a versatile solution for different viewing needs. It features a wide range of motion, allowing you to adjust your TV to avoid glare or find the perfect angle for a comfortable viewing experience."
User-friendly

Comes with the necessary mounting hardware

Small and compact

Easy installation

Excellent construction quality

Budget-friendly
Does not support larger TVs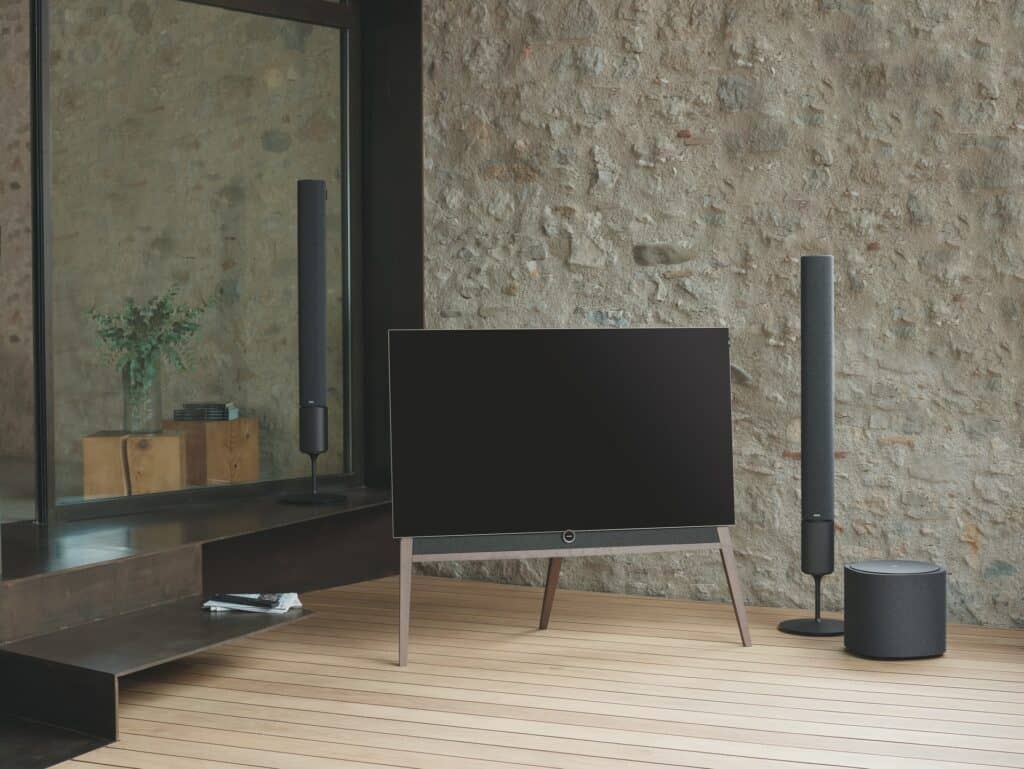 If you've been browsing online for a wall mount for your TV, there's a chance you might be fairly confused. 
There can be many reasons for this such as the sheer number of different mounts available in the market and the different functionalities they provide. 
In this section, we will discuss how you can identify your needs and what you want from a wall mount. Once you identify that, you can easily find the most suitable mount for yourself. 
To identify your needs, you need to think about the following factors: 
Price 
To start off, you need to figure out what your price range is and how much you can spend on a TV mount. 
We recommend that you don't go above $100 when shopping for a TV mount unless you're buying something custom-made. 
This is because even the most expensive mount type (full-motion mounts) usually don't go for above $100. You can easily find a high-quality full-motion mount that is priced at below $100. 
The only exception to this rule would be if you have a TV that is not VESA-compatible. TVs that are non-VESA-compliant typically have unique mounts that are specially designed for them. These types of mounts can be more expensive than $100. 
However, as long as you're dealing with a VESA-compliant TV, you should not spend more than $100. 
In addition to not spending too much, you must not spend too little. That's because buying a cheap mount can be highly risky. If you buy an overly cheap mount, there's a high chance that it may be a mediocre product. 
Not only will you have trouble installing it but there's a high chance it may not last you a long time either. In that case, you would have to buy another mount to replace it. Doesn't exactly sound cheap, does it? 
Hence, you must find that sweet spot between not too expensive and not too cheap to ensure you buy a high-quality mount and get the best value for your money. 
Mount Type 
If you've never shopped for a TV mount before, you may be confused by all these terms that are used to describe them. 
Full-motion, swivel, articulating, what does it all mean? 
Well, to start off, you need to know that different types of wall mounts are differentiated from each other based on the level of movement they can provide. 
Mounts that can provide a wide range of movement are typically higher-priced than those that provide a limited range of movement or no movement at all. 
While you may think that higher-movement mounts are the best option in most cases, you'd be surprised to know that's not always true; Even if you can afford it. 
For example, if you intend to mount the TV in a small, cramped room, then a full-motion mount would be a terrible choice for it. This is because you'd have no space to move your TV around and utilize the potential of the full-motion mount. You will have effectively wasted your money. 
On the other hand, if you have a small, cramped room, a mount that provides limited motion or no motion at all could be the best choice for it. Examples of these types of mounts would be tilting or fixed mounts. 
Fixed mounts, as their name suggests, do not provide any motion at all for your TV. They are the cheapest mounts out there and they work great in small spaces. 
If you intend to mount your TV close to a window or any other external light source, it can be a good idea to invest in a tilting mount. Tilting mounts allow your TV to be tilted forwards and backward. This can help reduce glare from any external light source. 
If you have a larger space that has multiple different viewing angles, it's a good idea to get a mount that provides a wider range of motion. Examples of these are full-motion mounts, swivel mounts, and articulating mounts. 
TV Size and Weight 
Of course, you need to consider the size and weight of your TV and whether the mount you intend to buy can support it or not. 
Naturally, you must first find out what the size and weight of your television are. You will most likely already know what the size of your TV is since it's heavily advertised. If you don't, you can find it out for yourself by measuring it with a tape measure. 
The "size" of a television refers to the diagonal length of its viewing screen. 
To find out the weight of your TV, you can either look online or look inside the instruction manual for it. 
Once you've found out the size and weight of your TV, you can start to look for a TV mount that supports it. 
Make sure that the TV mount you intend to buy has a range of supported TV sizes that includes your TV's size. Secondly, ensure that its maximum weight capacity is higher than the size of your TV. 
Compatibility
Next, you need to think about the compatibility of your TV with the TV mount you intend to get for it. 
The "compatibility" refers to whether or not the TV mount you intend to get can support the VESA pattern of the TV or not. 
The VESA pattern of a TV refers to the distance between the mounting holes at the back panel of the TV. This distance can vary but the mounting holes are usually either arranged in a square or rectangular shape. 
You can usually find out the VESA pattern of your TV by looking up its specifications online or in the instruction manual. If you can't find the VESA pattern for it, you can measure it yourself. 
To do that, you must first lay down your TV screen-first on a soft and flat surface. You can use a towel or a thick blanket for this. Once the TV is laid down, take a tape measure and use it to measure the distances between the mounting holes on the back panel. 
You must measure the distance between the mounting holes in millimeters (mm). 
Take note of these measurements and now, you know the VESA pattern of your TV. When you browse for a TV mount for it, make sure you buy one that can support that specific VESA pattern.  
If your TV is non-VESA-compliant, then you have two options: You can either buy a wall mount that is specifically designed for your TV or you can buy a VESA adapter.
A VESA adapter allows your non-VESA-compliant TV to be mounted onto a VESA-compliant TV mount. 
Wall Type
The type of wall you intend to install your mount onto is very important and it's crucial that you take it into account. 
Different types of wall mounts are designed to be installed onto different types of walls. Hence, based on the type of wall you have, you must look for a mount that can be installed onto it. 
For example, it would not be wise to install a TV mount that's meant for concrete walls onto Drywall. Not only will the mount not be installed properly but it can also heavily damage your wall too.  
Things get even more complicated when your wall has studs…
Stud Type and Stud Spacing
If your wall has studs, you have to take a couple of factors into account: The first is the stud type and the second is the stud spacing. 
The stud type refers to whether the studs are wooden or made of metal. For the former, you will most likely use plastic or Drywall anchors. For the latter, you will make use of concrete anchors. 
The stud spacing refers to the distance between two corresponding studs inside your wall. This distance can be anywhere between 8 inches to 24 inches. 
Different wall mounts are designed for different stud types and stud spacings. Hence, you need to first find out the stud type and spacing inside your wall and then find an appropriate mount for it. 
This brings us to the end of our post for Echogear TV mount reviews. 
In the end, we must say that we are thoroughly impressed with what Echogear has to offer with this full-motion mount. It's super easy to operate, it's affordable and you can mount it onto a number of different walls too. 
The only negative we must point out is that it does take up a decent chunk of space. Hence, maybe avoid it if you have a smaller room. 
What do you think of the Echogear Full-Motion Mount? Let us know in the comments below. 
Frequently Asked Questions (FAQs)
You might have many things left to know, for this, we have added this FAQs section to make all the confusion go away. 
Make sure you read this section thoroughly to avoid any issues you might have to resolve.
What type of TV mount is the best in the Echogear?

Those that are compatible with the size, weight, and height of your TV are the best for you. This is because they are specifically designed to support the weight of your television.Therefore, we have compiled this guide to let you know all about the Echogear TV mounts as they are one of the best for their quality and durability.

Why is my TV not leveled properly?

Usually, the problem can be in the TV mount arms. When the arms are folded back after an adjustment, the arms might be turned completely extended to one side. However, you can properly fold them back to solve the issue. If this is not the reason then you can look into this guide and level your TV. Therefore, look into Echogear TV mounts that have a built-in level that will help you balance your TV in the installation process.

Can you adjust your wall-mounted TV?

Many of the TV mounts need to be adjusted after they are installed. So yes, you can adjust your already wall-mounted TV. You can adjust the level and its tilt according to your liking. You can also manually adjust your TV in any direction if your TV mount supports full motion range.

Why is my TV crooked on the wall mount? Will Echogear TV mounts solve this issue?

Many people do not do the final adjustments after they have completed mounting their TV on the wall. This last step is necessary to adjust the level and tilt of the TV. This might be all you need to solve this issue. However, there is a high chance that one of your roll adjustment screws at the back of the TV is loosened with time.

How can I move my flat-screen TV without its box?

You can move your TV without its box by wrapping a blanket around it. This helps avoid any accidental scratches to the TV. You can then use a lifting belt to slide it or move it with the help of a dolly.

Is it safe to mount a 55" TV on the wall with my Echogear TV mount?

Yes, it is a safer option to mount your 55" on the wall as it can be secured to the TV mount. A good quality TV mount can hold from 26" up to 84" very easily. Therefore, it is better to mount your 55" TV than to put it on a stand.

How can I stop my Echogear TV mount from tilting forward?

If the TV appears to be tilted forward, the mounting screws or the roll adjustment screws at the back of the TV are loosened. You can tighten the screws and make sure they are firmly attached to the wall. Moreover, if your TV is tilting forward, both of your screws of the Echogear TV mount are loose so you need to tighten them both.

Is it safe to mount a TV without studs?

Most of them are designed for drywall but it still requires you to install studs for a more secure experience.Without studs, your TV will hang on the wall just like a picture frame which can fall anytime, and watching TV can be uncomfortable.

Can one person lift a 65" TV on his own?

No, we do not recommend that you lift such a heavy and big TV yourself. One of the major reasons is that you can get back injuries or you can also damage the TV panels because of the force of your hands.Moreover, the Echogear manual warns that you do not install any TV of big size alone as it can damage your TV screen.

Can the Echogear wall mount ruin my wallpaper?

The wall and wallpaper will inevitably be damaged as they are pierced through by studs and bolts to support your TV. However, this is crucial, otherwise, you could damage your TV if it's not mounted properly.Moreover, the process of installing your TV mount is not linked with Echogear or any other brand but if you do it properly then no damage can occur.

Is it safe to wall mount large TVs?

Choosing a wall mount that is compatible with your TV size is important. Since TV mounts have to lift a significant amount of weight, you must consider a durable one. Moreover, Echogear has all the compatible TV mounts that support every type of TV size and weight. You can safely mount any TV size with the right TV mount that is compatible with your TV and TV mount.

Can a TV be too heavy for a wall mount?

TV size and weights are directly linked to each other, if the size is large then ultimately it will be heavy. There are VESA standards for checking the capacity of your TV size with the TV mount's capacity.Moreover, Echogear TV mounts support VESA measurement standards that are universally best fit.

Is it costly to wall mount your TV?

It can vary depending on the size of your TV and your setup, it might be costly for larger TVs and theater systems while cheaper for smaller TVs and setups.Moreover, you can find all types of TV mounts on the Echogear website. You can also filter out options that are best suited according to your choice.

Can I mount my TV myself?

Yes, you can mount your TV yourself. However, we advise you to read the manual before you get started with the process. Moreover, we have added a lot of instructions about the installation time. The installation time is accessed on doing it on your own.Therefore, we have tested everything thoroughly to make sure you can do everything on your own easily.