We know that finding good-quality drywall anchors these days is tough. There are multiple options in the market, but distinguishing them can be a challenge. 
To help you find the best drywall anchor, our team has tested multiple products. 
Based on their results, we have prepared a list of the best drywall anchors that are available. 
Top 6 Best Drywall Anchors for TV Mount Reviews
#1 Best heavy-duty Drywall anchor for TV mount - Swelgo Drywall Anchors
These anchors are specially designed for hanging heavy materials. Our team found that it is well suited for demanding tasks as well as hanging a wide range of materials. 
These are easy to use on a variety of materials and are best suited for hanging heavy materials. 
We also noted the excellent hold that these anchors have. 
How much weight can these handle?
Through rigorous testing, we found that the maximum tension of these is more than 200 pounds. This makes the product excellent for mounting TVs, curtain rods, and shelves.
Factors to consider when buying Swelgo Drywall Anchors
Durability
The anchors have been constructed from shock-resistant and chemical-resistant materials. This company also offers a lifetime warranty, so you can change the anchors anytime you see fit. 
Utility  
These drywall anchors are highly versatile. Our team used them on multiple heavy-duty projects. We found that these anchors work with concrete, drywall, hardwood, chipboard, and more. 
The grip range of this product is ⅜ inches to 3-⅝ inches. We were also able to use these anchors for ½ inch hollow material. 
These qualities make the Swelgo drywall anchor a good choice when the depth cannot be determined. 
Other Factors 
The design of the anchors is also a plus. You can hang TV brackets and coat racks with these anchors within 10 seconds. This is due to the anti-spin design of the anchors.
You can also mount other items using these anchors. We recommend these for shelves, grab bars, mirrors, etc because of the load the anchors can bear.
The Swelgo drywall anchors are the best heavy-duty drywall anchors because of their strong holding power, their ability to work on a variety of different materials, and the wide grip range they offer.
"Installing the Toggler SnapToggle Drywall Anchor is a breeze, even for those with a limited DIY experience. The package includes detailed instructions that are easy to follow. All you need is a 1/2-inch drill bit to create a hole, and then you simply insert the anchor into the wall and snap it into place. The process takes only a few minutes, saving you time and effort."
"We subjected the Toggler SnapToggle anchors to various weights, and they consistently held up without any issues. It's crucial to note that the weight capacity may vary depending on the condition and strength of your specific drywall. We recommend exercising caution and following the manufacturer's guidelines to ensure optimal performance."
Easy to install 

Can handle heavy material 

Have a firm hold  

Have a good variety of grip ranges 

Ideal for different types of walls 

Highly durable design
The plastic can be flimsy 

Mounts may not hold when installing anchors
#2 - Best Drywall anchors for Easy installation for TV mount - MD5753 by Mounting Dream
We tested this kit many times and were impressed with how easy the installation is.
What does the kit come with?
The kit comes with stainless steel screws, washers, anchors, and anchors. To further aid the user, the manufacturer has included a bubble level and an Allen key. 
When it comes to quality, the m8 lag bolts have no compromises. They are made of stainless steel and are very durable.  
Factors to consider when buying the MD5753 by Mounting Dream   
Versatility 
The kit comes with multiple types of anchors that work on different materials. We found that for wood, the kit includes m8 lag bolts with washers. For concrete and drywall, we recommend using the Fischerare bolts. 
Sturdiness 
After thorough testing, we found that the anchors give a very sturdy hold. We noticed that the TV mount holds tightly to the anchors and is able to take on a considerable amount of weight. 
The deep thread design and the sturdy plastic casing make for an excellent anchor, especially for curtain rods.  
Other Features
The other feature that makes this product very good is that it comes with additional tools. There is a bubble level that helps the user check the alignment of the mount. The manufacturer has also included a 5mm Allen key. 
The MD5753 by Mounting Dream is the best drywall anchor for easy installation because of the robust design, the additional tools that come with the kit, are\ and the firm holds that the anchor provides.
"The Mounting Dream Lag Bolt Kit is designed to be compatible with a wide range of TV wall mounts. The M8 lag bolts are suitable for wood studs, while the Fischer anchors are perfect for concrete walls. This versatility ensures that the kit can accommodate different wall types, allowing users to mount their TVs securely and confidently."
"The MD5753 kit delivers excellent stability. The lag bolts and Fischer anchors provide a strong and secure hold, ensuring that your TV remains firmly mounted to the wall. The kit's components are designed to withstand the weight and stress of modern TVs, minimizing the risk of accidents or damage. "
Comes with cable ties for convenient cable management 
Great for small to medium televisions
Quite budget-friendly
Super easy to install
Highly sturdy
Cannot hold larger televisions
#3 - Best Versatile drywall anchor for TV mount - TOGGLER Toggle Anchor TB Residential Drywall Anchor
These anchors have plenty of qualities that make them work with almost any kind of project. Our team found these to be able to handle anything; from heavy objects such as shelves to small objects such as a smoke alarm. 
What are the snap toggle anchors made of?
The anchor is made of super-strong polypropylene. It also has considerable corrosion resistance when used with steel bolts. 
Factors to consider when buying TOGGLER Toggle TB Residential Drywall Anchor 
Utility 
The anchor can be used with plaster, wood, sheet metal, stainless steel, and hollow doors. We found that these anchors are perfect for drywall thickness between ⅜ inches to ½ inches thick. 
To get the best hold, the manufacturer has made the arms extra thick. These provide further grip to the anchors.
We also found that the anchors are nonconductive so they can be used for electronic accessories too. 
Installation 
Drilling drywall anchors is not a challenging task. Using a drill bit, put a 5/16-inch hole in the wall. Then insert the anchor and use the key to open the arms behind the wall. 
The team noted that the anti-rotation design of the anchors prevented them from spinning. Wall damage was also minimal due to the design of the bolts. 
Holding strength 
We noted that the anchors have an ultimate tensile strength of 143 pounds. This gives it an edge over other drywall anchors in the market as it is suited to all kinds of loads. 
We were able to hang different types of mounts using these anchors. The mounts are also able to handle TVs of different screen sizes. 
The TOGGLER Toggle TB Residential Drywall Anchor is the best versatile drywall anchor because of its ability to work with different kinds of materials, its high tensile strength, and the vibration-free, nonconductive design of each anchor.
"The TOGGLER Toggle TB Drywall Anchors come in a pack of 100, providing excellent value for money. The packaging is simple yet efficient, with clear instructions and guidelines on the back. The anchors are made of high-quality polypropylene, ensuring durability and strength."
"The TOGGLER Toggle TB Anchor excels in this area. The unique toggle mechanism provides a secure and reliable hold, preventing the anchor from pulling out of the wall under normal loads. This makes it ideal for mounting shelves, artwork, mirrors, and other fixtures with confidence."
Vibration resistant, non-conductive design 

Can be used on different materials 

Good for every Television mount 

Smart key design for easy handling

Tensile strength of up to 140 pounds
No screws are included with anchors 

Removal is hard without excessive force
#4 Best Self-drilling drywall anchor for TV mount - TOGGLER SnapSkru SP Self-Drilling Drywall Anchor
The toggler self-drilling anchors are best for holding medium to light loads. We found that each anchor can hold about 40 lb of weight.
What are the properties of this product?
The anchors come in two sizes. The mini anchors can hold 40 pounds of load. The team also noticed the small footprint they leave.
This allows the anchors to remain hidden. We highly recommend these for hollow core doors. 
The bigger anchors hold about 50 pounds and are useful for hanging a wall mount for mounting TVs. 
Can I use it for different thicknesses of drywall?
In terms of design, the anchor has a deep threaded design that allows it to lock into any drywall. Our team was able to use it on walls of ⅜ inches, ½ inches, and ⅝ inches thick. 
The anchor is also made of zinc which increases its durability. 
Factors to consider when buying TOGGLER SnapSkru SP Self-Drilling Drywall Anchor
Holding ability 
The mini anchors can hold up to 40 pounds of weight. The larger anchors can hold up to 50 pounds of weight. These make the anchors perfect for mid to heavy-weight wall mounts. 
Installation 
These anchors are self-drilling types of anchors. You do not need any kind of hole preparation beforehand. Also, we found that you can easily drill these into the wall using a Phillips screwdriver. 
Other features
The 100-piece pack contains 25 large anchors, 25 mini-anchors, 25 8×1¼-inch screws, and 25 6×1¼-inch screws. This makes it an excellent choice for DIY projects.
The TOGGLER SnapSkru SP is the best self-drilling drywall anchor because of its essay installation, small footprint, and highly durable zinc construction.
"After testing the Self Drilling Drywall/Hollow-Wall Anchor Kit, we can confidently say that it performs exceptionally well. The anchors provide a sturdy grip and hold up remarkably even when subjected to significant weight. This reliability is crucial for maintaining the integrity of your wall fixtures, giving you confidence that your items will stay securely mounted."
"Using these self-drilling anchors is a breeze, even for beginners. The sharp pointed tip allows easy insertion into the drywall, eliminating the need for pre-drilling. Simply position the anchor at the desired location, apply light pressure, and twist clockwise until it's flush with the wall. The included screws thread smoothly into the anchors, ensuring a secure and stable attachment."
Can be installed without the need for a drill 

Deep Thread design 

Leaves small footprint 

Highly durable 

Comes in a sizeable pack
Can break if used  with a power screw 

Not recommended for concrete wall
#5 Best Plastic drywall anchor for TV mount - Qualihome Ribbed Plastic Drywall Anchor
If you want to mount lightweight objects such as lighting fixtures and are on a budget then these best drywall anchors are perfect for you. 
Plastic anchors are convenient for plenty of situations and are available at an extremely affordable price. 
Our team noted that these anchors hold between 20 to 30 pounds. You can use these to mount a flat television mount on your drywall. We were also able to use these on the gypsum board. 
Design-wise, each anchor expands in three directions. The ribs also enable them to tightly grip onto the wall. It also does not allow them to rotate during installation. 
Factors to consider when buying the Qualihome Ribbed Plastic Drywall Anchor  
Versatility 
This tool can be used on a variety of different materials. We were able to use it on drywall, concrete, glass-filled nylon, and gypsum wallboard for hanging different light loads. 
Design 
The design of these anchors allows them to make a secure engagement. The arms expand in 3 directions and minimize chances of any rotation during installation. 
Other features 
The anchors are good for you if you are on a budget. The kit is also sizable. The sturdy plastic case contains 100-inch anchors, 100 1 ¼ inch anchors as well as a 4-inch masonry drill bit. 
The Qualihome Ribbed Plastic Drywall Anchor is the best plastic drywall anchor because of its 3-way expansion design, its affordable price, and its sizable kit that contains a ¼ inch drill bit.
"The Qualihome Ribbed Plastic Drywall Anchor Kit is highly versatile and suitable for various applications. Whether you're hanging artwork, mounting shelves, or securing light fixtures, this kit has got you covered. The anchors have a weight capacity of up to 50 pounds, making them suitable for most household projects. "
"One of the standout features of this anchor kit is its simplicity. The included masonry drill bit ensures easy installation, allowing you to quickly and accurately create pilot holes. The ribbed design of the anchors enhances their grip in the drywall, minimizing the chances of them slipping or becoming loose over time. The provided screws are of good quality and securely fasten items to the anchors."
3-way expansion design 

A sizeable kit that contains a drill bit 

Firm hold due to design 

Works on different materials 

Highly Affordable
Screws may be bigger than the anchors 

Installation is hard 

Needs pre-drilled hole
#6 - Best Versatile Drywall Anchor for TV mount - Toggler 44-Piece Combo Anchor Kit
We found these best drywall anchors to be very good for mounting TVs hanging on different materials. The kit comes with different types of anchors. We were impressed by the fact that it contains toggle bolts, self-drilling drywall anchors, toggle anchors, and all-purpose anchors. 
How versatile is the kit?
The addition of these makes the kit very versatile. During testing, we used these for light to heavy loads. The team noted the impressive maximum load the anchors allowed.
The snap toggle anchors can hold an impressive 250 pounds. 
We also noted the ability of the anchors to work on different surfaces. The grip was firm on drywall, gypsum wallboard, and more. 
The tools are also suited for mounting objects of different weight classes. 
In terms of durability, the wall anchors are made of shockproof, heavy-duty chemical resistant material, and polymers. 
Factors to consider when buying Toggler 44-Piece Combo Anchor Kit
Versatility 
We found that the drywall anchors work with almost any surface depending on the type. Generally, they work excellently with drywall, wood, gypsum board, hollow walls, double drywall, and plasterboard. 
Different anchors are suited to different types of mounts. The manufacturer has included an in-depth manual with the kit which lists down the technical specifications. 
Utility 
Our team was able to mount different objects using the anchors. We found that you can easily hang small accessories like electrical appliances using plastic anchors. 
Using a toggle anchor, we were able to easily mount a flatscreen TV. 
Other features 
Some other features that we were impressed by included the variety the kit offers. It is also very affordable for its quality. 
The Hillman Group 370054 Toggle Bolt, 3/16X3-Inch, 50-Pack is the best versatile drywall anchor for TV mounts because of the variety offered, the great level of versatility and utility offered by the Hillman, and its ability to handle objects of different weights.
"The Hillman Group 370054 Toggle Bolts impress with their sturdy and durable construction. The bolts are made from high-quality steel, ensuring they can withstand substantial weight and provide reliable support. The 3/16X3-inch size is suitable for medium to heavy-duty applications, striking a balance between strength and versatility. The zinc-plated finish adds corrosion resistance, making them suitable for indoor and outdoor use."
"Overall, The Hillman Group 370054 Toggle Bolts are an excellent choice for anyone needing a secure and versatile anchoring solution. With their durable construction, corrosion-resistant finish, and impressive weight-bearing capacity, these toggle bolts provide peace of mind when anchoring heavy objects."
Permanent, durable hanging solution

Can hold up to 70lbs in drywall

Can hold up to 85lbs on a concrete wall

Easy to install

Provides a firm and safe hold in hollow walls

Excellent value for money
A pre-drilled hole is needed for fitting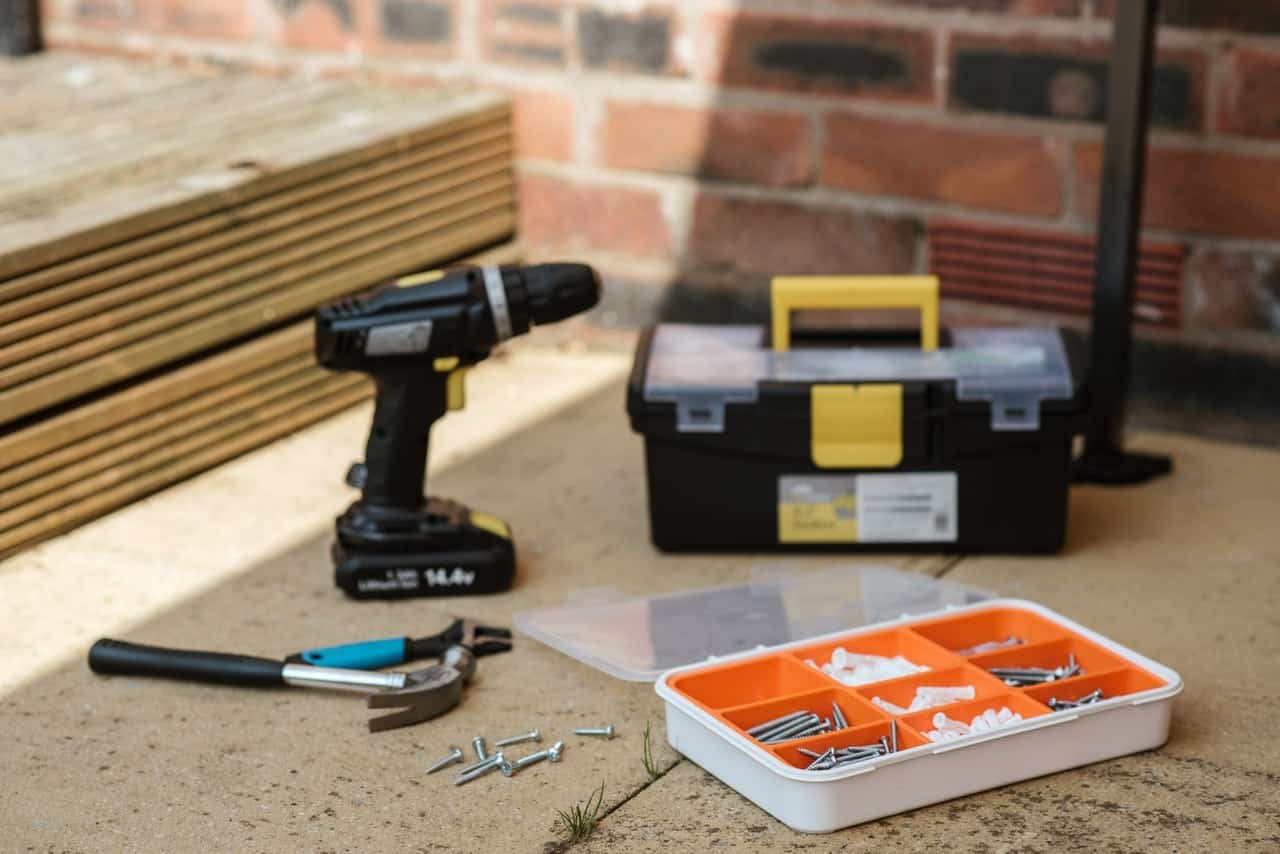 Type of Drywall Anchor
Anchors are usually of 4 different types. Each has different designs and is suited to different kinds of jobs. 
Expansion Drywall Anchors
These are called expansion drywall anchors as they are designed to expand against the drywall. This kind of drywall anchor is highly versatile and can be used on drywall, concrete, mortar, or sheet metal. 
The maximum weight they can handle is between 20 to 30 pounds. We recommend that you use them for lightweight projects such as small shelves or coat racks.
Toggle Bolt Anchors
These anchors have wings that fold flat against the screws during insertion but flare outwards against the drywall once the anchor has been installed. 
We recommend these anchors when you are working with heavy objects. 
The design of toggle bolt anchors creates a brace along the back of the wall which holds them firmly. 
These anchors work best with medium to heavyweight objects such as heavy mirrors as well as TV mounts. 
The maximum tensile strength of these anchors is between 200 to 300 pounds. Larger anchors have a greater weight allowance.  
Threaded Drywall Anchors
These are also called self-drilling anchors. They can be directly drilled into the wall as they come with a sharp, pointed shank. 
The maximum holding weight of these anchors is 80 pounds. We recommend these for mounting medium-weight items. 
Threaded anchors are made of plastic, nylon, or zinc-coated metal. Because of their design, they are very easy to use. You can use a power tool to do the job quickly. 
Molly bolts
These anchors use a metal sleeve and are hollow wall anchors. A unique feature of these anchors is that the screw can be removed after you have installed the anchor. 
Molly bolt is a hollow wall anchor and requires a pre-drilled hole. The holding strength of these is about 50 pounds. These are best for lightweight objects such as a smoke alarm. 
Material
Generally, anchors work on all kinds of materials. You can use them on drywall, concrete, and hollow material. However, there are specialized anchors available in the market. 
The ideal material for an anchor is drywall. This is because anchors need space to clam up and stay firmly in place. 
Plastic and Metal Anchors
The material of the anchors also matters. Anchors are usually made of plastic or metal. Plastic anchors are best suited to lightweight materials. They are also low-cost but break easily during installation. 
They usually work by extending the plastic straps on them.
On the other hand, metal drywall anchors are a bit pricey but they are also more sturdy. They are also more suited to hanging heavy objects on metal studs such as TV mounts and heavy mirrors.  
Can I reuse my drywall anchor?

Yes, drywall anchors can be reused. You would have to drill a larger hole when reusing it. However, check if your anchor is designed to be removed after installation. You can damage the wall.  

Which drywall anchors hold the most weight?

This depends on the weight of the objects you want to mount. Plastic sleeves work best under 10 pounds. Self-drilling wall anchors are suited for objects weighing 10 to 25 pounds. For heavier objects, snap toggles or toggle bolts are recommended.

Why is drywall anchor necessary?

You need an anchor for drywall because they are very weak to support anything without support. Drilling drywall anchors allow you to use a screw without crumbling the wall around it.