As TVs have become thinner, wall mounts have become more popular. It is simply more convenient to get huge entertainment consoles and wires out of the way for an organized look.
Wall mounts can be installed on concrete and brick walls as well but they have generally been designed to be suited for drywalls. The mounts hang on to the wooden studs inside the wall.
However, if you do not have studs inside the walls or you simply do not want to spend on wall mounts then you can still wall mount your TV.
Let's discuss how that can be done in this "How To Hang a Flat-screen TV Without a Mount" post.
In this article, we will discuss the following things:
The ways to install TV mounts on walls that do not have studs

Instructions on how to make sure your anchors and toggles stay in place
Studs are very important elements needed to support the weight of the TV in most cases. They help keep the TV balanced and avoid it from falling or damaging the wall. However, studs are only usually found in drywall structures. 
Other walls made from materials such as brick, concrete, and others will not have studs inside of them. Instead, to balance the TV out, you would need to find other alternatives. 
If you want to mount your TV without using studs, there are still options available to securely mount your TV to the wall. First, determine the size of your TV as different TV wall mounts are designed to accommodate specific sizes.
Once you've chosen the appropriate mount for your TV size, learn how to mount it inside the wall. Keep in mind that the wall you choose may not have studs, so alternative methods will be necessary. Using a mounting plate, attach the TV wall mount to the wall securely. 
This method allows you to still mount your TV without relying on studs, especially if you have a smaller TV size like a 32-inch TV. Remember to follow the manufacturer's instructions and consider the weight and dimensions of your TV when mounting it to ensure it is safely secured in place.
Most of the methods discussed in this article include how to fix the TV's mounting plate securely into the wall. This will offer many benefits such as added security. 
Now that we know why it's important to know how to hang a TV on a wall without studs, let's get right into the process.
Methods to Install a TV Mount Without Studs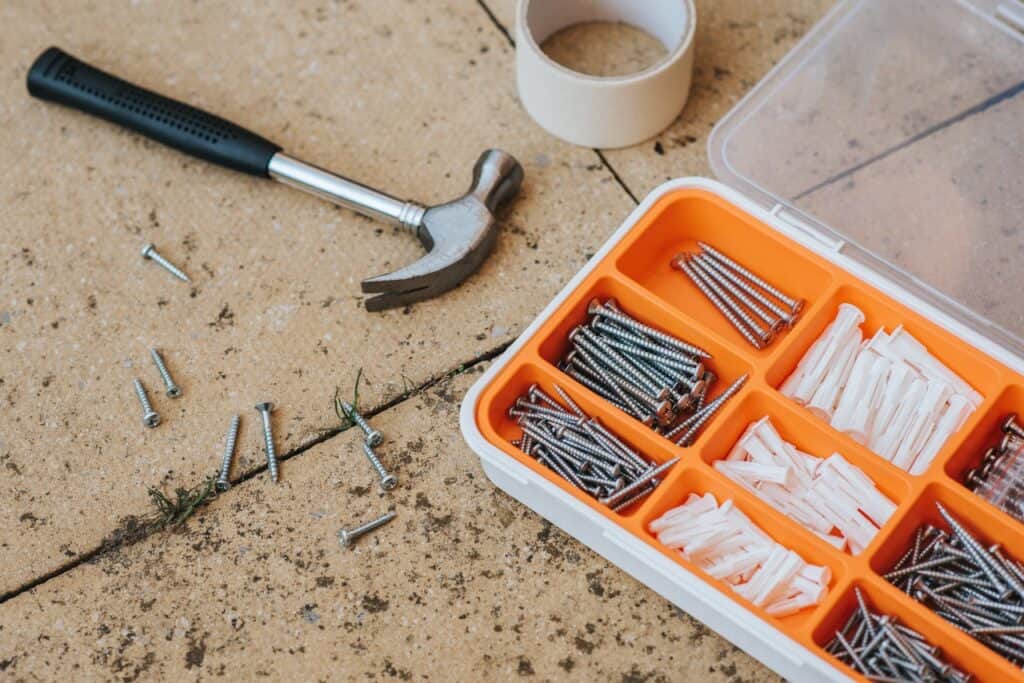 Anchors are the easiest and simplest way to install a TV wall mount without studs. The anchors prevent destroying the wall and limit screws from falling out of the holes in the wall. They help prevent screws from falling out of the drilled holes and damaging your wall.
If the wall anchors are not rated for the weight of your TV, you need to cut open the wall and install solid wood blocking in between the studs so you could utilize that to screw the TV mount into it.
You need to:
To lock the anchor into place when you insert the screw, you need to pull it close to the wall through a disposable pull tool.
Toggle anchors are a type of wall anchors that have butterfly toggles at the end which cling to the back of the drywall for extra support. 
Any kind of external force applied on the screw allows the toggle anchors to the whole sheet of drywall to respond. Thus the drywall does not crumble and the TV gets sturdy support. 
Tip:
We highly recommend molly bolts can hold up to 50 lbs which is a lot more than other mounting screws that can only hold up to 80-pounds.
Molly bolts have two variations:
Pointed:

These can be installed in the wall through a hammer.

Non-pointed:

These need to be installed by cutting an installation hole first. 
The sleeves of the molly bolts expand as you tighten them into the wall which creates an anchor at the back of the wall. 
Once the bolts are in place, you can remove the screws and replace them with the screws of the TV mount. 
Hanging your TV from the ceiling is another popular mounting choice when wall studs aren't available. Mounting your TV to the ceiling might not be too feasible and requires more hard work. However, it is still an option.
Ceilings have joists and beams that provide a similar function to that of wooden studs. They might be further apart in the ceiling. 
You may require longer screws to reach the joists in the ceiling. 
Ceiling mounts are not preferred as they do not have a homely feeling to them, rather they give a more corporate feel. 
Tip:
We advise you not to choose ceiling mounts as they are not very safe and require more labor and tools.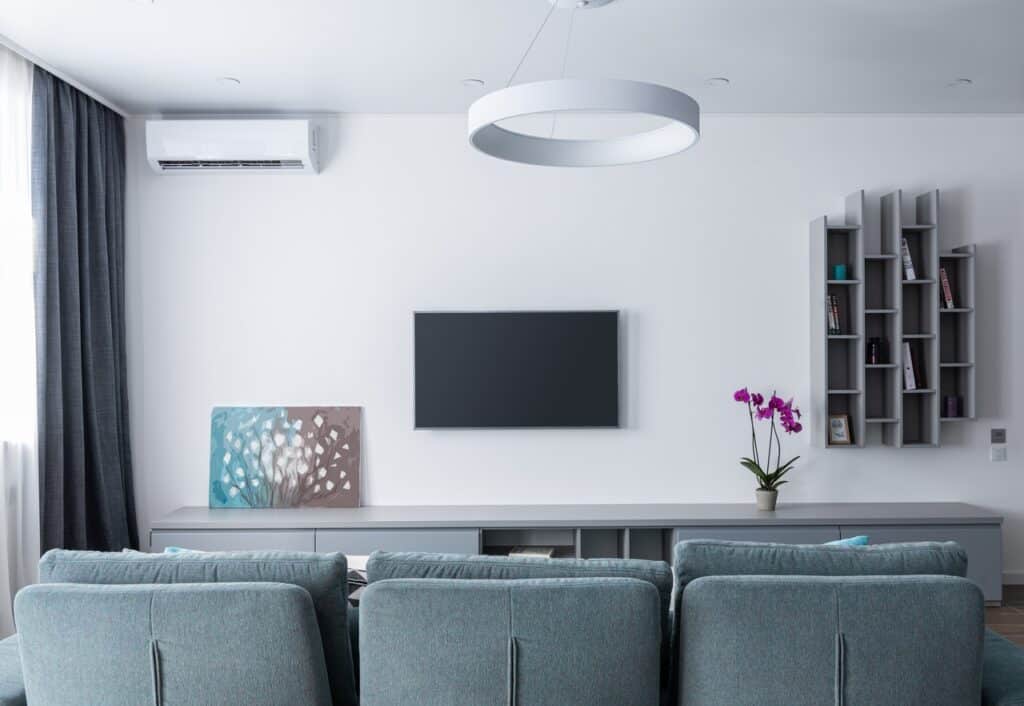 Before you start to mount your TV on drywall without studs, you should consider the following factors to ensure safe mounting. 
If you want to hang a TV without using studs, you can utilize a wall mount designed for walls without studs. One option is to use a wall anchors such as molly bolts, which provide stability and support. Locate the center of the TV screen and mark it on the wall where you want to hang the TV in your home.
Install the wall anchors at appropriate intervals according to the weight of a tv and the size of your TV. Then, attach the TV mount for walls without studs to the wall anchors. Once the mount is securely in place, carefully hang the TV on the mount, ensuring it is centered and level. Keep in mind the weight limit of your chosen wall anchors and follow the manufacturer's instructions for a safe and secure installation.
While wall-mounting your TV, whether through mounts or anchors, weight is always the most important factor to consider. You have to check what is the weight of your TV, and the weight your wall anchors are designed to hold before you mount it, 
Once you know what the weight of your TV is, you can easily select mounts with the appropriate load capacity. 
Even if the wall is strong enough to support the weight of the TV, the mechanism in place to mount the TV may be weak. 
Tip:
If your wall is old or crumbling then it does not matter if you use the sturdiest anchors or mounts, eventually your wall will give away. Therefore, in that case, DO NOT mount your TV on a wall.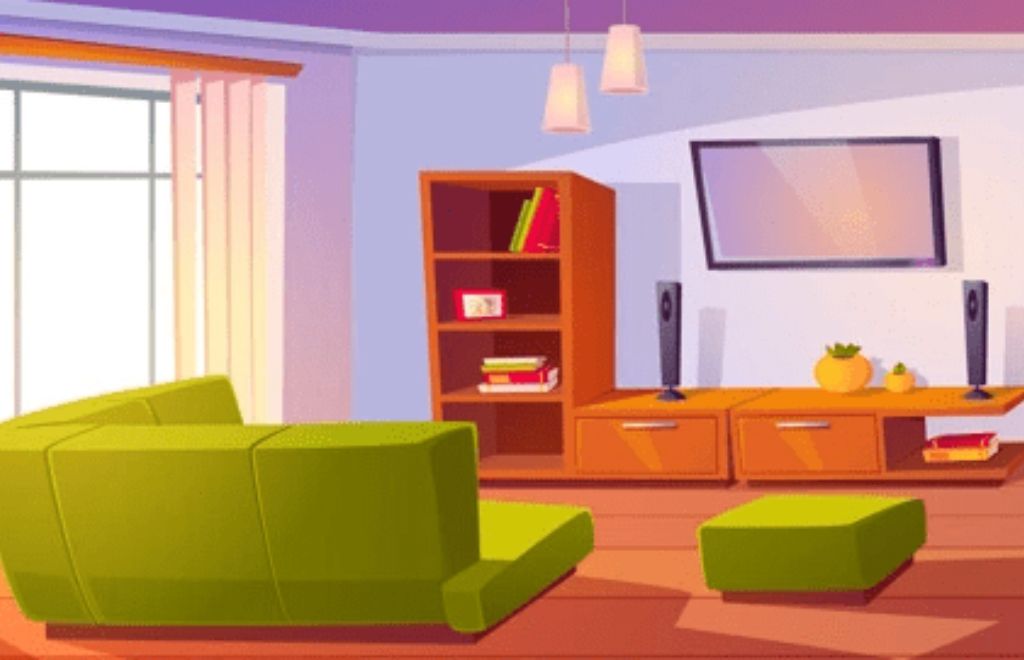 VESA patterns are standard measurements that ensure that the mount is compatible with the dimensions of your TV.
For Example:
A mount designed to support a 32-inch TV of 25 lbs cannot support a 40 inch TV. The mount could falter and cause significant damage to your wall and your TV no matter how sturdy it is. 
The type of mount is important because certain mounts give room for adjustment whilst others are fixed and rigid on the wall. 
You need to select the right type of mount for it to hang steadily on anchors:
Fixed Mounts
Fixed mounts are non-stationary and do not allow any post-installation adjustments whatsoever. These are the safest bet when it comes to wall mounting your TV.
The fixed mounts securely hold your TV parallel to the wall.
Tilt Mounts
These mounts can adjust tilting levels vertically while remaining fixed to the wall. The major benefit of such mounts is that they help in significant glare reduction. 
Full-Motion Mounts
Full-motion mounts have arms attached to the mounting bracket to allow:
Swivel

Extension

Retraction

Screen Leveling

Rotation

Tilting
These mounts are typically more useful because of their multifunctional features. You have the option to freely customize their settings post-installation.
Important Things to Keep in Mind When Mounting Your TV Without Studs. Most anchors work best with tilt or fixed mounts. Fixed mounts remain stationary and tilt mounts allow the TV to move a few degrees slightly
Tip:
Anchors or toggle mounts should not be used with any mount except fixed mounts.
Full-motion mounts have arms to swivel and extend which automatically adds more weight. 
Moreover, the continuous movement of the arms can add more stress on the anchor which might cause the wall to rip. 
Tip:
There are many options to mount your TV even without studs, however, if you are still unsure about your options, it is best to call a professional who would have the most expertise to wall mount your TV without studs.
The Mounting Plate 
Mounting plates are a very important part of the process of trying to hang your TV on the wall. 
You need to make sure you have the right plate along with anchor screws, a toggle anchor, toggle bolts, pointed molly bolts, and drywall anchors.  
The mounting plate can also influence just how much wall space your TV will take. It is also important to support a TV's weight on a wall without studs. You would need to first determine how much weight standard wall mounts take. Mounting a television without studs may be a safe and dependable method provided the restrictions of the wall and the toggles are carefully considered. Remember that picking the wrong mount could cause your Tv to crash to the floor and a damaged wall.
How To Install a TV Wall Mount Without Studs - Final Verdict
This concludes our article on how to install TV wall mounts on walls without any wall studs. 
We understand that you would want to wall mount your TV because this is the new home economics trend and it is a lot more organized. 
However, if you do not have wooden studs in your wall to mount your TV on then no worries. You can still mount your TV bracket, you just need to be more cautious with a mounted TV.  Simply mark the drill holes on the wall with a pencil. Then, use a drill bit that matches the size of your toggle anchors to drill a hole through the drywall at each mark.
The most helpful tools to mount a TV without studs are through anchors, toggle bolts, or molly bolts.
Molly bolts are a bit harder to use but they are the best option out of the three anchors. These bolts are the most sturdy and easy to install.
Let us know if you have any more questions in the comments below.