Table could not be displayed. Everyone wants to build the best home theatre there is. Of course, nothing beats the immersive
TV viewing experience
when watching your favorite movies or TV series. The problem occurs when it comes to allocating sufficient space for the TV. For decades, people have used TV stands, but they are not the most space-conserving decision. On the other hand,
TV arm mounts
offer a balanced solution between portability and stability. These mounts will allow you to set up your TV on your wall, thus avoiding using a bulky table on the surface. But how do you find the best TV arm mount for your bedroom or living room? As it happens, you can choose between different types of TV arm mounts from the market. Each of such arm mounts will have a specific limit of the weight it can handle and the overall compatibility. You should also be aware of the tilt and swivel angles of the mount. Otherwise, you may end up with a TV arm that you cannot customize according to your needs. But rest assured, you can stay sure about the build quality and durability of the arm mounts. And to ensure that you have the best TV watching experience, we have listed the best TV arm mounts you can find today.
Best TV Arm Mount
#1 Winner: FORGING MOUNT TV Corner Wall Mount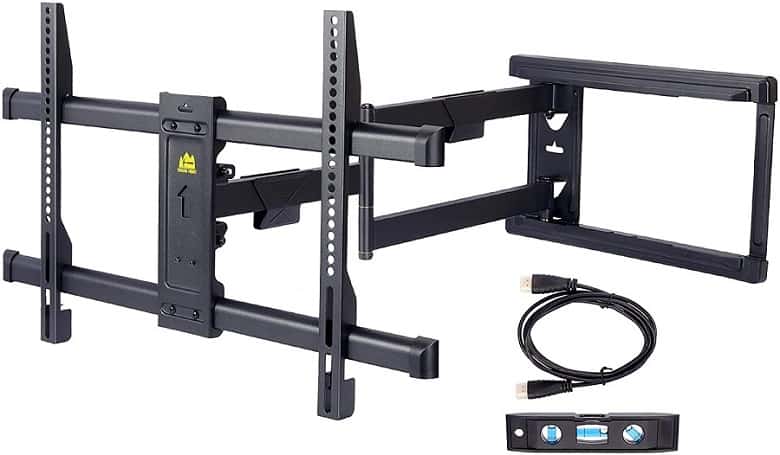 Specs
TV Size: 37 to 75 inches
Minimum Compatible Size: 37 inches
Tilt Angle: +5 and -15 degrees
The FORGING MOUNT TV Corner Wall Mount is the best TV arm mount you can get for your bedroom, living room, or commercial space. You can use this piece of versatile equipment to mount flat and curved TV models with ease. At the same time, this popular TV arm mount does not cost a fortune, either. Therefore, you can ensure maximum flexibility and security for your TV without spending a lot. In addition, as you can guess from the image, it is an extendable TV arm mount, meaning that you have more freedom while choosing the viewing angles. In case you do not know, the FORGING MOUNT TV Corner Wall Mount is one of the highest-rated TV mounts in the market right now. It is built using alloy steel and can accommodate TVs as large as 75 inches. So, you can use this single product for residential and commercial scenarios with ease. However, your TV must have a minimum display size of 37 inches to work with the mount. Once arranged, you can enjoy features like tilt, swivel, articulation, and full motion. As far as the specifications are concerned, the arm mount can handle up to 99lbs of weight, including most of the TV models in the market. Because it is a corner TV wall mount, you can save more space than you think. As we said earlier, it enables the extension of up to 30 inches, which allows enough room for viewing angle optimization. The arm mount also comes with standard options for cable management. Therefore,
you can have a clean TV setup without any additional purchases
. When it comes to installation, the product is one of the easiest options out there. You can use the pre-set drill hole template to set up the system on a corner. As is the norm, you can use the arm mount with wooden and concrete-based walls. The product does not disappoint when it comes to compatibility, either. You can connect any TV with a VESA mount pattern of 200x100mm to 600x400mm. You can also enjoy +90- and -90-degrees swivel, +3 and -3 degrees of level adjustment, +5 and -15 degrees of tilt adjustment. In addition, the package comes equipped with a bubble level indicator, HDMI cable, and cable ties. It means you can install this arm mount as soon as you take it out of the box. In short, the FORGING MOUNT TV Corner Wall Mount gets almost everything right when you are worried about the best viewing angles and protection for your TV.
Pros
It comes with a simplified installation process
You can enjoy up to 30 inches of extension
The system enables up to +5- and -15-degrees tilt
It is compatible with VESA mounts 200×100 to 600x400mm
It comes as a comprehensive package
Cons
It is not suitable for low-sized TVs
The placement style could be better
#2 Runner-up: Mount-It Long Extension TV Mount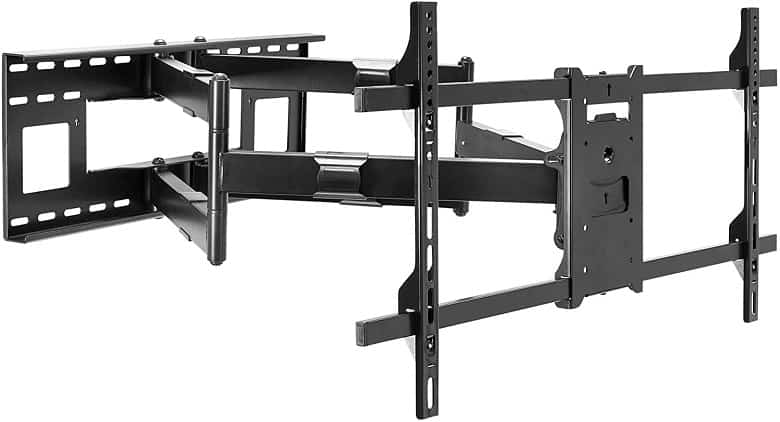 Specs
TV Size: 42 to 90 inches
Minimum Compatible Size: 42 inches
Tilt Angle: +10 and -5 degrees
You should check out the Mount-It Long Extension TV Mount if you need a system to accommodate TVs with a larger-sized display. It also means the product is capable of handling more weight in both residential and commercial situations. Despite its more robust design, this TV arm mount leaves room for customization and extension. In the end, using the device to ensure the best TV viewing angles will be easier than you may have thought. As you can guess, the product happens to be one of the highest-rated ones on Amazon, indicating quality and durability, among other things. Mighty is the term that we can confidently use while describing the Mount-It Long Extension TV Mount. It has been designed to accommodate TVs with a display size of between 42 inches and 90 inches. So, if you want the best TV arm mount for a restaurant, hospital, or airport, you do not have to look further. To be on the safe side of compatibility, the device supports up to 176lbs of weight. Therefore, even if you have an extraordinarily bulky TV, you do not have to worry. Alternatively if you need it mounted higher, this
ceiling mount is the #1 option
As you can guess from the images, this arm mount comes with full-motion capacity as well. As the name says, the Mount-It Long Extension TV Mount has been designed to offer the most versatile TV viewing angles in your living room. You can select a desirable size from the range of 3.5 inches to 36 inches, which is excellent. Combined with a level adjustment of +5 and -5 degrees and a full swivel of up to 180 degrees, you do not have to worry about numbers again. As far as tilt angles are concerned, you can choose between +10 degrees and -5 degrees. While these numbers may seem a little low, they do not impact the overall usability of the TV mount.
The dual-arm support design of the product can be a lifesaver
when you are worried about the durability of your TV mount. Even when using the maximum extension and other full-motion options, the additional lockers will come in handy. The company has also added safety brackets and outlet holes that add security from the usability point of view. The package also contains cable clips, which will help you in cable management. Last but not least, the Mount-It Long Extension TV Mount can accommodate your TV if it has a VESA mount size of between 100×100 and 800x400mm.
Pros
It is suitable for TVs with a large display
The mount enables the extension of up to 36 inches
The dual-arm design enhances the protection
Supports VESA mounts of 100×100 to 800x400mm
The package includes safety brackets and cable clips
Premium build quality and design aesthetics
Cons
It can be a bulky design for some situations
The product can be on the expensive side of things
#3 Alternative: AM Alphamount Dual Monitor Mount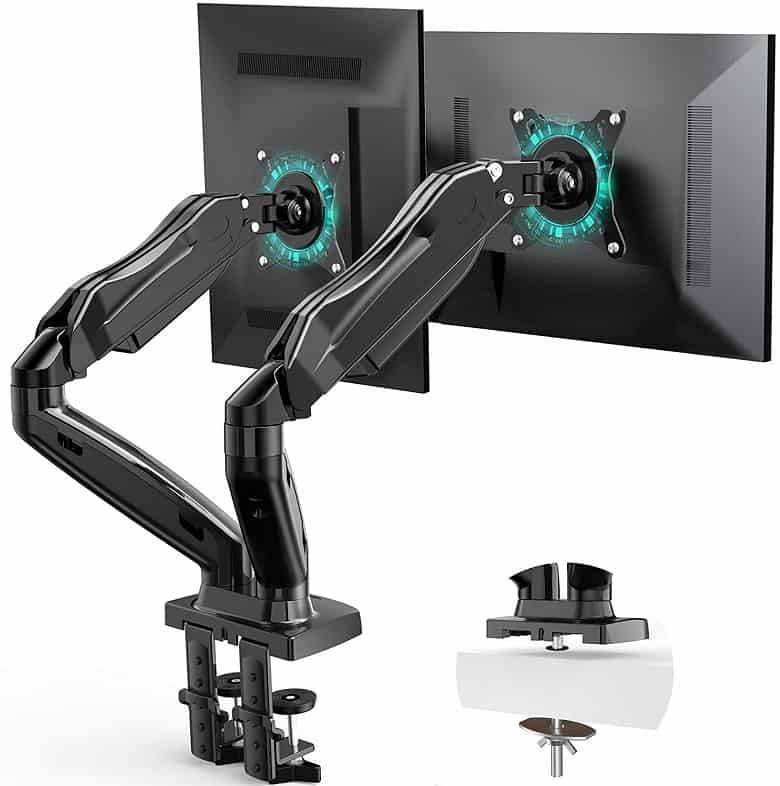 the mount can provide you support for -35 and +50 degrees of tilt
, 90 degrees of swivel, and 360 degrees of rotation. In other words, you have complete freedom while choosing the viewing angles for the monitors. The performance of the AM Alphamount Dual Monitor Mount is unparalleled when it comes to height and level adjustment. You can use both these features to get rid of glare and other reflections. You can also pick between two mounting options based on the scenario: C-clamp installation and Grommet installation. This TV arm works excellent if you want to keep your TV in a different angle as well. We recommend this option if you are looking for a multi-system setup for gaming or editing.
Specs
TV Size: Up to 27 inches
Minimum Compatible Size: Not Specified
Tilt Angle: -35 and +50 degrees
Pros
It can accommodate up to 27-inch TVs
The product comes with dual mounting options
It enables advanced tilt and swivel options
A suitable design for multi-display setups
Height and level adjustment options
Cons
We cannot recommend it for full-sized TVs
It does not have wall-mounting options
#4 Alternative: FORGING MOUNT Long Extension TV Mount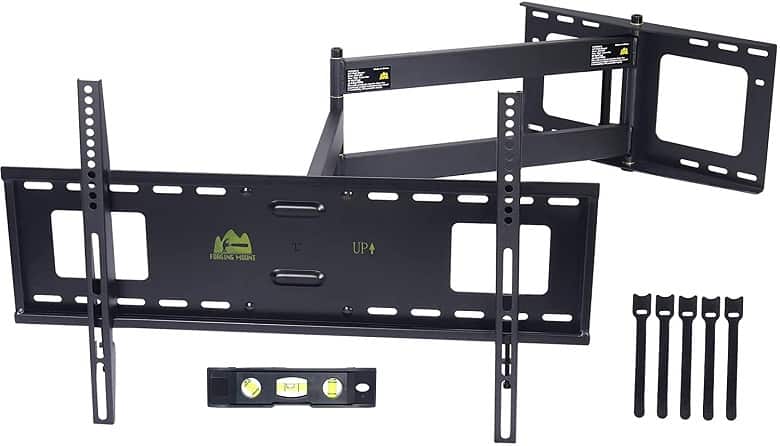 Specs
TV Size: 37 to 80 inches
Minimum Compatible Size: 37 inches
Tilt Angle: +5 and -15 degrees
You should check out the FORGING MOUNT Long Extension TV Mount if you need an effective way to house a flat or curved TV with a screen size of between 37 inches and 80 inches. By that standard alone, the mount becomes suitable for commercial and residential uses. In both scenarios, you can save a lot of space while enjoying options like swivel and tilt. As you can guess, the significant impact of the product comes when we consider the extension options. We are talking about an extension of 42 inches, which you cannot get on a lot of other variants. Like other products from FORGING MOUNT, the FORGING MOUNT Long Extension TV Mount also uses an alloy of steel as the base of the construction. As a result,
it can provide a great viewing experience
with minimal effort from your side, which is excellent. The problem is that your TV must be at least 37 inches long if it needs to be accommodated using the TV arm mount. On the bright side, the package contains everything you need for an easy set-up process. We must also appreciate the quick installation of the FORGING MOUNT Long Extension TV Mount. You do not have to be a technical expert to set up this TV arm mount. Instead, you can follow the steps mentioned in the support literature to get started. As we said, the package comes with a 6ft HDMI cable, a 3-axis bubble level tester, and five cable ties. All these come in handy when you want to set up the system as soon as you can.
Pros
It offers ample extension options
It comes as an inclusive package
Alloy steel-based construction quality
The package comes with a bubble level
3-axis level included
Cons
It does not support low-sized TV screens
Limited VESA mount support
#5 Alternative: AmazonBasics Heavy-Duty Extension Dual TV Arm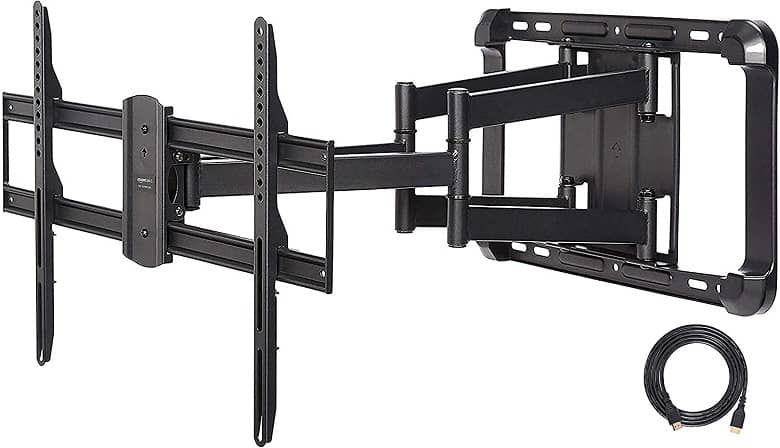 Specs
TV Size: 37 to 80 inches
Minimum Compatible Size: 37 inches
Tilt Angle: +6 and -10 degrees
You should check out the AmazonBasics Heavy-Duty Extension Dual TV Arm if you need a TV arm mount that is powerful enough to handle bulky TVs. If you have an extraordinarily huge OLED TV at your home, this arm mount would be the best option in town. The system can handle up to 132lbs of weight, which is way high on the limit. When compared to these features, the product does not cost a lot, either. Reliability happens to be one of the best things about this product, if you are wondering. You can also ensure top-level support from the maker. While it is not the biggest option, the AmazonBasics Heavy-Duty Extension Dual TV Arm enables an extension of up to 26 inches, which is great.
The construction is based on metal
, and the black finish adds so much value from an aesthetic point of view. You can enjoy maximum options for customization, including a tilt between 6 and 10 degrees. On the other side, you can also enjoy 180 degrees of right and left swivel options. Of course, a case in point would be the extension itself. Compatibility is also a great thing about the AmazonBasics Heavy-Duty Extension Dual TV Arm if you ask us. This model has support for VESA mount patterns like 200X100mm, 200X150mm, 200X200mm, 300X200mm, 300X300mm, 400X200mm, 400X300mm, 400X400mm, and 600X400mm. From a usability point of view, it is a great addition for most people. Last but not least, the installation does not take more than a few minutes, and the package contains an HDMI cable as well.
Pros
Heavy-duty construction
It can handle bulky TV models with ease
The model enables 180-degree swivel and sufficient tilt
Supports a variety of VESA mount designs
It comes with an HDMI cable
Cons
The package lacks a bubble level
It may require an extender at times
TV Arm Mount FAQ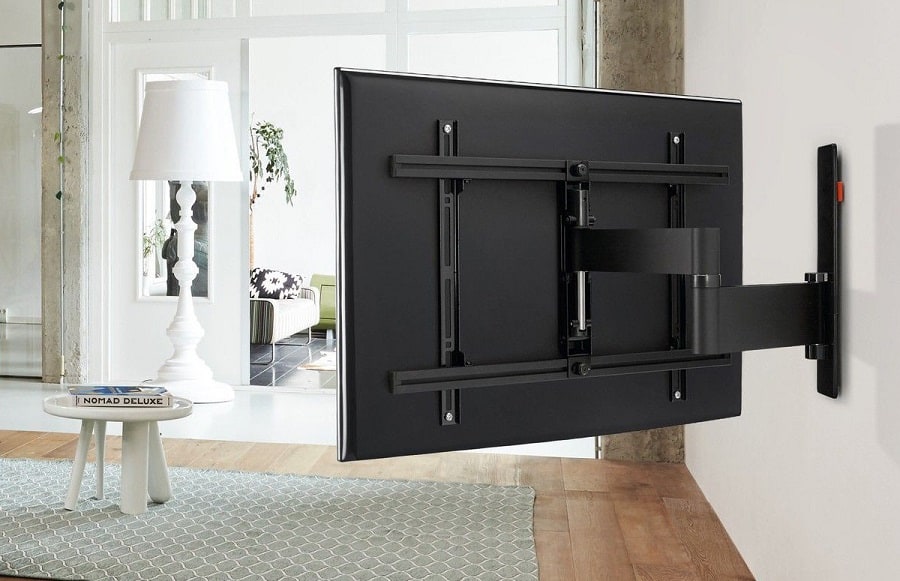 How do I choose a TV mount?
Determining the appropriate size of the TV mount to buy will take some time. It seems complicated, especially with so many choices available, but it does not appear to be that difficult. There are many factors to consider when purchasing a TV wall mount. You will avoid any misunderstandings if you follow them strictly.
Examine the technical properties of your television
Ensure that the wall mount you choose matches the precise requirements of your television. The majority of wall mounts are designed to fit televisions of a specific size and weight. If your wall mount can only support 32-inch screens and you attempt to mount a 50-inch television on it, the possibility of your costly television falling to the floor is high. Ensure that you read the instructions on the wall mount's box and choose a wall mount that supports the height and weight of your television.
Select the desired number of swivels
Decide whether you want to rotate or leave your wall mount stationary. The majority of wall mounts are capable of doing one of these two tasks. In some situations, such as important social events, having a permanently mounted TV on the wall may be preferable. When the television must be positioned in a different direction, a swivel mount is worthwhile.
Consider the expense
While a low-cost wall mount seems to perform the same functions as a more expensive one, are you prepared to take the risk of not offering sufficient quality to support your pricy long-term television set? Remember that you do not want to overspend on a wall mount, but you also do not want to compromise on materials. So choose what you think is the best as per your requirements!
How much weight does a TV mount hold?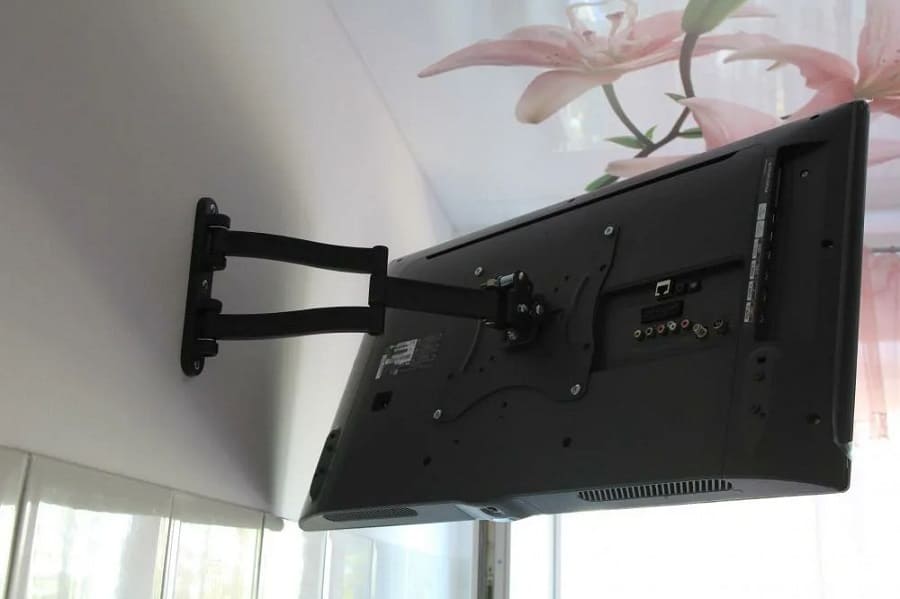 When installing a television, the first thing to consider is if the wall can support the weight of the television. Even the most modern and lightest televisions weigh much more than the most extensive framed mount. Although the requirements for each mount should be set to a standard guideline of 80 pounds per stud, 80 pounds is about equivalent to anything less than 60 inches tall. Almost every television on the market, except the most delicate television mounts, is supported by one of these mounts. When choosing a mounting system, it is essential to consider the size and weight of your television. One of the most attractive features is that television sets designed for screen size (say, 50 inches) can handle practically any screen of that size. For instance, if you own a 50-inch LCD television, you would purchase the same mount as someone who owns a 50-inch plasma television. The bulk of the mounts evaluated were designed for 50-inch televisions and could support 125 pounds, which is much more than even today's 65-inch plasma displays.
Note:
Remember that you should never hang anything valuable on a wall without first locating a stud.
Do all TV wall mounts fit all TVs?
Not all wall mounts are compatible with every type of television. The television's size and weight are closely connected. The importance of television rises according to its size. Apart from the maximum weight capacity, the mounts comply with a range of VESA mounting requirements. As long as your TV fits within the required dimensions, the assembly should be able to carry the weight of your television satisfactorily. As previously mentioned, the majority of TVs adhere to a standard mounting pattern known as VESA. By establishing precise wall mounting size regulation criteria, the VESA allows consumers to readily choose the optimal TV arrangement. Regardless of manufacturer or model, each wall-mount is compatible with any television that utilizes the VESA mounting pattern. The VESA measurements are included in the instruction manual for your television or maybe found through an online search. Even if you are unable to see it, the VESA size may be readily established. The horizontal and vertical distances are the only measurements needed. The first VESA size is denoted by two horizontally aligned digits (for example, 200100). However, within the squares, the horizontal is vertical, and there are specific rectangular patterns included within the enclosures, i.e., within the courts. You want to choose TV brackets that match the design on the television to guarantee that it is mounted and held correctly on the wall.
Can I use my old wall mount for my new TV?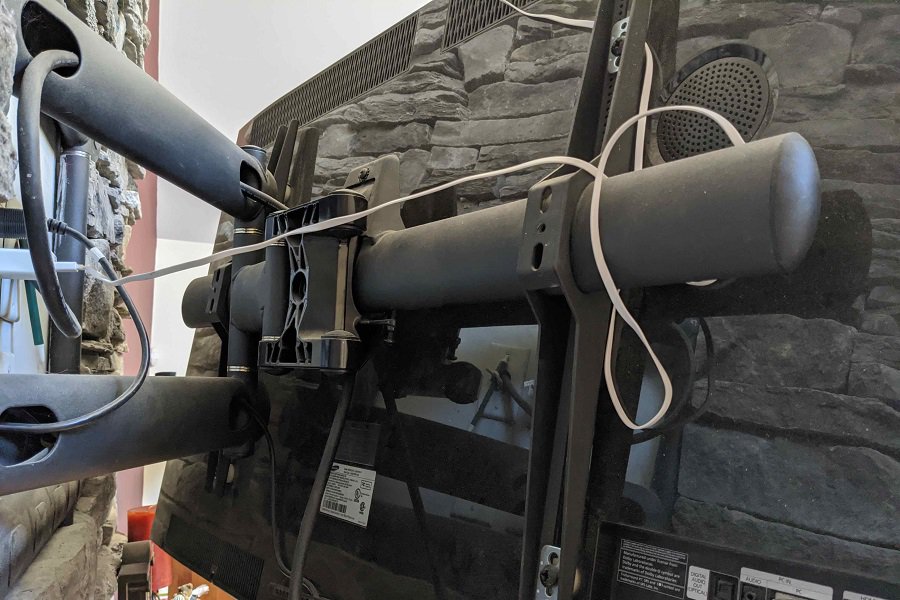 It's fair to suppose that you'll wonder if you can reuse an old television mounting bracket if you get a new television. As a consequence, it has both benefits and risks. Each television has distinct requirements, and each stand is unique; when these two variables clash, confusion and even harm the television result. To avoid reusing an old TV mount, one must first weigh the benefits and drawbacks of doing so.
Benefits
Save time; one benefit of recycling the old TV mount is that you may save more time than repairing the new TV mount design. Your existing television mount may still be compatible with your new set, saving you the expense of purchasing a new bracket. How much money might you save by not purchasing a new TV bracket if the old one is still functionally compatible with your television? By recycling your old TV brackets, you may save money on buying and installing a new one.
Drawbacks
It is essential to use care while reassembling an old television bracket since many variables are considered. As a consequence of the increased weight, it may corrode and fracture, resulting in harm to your television. Additionally, you may be incompatible with an older television bracket, putting your television at risk of damage. Rather than using the old TV bracket to avoid problems and hassles, purchasing a new TV bracket is often advised. It is the best option, and you may also get contact information from this location.
Precaution
Before reusing old TV brackets, verify that the previous bracket specs are compatible with your television. If the criteria are not met, they must be replaced.
Conclusion
As you can see, all the TV arm mounts on the list can offer better viewing angles in your bedroom or a living room. Some models from the list are great for commercial situations like hospitals and restaurants as well. In either case, you can enjoy maximum space savings, which is underrated. #1 rated in the USA, our top rated installers can
install your tv safely and securely
. Get a FREE quote today!