Long gone are the days when TV was only used for entertainment purposes. Now, it is a crucial aesthetic accessory that has high versatility. You can easily use it as a room divider and improve the overall room aesthetics.
It is the perfect solution to create two spaces in your dining room. You can easily separate spaces in a large room and create small spaces for different purposes. Besides this, you can place it cleverly to separate your living room and bedroom to save a lot of space.
This guide will familiarize you with innovative ideas for using the television as room dividers.
Top ideas to use a TV as a room divider
Rotating Shelving Unit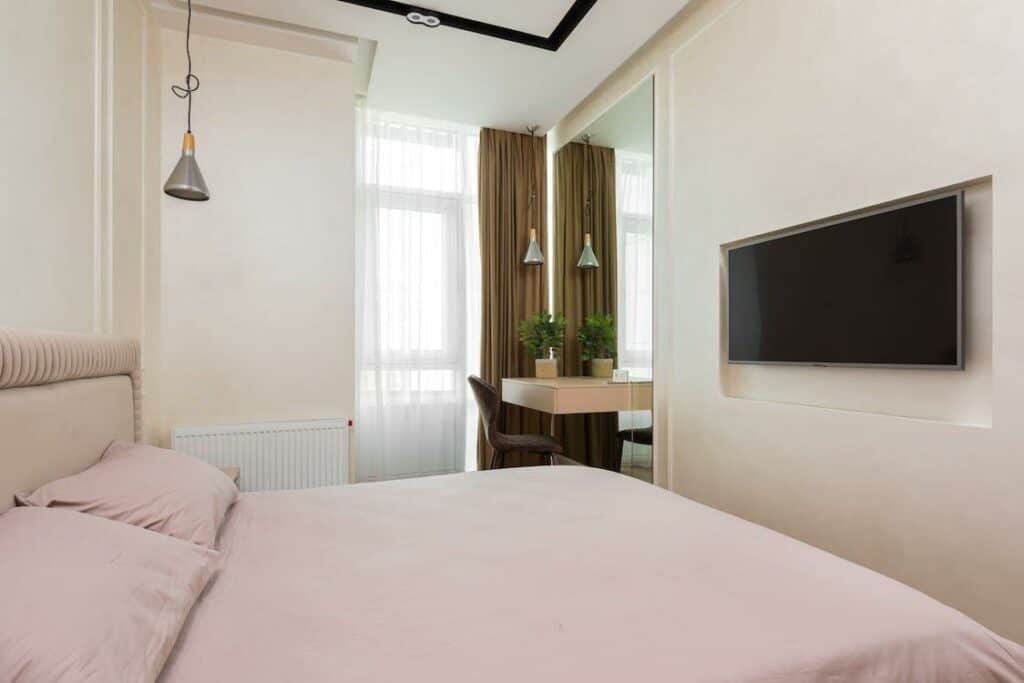 A rotating TV room divider is one of the popular choices to separate the living room and sleeping area. You can build a rotating shelving unit to incorporate your television screen and add other accessories.
With this unit, you can enjoy your favorite content on the TV while sitting on a sofa in your living room with your family. Moreover, when you wish to relax in your bedroom at night, you can rotate the screen and watch TV without any unnecessary hassle.
It is a practical solution for small spaces as it saves a lot of space and gives your interiors a modern and stylish look. You can further arrange aesthetically pleasing electronics to elevate the functionality of the whole unit.
Faux Media Wall
A fake media wall is one of the excellent room dividers that you can use to create separating spaces, especially in your studio apartment. The room divider can incorporate a fireplace and your TV screen safely.
You can build a wood frame with studs and horizontal board and make shelves using the board. You can create recesses to add the television screen and fireplace or hang them using hanging screws.
You can measure the distance between your floor and ceiling and cut the required lengths for your studs to build a sturdy frame. After this, you can add both appliances according to your preferred method.
Expert Advice
Choose a location that is close to the power line. If it is not possible, then factor in the process of providing a power supply to the unit while constructing the whole wall.
Sliding Door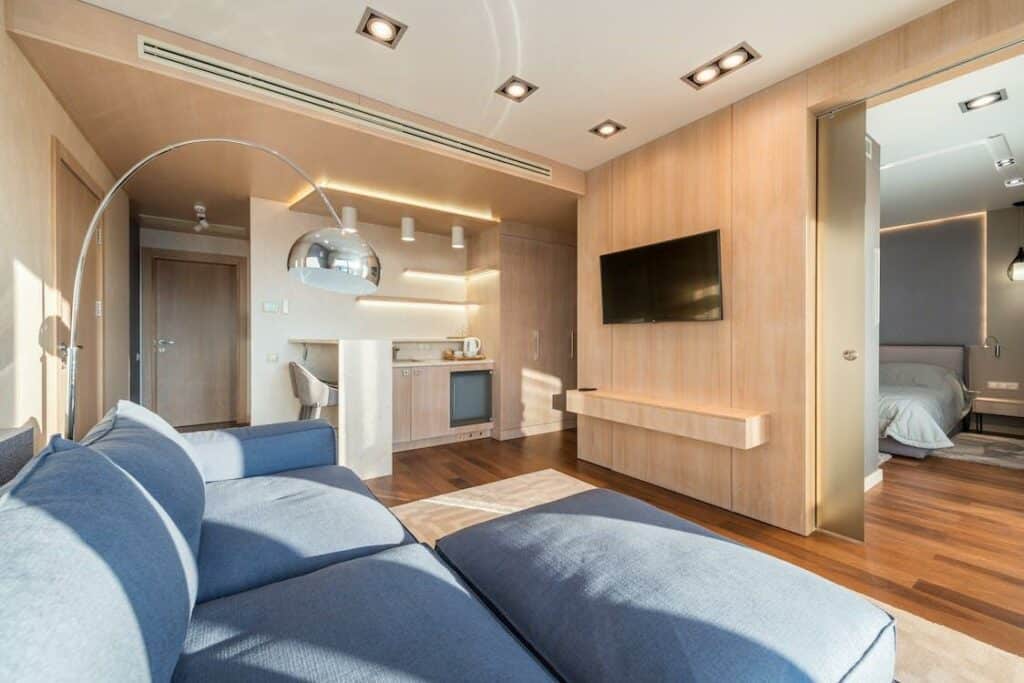 Adding a sliding door to your living or dining room can be a brilliant room divider. You must take proper measurements of the area where you want to add the sliding door and cut the required pieces from the board.
Factor in the length of the wheels while measuring the height of the door from the floor of your room. Once ready, you can mount a TV on the door and use it as a TV room divider. You can polish, paint or add a 3D texture to the whole unit.
The best thing about these types of room dividers is that you can pull or push them anytime to divide the room in half and create different living spaces.
Wood is the preferred material to make the door as it can support the weight of the TV and is not susceptible to breakage.
Open Shelving In Dining Room
Open shelving is another great idea when it comes to using the TV as a room divider. It is best suited for the dining area as it provides ample storage incorporating a TV screen, ornaments, plants, and other accessories. You can separate your kitchen or living room from the dining space by placing the whole unit in the middle.
The open shelves make it easy to change the arrangement of the accessories and ornaments anytime you want. You can easily clean everything and maintain hygiene in your dining space.
Attractive Bookshelf
A bookcase or bookshelf encompassing a TV is another great idea for a room divider to use in a house. You can arrange all your books and access them anytime you want. You can create a separate space for your baby while keeping both rooms attached.
You will have quick access to your favorite books anytime. Moreover, it is a practical approach to manage your baby and read your favorite books at night time. You can install dim lights in the bookcase for styling looks.
Solid Wall As TV Room Divider
A solid wall is an excellent idea when it comes to room dividers. You can build a traditional solid wall and divide the space according to your preference. You can paint it or create artwork on the wall to complement the overall aesthetics of your room.
However, there are some modern ideas that can amp up the look of your house interiors. Let us have a look into them.
Wooden Blocks
You can build a wall using wooden blocks on the side and place your TV in the center. It gives a modern yet traditional look to your room. You can arrange the wooden blocks in any way.
Besides improving the aesthetics of the wall, the blocks will elevate the unit's overall strength. You can safely incorporate a TV in the middle and add some open shelves too.
Wooden Slats
Wooden slats also serve as an attractive room divider option. Pick up the lumbers and attach them together to create a beautiful wooden slat wall. You can keep the gap according to your preference. Once the wall is complete, you can mount a TV over it.
Mounting is a better option than creating a cavity for the TV in the wooden slat, as it can compromise the strength of the whole wall. You can use any mounting stand (fixed, tilt, or full-motion) to mount the TV on the wall and enjoy your favorite content.
Perfect TV Stand
A suitable TV stand can be the perfect room divider for separate spaces. There are several types of TV stands available in the market. Here are some options that can help you divide the room quickly.
Traditional TV Stand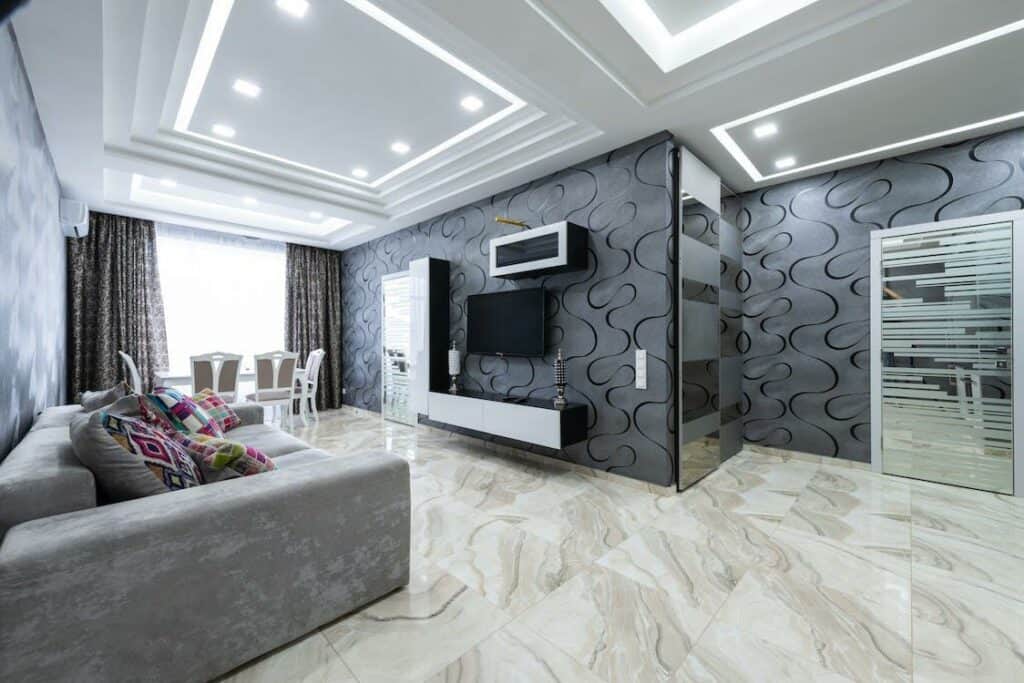 A traditional TV stand is a perfect all-rounder room divider that you can use in any room to divide spaces. You can rest your TV over it and store other equipment and accessories on the shelves and drawers. You can conceal all the wires and give a clutter-free look to your whole room.
Cabinet Stand
A cabinet stand allows you to divide the space without building any walls. You can add a TV, stereo system, and all your other accessories in its drawers and cabinets.
The best thing about the stand is that it is movable. So, if you wish to change the arrangement of your room, you can quickly move it around without damaging the whole construction of the room.
On top of this, the stand offers sufficient ground clearance so that you can clean the floor efficiently. You can maintain proper hygiene by cleaning all the dust bunnies and dirt particles.
The stand is available in both traditional and modern styles. You can pin down any option according to the overall aesthetics of your room.
Entertainment Unit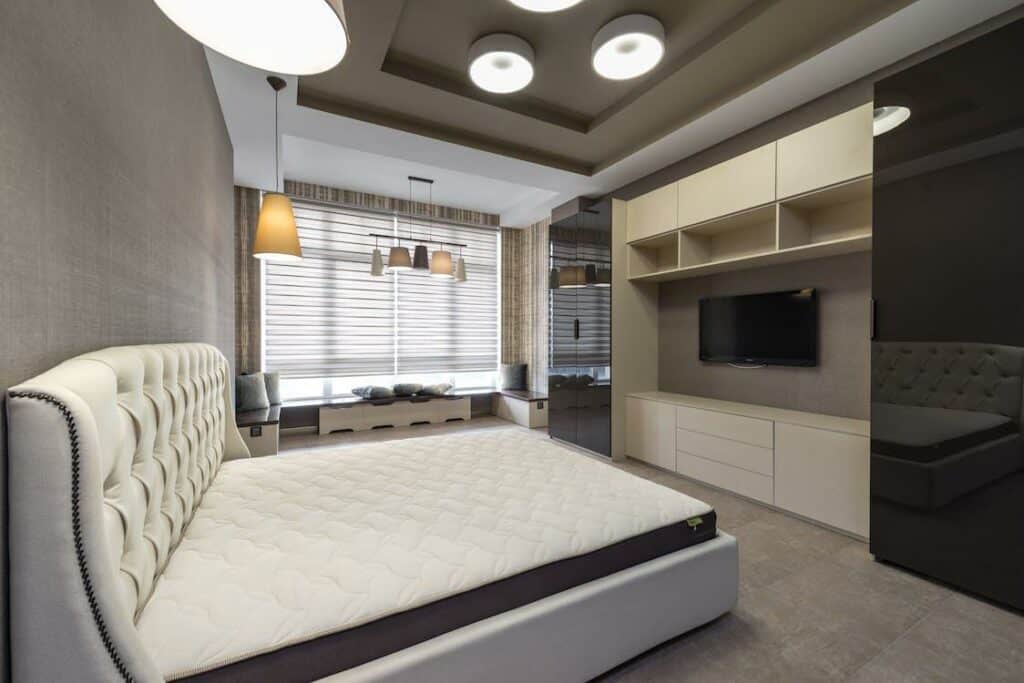 An entertainment unit can serve as a fantastic room divider for larger rooms. Besides adding a TV to it, you can add a fireplace or an aquarium to the unit to create a beautiful focal point in your room.
The unit comes with enough space to hold different accessories and ornaments. You can hang pictures over it, store your gaming console or store your favorite books. In simple words, you can experiment with the whole unit according to your creativity.
The unit is sturdy and can hold everything safely. It is well suited for large screens and rooms with a lot of open space.
What Are The Benefits Of Using A TV Room Divider?
There are several room dividers in the market, but a TV room divider can light up the whole room. Here are some of the significant advantages.
Create separate spaces
With a suitable TV room divider, you can easily divide your space into different parts according to your choice. With a few layout changes, you can easily create separate spaces and use them accordingly.
Adds a focal point
Are you irritated from moving the heavy and bulky furniture around the room to create a focal point? Don't worry. The TV room divider is here to the rescue. You can add a room divider to your room's apt location to create a mesmerizing focal point.
Better storage
Looking to add more storage to your room? TV room dividers come with sufficient storage spaces, which you can use to store your accessories and other important stuff. They don't occupy a lot of space and give you the perfect space to arrange your stuff correctly.
Improves privacy
With the latest open space trend in the market, it can be difficult for people to enjoy private spaces. However, you can use a room divider to enjoy your privacy without damaging the overall construction. For example, you can use a sliding door or an entertainment unit to create private space in your studio apartment.
Final Verdict
A flat-screen serves as an excellent divider if you know how to place it properly. Here in this article, we have mentioned several ideas for using your TVs as room dividers.
Go through the whole article to get familiar with all of them, as the wrong choice can create several problems in your living space.
FAQs
Q: What can I use instead of a room divider?
A: You can use some curtains, fabric linen, or a TV stand to divide the room to create preferred spaces.
Q: How do you make a homemade divider?
A: You can use a suitable TV stand, a sliding door, or add a wooden wall to divide your room. Go through the above article to familiarize yourself with different homemade divider ideas.
Q: How do you divide a room without drywall?
A: You can use wooden doors, curtains, or glass sheets instead of drywall to divide the room and create separate areas.