It can be a great idea to mount your TV on the wall since a wall mount saves you a ton of space. 
That being said, if you have wood paneling, the process can become slightly more complicated.
Quick summary
In this post, we will provide step-by-step instructions on how you can successfully mount your TV onto wood paneling without damaging it. 
We will also go over some pitfalls that you must avoid during installation. 
Let's get started.
Mounting a TV on a Wood Panel Wall (Step-by-Step Guide)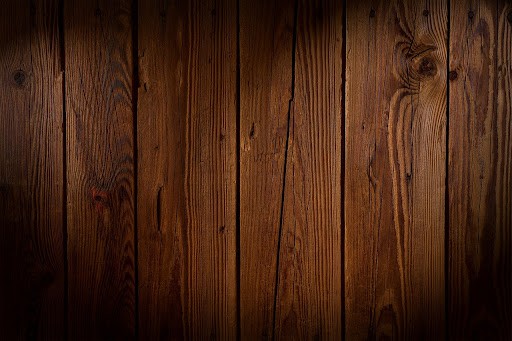 Before we get started with the actual process, there's something you should know: 
The process differs slightly depending on the thickness of your wood paneling. 
If the paneling is ¼ or ⅜ inches thick, then the wood paneling itself is too thin. In this case, you will have to position the mounting bracket in front of the studs in the paneling. 
The wooden studs will provide the necessary support to hold the weight of your TV mount and TV. 
If the paneling is ½ inch thick or more, then you can get away with installing the mount anywhere on the wood panel. 
Hence, make sure that you are aware of the thickness of your paneling is before you get started with the process.
If your paneling is too thick and you drill into it without using studs, it will start to split from the weight of the wall mount and TV. 
Once you've identified the thickness of the paneling, you can get started with the installation process: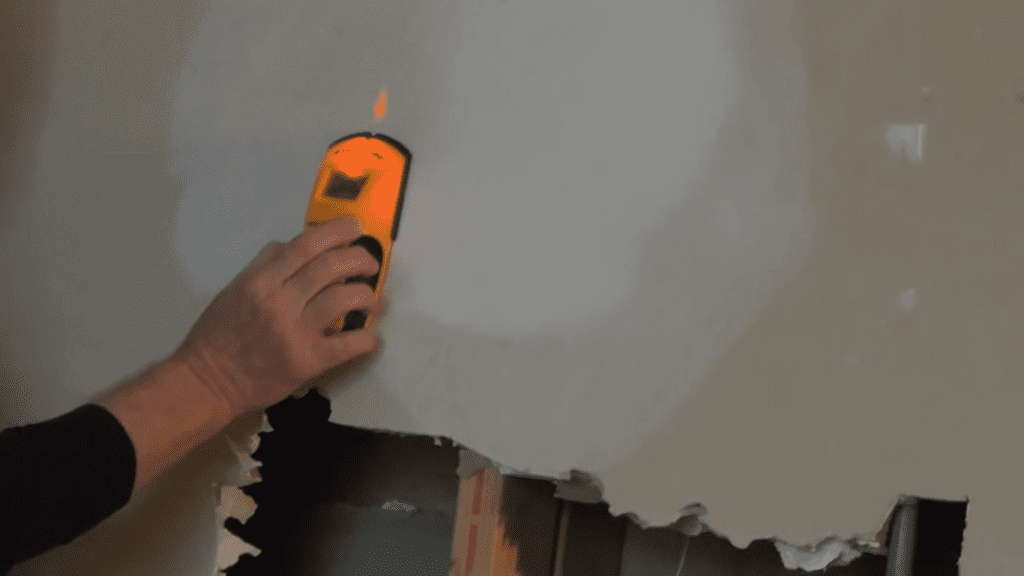 Image Courtesy: Reddit
Step 1: If you have a thin paneling, use a stud finder to find the wall studs in your wood paneling. 
Please note that you cannot install a mount onto wood paneling if you have Steel studs. You can only do it if you have wooden studs. 
When you find the stud(s), mark their locations using a marker or something similar. You wouldn't want something that can leave a visible mark on wood paneling. 
If you have thick wood paneling, you can skip this step. Just decide on the exact location where you want to mount your TV and move on to the next step. 
Step 2: Ask a friend or family member to hold up the mounting bracket on the stud locations that you marked on the wood paneling. 
As they are holding the bracket, you should take your marker and mark the locations of the mounting holes for the bracket. 
Please note that mounting brackets often have several mounting holes that are meant for TVs of many different sizes. Make sure that you only mark the holes that are meant for your TV's size.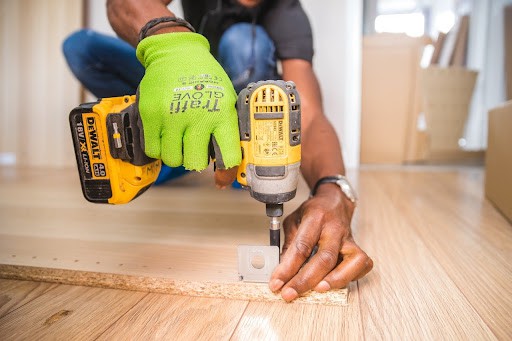 Step 3: Take your drill and start to pre-drill the holes at the locations that you marked in step 2. 
It's very important that you start off slow with the drill because otherwise, you could split the wood and damage it. 
Pull the trigger gently and slowly push the drill in. As it starts to dig in, you can pull the trigger more and push the drill in with more force. 
Repeat this pre-drill process for all the locations you marked for the mounting holes. 
Step 4: Take note of all of the assorted screws and bolts that you received with your TV wall mount. 
Ask a friend to hold up the mounting bracket at the appropriate location and start to screw it into the wall. 
You should start with your hands and tighten them as much as you can. Then, once you can't tighten it with your hands anymore, take your drill and finish the job. 
Make sure not to over-tighten the screw as that can also split the wood. 
Repeat this process for all the mounting holes and screws.
Step 5: Test the stability of the installed flat mount by grabbing it and shaking it slightly. 
It doesn't matter if you installed it into wood studs or straight into the wood paneling, it should be firm and stable. 
If it's wobbling too much, then you must go back and check if any screws are too loose.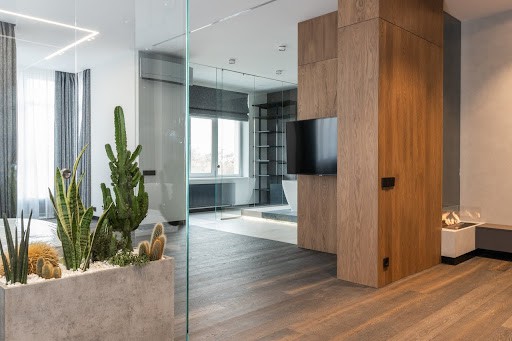 Step 6: Once you feel that the mount has been successfully installed, you can then install the flat-screen TV onto the solid surface. 
We highly recommend that you ask a friend to help you with this stage of the process. You don't want to mess up and drop your expensive television on the floor. 
The process for installing the flat-screen TV onto the mount may be slightly different depending on the model and manufacturer of both your TV and your mount. 
Just make sure that you follow the instructions you have been provided with and you should be good to go. 
Important note: If you want more security and stability, you can use bolts or screws that you bought yourself instead of the ones that you get with the mount itself. 
However, we highly recommend that you only do this if you know what you're doing. 
You don't want to use bolts that are not strong enough to fit into the wood paneling. 
In most cases, you can use something like drywall anchors. Molly bolts and plastic anchors also work but they can be risky if you're inexperienced. 
Long wood screws also work great.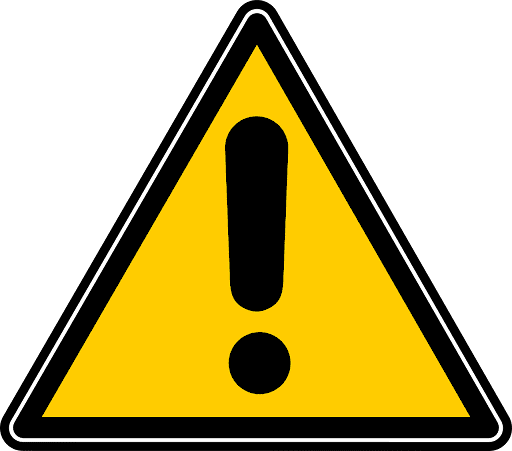 Before you start the installation process into the wall stud or the wood panels, it's very important that you take some safety precautions. 
Firstly, you must know that you're drilling into the walls. The walls usually have plumbing and electrical cables running behind them. 
Of course, you definitely don't want to damage any plumbing or electrical cables as that could have disastrous consequences. 
We highly recommend that you use an electrical cable sensor or something similar to ensure there are no wires running at the location where you intend to drill. 
Frequently Asked Questions (FAQs)
How Much Weight can Adhesive Hangers Hold on Wood Paneling? 
Adhesive hangers typically cannot hold anything that is over 8 pounds. 
Hence, it may not be a good idea to use them to support TVs or TV mounts since that could be highly unsafe. 
How do you mount a TV on Thin Paneling Without Studs? 
One great option that you have if you don't have studs are toggle anchors. 
Toggle anchors can go straight through the wall and anchor themselves to the back. Their toggle component allows them to stay at their place even if a lot of force is placed on them. 
Hence, they can definitely be a sturdy option for you if you don't have studs. 
Can I Find Studs in Wood Paneling Without a Stud Finder? 
If you don't have a stud finder, don't worry as there are other ways to find studs on walls. 
For wood paneling, this is even easier: All you have to do is look closely for colored nail heads in the grooves of the panels. These nails most likely penetrate a wall stud that's behind the paneling. 
How Much Weight do Drywall Anchors Hold? 
It depends on the type of Drywall anchor you use. 
Toggle bolts can typically support a weight of up to 50 pounds. On the other hand, hollow-wall anchors can support a weight of up to 100 pounds.
People are often quite intimidated by the idea of mounting a TV onto wood paneling. 
In fact, many of them think it can't be done. However, with the right tools and correct planning, you can definitely securely mount a TV on wood paneling. 
Just make sure that you are not dealing with Steel studs as that won't work. 
If you have any further questions, please let us know in the comments section below.