With advancements in technology every day, we now have flat-screen TVs that are compact and smart. If you prefer a bigger TV screen then the weight is higher, and their installation might be a hassle. 
However, we do not discourage you from buying the TV of your choice. But you might need a lot of help and guidance to lift your TV. 
We have compiled this guide to make it as easy as possible. 
This guide includes all the tips, instructions, and FAQs that will help you lift your TV to mount it without any issue. 
How to Successfully Lift a Heavy TV to a Wall Mount - Step-by-step Guide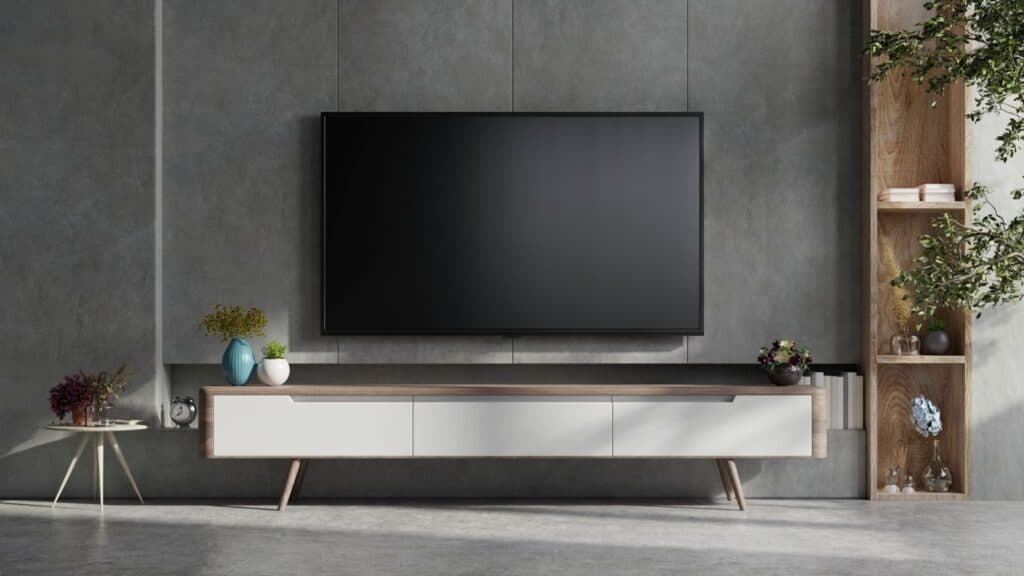 We understand that you might want to do the whole installation process of your TV all alone due to various factors. But we recommend you ask for help from a friend, especially while lifting your heavy TV.
Things to be Considered Before You Lift Your Heavy TV
These are some things that need to be considered before you lift your TV on your own:
Back injuries can be caused by lifting heavy objects. When lifting a TV use your leg muscles, not your back.

Lifters need to take all the safety precautions to avoid any mishap, make sure to use a stud finder. 

If you lift a heavy TV alone, the force of your grip might damage the TV panels. 

It is recommended that each side of the heavy TV be lifted by one person to avoid any damage in case you pull a muscle. 

You might need to lay the TV down on any surface when you need a break.
How to Lift a Heavy TV to a Wall Mount?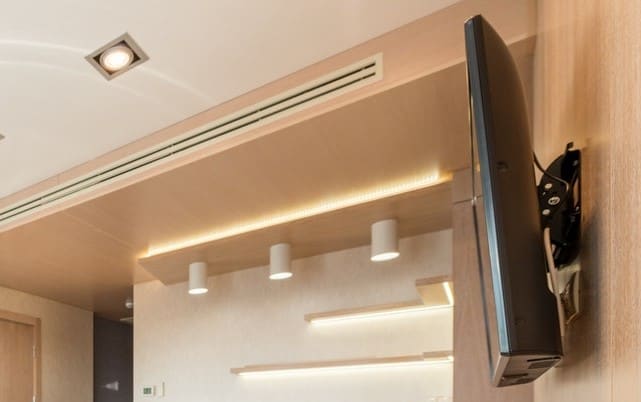 Read these steps carefully to avoid any damage to your television, mounting wall, or yourself. 
Make sure you follow these steps:
Step 1: Plan and Prepare 
Choose a place where you would want to install your TV. 
Use a box cutter and keep the safety material of your TV intact in case you can't decide on the place you want it at. 
Keep all the material you would need, for example, screws, power drill, a box cutter finder for wall studs, TV antennas, socket wrench, and other equipment.
However, if you have decided the place then prepare your TV to be moved. Make sure your door frame can fit it or you have to turn it vertically. 
Step 2: Secure Your TV
This step is important to avoid any accidental scratching during its movement. 
Before that, wrap your TV screen in a soft blanket or quilt, keep it straight and avoid any unnecessary tilt. 
Secure it properly and fasten it with a lifting belt. This is especially important to do if your TV comes with a bulky item or heavy items.
Lift one side of the TV and slide it slowly instead of pulling.
Tip: Never lift the TV with your back, always lift with your legs and abdominal muscles with your feet shoulder-width apart. This can help reduce back injuries. 
Step 3: Use a Dolly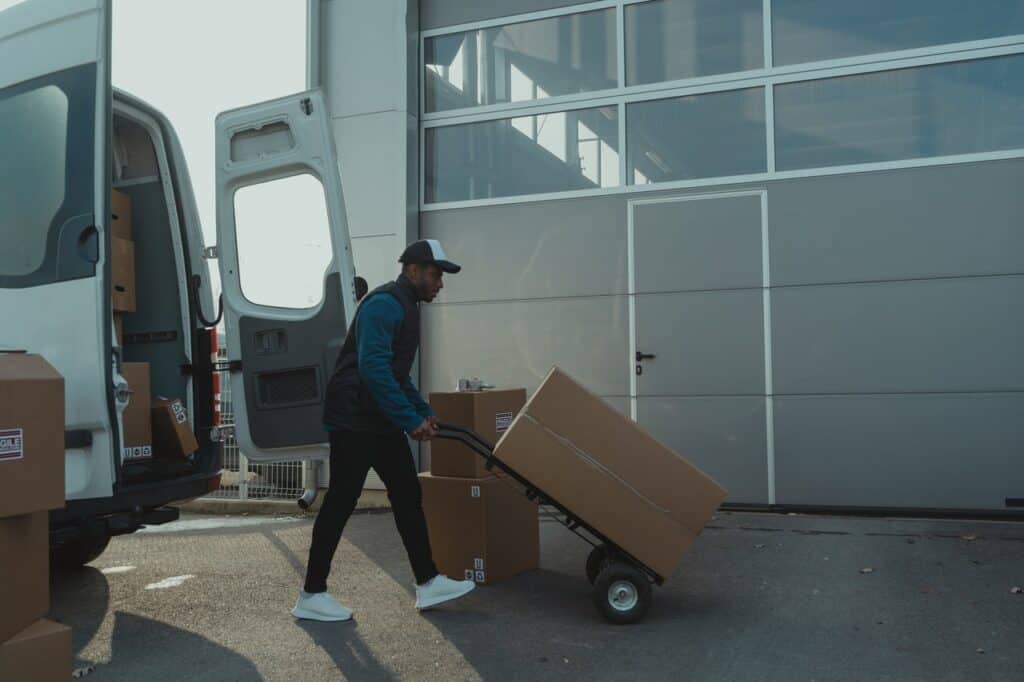 For easier movement, you must use a dolly or a hand truck with ratchet straps that can connect to the TV. 
We recommend this over sliding your TV on the floor as it is less harmful to you and your TV. 
Moreover, lift one side of the TV with the lifting belt, and with the help of your legs lift the TV onto the dolly. We recommend this especially If you need to take the TV downstairs over a flight of stairs. 
However, make sure to watch your feet.
Step 4: Use Some Help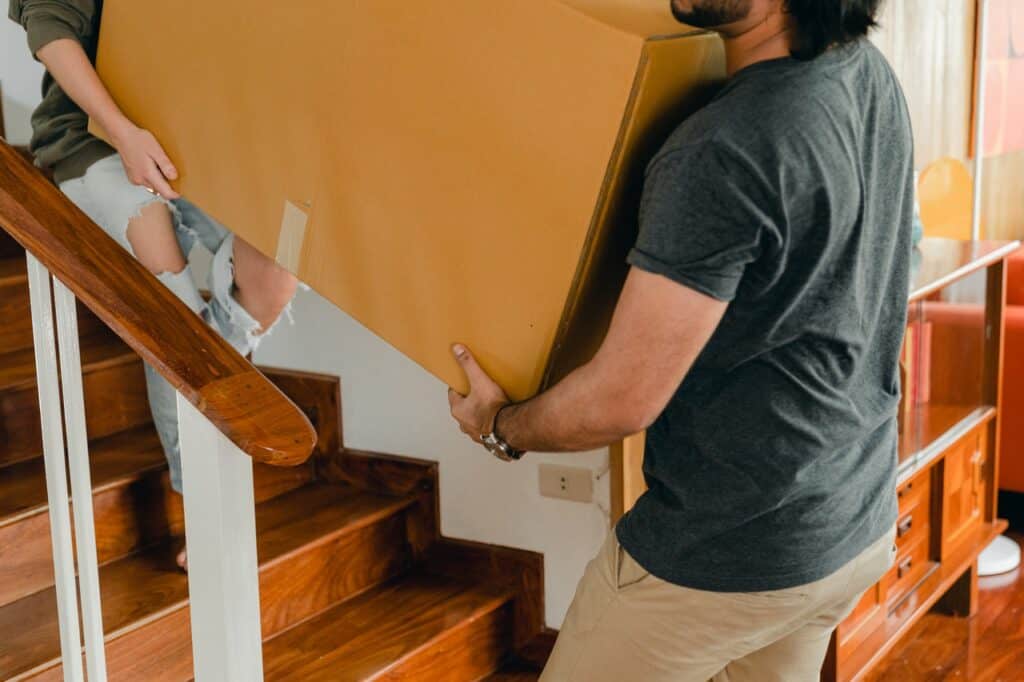 Two people are better than one. 
You have to be very careful while moving your TV to avoid any serious damage. You can ask someone to assist you or help you move your TV while keeping it in place. 
After you have reached the room where you want to mount your TV, lift it from one side and carefully take it down from the dolly to the floor. 
Step 5: TV Base
Put the TV base on it carefully in case you have to set it on the floor when you lift it yourself. Stand close to the TV with a wide posture. Stand no more than 1 foot far from the TV.
Moreover, Squat down and lift the TV very carefully with both hands on the corner of each side of the TV. 
Tip: Do not use the full force of your hands as the grip can damage the TV panels.
Step 6: Lift and Attach the TV
This step is after you have installed the flat-screen TV mount on the wall. Lift the TV very carefully by using your legs. Attach the TV very carefully and make sure your TV mount is properly aligned with the TV.
Step 7: Hear the Final Click
Do not leave your TV before hearing the click of your TV mount that indicates the TV is attached properly. Once you have heard it, you can slowly move aside. 
Frequently Asked Questions (FAQs)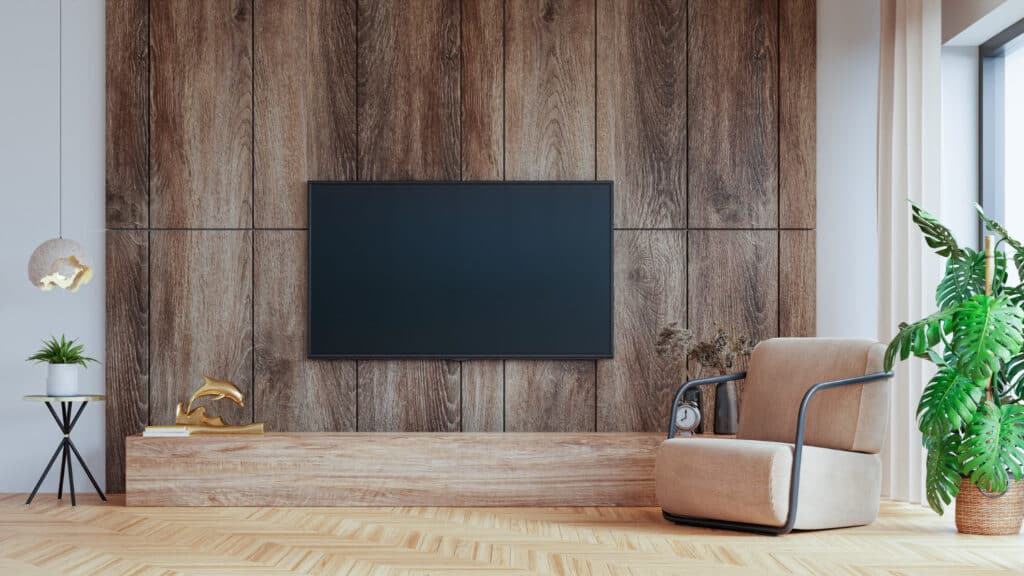 We have attached this FAQs section to help you further with any remaining queries. 
How can I move my flat-screen TV without its box?
You can move your TV without its box by wrapping a blanket around it. This helps avoid any accidental scratches to the TV. 
You can then use a lifting belt to slide it or move it with help of a dolly. 
Is it safe to mount a 55" TV on the wall?
Yes, it is a safer option to mount your 55" on the wall as it can be secured to the TV mount. A good quality TV mount can hold from 26" up to 84" very easily. 
Therefore, it is better to mount your 55" TV than to put it on a stand. 
Can one person lift a 65" TV on his own?
No, we do not recommend that you lift such a heavy and big TV yourself. One of the major reasons is that you can get back injuries or you can also damage the TV panels because of the force of your hands.
Now that we have reached the end of this article, we hope it is easy for you to understand how to carefully lift your TV to a wall mount. 
If you choose to do it yourself then this guide will help you. We have added all the necessary information, tips, precautions, and FAQs to make it easier to lift your TV. 
We hope this article helped you.