Searching Google for the best TV stand for several hours and still panicking about picking the right one? We understand. With several choices available in the market, picking the right one for your home can be a little tricky.
TV stands are the perfect home for your TV console to stay safe and protected. Moreover, you get optimal height, viewing angle, and distance from the TV to enjoy your favorite TV shows and movies properly.
Here, in this exclusive guide, you will find all the essential details to widen your knowledge base and pin down a suitable TV stand. So, without wasting any time, let us dive into the guide.
What Should You Consider While Choosing The Best TV Stand?
Knowing the Actual TV Size
TV stand size mainly depends on your TV's size, and you can measure it quickly using a measuring tape. Once you do that, all you need to do is go through the given guide and pick the right size for your stand.
| | |
| --- | --- |
| Recommended TV Size (Diagonal) | TV Stand Size (Horizontal) |
| 34 "-38" | 30" |
| 39 "-43" | 35" |
| 44 "-48" | 40" |
| 49 "-53" | 45" |
| 54 "-58" | 50" |
| 59 "-63" | 55" |
| 70 "-73" | 65" |
| 70" or above | 70" or above |
For a more quick understanding of sizes, we have categorized them into three types:
1.Small TV stands
They have a compact and sturdy design, which is best suited for bedrooms. Since they are commonly called TV consoles, they fit anywhere hassle-free. These include all TV stand sizes to 60".
2.Medium TV stands
Known by the name of TV credenzas, these stands come with excellent storage space and surface area. It serves the best purpose in the bedroom or living room. Some of its common sizes are 64" as well as 70".
3.Large TV Stands
Showcasing sleek designs with compartments and drawers, these TV stands have concealed cords and wires. They are best used in the living room at sizes between 74" to 85". Owing to their vast popularity, they are also known as TV consoles and entertainment centers.
Viewing Distance
Always pay attention to the viewing distance when looking for the right TV stand. It helps in imparting perfect viewing comfort.
Expert Advice: The human field of view lies between 180° vertical and 135° horizontal planes. For the best comfort, always have a seat at a safe distance according to 30° of the field of vision.
The table below will help you calculate the accurate distance between your TV and the seating arrangement.
| | | |
| --- | --- | --- |
| Your TV size | Distance for TV Shows | Distance for Movies |
| 35" | 4.9' | 3.6' |
| 40" | 5.6' | 4.1' |
| 45" | 6.2' | 4.6' |
| 50" | 6.9' | 5.1' |
| 55" | 7.6' | 5.6' |
| 60" | 8.3' | 6.1' |
| 65" | 9.1' | 6.6' |
| 70" | 9.6' | 7.1' |
| 75" | 10.3' | 7.6' |
In case you still have doubts, check out this reliable calculator that lets you know the apt distance between your TV and sitting space.
Materials
Once you decide on the size and viewing distance, you need to choose the best material for your ideal TV stand. Check out all the given materials available in the market!
1.Wood
Since wood is the most extensively used material, wooden TV stands come in numerous designs and customization choices. Its natural textures and authentic look make it apt for TV stands that add a dash of elegance to the room. Moreover, it is sturdy to use and never passes electric current. If you go for processed wood, the price will become quite budget-friendly. However, you may compromise on the stand's sturdiness.
2.Metal
Presenting a unique and lightweight profile, metal TV stands proffer an industrial look and feel. Since it is found to be highly durable, you can design your metal TV stand in your personalized color tones. Their novel configurations and exquisite patterns and cuts make them extraordinary.
3.Glass
Glass is a trendy option that attracts a plethora of customers for a classy stand arrangement. It allows both space increment and clutter elimination for a great space idea. It bestows a pretty bold and discreet appearance that woos everyone.
4.Stone
If you wish for a lavish engineered TV stand, you must go for stone. Not only is it sturdy, but it also demonstrates hassle-free maintenance. Note: Always check for any presence of radioactive material before making the final purchase. Otherwise, the natural stone may affect your health adversely.
Different TV Stand Types
There are a myriad of TV stand types available in the market. Let's differentiate among these types to narrow down your choices.
1.Standard TV
This TV stand is your traditional stand with medium-to-low height legs or cabinet units. For homes that require an airy interior, a standard TV stand will blend perfectly with the décor. In addition to this, you will get some extra storage space that can be utilized for storing other valuable stuff.
2.Floating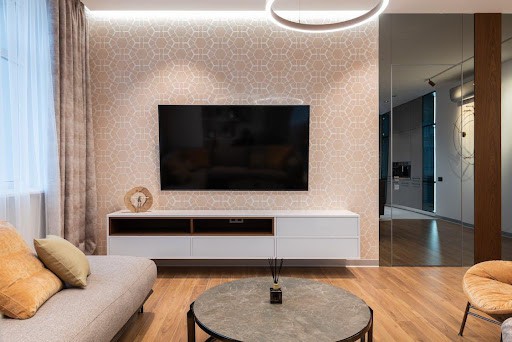 Want to impart a modern, stylish, and sleek look? A floating TV stand will do your job just right! This stand type floats on the wall without legs. Thus, you can easily clean beneath the wall and showcase a minimalistic approach with its neat look.
3.Console
Having optimum space for your gaming consoles, this console TV stand serves as a great fit. With its terrific drawers and doors arrangement, this stand offers a holistic design that all gamers need. It is typically a closed-shelved arrangement for the ultimate look.
4.Pier
As a piece of high-end furniture, a plier stand comes with several multi-purpose units that support your TV in a bevy of things. The design may vary, but one thing remains the same, i.e., the TV remains in its central place, surrounded by an assortment of cabinets, drawers, and glass doors for storage.
5.Open Shelves
The simplest of all stands, this TV stand doesn't come with any drawers, cabinets, or doors. This means all you get is instant access to all your electronics stuff and limited storage space. The open visual space helps you to reach all the necessary TV-related items in a jiffy.
6.Stand With Audio Towers
This TV stand features audio towers that provide space to keep speakers safe. If you are a home theater fan, this modular stand is all you need to design a full-on entertainment unit swiftly. It not only enables the placement of speakers but also allows storing other vital stuff.
7.Fireplace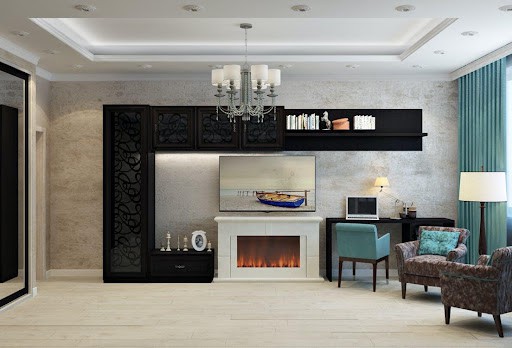 Want to enjoy a cozy and warm ambiance while watching your favorite movie? Well, a TV stand with an enclosed fireplace has got you covered. It adds a dash of royalty to the room and takes you back to the colonial era with its extravagant setting. You can also opt for an electric fireplace for eco-friendly reasons.
8.Hutch
Want to flaunt a beautiful set of cabinets beside your TV? This hutch stand will make your dream come true with a stacked layer of cabinets in horizontal space. This venerable furniture piece is a great option for people who need more storage space for their essential things.
9.Corner
Are you comfortable sitting diagonally to watch TV? An ideal space-saving TV stand, a corner stand is your go-to option for fitting your TV snugly between two walls. This smart space-saving idea is just brilliant, with ample storage space on both the sides and bottom of the TV.
10.Cabinet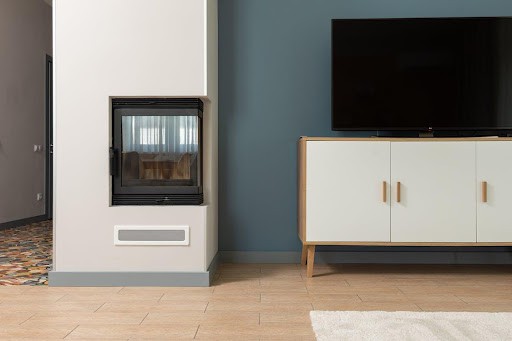 A Cabinet TV stand has multiple drawers and doors to store plenty of things, such as electronics, artifacts, books, and other stuff. Some detailed designs also have the feature of hiding the TV screen when not in use. Isn't it amazing?
11.Swivel
Want to move your TV here and there? This swivel TV stand has a specific base that enables a rotating mechanism. It helps in angling the TV in different directions, improving visibility. It is a great option for TVs with speakers mounted on or without a rotating base.
12.Entertainment Center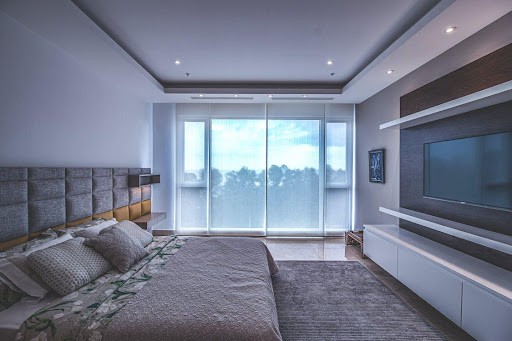 A TV entertainment center is your showstopper furniture piece and is adorned with different types of cabinets, drawers, and shelves. Its individual presence lights up the room with attractive items. They are bigger than the standard stands and have excellent space for all your books, showpieces, accolades, etc.
Style
By now, you must have picked the best material and type of TV stand you want. Next comes the style of stand you would prefer as per your décor. Your furniture style is your defining feature and can spruce up your bedroom or living room.
1.Contemporary
Go for a contemporary-styled stand to make a bold statement in your room. It adds an essence of vibrancy to the room that is loved by all.
2.Rustic
This old-fashioned natural look of the TV stand will carry you directly to the golden era. In this case, go for aged metals or untreated wood to impart an authentic experience.
3.Traditional
The traditional style always brings together a timeless feel with refined wooden textures, solid cabinetry, and a perfect classy design. It will be an evergreen stand for generations to come.
4.Modern
Want a forward-thinking style on minimalist lines? A modern TV stand is your right pick, and focuses both on function and unique design.
5.Industrial
Adapted from the dark-shaded gunmetal and loft-styled zones, the industrial style is filled with mechanical colors with rough steel or wood designs. The dark and soft hue combination is just fantastic.
Other Convenient Features
Buying a TV stand in the modern era calls for many additional features. If you are looking for a versatile TV console, you need to widen your search from just buying a TV stand.
Shelves: Getting a TV stand with adjustable shelves will precisely fulfill your needs.

Cabinets: Adding a bunch of cabinets will conceal your controllers and cables.

Lighting: Proper lighting on the stand will add a touch of class and highlight the vital zones.

Wire Management: End your drilling hassle with an in-built wire management system.
The Final Verdict
Buying a TV stand is essential as it has to accommodate your TV safely and complement your room interiors. The above guide has mentioned all the crucial aspects that will help you pin down the best TV stand. Go through all the details minutely and factor in all the pointers before making an informed decision.
FAQs
Q: Do I need a TV stand?
A: Whether you need a TV stand or not depends on your personal choice. However, if you have enough space to accommodate a TV stand with no wall area to mount, then it is the perfect piece of furniture to invest your money in. It will accommodate your flat screen safely and offer ample storage to hold your accessories.
Q: Which color TV stand should I use?
A: It is entirely on you and your room's décor to decide the apt color for your TV stand. For a classy look, you may go for royal and evergreen colors such as white, brown, and black.
Q: How to decorate a TV stand?
A: You can put planters, lanterns, decorative strings, and artifacts to decorate your TV stand. Using several vinyl stickers on the cabinet doors will also add a personalized touch.