Samsung is a well-known brand in the home appliances market. They produce quality and affordable products that are widely available. Samsung also offers flat-screen TVs to customers as part of their portfolio. 
You can easily wall-mount their TVs, however, it can become troublesome if you do not use the right screws. 
To help you, we have prepared this guide.
Quick summary
In this article, we will go through 
What screw size is right for your Samsung TV?

What factors you need to consider when you wall mount your TV.
Let's take a look at it.
What Screw Sizes are Used to Mount a Samsung TV?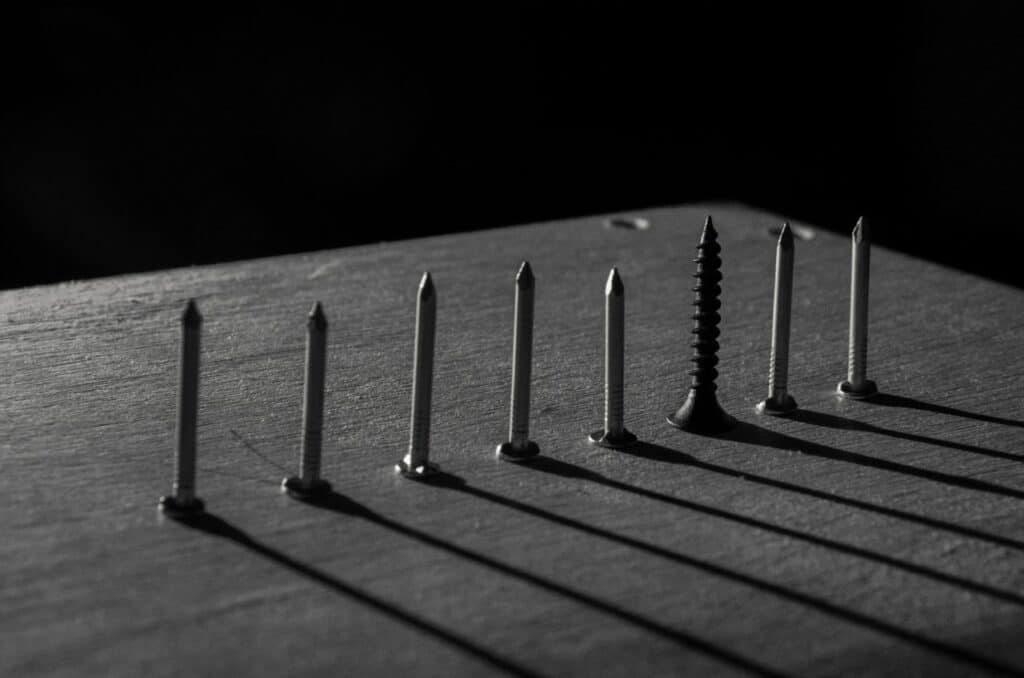 As discussed above, Samsung produces affordable and excellent quality TVs. The flat-screen TVs are available in multiple sizes and can be moved around your living room with ease. 
You can choose to either put them on an entertainment center by a stand or wall mount them. Wall mounting is an easy task that you can do yourself with the right tools. However, you need to know what screws you need to use. 
The size and type of the screws is important thing to know. This information can help you quickly and effortlessly wall mount your TV. If you do not use the correct size screws, your TV can get damaged. 
To recognize the correct size and type of screw, you need to know the screen size of your Samsung TV. Generally, there are three types of screws that go with your TV. These are:
If your TV is smaller than 22 inches, you should use M4 screws

If your TV is bigger than 22 inches but smaller than 44 inches, you must use M6 screws

If your TV is bigger than 44 inches, we recommend that you use M8 type screws
Why should I use correct size screws?
It is important to use the correct size of screws for your TV wall mount. If you use bigger bolts, then you risk damaging the electronics if you tighten them too much. 
If you use smaller bolts, then you run the risk of your TV not being fixed properly. Your TV can fall off in this case. 
Can I check VESA specifications?
You can also check the VESA specifications of your TV. Make sure that the mount that you purchase is VESA compatible. There are different VESA specifications of wall mounts. 
The common ones are:
100 x 100

200 x 200 

300 x 300 
Note that these numbers are the distance between the holes at the back of your TV in millimeters. The brackets are fixed at the back of your flat-screen TV with the bolts in these holes. 
Also, the screws don't come with the TV. They are separately available with the wall mount. You can also get the screws from a hardware store without any issues. 
Factors to consider when mounting a TV
Wall mounting TVs is a popular idea among many customers these days. You can save space and also make your living room aesthetically pleasing.
There are many other advantages of a wall mount too. You can manage cables more easily. The internal wiring of your home can also be used more constructively.
However, there are many considerations you have to make when you opt to wall mount your TV. Let's take a look at these: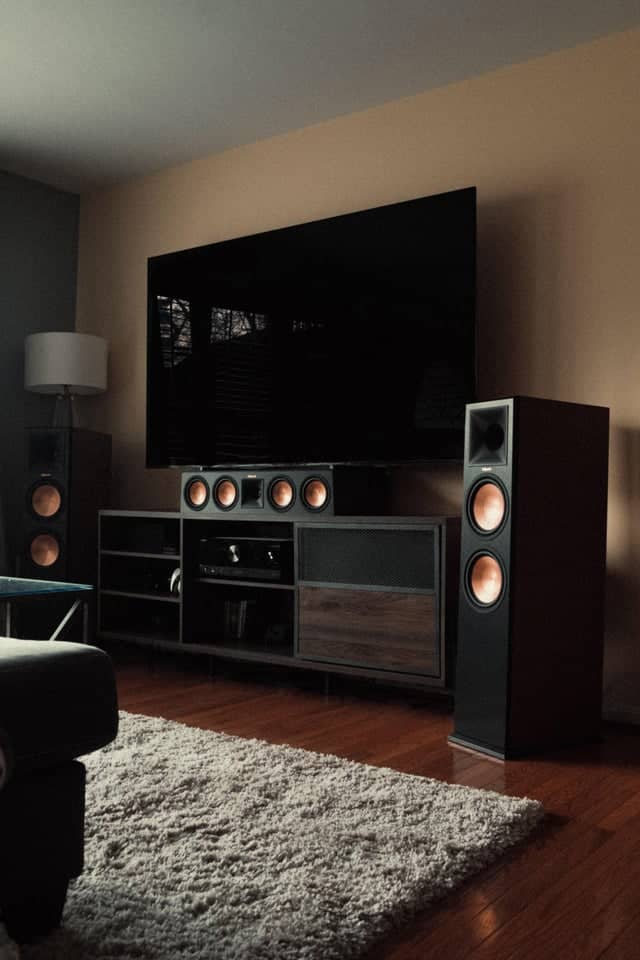 The location of your TV is the most important factor. You have to be sure of many factors when you decide the location of your TV. The major ones include:
The distance of the viewer from the TV 

Height of the TV with respect to the viewer

The seating plan of the room
Some other factors are also such as the location of the window. You don't want the sun's glare to cover the screen during the day. Also, the environment of the room also matters. You don't want the room to be too hot, too cold, or too humid. 
All these factors affect the optimum viewing experience. Some of the popular mounting locations are TVs above fireplaces and entertainment centers.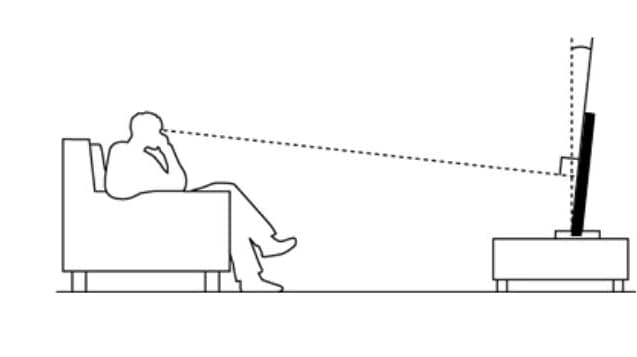 Eye-level is a good factor if you want maximum viewing pleasure. The optimum position is to keep your TV at eye level. If the TV gets too high, you would have to turn your next quite often, which can lead to discomfort. 
This becomes important when you mount your TV above a fireplace. The height of fireplaces varies according to the homes. Many fireplaces also don't have a mantle. The general rule is to keep your TV at least 3 to 7 inches above the fireplace or the mantle.
The distance of your TV from the viewer is also important. You don't want the TV to be too near or too far from the viewer.  This will make the image too big or too small to be followed by your eyes comfortably. 
There is a general rule when it comes to distance. We recommend that you place your seats according to the screen size.
The optimum distance is to keep the seats at a length that is about 5 times the size of the screen. So, the viewer will be 5 feet away from a screen that is 70 inches wide.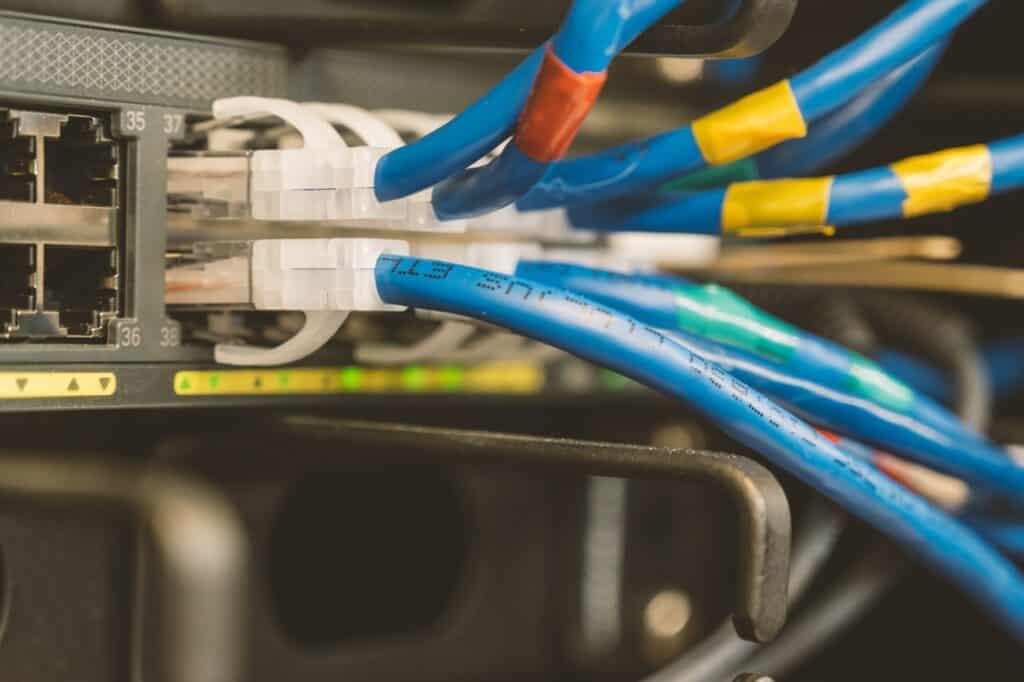 If you want a completely minimalist approach or an overall tidy look, cable management can help you a lot. You can choose to hide your cables with internal wiring. Make sure that the power socket is near the wall mount. 
You can also hide the cables with wire raceways. These are plastic covers that you can run the wires through. You can also paint over wire raceways so that they completely flush into the wall. 
Before you do this, make sure that the wires are tied into a neat bundle. You can do this with either cable clips or zip ties. Then, insert the cables and chords through the raceways.
Samsung offers cheap and quality flat-screen TVs. You can set them around your home according to specifications. One popular option is to wall mount them. 
However, you have to be sure about the correct size of screws before you mount them. We hope that this guide helps you choose the right screws for your TV.
With this, we reach the end of our article on "What Size Screws Are Used to Mount Samsung TVs?". 
Comment below and let us know what you think.