TVs that are actually expensive are even beyond the figure you have guessed. Because this kind of entertainment-providing source is made for the ones with the deepest pockets.
Ever wondered what expensive TVs cost or look like? Why do lavish TVs are super hefty?
Want to know how the TVs that are not so casual are made?
Well, if you are thrilled and curious just like we were before doing our research then sit back, relax and scroll down this post to know about the most Expensive TVs.
10 Most Expensive TVs Ever Reviewed!
Every class has a range of TVs to choose from, either it be the ones facing poverty or the middle class or even elites. But the thriller ones cost hundreds and thousands of dollars for lavish feel and experience.
Take a round around our reviewed most Expensive TVs of time and get to know the excessive access of riches.
1. Stuart Hughes Prestige HD Supreme Rose Edition TV – World's Most Expensive TV Worth $2.26 Million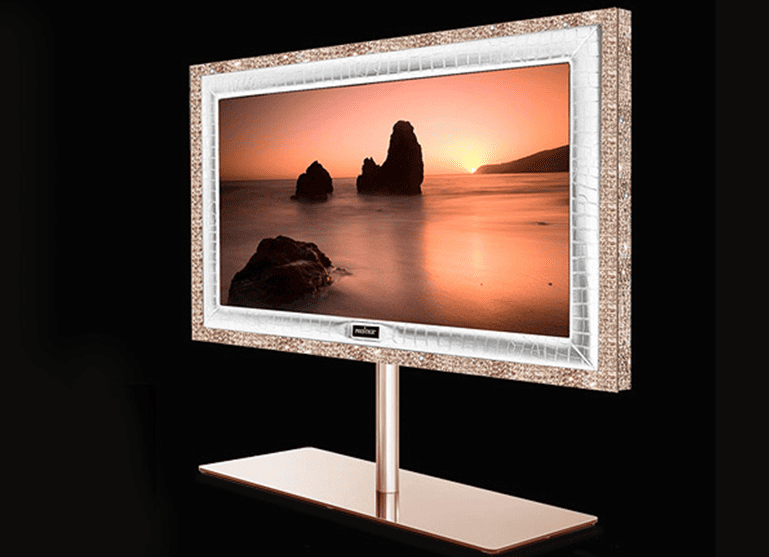 The world's expensive TV, to your amusement, is not expensive because of its some out of the world kind of top-notch technology but because of its lavish design.
Stuart Hughes is a lavish lifestyle designer who embraced luxury into technology. Stuart Hughes Prestige HD Supreme Rose Edition TV is designed considering the minimalist details to the precision.
The design appears to be glamorous and charismatic and is built to entice the bling lovers with bulky pockets, for sure. But the people interested in super technology or latest specifications might not approve of it as a desired entertainment providing TV.
Besides the design, manufacturing of this exorbitant television is done by PrestigeHD which is powered by Metz.
What if I tell you that the entire screen bezel is hand sewn with the alligator skin around all the four sides and corners over which the diamonds and gold cuts are engraved with precision.
Needless to say, 28k Gold, 18k rose gold along with 72ct diamond (expensive diamond cut itself) engraved on exterior and along with alligator skin over the bezel, is certainly a Stuart Hughes style of displaying luxury.
Rose gold is a combination of copper and natural alloy of gold where copper brings the rose color to the gold reflection. The screen borders that are not covered with expensive jewels are hidden by alligator skin that again is covered with amethyst, sunstone, and  72-round cut diamonds.
The screen size for this Stuart Hughes premium design is 55'' which is pretty sufficient for any purpose. As we know the reason for being expensive is not its specifications but luxurious appearance.
Let's get to the second most Expensive TV of the contemporary world.
Also check: 10 Thinnest TVs in the world
2. Titan Zeus 370 inches 4k TV – Hefty & Heavy worth $1.7 Million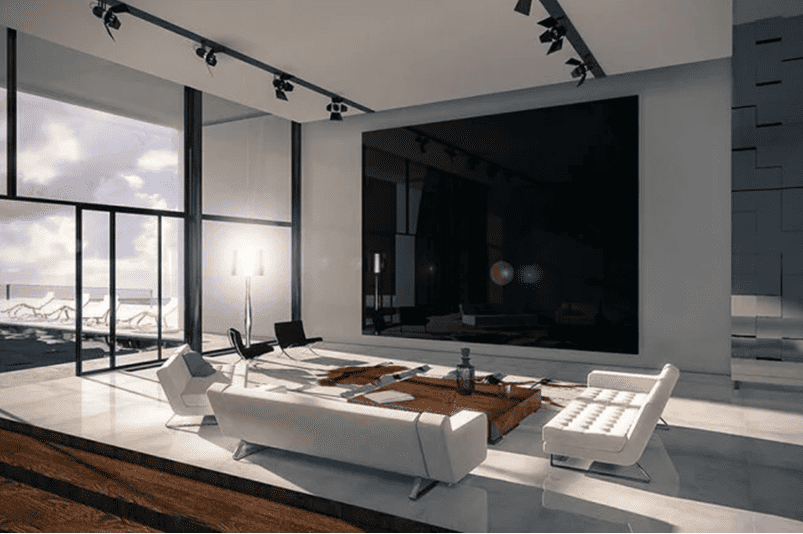 Second runner up is not really expensive because of diamonds or gold, instead its technology is its fame.
If you want a home side indoor or outdoor cinema feel with a single screen covering your entire wall and you have a few million dollars spare for it then Titan Zeus is the TV that can be of any help.
This whooping 370 inches screen or 11 feet on the diagonal is as heavy as a car almost under a ton. It's certainly the heaviest TV with such weight.
Thinking of setting this behemoth up can ultimately give you goosebumps. It's designed for both indoors and outdoors, in case you think of sharing the experience of this hefty TV with your neighbors.
There are only 4 Titan Zeus manufactured till date. The artificial intelligence used in making of this technical beast is on-point and brings entertainment with complete originality.
The big entertainment screen is not just a TV rather a smart TV that does not need a separate remote or operating system instead the owners gestures can work just fine for commands.
Motion detection system and touch-sensitive capabilities make this big fella a smart Tv as it can be master-obedient by following the gestures or touch.
It perfectly packs and balances the reproduction of 65 billion colors with ideal brightness and lightening for whatever you screen on it.
Titan zeus has the ability to display 20 channels at a time making the 'picture-in-picture' concept better than ever.
With weatherizing options and outdoor solutions, the Titan Zeus is a great outdoor option for a lavish lifestyle.
The price tag for all these perks coming along such a bigger, better and heavier TV screen is $1.7 million. Well, it's obvious that the outdoor weatherizing option will surely cost a little more.
If you think its magic is over then no, it's not yet over. As there's no reason to shut this TV off once you find yourself full and entertained.
Titan zeus has an incredible feature called aquarium feature. This feature turns your TV into a giant aquarium by displaying your already set footage to mimic an original one.
Also check: 10 Best Outdoor TVs
3. LG DV-LED Technology – Futuristic TVs worth $1.7 Million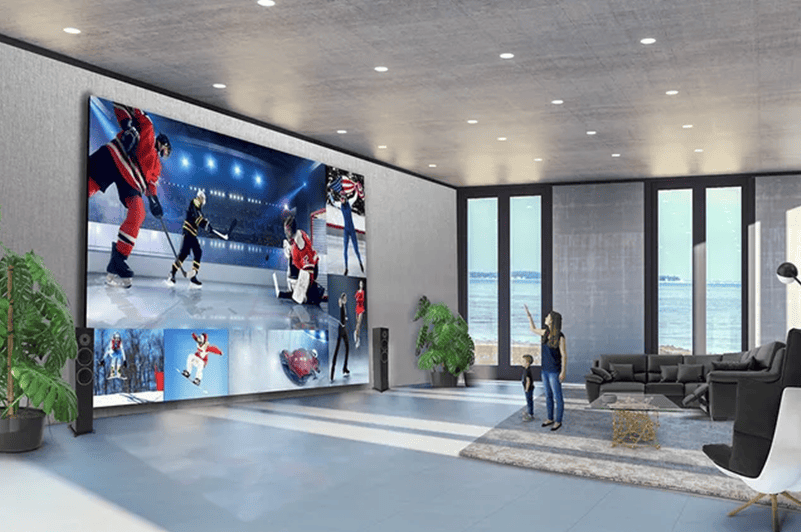 LG made a TV better calling it a wall-sized TV with tech-loaded infrastructure.
The screen is said to be as large as 325 inches, that's probably 27 feet diagonally. This next level TV falls in LG's direct view LED home cinema line.
The physical mass of this big beauty is probably near 2000 pounds. It's obvious there must be some source of making this behemoth stand still in front of any wall.
Keeping it clear and obvious that 8k TV needs such high resolution content too which is quite unavailable or someone might create it for themselves.
The screen might not be available yet as of the exceptional features and specs, we still assume it to be the coolest futuristic TV purchasable in a million and some above dollars.
Also check: LG VS Vizio TV: A Detailed Comparison
4. Stuart Hughes PrestigeHD Supreme Edition-Third Most Expensive TV worth $1.5 Million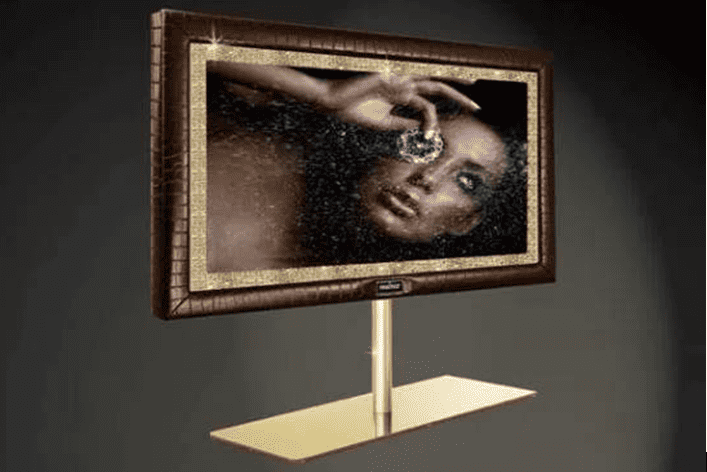 The other edition of Stuart Hughes' same series is this Supreme edition that will cost you $1.5 Million. It's just the cheaper version of the world's most expensive TV.
Stuart Hughes excluded the rose gold from the appearance to make it cheaper but only as cheap as $1.5 million.
The screen borders are again covered with the alligator skin engraved with gems and a gold plate. Except for the rose gold thing, this edition is similar to the rose edition.
The size of this supreme edition marks again at 55'' which is great for any purpose. You can enjoy your favorite series pretty clearly only if you find it worthy of $1.5 million.
5. C Seed 201 – World's Largest Outdoor TV worth $680,000

The world's largest outdoor TV as suggested by C Seed's website itself designed by Porsche Design Studio. C Seed 201 is specially designed for commercial use as a big outdoor screen with size of 200 inches or almost 17 feet.
Match lovers or football fans with heavy bucks in the bank can literally afford this kind of entertainment in their courtyards.
The C Seed 201 is weather resistant as well as vibration resistant. If there's some heavy machinery around then the screen resists such vibrations too.
Its design is what we love about the entire thing. The TV is entirely collapsible and submerges under the ground.
This high resolution Retina LED has a storage station that allows 7 LED panels to unveil itself into a massive screen.
The extraordinary color spectrum allows bright visuals with high resolution even in daylight or under direct sunshine.
Wandering about the weight? This gigantic thing; C Seed 201 weighs around 1500 kg and demands special professional installation.
It's obvious that a commercial TV such huge in size and weight should provide louder, enhanced and improved visuals and sound which is induced with the help of 12 broadband speakers and 3 subwoofers, to give viewers the incredible audio experience.
How can the price be expected to be any cheap for this super feature-loaded outdoor cinema experience. You need to fork a whooping $680,000 out to enjoy a C Seed 201.
6. Panasonic TH-152UX1 – Plasma Screen Worth $500,000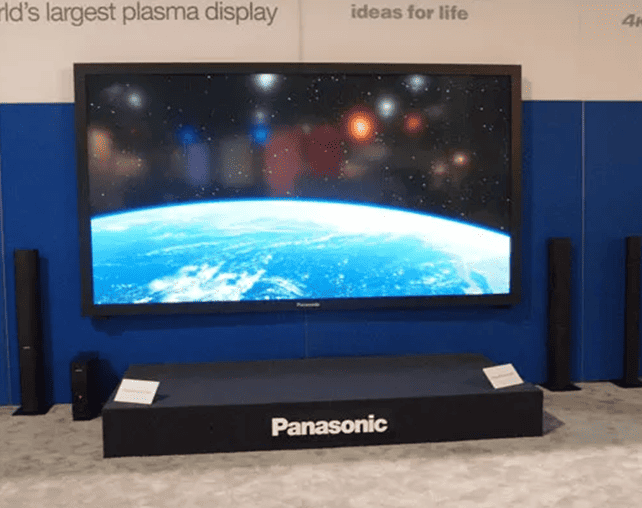 A high-end plasma TV screen by Panasonic, made for professionals and commercial use. Having said this, the screen is not ideal for outdoor use because of the anti-resistance to weather or vibrations.
The TV has optional wall-mount and wall-hanging brackets, in case you have really strong walls built to hang a ½ ton weighing screen on it.
The frame roughly weighs around 1300 pounds and its 152 inches massive plasma screen makes an average-sized individual tiny in front of it.
Panasonic has designed TH-152UX1 in such a manner that it can aesthetically connect with larger indoor settings or home based cinemas as per its size and appearance.
The TV offers 4k resolution for better visual experience but only if you have content to watch at this high resolution. This screen is also 3D capable so you can enjoy real-time entertainment too.
This tech-loaded massive beast is nowhere lesser in price tag as it hits a sharp $500,000 to earn a Panasonic TH-152UX1. Better luck with your pocket!
7. Samsung UN105S9B – Magical Curve cum Flat TV worth $260,000
If you want to have the magical experience of a screen that can turn a curved screen into a flat screen depending on the command of the viewer then you just have to render $260,000 for it.
Your techy-self will love the appearance and specifications of this Samsung's bendable, most expensive TV made till date. 
Samsung's big screen is a 4k UHD TV with an ultimate immersive experience that turns your desired content to 4k high resolution on an ultra-thin 105'' giant screen that is almost 9 feet.
It has super visuals and top-notch picture quality. The screen never fades or blurs out, notout, not even while scrolling.  Exceptional color with a panoramic effect will certainly impress you.
Moreover, the TV has UHD dimming, UHD upscaling, Precision local Black Local dimming, and auto depth enhancer to offer to its viewers.
Natural picture, incredible color effect is a sure thing with Samsung bendable.
This screen is titled as the world's biggest bendable TV. To move the screen in desired direction and position, a torque gearbox is there to support the operation.
Samsung unveiled this magical screen for the first time ever at IFA in Berlin and it was sold for $260,000 so expect a similar cost for the flexible one too.
8. Sharp LB-1085 – Old in the List of expensive TVs worth $160,000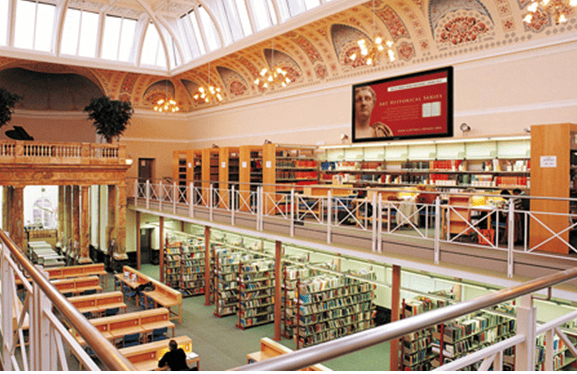 A stunning high definition resolution impact on an old screen priced at $160,000. The LB-1085  is said to be the largest commercial screen of its time with a screen measuring 108 inches diagonally.
The model's launch dates back to 2008 with the intention of rugged operating conditions, designed for 24-hour commercial use.
The screen is made durable enough to resist weather conditions and provides color contrast and improved picture quality even in direct sunlight or any time in the day. 
The viewing angle of 176 degrees makes this screen great for any show time. And this clarifies the image for the viewers at any corner of the room.
It's an old but gold kind of TV that's why it's still blooming on the list of most expensive TVs.
9. Samsung UA11059-Another one from the main player worth $152,000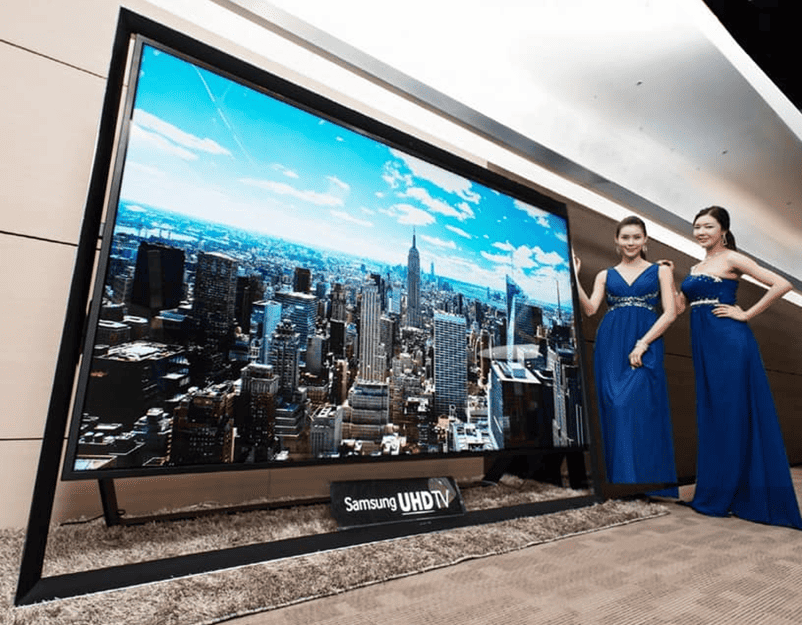 Samsung is one of the main players in the tech stream and that's why it's also in the list too. The ultra slim design with the height of a fully grown up lady as one can see ladies next to the screen.
This model is just different from the previous one on the basis of motion features. Besides, the picture quality and sound system is likewise up to the expectations.
The screen size measures up to 110 inches diagonally adding an immerse yet ideal experience for its viewers.
Although it's a high-definition TV, this one can be controlled through motion control that allows easy navigation using bare hands.
Being eighth on the list, still it renders viewer's $152,000 for a single purchase. The TV is known for its giant size and simple yet pleasant display.
10. Samsung UN110S9VF- An Ideal UHD TV worth $150,000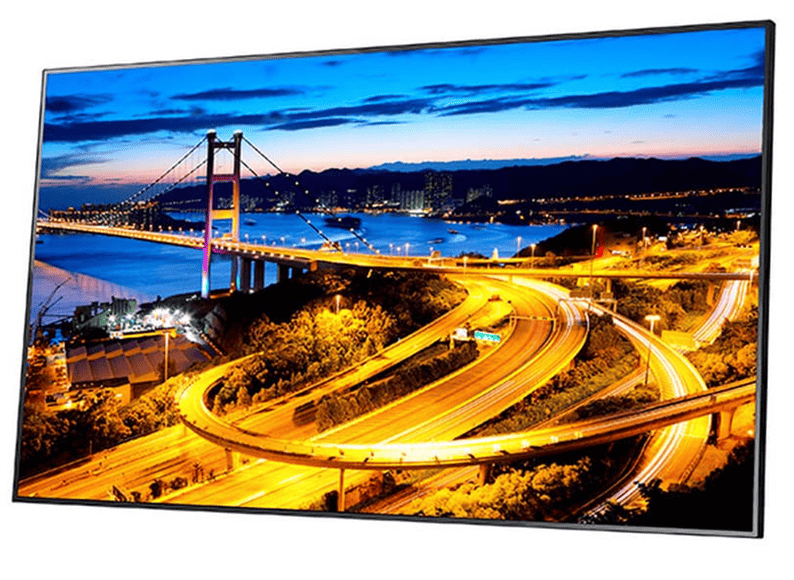 Samsung is the brand that makes TVs for all categories and classes. Being on our list of most expensive TVs for the third time shows that it's made for elites too.
Even this 4k UHD TV by Samsung will cost $150,000 for its viewers to enjoy the super high resolution and amazing picture quality.
Gamers with rich backgrounds can surely get themselves entertained with 240 HZ refresh rate for its big bang 110″ screen.
The TV has as high a resolution as 3840 PX by 2160 PX, isn't it impressive enough?
It includes several USB and HDMI ports to allow external sources.
A 3D version of Samsung UN110S9VF was launched in 2009 which was one of the biggest screens of the world weighing 265 kgs at that time.
This samsung screen absorbs ambient light and reduces reflection. It brings crystal clear visuals to the screen with preserved deeper blacks and contrasts.
11. BEOVISION 4-103 – World's Largest Flat Screen worth $140,000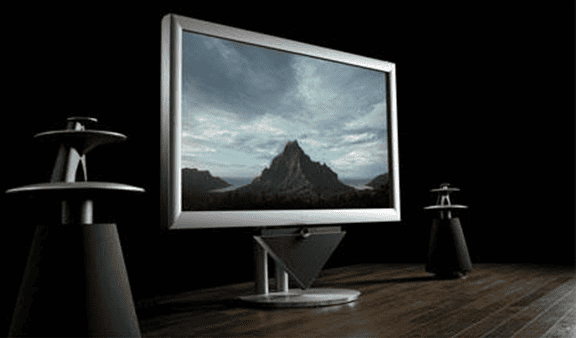 BEOVISION 4 is designed in a collaboration by a Danish company known as Bang & Olufsen and Panasonic.
Well, this one is known for a quite different appearance and technicalities. Bang & Olufsen sets aside the compulsive dynamic of size and looks by bringing this edition to market.
It's a 100 Hz plasma screen with Panasonic being the one responsible for manufacturing the screen while B&O taking over the technological corner and focusing more on home theater technology.
B&O created its aluminum, motorized pedestal that can be adjusted with a single click of a button.
You can adjust the pedestal and raise, rotate, or tilt it to the perfect angle. Not just that, it's auto color management and picture control brings up the most ambient color display with the pleasure of home theater at home.
All of this and much more with BEOVISION 4 comes in $140,000. That's what it takes to feel and have an expensive TV.
12. Keymat Yalos-Diamond embedded TV worth $130,000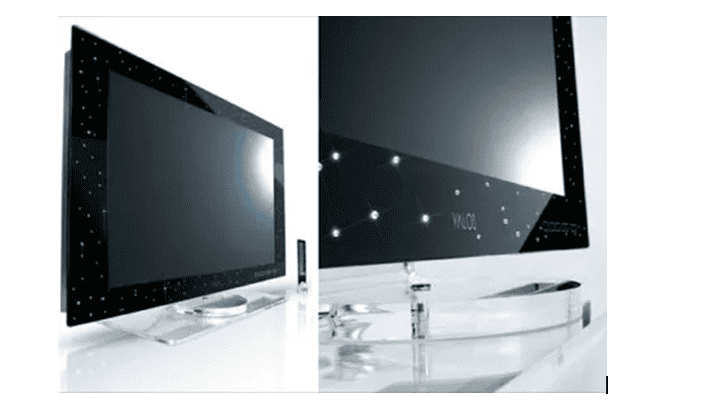 Again a jewel embedded TV rocking the list with a price tag of $130,000. If better specifications are your top priority while buying a tech gadget then swipe up or down because this one is not for you.
Ideally someone with extra bucks can afford this Diamond LCD TV for leisure time and showcasing their wealth as well.
Keymat Yalos designed this TV with white gold plating and a minimum of 160 diamonds tailored on it (sharp 20 carat).
For specifications, the set has to offer its viewers 1080i and 720p high resolution picture formats while utilizing pixelworks technology to match the picture quality to its design in terms of clarity.
Other features include one HDMI port, a DVI port and a VGA. The resolution being at 1366 × 768, with dual RF tuner, the TV is far behind many cheap TVs available in the market in terms of latest technology.
13. Samsung UN 105S9WAF- Stunner TV worth $120,000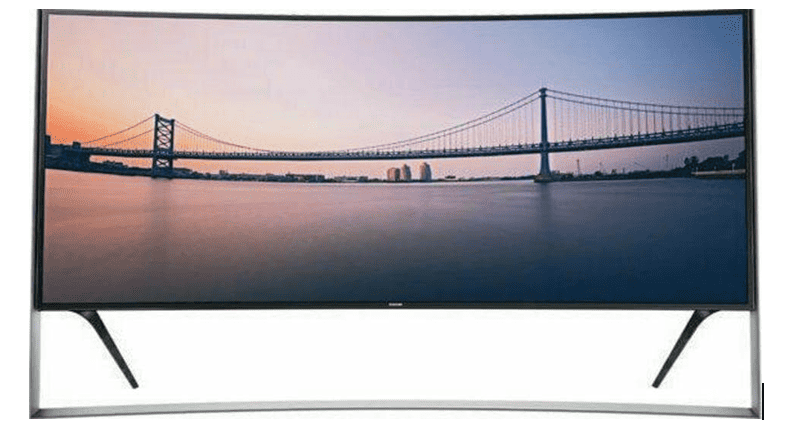 A complete stunner TV with a curved amoled screen that measures 105″ diagonally. Its resolution makes it the brightest screen of the market with 5,120 × 2,160 pixels.
Audio is also a perk point of this high end TV as it includes DTS premium 5.1 sound system complete with 40-watt tweeter and a 40-watt woofer.
The heavy weight should not be fretful because the TV doesn't require wall mounting. The design of the TV includes a silver stand to match the remaining screen appearance.
Well, this hefty screen weighs over 400 lbs and stays on its customized stand.
Final Verdict!
The most expensive TVs are not always worth the purchase as TVs are known for their advanced entertainment display using latest features and specifications.
And these expensive TVs from around the globe are not majorly famous because of their technical specifications but jewels and diamonds and even alligator skin.
Such TVs are made to entice a few having extra enough money to spend on their expensive leisure time entertainment hubs.
Ideally, to our perspective a reasonable price tag with latest features induced in TVs are also available and fully entertaining for the viewers.
Besides, the data and information is collected from different sources across the internet as it's hard to own each of these highly expensive TVs only to review them later.
How much does the most expensive TV cost?

The Stuart Hughes Prestige HD Supreme Rose Edition is the world's most expensive TV, costing $2.5 million. The most expensive television in the world is covered in 28 kilograms of solid 18-carat rose gold, decorated with 72 perfect 1-carat diamonds, and contains hand-woven alligator skin lining the inner bezel of the set. This television also has the distinction of being the most expensive television ever sold.

Is there a TV that costs $100,000?

In South Korea, Samsung showed off a TV that cost $100,000. The Micro LED technology that comes with the 89-inch TV is meant to greatly improve the quality of the picture you see on the screen. When you purchase this set, you will also receive a Freestyle portable projector bundle, an 85-inch The Frame TV, and a HW-QN990C 11.1 and the system itself.

What is the cost of the most expensive 1000000-inch television in the world?

The 370-inch monster that is the world's largest television is a custom-made model that cost $1.6 million. It would take an elephant to block your view of the world's largest television set, and even then, it would have to be standing on the back of another elephant for that to be possible.