LG is known for manufacturing the best TVs with lots of advanced technology. While Vizio TVs are quite affordable.
We will compare the features of both brands to determine which one is best for you.
After going through this comparison of LG Vs Vizio TVs, you'll have a clear-cut idea about the one that you should go for.
LG VS Vizio TV: Quick Answer & Comparison Summary
If you're a fan of the most advanced features, crisp and clear picture quality, great sound quality, and durability, then LG is the best brand for you.
On the other hand, Vizio is the best brand for those people who want to buy a budget-friendly TV.
With enough features, anyone can enjoy a great viewing experience, whether they're watching movies or playing games.
| Feature | LG | Vizo | Winner |
| --- | --- | --- | --- |
| Picture Quality | Best | Best | Both |
| Refresh Rate | 60-120HZ | 60-120HZ | Both |
| Sound | Clare and Less nose In the Sound. | Distortion and a Noise in the Sound. | LG |
| Operating Systems | WebOs | SmartCast | LG |
| Display Technology | LCD/OLED/ 4k | LCD/OLED/ 4k | Both |
| Lifespan | 5 to 7 years even if you used them throughout the day. | 5 to 7 years but if used roughly throughout the day, their lifespan will begin to come down. | LG |
| Power Consumption | 0.265 watts per hour. | 57.5/ hour | LG |
| Connectivity Ports | Identical | Identical | Both |
| Viewing Angle | Best | Best | Both |
| Wireless Technologies | LG Magic Remote/Bluetooth/Wifi/ Miracast. | Remote Control/ Bluetooth/Wifi. | LG |
| Voice Assistants | Google Assistant/ Alexa | Google Assistant/ Alexa/Apple HomeKit | Vizio |
| Image Processors | Alpha 9 Processor | IQ Ultra and IQ Active processors | LG |
| Price | Expensive | Affordable | Vizio |
Pros and Cons of Samsung VS TCL TV Brands
| LG Tvs Pros | Vizio Tvs Pros |
| --- | --- |
| LG TVs come with great Viewing angles that allow you to watch the TV without having any image distortion. | 1. Vizio TVs are great for those people who like watching movies and playing games in dark environments. |
| ILG Tvs are usually Durable and can last up to 5 to 7 years. | Vizio tvs come with OLED Display panels which make the screen look more natural and detailed. |
| LG TVs come with WebOS Operating system which is very easy to use and equipped with a lot of amazing features. | Compatible with Amazon Alexa and Google Assistant for voice control |
| The picture quality of the LG tvs is crips, detailed and provides you with great colours | VIZIO offers the most affordable latest technology TVs in the market |
| LG Tvs are available in a variety of Screen sizes ranging from 32 to 86inches. | Vizio TVs are very affordable. |
| LG Tvs Cons | Vizio Tvs Cons |
| --- | --- |
| LG tvs are quite expensive sets in the market right now, So work properly. | VIZIO has issues with 120Hz signals, only works properly at 60Hz signals |
| | Response Sound quality of Vizio tvs isn't so great and doesn't have any clarity. |
LG VS TCL Vizio: A Detailed Comparison
LG and Vizio brands are equipped with a lot of amazing features. But, what should we do? We only have to choose either of them. right?
Therefore, we're going to compare both of their features thoroughly and see who has the best features.
Also, check our guide on the best 75-inch TVs under $1000.
1) Screen Sizes & Dimensions
If we talk about the screen sizes of LG and Vizio, then LG is the winner. Because it offers a variety of screen sizes ranging from 32 inches to 86 inches. In contrast, Vizio stays a little behind in screen sizes.
It has TVs with screen sizes ranging from 24 to 55 inches  ( Check on Amazon, I doubt Vizio makes only up to 55 inches). It means, if you need more screen sizes to choose from, the LG brand is the way to go.
Related: 75-inch TV dimensions
2) Picture Quality/ Display Panels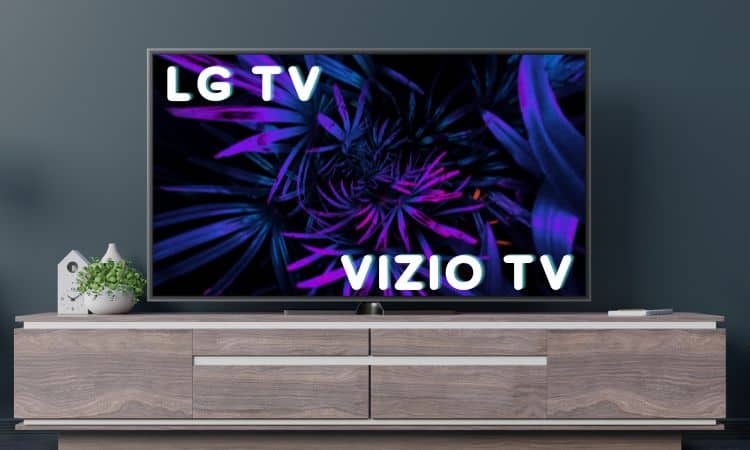 When it comes to the picture quality of LG vs Vizio, it's a tough row to hoe to declare one the best. Why? Because both of the brands offer pretty much all of the same resolution and display panels.
Like, HD, full, and so on. They both come in OLED and LCD display panels. So, both of the brands win in the picture quality category.
There are more factors that contribute to the picture quality that we'll be comparing as well. Let's get to them.
Watching TV does not always involve sitting in front of it. Sometimes, you also have to watch the TV from different angles.
For example, from the right angle while sitting on your sofa or from the left while assisting children with their homework. Thus, having the best viewing angles for a TV is crucial.
When you watch a TV from any other angle than the front, if its viewing angles are not good, it will look distorted and blurry. It won't be so detailed and crisp either, obviously.
What about the viewing angles of LG and Vizio? Fortunately, both brands have a wide viewing angle because they have OLED screens.
This screen type has the best viewing angles as it doesn't require any backlight and it produces its own light. As a result, LG and Vizio both won this category.
Vizio TV models provide an excellent gaming experience, thanks to their latest IQ Ultra and IQ Active processors. These processors can boost HD and FHD into 4K resolution depending on the model you choose.
Furthermore, they reduce the amount of noise and produce clear images. If you're an avid player, then this could be the right choice for you.
However, if you enjoy watching sports, then an LG TV could be appropriate for you. LG TVs have an Alpha 9 processor, which helps reduce blurring while watching content that has sudden and fast movements.
You will be able to enjoy crisp, smooth images whether you are watching football, skiing, race cars, or action films. With the a9 Intelligent Processor, color tables are 7.3 times more advanced than traditional televisions.
This means it can display many more color data points that show true-to-life colors with no distortion. So, the a9 image processor of LG outperforms the Vizio image processors with the best and most advanced features.
5) Refresh Rate/ LG VS Vizio Tvs
What is the refresh rate? A refresh rate is how many times a second a new image is created on the screen and is expressed in Hertz (Hz).
A 60Hz speed of refresh indicates that the screen refreshes itself at 60 times per second. At 120Hz, the screen refreshes itself 120 times per second.
It means, the higher the refresh rate a TV has, the better picture quality it'll produce.
LG TV refresh rates are generally within the range of 60-120 Hz. On the other hand, Vizio has the same refresh rate on its TVs, ranging from 60 to 120 Hz.
Some TVs from Vizio have Clear Action Technology that helps to prevent blurring when images move quickly. This is a fantastic feature for watching action films or sports. Hence, both brands won the category.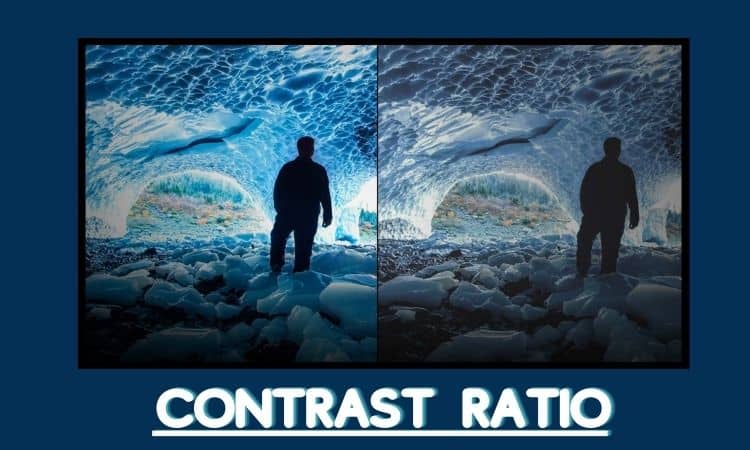 The contrast ratio refers to the proportion of the luminance of bright white as well as the darkest black that television can offer.
An increased contrast ratio implies that the TV is able to provide deeper blacks and improve the overall quality of the picture, particularly when viewing the content in dark spaces.
Vizio TVs feature the highest contrast ratio, which is 20 million to 1. The black level on Vizio TVs aids in reducing shadows on images as well as color saturation, giving real-life details.
LG's OLED, as well as QNED MiniLED technology, offer enhanced capabilities to alter the contrast ratio on a pixel.
LG TV models come with an advanced contrast enhancer, which creates a black-colored look nearly perfect in dark areas. So, LG is the brand that outperforms Vizio TVs in contrast ratio.
TV brands are more concerned about their picture, build quality, and other functionalities of the TVs, not focusing as much on the sound quality. That's the fact that applies to all the TV brands out there.
So, you can expect the same from LG and Vizio. But, still, which of them provides the best sound quality?
Vizio typically features speakers that are more powerful and more audible over greater distances. It's Vizio SmartCast D-Series is a great example of this, despite its smaller dimensions of just 32 inches.
Although these TVs can generate volumes, they're lacking in terms of clarity. The music and voices aren't as natural sounding as they should be, and finding dialogue may be an issue even at higher volumes.
LG TVs are generally less loud but offer somewhat higher audio quality. When playing music at higher volumes, LG TVs' speakers tend not to distort, and their speakers contain less noise.
Thus, it gets easier to recognize a variety of sounds without having to concentrate too hard.
So, we'd consider LG the sound winner, as sound quality matters more than how loud it is.
LG usually uses WebOS on all of their TVs, which is the best operating system at present.
This OS is packed with features and functionalities that will make you fall in love with it immediately.
It has a horizontal menu that you can customize so that you can keep track of the channels you are interested in. By doing so, you'll be able to find your favorite content quickly.
WebOS is compatible with Google Assistant and Amazon Alexa, as well as many streaming channels and movies. What about the Vizio brand?
Vizio brand supports SmartCast OS, which is a good OS, but it lacks the features of the LG brand's OS.
It doesn't even come with an app store where you can download the apps you want.
However, there are still a lot of apps that are installed on this operating system. So, you can get the most out of them.
SmartCast can be used with AirPlay 2 along with Chromecast. You can also use Siri, Alexa, and Google Assistant.
The availability of the Vizio SmartCast OS is equal to none as this OS is only used on their TVs. However, WebOS is used by different brands like RCA and Polaroid as well.
You'll also see the Vizio Smartcast getting slow sometimes, which is why the Webos OS of the LG brand is the winner of this category.
Connectivity ports are essential as they allow you to connect your external devices to your TV.
Such as your phone, laptop, tablet, or any other device that you want to use with your TV.
Vizio TVs usually include 2 HDMI ports in most of their TVs. However, some of their models include only 4 HDMI ports.
On the other hand, Samsung does the same. Its TVs come with at least 2 HDMI ports, but some models can come with up to 4 ports as well.
In addition to HDMI ports, both brands include Ethernet, Optical, and USB ports to ensure excellent connectivity. So, who's the winner? No one is the winner in this category. The competition is a draw.
Some people are so lazy that they want their TV to work on their voice commands. This is where the voice assistants of the TVs come into play.
Voice assistants allow you to make the TV work by just giving them your voice commands. Sounds interesting? But, what voice assistants do both of these brands, LG and Vizio, support?
WebOS is available on LG's Super UHD and OLED TVs and is compatible with Google Assistant and, to some extent, Alexa.
Vizio SmartCast OS supports Apple HomeKit as well as Alexa and Google Assistant. So, Vizio supports 1 more VA than LG.
11) Wireless Technologies
There is a new and upgraded remote control included with Vizio TV models. Several well-known streaming services are represented by a separate button.
It doesn't feature backlighting, but it does have support for voice control.
You can launch apps, but you cannot search for the app's content. You can use the Vizio remote application to adjust the settings and even type in the text within certain applications.
Plus, the Vizio TVs include Bluetooth and WiFi, which you can use to stream videos wirelessly. What about LG TVs?
LG TVs come with wifi and Bluetooth as well as Miracast, which makes it easier for you to make a direct connection between your TV and any Android device. Unfortunately, Vizio doesn't support the Miracast feature.
Not forgetting, LG TVs have a Magic Remote which is packed with a lot of amazing features such as quick, simple, trouble-free navigation.
Because of them,  you can quickly select options on your LG TV with a simple wave of your hand or the turn of a wheel.
So, definitely, LG is our winner in this category.
12) Build Quality/Lifespan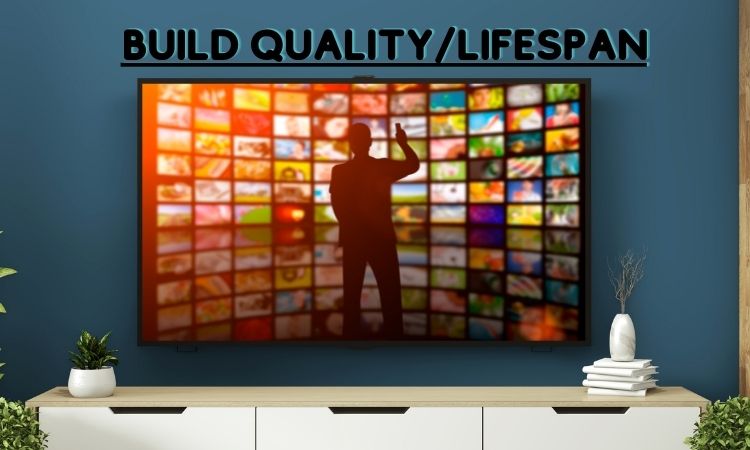 The higher the quality of the material used to build the TV, the longer it'll last. Included in this are elements like the screen's glass, the frame, and the leg stands.
For Vizio set models, the company typically creates relatively slim designs with slightly more robust leg stands.
LG's models are even slimmer and are often used with a balancing stand in the center and two-leg stands placed on either side of the unit.
So, which brand's TVs last longer? The answer is obvious. The LG brand's TV lasts longer than the Vizio TV due to its great build quality.
They can last from 5 to 10 years. Vizio TVs are expected to last for the same time period, but if you remain turned off for a couple of hours in the daytime.
If they're turned on throughout the day, then you should not expect them to last for so many years.
LG also has frame borders that are smaller and are less obvious when watching television. So, LG is our winner in build quality.
No one likes spending hundreds of dollars on an electricity bill just to watch TV. Therefore, considering the power consumption of both TVs is crucial.
As far as the power consumption of the LG TVs is concerned, they usually consume 0.265 kilowatt-hours per hour.
However, the watts may go up and down according to the size of the TV you're using. On the other hand, Vizio TVs run at 57.5 watts when they are in on mode and 0.5 milliwatts when standing by mode on average.
The smallest recorded wattage for the Vizio TV is 17.6 watts when it is on and 0.5 watts when standing by (VIZIO D24hn-G9). So, LG consumes less power than Vizio TVs.
Price is the thing that has to be considered first before deciding on the brand that you want to buy the TV from. Also, you have to make sure that the TV is worth the cost.
When it comes to Vizio vs LG prices, the Vizio brand is cheaper. LG is among the brands that make top-quality TVs that come with top-of-the-line features.
Although they offer many TVs, ranging from budget to top models, some think they are a bit expensive.
In addition, Vizio is regarded as a budget-friendly brand. While they don't offer the features that LG offers, they offer excellent quality for a lower cost.
LG Vs Vizio TV/ Which brand is the Best?
Who's our winner, and who do we recommend you go for? LG is the winner as it provides you with the best and widest viewing angles, a high contrast ratio, and, of course, durability as well.
Also, it comes with WebOS, which can support a lot of streaming features. So, does that mean Vizio is a bad brand?
Nope, it's really not. If we compare the price of the Vizio TVs to the LG TVs, then the Vizio TVs are way cheaper.
At such a reasonable price, they provide you with enough features and offer you LCD and OLED display panels just like Samsung.
Also, there are a lot of features of Vizio which are as good as LGs. But, still, the LG has more features than this.
So, if you're on a budget and want to buy the best TV, look no further and get your eyes on any of the Vizio TVs.
On the other hand, if you want your TV to serve you for years and provide you with an exceptional cinema-like viewing experience, then definitely the LG brand's TV is your TV to go.
LG Vs Vizio, Which Brand Is Better?Both of the brands are good if we consider their price. LG charges you more with more advanced features.
While the Vizio charges you less, it has some demerits in its features, which is common for any cheap TV. But, since we're here to choose the best brand between LG and Vizio, LG is definitely the best.
That's it for today. So, which brand are you going for, LG or Vizio? Your comments will be highly appreciated.
1) Is LG better than Vizio?

Yes, LG is definitely better than the Vizio brand as it offers more advanced features and durability.
2) Are VIZIO and LG the same?

No, they're not the same. They're different TV manufacturers. Vizio is known for its budget-friendly TVs.

While LG is known for manufacturing TVs with tonnes of advanced features that take your viewing experience to the next level
3) Is Vizio's owner LG?

Nope, Vizio is an individual brand which has nothing to do with the LG company.