Buying the best TVs for RV in 2023 is a bit confusing. There are so many options and factors to consider. One confusion is small vs. large size. Then we have the question of durability and ruggedness and also need to consider the mounting problem. 
Here is where we come in to rescue you. We have done our research and testing, plus we have years of experience in TV mounting in RVs. We have handpicked the five best TVs for RVs in 2023. 
The list only includes the best player in the market and covers everyone's needs. 
Our 5 Top Picks for the Best TV for RV Reviewed
1-TCL 43S325 43-Inch Roku TV ( Value for Money)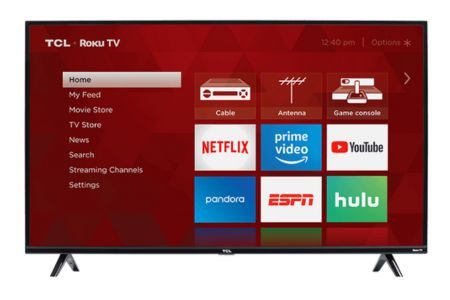 Screen Size: 43-Inch| Display Type: LED| Resolution: 1080p| Refresh Rate: 60Hz| Smart Apps: Netflix, Skype, Hulu, Youtube, Spotify, Amazon Instant Video| Brand: TCL| Connectivity:  USB, HDMI
The TCL 435325 1080p Smart LED TV offers a more exciting way to enjoy world-class home entertainment inside one's motorhome. 
This appliance revolutionizes on-the-road enjoyment, allowing RV families to relish the latest streaming content and favorite TV shows in vivid color.
I deem this TV for RV campers practical because of its 43-inch color LED display. Although it does not have a 4K resolution, its 1080p screen still produces crisp and vivid colors with exceptional brightness and contrast controls. 
In my opinion, Its 60Hz refresh rate is also noteworthy, allowing your family to stream their favorite content without lags or blurry images.
You'll be delighted to learn that this smart TV comes with a Roku digital media platform, giving people access to more than half a million films and TV shows across 5,000 digital content channels. 
In my own experienc, You can live in your motorhome for the whole year, and you will never run out of beautiful content to watch from this camper TV.
My favorite feature is its compatibility with leading digital voice assistants. It can connect with Amazon's Alexa and Google's Google Assistant. Too bad it does not recognize Apple's Siri. Nevertheless, you will find its voice control spot-on, allowing you to expand your motorhome's internet of things.
I appreciate the remote control, but if you prefer using your smartphone to control the TV's various functions and settings, you can connect it to a tablet or smartphone with TCL's mobile app.

Unfortunately, its 38.2 x 24.5-inch rectangular frame might be challenging to fit in small RVs.
Nevertheless, this smart TV is perfect for RV owners who want exceptional internet, movie, and TV entertainment on the road and wherever their adventures take them without sacrificing the screen size.
"The TCL 43S325 comes with a sleek and minimalist design. While it might not be the slimmest TV on the market, it maintains a slim profile that blends well with any living room setup. The bezels are reasonably thin, ensuring a more immersive viewing experience. The build quality feels sturdy, which is always a plus for a TV that will likely be a long-term investment."
"One of the standout features of this TV is its built-in Roku integration. The Roku TV interface is user-friendly and offers a vast selection of streaming apps and services, making it easy to access your favorite content without needing additional devices like a streaming stick or external media player."
Large and bright, 43-inch LED display for more immersive entertainment

Smart TV with access to thousands of Roku-powered streaming channels

60Hz refresh rate for seamless images

Compatible with leading digital voice assistants for effortless control

Connects with tablet or smartphone for improved convenience
2- Tyler 14-Inch Portable 1080p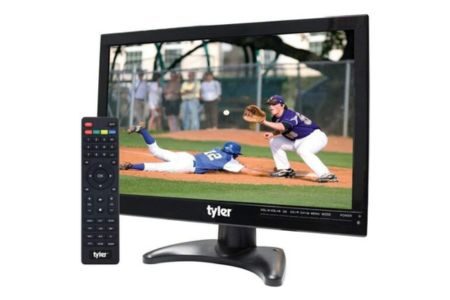 Screen Size: 14-Inch| Display Type: LCD| Resolution: 1080p| Color: Black| Smart Apps: Spotify, Netflix, Hulu, Skype, YouTube, Amazon Instant Video| Brand: Tyler| Connectivity: HDMI USB RCA
The Tyler 14-Inch LCD TV might be a small TV for an RV, but it can go where no other televisions can. This TV does not let its compact size undermine its ability to deliver lifelike images wherever the viewer might be. Therefore, it is an exceptional choice for highly mobile people.
I was surprised to learn that this small TV has a built-in ATSC tuner, complementing its NTSC platform for better TV signal coverage. 
People can enjoy TV shows operating on a digital-analog signal without needing a separate device. Of course, they can always tune in to the old analog TV system in some places.
The 14-inch display is suitable for viewing everywhere, similar to a standard-sized laptop screen. 
The best part is this TV still churns out commendable images with lifelike realism. Its 1080p resolution might not be as crisp and vivid as a 4K screen, but it is better than a 720p device.
In my own experience, the contrast and brightness controls are spot-on, and the color rendition is exemplary for its size.

I also love its compatibility with digital media players. People can plug an Apple TV, Amazon Firestick, Roku, Slingbox, or Chromecast into the HDMI port, transforming this compact TV into an internet streaming device. 
In our testing, You can also insert an SD card and watch your favorite downloaded films in various file formats. There will never be a dull moment with this TV by your side.
Sadly, you might find its four-hour built-in battery runtime too short for making any significant difference when bringing this TV outdoors.
It remains a delightful option for RV owners who want a TV they can bring to their picnics and hikes. It delivers exceptional images in a compact form, with the downside of only a four-hour battery.
"The built-in speakers produce sound loud enough for personal use, but for a larger group, an external speaker might be a worthy addition. However, this can be easily remedied by connecting the TV to an external audio device via the RCA or HDMI output."
"If you want to stream content from your smartphone or enjoy movies from a USB drive, the Tyler TV has got you covered. The FM radio feature is an interesting addition, providing an alternative entertainment option when TV signals are weak."
14-inch portable color TV with dual NTSC and ATSC tuners

Illuminated TV functions for status monitoring

Multiple media inputs for added entertainment

1080p resolution for better-quality images

Compatible with digital media players
Four-hour battery runtime
3. SANSUI ES24Z1 (Best Overall TV)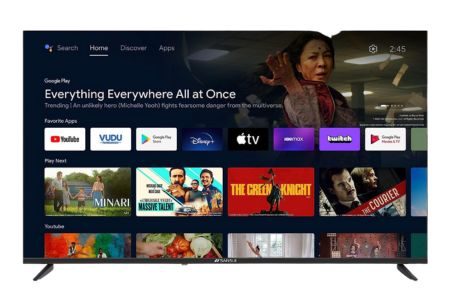 Screen Size: 24-Inch| Display Type: LED| Resolution: 720p| Refresh Rate: 60Hz| Special Feature: Built-in with HDMI, USB, and 720p LED HD TV Amazon Instant Video| Brand: SANSUI| Connectivity: VGA
The SANSUI ES24Z1 is an excellent option for the best RV TV in 2023 since it offers a competitive price in addition to a wide range of cutting-edge capabilities.
This is the most advanced smart TV available in a 24-inch screen size, and it features an HD panel.
According to my observations, it possesses a number of different viewing modes and amazing stereo speakers. It is designed to provide detailed views, but it does not produce weariness even after long periods of watching TV. 
Instead, it gives you the ability to stream movies and download a variety of apps, so that you may manage and consume your prefered content without interruptions.
The SANSUI ES24Z1 is an inexpensive LED tv that has a display that is superior to that of its rivals operating in this price range. If you are searching for a premium high-end TV for primary use, this is not the best option for you, but it is ideal for someone seeking a secondary TV.
"Including Android TV as the operating system is a big plus. It offers a user-friendly interface with easy access to a wide range of apps through the Google Play Store. Browsing through your favourite streaming platforms like Netflix, YouTube, and Amazon Prime Video is a breeze."
Immersive sound experience

Three built-in HDMI ports

Offers digital noise reduction

Easy to

mount on the wall
Does not have a Bluetooth
4- Vizio 24-inch D-Series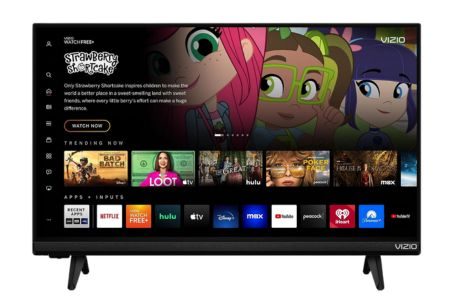 Screen Size: 24-Inch| Display Type: LCD| Resolution: 1080p| Refresh Rate: 60Hz| Smart Apps: Spotify, Netflix, Hulu, Skype, YouTube, Amazon Instant Video| Brand: VIZIO| Connectivity:  HDMI, USB
The best RV Smart TV is the VIZIO D-Series. If you want a 1080p HD picture, this is a great pick. The TV has Full Array LED Backlighting, an IQ Picture Processor for great picture quality, and a V-game Engine for better game performance.
The TV also has built-in Wi-Fi, SmartCast (like Google Chromecast, which works with YouTube, Amazon, Twitch, and other sites), and WatchFree+.
So, there are many free streaming channels that make it easy to find and watch your favourite material whenever you want. If you don't want to use the normal remote, you can also use the VIZIO Smartcast app on your phone to control the TV.
From what we've seen, VIZIO makes great TVs for all kinds of prices, and they're one of the best TV brands for the money. 
Their TVs have a lot of features and are built well, and they generally cost a lot less than competing models from big companies like LG TV or Samsung.
The recently released Vizio D-Series provides an astonishing number of smart TV capabilities for a very affordable price. Its visual performance is adequate, despite the absence of additional pixels and HDR compatibility; but, the quality of its sound and its inadequate upscaling leave a lot to be desired.
"The Full HD 1080p resolution on a 24-inch screen might not match the ultra-high resolutions of larger TVs, but it still delivers crisp and vibrant visuals. The picture quality is excellent, with vivid colours and decent contrast levels."
"The TV's user interface is intuitive and user-friendly, making it easy for even the less tech-savvy individuals to navigate effortlessly. The onboard processor handles tasks well, and we noticed smooth performance while streaming content and using apps."
Superb contrast

Variable Refresh Rate for gaming

Support for Voice control
Lack of support for HDR content

Low peak brightness
5-SuperSonic 1080p LED (Best Budget)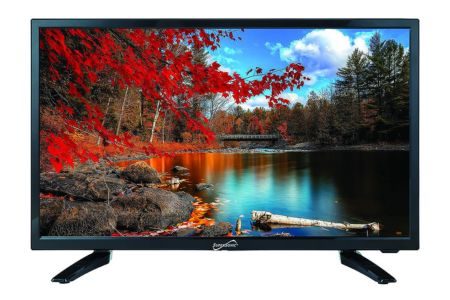 Screen Size: 22-Inch| Display Type: LED| Resolution: 1080p| Refresh Rate: 120Hz| Smart Apps: Netflix, Hulu| Brand: Supersonic| Connectivity:  USB, HDMI
Another RV TV that I would recommend is this SuperSonic LED Widescreen HDTV. You will be quite pleased with the TV quality; it is also attractive and fits in nicely because of its size. The quality of the images is excellent, and you will find the sound just adequate but still bearable.
As I stumbled upon the reviews of this product, I noticed that they were talking about the declining quality of the picture. While moving away from the center of the screen, which is true. 
However, it was just as expected from a LED TV with this size and price. The pictures are still clear for good viewing angles in front of this TV.
In our testing, The sound is good, as expected from a small HDTV. While it is true that the speakers of this TV are small, the sound quality is still good if you are sitting at a reasonable distance from the screen.
 If you want to achieve a more excellent sound, you can use any speakers and attach them to the TV.
What's great about this HDTV is that it takes up a little space when you take it out on a camp and makes a good RV TV's electronics. It is as light as a feather and can work with any stand or mount. You will also notice various features packed into the package, like the special remote. The remote works great, and it also has a lot of options for control and adjustments.
"One of the standout features of this HDTV is its HDMI input, which allows you to connect various external devices such as gaming consoles, Blu-ray players, laptops, or streaming devices like Amazon Fire Stick or Roku. This expands your entertainment options, providing a seamless transition between different content sources."
"The Supersonic SC-2211's AC/DC compatibility is a game-changer, especially for those who love outdoor adventures or RV enthusiasts. You can power it up with both AC power outlets and DC power sources, like a 12-volt car adapter."
Excellent picture quality for a small TV

Lightweight and work great to give a better angled and closer view

Good for close-quarters viewing

Headphone jack to control volume
Cannot hold larger televisions
Do you need a special TV for an RV?

You can use your indoor LCD or LED TV for your RV, but remember that they're not designed for RV use. Ultimately, a few things make a TV for RV better for your motorhome. First, they're designed to not only withstand all the vibration and movement, but they're also made to work through variations in temperature and humidity, which home electronics are not. Plus, many RV TV models have anti-glare screens, making them easier to watch in daylight.

What TV can I put in my RV?

Various factors, including your cabin's power setup and size, can help you determine the best TV for your RV. Generally, the highest-rated RV televisions have a rugged design that allows them to withstand road vibrations and temperature changes, a versatile array of connection options, and the right power source for your RV.
The factors you should note down before searching for the best TV for your RV are the following:

12-Volt DC or AC Power With Inverter?

The Size of the Room/ Cabin Space

Do You Need to Connect a Smart TV Device or Mobile Devices?

What Input Sources Do You Use?

Do RV TVs have smart TV apps?

Most 12-volt DC-powered TVs for RV don't have built-in smart TV functionality, though a few newer models come with the ability to connect to WiFi. However, you can connect a Roku, Fire Stick, or Google Chromecast to any TV with an HDMI port and turn it into a smart TV.
The main problem is the lack of stable internet connectivity during your travels, especially while driving. Unlike your smartphones which can operate on an average internet speed, a fast and stable internet connection is vital for a smart TV to use its features, or it is just a standard TV.