If you are living in an apartment where extra bass might be a problem, or you and your family don't need total immersion of sound– get yourself a high-end soundbar without a subwoofer.
A high-quality standalone bar is sufficient to produce a crisp, clear and loud sound. However, you can always add the subwoofer down the road if you want some extra kick. A good soundbar alone is punchy enough to enhance the sound quality without investing an extra buck on the sub.
But since the market is saturated with products, we have compiled a list of the 10 best soundbar without subwoofer after thorough research. These soundbars come as one piece without including anything else.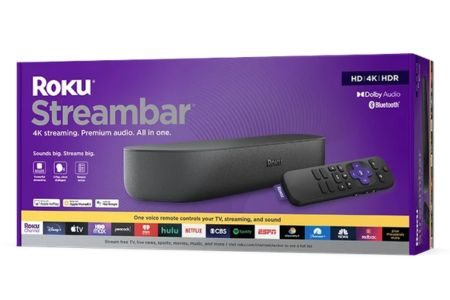 Brand: Roku| Model Name: Roku Streambar Pro| Speaker Type: Soundbar| Connectivity Technology: Bluetooth| Recommended Uses For Product: Volume| Streaming:Bluetooth, Wi-Fi.| Dimension: 32.2 x 3.9 x 2.8| Number of channels: 2.0
One of the most inexpensive soundbars you will get is the Roku Smart Soundbar. It is a streaming box + a soundbar, + a wireless headphone adapter + Bluetooth speaker all packed into one.
The stream bar offers exceptional bass and sound quality that works well in small spaces. Bass that is audible and doesn't overshadow the other sounds, nor bass that causes a wall to shake, a window to crack, or a roof to collapse. The voice enhancement and sound levelling features are great.
However, for bass-heavy genres like EDM and hip-hop fans, the bar's inability to reproduce a thumping low bass on its own is disappointing because it lacks a subwoofer.
Another selling point is that you can have audio from other sources play directly to your Roku remote if you set up HDMI ARC or Optica. Older gaming systems like the original Xbox, Xbox 360, and GameCube lack modern functions, but the Streambar allows you to access them through the remote.
Easy to install and set up a soundbar with top-notch sound. With this one, you can boost your vocals to hear the spoken dialogue. It's excellent for sports because it filters crowd noise, and, as an added benefit, it has Roku built in.
The Roku Smart Soundbar has a basic design made primarily of plastic and feels incredibly sturdy. The wireless playback connectivity on this soundbar is excellent. If you want to stream from your computer, you can connect to it by Wi-Fi or Bluetooth.
Thanks to advanced audio engineering in the Roku OS, boosted volume and auto-speech clarity make it easier to hear your TV and give your music more dept. With a single remote, you can turn on your TV, change the volume, and access your streaming sites– no more juggling with the remotes.
The Roku Smart Soundbar can reproduce vocals and lead instruments well since it has a generally neutral audio reproduction, especially in the mid and treble frequencies. On the plus side, it has some good customization options, such as four EQ settings, a dialogue enhancement feature, and an auto volume setting. Its surround performance is subpar and lacks support for Atmos like many 2.0 soundbars.
"One of the standout features of the Roku Streambar Pro is its cinematic soundbar. The built-in speakers deliver clear and powerful audio, providing a significant audio upgrade to your TV's built-in speakers. Dialogue is crisp, and the bass response is surprisingly robust for its size."
"The Roku Streambar Pro supports 4K HDR streaming, ensuring that you'll enjoy stunning picture quality with vibrant colors and deep contrasts. Whether you're binge-watching your favorite series or catching the latest blockbusters, the visual experience is top-notch."
Inexpensive

 Gets loud.

Adjustable dialogue enhancement feature.

Voice assistant capabilities.

Excellent for sports
Doesn't support Atmos content.

Lacking sub-bass.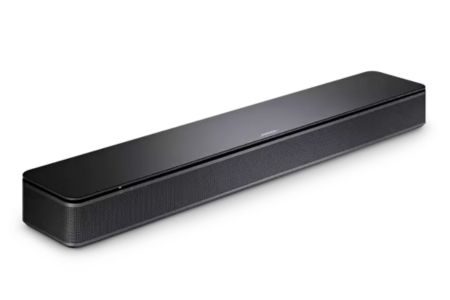 Brand: Bose| Model Name: TV Speaker| Speaker Type: Soundbar, Tweeter| Connectivity Technology: Bluetooth| Special Feature: Bass Boost| Streaming:Bluetooth| Dimension: 21.6 x 2.8 x 3.4″| Number of channels: 2.0
Last but not least, the Bose Solo 5 soundbar is perfect for smaller spaces. The soundbar is Super easy to install and has incredible dialogue clarity just at a volume setting 6– thanks to its sound enhancement feature.
For its size, the Bose Solo 5 provides a decent stereo frequency response, but the bass is notably missing. Because of its relatively high low-frequency extension, its struggle to produce resounding thumps and rumbles,
It may not be the best choice in a big room or at a packed party because it doesn't get extremely loud, probably because of its small size. The effect won't be very immersive, and the things will appear to be coming at you from the front rather than your sides or back.
Only Bluetooth can be used to play wirelessly with the Bose Solo. You can easily connect your smartphone or tablet to the soundbar to wirelessly stream music, but you cannot connect to the network or cast from built-in Chromecast or Apple AirPlay to the soundbar.
In our testing, the huge and versatile remote control with the Bose Solo 5 can also be used with another device. There are no controls on the soundbar, so you can only operate it with the remote.
For a variety of uses, the Bose Solo 5 is average. Its well-balanced mid-range can accurately reproduce content like podcasts and TV shows that include a lot of dialogue. For some music fans, though, its inbuilt subwoofer's inability to produce low bass can be disappointing. It downmixes surround sound into a stereo and do not support Dolby Atmos content.
"The Bose TV Speaker is a solid choice for anyone looking to enhance their TV audio experience without the complexity of a full surround sound system. Its sleek design, HDMI-ARC connectivity, and impressive sound quality make it a worthy addition to your entertainment setup."
"The Bose TV Speaker boasts a minimalistic and elegant design that seamlessly blends with any TV setup. Its compact form factor, finished in a matte black, won't dominate your living room space."
Good build quality.

 Bluetooth-compatible.
Doesn't support Dolby Atmos.

Lacking low bass.
3- Denon Home Sound Bar 550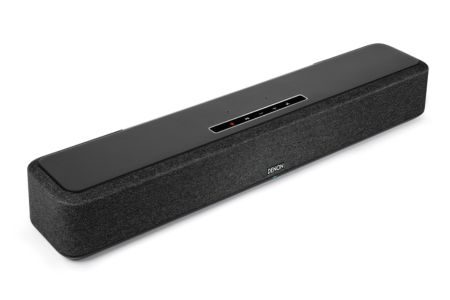 Brand: DENON| Model Name: DENONHOMESB550| Speaker Type: Soundbar, Tweeter| Connectivity Technology: Auxiliary, USB, Optical, HDMI| Special Feature: Dolby Atmos & DTS: X, Simple Setup, HEOS, Alexa| Streaming:Bluetooth, Wi-Fi, and Apple AirPlay 2.| Dimension: 25.95″ x 2.95″ x 4.72″| Number of channels: 2.0
Pair your Denon soundbar with a flat screen, and you will be amazed by the excellent sound quality that will fill your entire space with plenty of power. Even at full volumes, the bass is crystal clear with no distortion– whether you are listening to music or watching a movie.
Each of its six drivers has its amplifier, with three drivers per channel. Three drivers are helpful since they handle a specific frequency range rather than one driver needing to take all frequencies. This produces a fantastic sound.
It has a slightly boxy sound profile right out of the box, which adds a bit more boom in the bass range and may appeal to listeners who enjoy bass-heavy music genres like ED. Vocals and the lead instruments reproduce clearly because the rest of the range is rather neutral and balanced.
You can't feel the deep rumble in action-packed movie sequences since it struggles to reproduce an extended low-bas. There are EQ settings, bass and treble changes, and more to allow you to adjust the sound.
In my opinion, Touch-sensitive controls allow you to play/pause audio and change the volume on top of the bass. The buttons light up when your hand is close to them due to a sensor.
This easy-to-setup and easy-to-use bar support Airplay, which is excellent for iPhone users. Also, you can stream audio via Bluetooth and Wi-Fi.
The Denon Home Sound Bar 550 is suitable for mixed usage with a somewhat boomy but otherwise neutral sound profile. You don't hear the thump and rumble in bass-heavy music or action-packed movie. It struggles to reproduce a deep low-bas. Although it supports surround and Atmos content, the listening experience could be more immersive. It doesn't get too loud, either.
"The Denon Home Sound Bar 550 impresses right out of the box with its sleek and modern design. Its compact form factor blends seamlessly with any home decor. The build quality is top-notch, featuring a premium finish that exudes elegance."
Bass and treble adjustments.

EQ presets.

Immersive 3D audio with Dolby ATMOS 

Compact and space-friendly, 

It can be paired with a wireless subwoofer and side speakers
At maximum volume, there is lots of compression.
4- Sennheiser AMBEO Soundbar MAX (Best Dolby Atmos)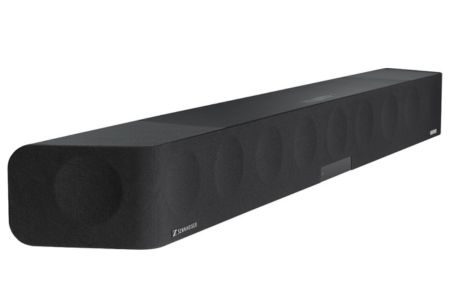 Brand: Sennheiser Consumer Audio| Model Name: AMBEO Soundbar| Speaker Type: Soundbar| Connectivity Technology: Bluetooth| Recommended Uses For Product: Built-in microphone| Streaming:
Bluetooth, Wi-Fi, Apple AirPlay 2. Spotify and Tidal.| Dimension: 126.5 x 13.5 x 17.1| Number of channels: 5.1.4
Sennheiser AMBEO Soundbar MAX is incredible and sounds great with lots of volume, clarity, and minimum clutter. Ambeo is decent for 3D audio, and integrated Upmix Technology supports Dolby Atmos, DTS:X, and MPEG-H.
The handling of Atmos is excellent. Additionally, you get strong L/R/C separation due to the product's physical size. Without an extra subwoofer, the angled speakers that reflect the back sounds are better than nothing— producing deep, 30Hz bass.
The Sennheiser AMBEO Soundbar MAXe gets very loud, making it perfect for big spaces or crowded settings. When pushed to its limits, it still works well at maximum volume but has some pumping and compression artefacts.
In my own experience, The soundbar is compatible with the most cutting-edge audio format via Full HDMI In. It can connect by Bluetooth to most modern gadgets and via Wi-Fi to your home network, where you can cast content.
Once the bar's firmware has been updated to version 1.0.237, Apple AirPlay 2 support is also available. You may also connect to the bar using Spotify Connect and Tidal Connect if you stream music often from services like Spotify and Tidal.
The remote control for the Sennheiser AMBEO Soundbar MAX is a good size and can control most of the bar's features, but not all of them. 
You can control all of the bar's features from the comfort of your couch with the help of the Sennheiser Smart Control app, which is hand. For instance, you can access the graphic EQ, switch the input, and change the settings for the bar.
Sennheiser's AMBEO Soundbar MAX is excellent for a variety of use. It has a unique 3D mode that enhances surround performance, making it ideal for watching a movie. Although it has a relatively accurate overall sound profile, the bass range needs some improvement.
"The SENNHEISER AMBEO Soundbar Max is a powerhouse of a soundbar that takes your home theater experience to a whole new level. Its exceptional audio performance, stunning design, and wealth of features make it a standout choice for audiophiles and movie lovers alike."
"One of the most impressive aspects of the AMBEO Soundbar Max is its ability to produce deep bass without the need for an extra subwoofer. The 30Hz bass is punchy and satisfying, making explosions in action movies feel earth-shaking and music genres like EDM truly come to life."
Impressive immersive sound 

Good performance with surround content.

Supports all audio formats.

Well-built design.
Very heavy.

Disappointing bass performance, especially on stereo content.
5- Bose Smart Soundbar (Best Bose soundbar without subwoofer)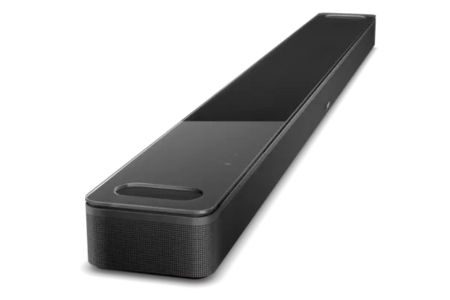 Brand: Bose| Model Name: Soundbar 900| Speaker Type: Soundbar| Connectivity Technology: Bluetooth, Wi-Fi, Optical, HDMI| Recommended Uses For Product: Bass Boost, Built In Microphone| Streaming:Bluetooth, Wi-FiChromecast built-in, Spotify Connect.| Dimension: 26.6 x 2.2 x 4″| Number of channels: 5.0.2
The best Bose soundbar you will get in the market without a subwoofer is probably Bose Smart Soundbar90. The bar gets pretty loud without any distortion in has sufficient bass on its own without feeling the need to add an external sub–definitely an upgrade from the built-in TV speaker. 
Low profile bar with a sleek, simple design, so it doesn't obstruct your TV screen. The glass plate on top of the bar gives it a more premium look.
Even at a lower volume, the music sounded outstanding and filled the room comfortably, even at a lower volume. The stereo frequency response on the Bose Soundbar 900 is satisfactory. The bass range has a little more kick, making bass-heavy music come to life.
However, unlike other standalone bars, it doesn't have an extended low bass, so even during an action-packed scene, your seat won't tremble. To get extra bass, you can always set up a separate subwoofer.
This bar supports Dolby Atmos content. Although it's a similar setup to other Dolby Atmos soundbars, it doesn't sound quite as immersive as the discrete localization offered by home theatre setups.
There are two touch-sensitive buttons on top of the bar. The "Action" button allows you to activate voice assistants, silent alarms, and timers manually. The "Microphone Off" button can turn off voice assistants.
Overall, sound effects sound clear and detailed, with a little extra rumble coming from these channels' bass-heavy sound profile. It's great for listening to audio content, including your favourite music and clear dialogue from Television shows, movies, and music videos. It gives your sound an extra level of height.
"The Bose Smart Soundbar 900 is undoubtedly an investment, but it's worth it if you prioritize exceptional audio quality and a sleek design. While it's on the higher end of the price spectrum, it competes well with other premium soundbars in its category. If you're passionate about audio and want the best, it's a worthwhile choice."
"Setting up the Bose Smart Soundbar 900 is relatively straightforward. It offers multiple connectivity options, including Bluetooth, Wi-Fi, HDMI, and an optical input. The inclusion of Alexa Built-In means you can control your soundbar and other smart devices using voice commands."
Bass and treble adjustments.

Gets loud.

Supports Dolby Atmos content.
Only suitable for a small-sized bedroom

The user interface is a bit slow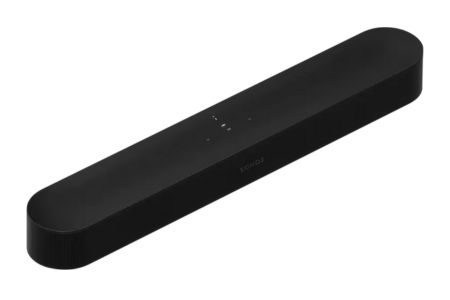 Brand: Sonos| Model Name: Beam (Gen 2)| Speaker Type: 3D| Connectivity Technology: Wi-Fi| Recommended Uses For Product: Music,Games,Movies| Streaming: Wi-Fi and Apple AirPlay 2| Dimension: 25.6 x 2.7 x 3.9″| Number of channels: 5.0
Sono Beam Gen 2 is the best overall soundbar which doesn't require an external subwoofer for many reasons.
Gen 2 provides a clear sound, making it easier to hear during TV shows and adding airiness to movie watching. Another excellent aspect we checked with the Sonos is its Speech Enhancement feature that helps to clarify dialogue.
Although there is an option to highlight the vocals, don't expect an immersive experience when watching movies since there will be times when the sound is excellent. Still, you can hardly hear the dialogue, and it suddenly becomes louder.
 With a compact design, it easily fits between 55″ TVs; neither does it block your TV screen as it is not very tall. Additionally, on the top of the bar, there are touch-sensitive controls by which you can:
Adjust the volume

Play/pause your audio

Turn the microphone on/off
In my experience, the bar allows you to connect wirelessly via Apple Airplay and Wi-Fi to stream content online. As for the price, there are more expensive options available, and the fantastic sound quality it provides makes it a good value for money.
While the Beam's sound changes when a sub is connected, giving the impression of an instant upgrade, the Gen 2 always sounds more like the sub-connected Beam, whether the sub is tuned on.
In my opinion, Its overall sound profile is quite balanced with a bit of oomph in the high bass, which manages to create a bubble of sound for any home cinema system despite speakers being housed inside.
The Sonos Beam Gen 2 is a good option, particularly for dialogue-centric content like podcasts and TV shows. Since it has no subwoofer, it doesn't have window-rattling bass, which makes it perfect for those living in an apartment. Still, the bass is much stronger than you'd get from TV speakers. 
Related: How to Mount Soundbar Under TV
"The Sonos Beam Gen 2 doesn't disappoint. The black variant we have here oozes sophistication and blends seamlessly with most home décor. It's compact, measuring just 25.6 inches wide, making it a perfect fit for smaller rooms or as an addition to your existing setup. The build quality feels premium, with a robust chassis that exudes durability."
"The Beam Gen 2 also includes built-in voice assistants like Amazon Alexa and Google Assistant. This hands-free control is incredibly convenient. You can adjust volume, play your favorite tracks, or even ask questions without reaching for a remote. It integrates seamlessly into your smart home ecosystem."
Room correction feature (iOS only).

Dialogue enhancement feature.

Easy to set up

Wireless connectivity

Clear and balanced sound
Doesn't get very loud.

No Bluetooth connectivity
7- Samsung HW-S60T (Best Samsung Soundbar Without Subwoofer)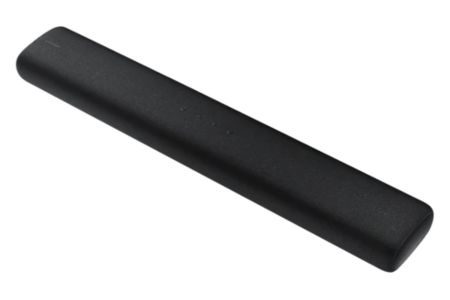 Brand: SAMSUNG| Model Name: Soundbar| Speaker Type: Soundbar| Connectivity Technology: HMDI ARC, Optical Audio In port, micro-USB port.| Recommended Uses For Product: Music| Streaming:Bluetooth, Wi-Fi.| Dimension: 30.1 x 2.6 x 4.9″| Number of channels: 4.0
The Samsung HW-S60T is the best Samsung soundbar without a subwoofer, with excellent sound quality and easy setup. It is a compact soundbar that fits nicely between the legs of 55′ TVs without blocking your viewing as it is low-profile.
The Samsung HW-S60T is very well-built. The speakers' plastic body feels sturdy and solid, and their Kvadrat fabric cover feels durable. The cloth may be prone to rips or gathering dust, but the soundbar as a whole seems well-made and premium.
Although you can use it as an Alexa device, it doesn't have Apple Music playback features as an Echo doe. Apple devices must be Bluetooth-connected to play Apple Music, which is less convenient than other Alexa devices– a little bit of a letdown there.
In my own experience, It has a fairly neutral sound profile with a well-balanced treble; though it sounds bass-heavy, it doesn't provide a real or immersive sound as tower speakers can.
The Samsung HW-S60T offers decent ARC support. It supports DTS and Dolby Digital content. It cannot, however, handle more object-based sound formats, such as DTS:X or Dolby Atmos, which might be better choices for movie nights.
The wireless playback connectivity on this soundbar is excellent. If you wish to stream content from your computer, you may connect to it by Bluetooth or Wi-Fi, which is efficient. Also, it supports Bluetooth pairing with up to two devices simultaneously, making it simple to switch between your smartphone and computer.
On the top of the soundbar, there are four buttons. You can change the microphone, volume, inputs, and mute. You can trigger Alexa by holding down the device's multi-function first button.
Samsung SmartThings is a companion app for the Samsung HW-S60. You can do everything with the remote with the app, including changing inputs and controlling playback. Accessing the graphic EQ plus presets using the app is also simpler.
The Samsung HW-S60T is for a variety of uses. Even on its own, it's also well suited for a wide range of music, and its soundstage is wide and centered enough to help give you a more immersive movie experience. But if you're searching for extra bass, Samsung sells a compatible wireless subwoofer separately. Also, it gets loud enough for big or crowded spaces.
"The Samsung HW-S60T 4.0 channel All-in-One Soundbar with Alexa Built-in (2020) is a top-notch soundbar that delivers on both audio quality and smart functionality. It's sleek, sounds fantastic, and the built-in Alexa is a convenient addition for controlling your smart home devices."
"The most critical aspect of any soundbar is, of course, the sound quality. The HW-S60T impresses with its 4.0 channel setup, delivering a clear and immersive audio experience. The soundbar's dedicated tweeters and woofers produce crisp highs and deep lows, providing an enhanced listening experience, whether you're watching movies or streaming music."
It gets loud for most audios.

Great build quality.

Decently neutral sound profile.

Graphic EQ plus three presets.
Lacks sub-bass.

Poor surround performance.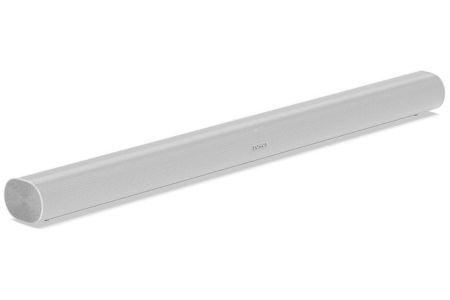 Brand: Sonos| Model Name: Sonos Arc| Speaker Type: Soundbar| Connectivity Technology: HDMI| Recommended Uses For Product: Hi Res Audio, Bass Boost| Streaming: Wi-Fi, Apple AirPlay 2| Dimension: 3.4 x 45 x 4.5 inches| Weight: 6.25kg
Sonos Arc Soundbar tops the list of best-rated soundbars without a subwoofer because it gives a rich and clear sound that seems to come from everywhere and because the channel clarity is incredible.
If you are looking for a home theatre system without a subwoofer, Sonos is perfect as it sounds wonderful on its own, with plenty of bass and crystal clear audio and voices.
In our testing, It offers a sleek, high-end design with an integrated voice assistant function for hands-free control. You may access a wide range of diverse content on streaming services and Blu-rays due to Dolby Atmos and DTS:X support. 
The Sonos S2 app allows you to pair the bar with other devices of your Sonos ecosystem so that sound may be spread throughout your house.
With the touch-sensitive controls on this soundbar, you can play/pause, adjust the volume, and mute the microphone. You can skip to the next or previous track by swiping right or left over the controls.
As for voice commands, you have two options: Google or Alexa. I chose Alexa because You have two options for voice commands: Google or Alexa. 
You can use the bar's app to use the Trueplay room correction feature if you have an iOS smartphone. It features a reasonably bright sound profile with more emphasis in the treble range when this option is turned on. 
Still, it produces lead instruments and vocals pretty clearly, but the bar doesn't reproduce low-bas. After we updated the bar to firmware version 14.18, there was a little more punch in the bass range.
Some tips
To experience True Dolby Atmos, connect your Sonos arc to a dedicated HDMI e-ARC connection (available only on the newest TV models). 
Initial setup on a device, followed by proper play tuning.
Sonos Arc is a premium standalone soundbar that provides rich and clear sound. With compatible iOS devices, you may use its Trueplay room correction feature to optimise music reproduction depending on your room's specific acoustics. Even though the sound profile is a little bright, vocals and lead instruments are still clearly reproduced.
"To give you a sense of how the Sonos Arc performs in real-world scenarios, I tested it across a range of content. Whether I was watching a blockbuster movie with explosive action sequences, jamming out to music, or immersing myself in a gaming world, the Arc delivered consistently exceptional audio. "
Sleek and very well-built design.

Supports Atmos.

Great stereo soundstage.

Stellar sound for music and TV

An All-in-one unit doesn't need a subwoofer
Compression artefacts at max volume.

No full EQ.
9- JBL Bar 5.0 MultiBeam (Best Budget)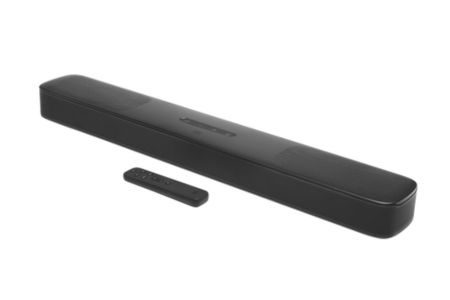 Brand: JBL| Model Name: JBL BAR5.0| Speaker Type: Soundbar, Surround Sound| Connectivity Technology: USB| Recommended Uses For Product: For Gaming, For Televisions, For Smartphones or Tablets| Streaming: Bluetooth, Wi-Fi, Chromecast built-in, Apple AirPlay| Dimension: 709 x 58 x 101mm| Number of channels: 5.0
JBL Bar is the best soundbar you will get at a reasonable price. It has an excellent smart mode which widens the sound stage to the extent that you will feel the surround sound effect– you definitely won't feel you are listening to a 2.1-channel sound.
In our testing, the bar has a simple, sleek design with sturdy metal on top and a solid plastic bottom. As for the remote control, it could have been wider with some built-in grip.
When we turned on its Automatic Multibeam features, it added that extra punch to the audio though it failed to reproduce deep low-bas. Those who enjoy action-packed movies and hip-hop won't like this feature. The bar's default bass setting is '3.'
The connectivity is excellent, and you will find Native Spotify, AirPlay 2, and Bluetooth, So whatever device you use, it has a way to connect. The physical buttons are present on the top of the bar. You can use these to adjust the volume, power the bar on/off, and change the input source.
This 5.0 setup has a discrete centre channel, enhancing dialogue reproduction's accuracy and clarity. When played at maximum level, there isn't much compression, which is excellent if you like to turn the music up for parties.
The stereo frequency response of the JBL Bar 5.0 MultiBeam is decent. You can get a good amount of functionality for a relatively small investment.
 The JBL 5.0 MultiBeam can be the affordable choice you're searching for if you don't need Android TV in your soundbar and want the best sound for the best rate.
If you are in for a fantastic soundbar that doesn't cost a fortune, JBL 5.1 is your thing. Via ARC, the JBL Bar 5.0 MultiBeam provides excellent audio format support. Dolby Digital, the most widely used surround sound format, is supported. It has a boxy sound profile that gives your favourite movies more punch. It makes music explode in all directions.
"The sound quality is crisp and clear, with distinct dialogues and impactful bass. The virtual surround sound effect works surprisingly well, making you feel like you're right in the middle of the action. Whether it's a quiet conversation in a drama or an explosive action sequence, the BAR5.0 delivers in spades."
"One minor drawback is that there's no included subwoofer, which might disappoint some users who crave that extra bass punch. However, the soundbar does offer impressive low-end frequencies, so it's not a deal-breaker by any means."
Bass adjustment feature.

Decent stereo frequency

Budget-friendly

It has an excellent smart mode

Easy to set up

Clear dialogues
Brand: Sonos| Model Name: Sonos Ray| Speaker Type: Soundbar| Connectivity Technology: Wi-Fi| Sound Format Support: Dolby Digitalt, DTS| Streaming:Wi-Fi, Apple AirPlay 2, Spotify Connect and Tidal Connect.| Dimension: 22 x 2.8 x 3.7″| Number of channels: 2.0
The Sonos Ray soundbar is accessible for those who want better sound without caring about features like Dolby atmos or room-shaking bass. The Ray is smaller than the already compact 
Sonos beam with a plastic finish, making it look high-end and sturdy.
The stereo frequency response of the Sonos Ray is fair. On compatible iOS devices, it offers a room correction feature called Trueplay that automatically improves the bar's audio reproduction based on the specific acoustics of your space, similar to Sonos' more expensive products.
The lack of bass is noticeable, particularly with bass-heavy genres like hip-hop and EDM. However, the vocals are excellent and detailed if you usually listen to dialogue-driven TV shows without many basses.
The sound isn't very immersive and comes only from the speakers in front of you. Sound effects appear to be coming from only some directions. You can always add rear speakers if you want a clearer and more realistic representation of surround content.
There are several touch-sensitive controls on the Sonos Ray. They let you control the volume and play/pause your music. The Sonos S2 app is necessary to use the additional functions of the bar, though.
For podcasts and TV shows with lots of dialogue, the Sonos Ray is decent. There is a night mode option and a dialogue enhancement mod to balance the volume when watching TV at night. However, as it uses a 2.0 arrangement, there needs to be a discrete centre channel to help give dialogue in the soundstage a clearer, more realistic representation, as you get with more premium models.
"The Sonos Ray Essential Soundbar delivers an exceptional audio experience. Whether you're watching movies, listening to music, or gaming, this soundbar provides crystal-clear, immersive sound. The dialogue clarity is outstanding, ensuring you won't miss a word during movie night."
"One of the standout features of the Sonos Ray Essential Soundbar is its versatility. It offers multiple connectivity options, including HDMI ARC, optical, and Bluetooth, making it compatible with a wide range of devices. Setting it up is a breeze, and it seamlessly integrates into your existing Sonos ecosystem if you have one."
Clear and accurate vocal reproduction.

Dialogue enhancement mode.

Compact bar with sturdy built

Budget-friendly

Easy to set up
No graphic EQ.

No Bluetooth support.
Key Factors To Consider for Best soundbars without subwoofers
Soundbars are a compact version of the speakers requiring less space. You may prefer going with a soundbar without a subwoofer if you already have a separate one or don't want to disturb your neighbour. Nevertheless, soundbars must meet certain factors, some of which are covered below.
1: Frequency Response
A speaker's or soundbar's frequency response is the most desired feature. It tells whether the seeker will reproduce accurate sound. The soundbars are renowned for creating clear, crisp notes in the music they play. The volume of the speaker is also hugely affected by the frequency response.
2: Surround Sound Capability
There are various channel configurations for the soundbar. The number of speakers is essential for accurate surround sound reproduction. The speakers work together to create an immersive surround sound with systems like Dolby Atmos.
3: Connectivity
Connecting the soundbars to the audio is also very important. The soundbars won't be able to process the sound signals without this connection. . The soundbars can be connected to a television with the help of an HDMI input. HDMI inputs are also compatible with DVD and Blu-ray players for enhanced sound transmission. Wifi and Bluetooth are two essential features of wireless connectivity. You can stream applications with Wi-Fi connectivity. It works with computers, DTH connections, and smart TVs.
4: Control
There are usually two methods for controlling a soundbar. The two options are the physical controls fitted on the soundbar body or the remote control. In most cases, the physical control buttons are used as a backup. Since using a remote control to control a soundbar is the most convenient option, it is preferable. Remote controls for soundbars have features like volume control and other settings. An upgraded version that is popular with smart homes is the voice command. Remotely controlling the soundbars can be done via voice control systems like Siri, Alexa, or Google Assistant.
Conclusion
Today, we discussed the different soundbar options that run subwoofers. These soundbars are a core part of the audio system and replace the external speaker. 
Choosing an excellent soundbar without a subwoofer may seem challenging, but doing so is simple once you know what to look for. Therefore, we offered a buying guide to remove any soundbar-related doubts.
We hope this article helped you with the best soundbar without a subwoofer.