You might be trying to get the low frequency that a subwoofer generates without using a soundbar, but since the two go hand in hand, this could leave you needing clarification.
But let's make it simple for you: With the right connection, you can reach the subwoofer's low frequencies without a speaker system.
If you are wondering how to connect Samsung wireless subwoofer without soundbar, you are at the right place. You'll learn how to do that from this guide. To connect a subwoofer, you don't necessarily need a soundbar.
How to connect Samsung wireless subwoofer without soundbar
"How can I control my Samsung subwoofer without soundbar?" A question that brought you here. The final piece of a truly wireless sound system is a wireless subwoofer. If you use anything other than speakers with built-in subwoofers, it can give your media room energy that would otherwise be impossible. 
The type of connection you have for your sub, though, needs to be compatible with your setup and room layout.
Below are some methods to help you connect your Samsung subwoofer without a soundbar.
This method is a complex one, but you must give it a try. To convert the signals into formats compatible with your devices, those with A/V systems will need an A/V receiver. 
Before setting up the subwoofer, you must make a direct connection between the TV and A/V receiver. It would help if you connected the audio output of the TV to the input port of the A/V receiver. 

Next, locate the subwoofer port on the A/V receiver. Most A/V receivers feature ports explicitly designed for subwoofers. 

Once you've done that, use an HDMI cable to connect the subwoofer and the A/V receiver. You can now turn on all the devices after you're completed them.
Check Related: Best Soundbars Without Subwoofer
2. Use a Line Level RCA Converter
Use a line-level RCA converter if your subwoofer is powered (it has an audio input and amplifier electronics built-in). To accomplish this, you should take the following steps.
Check the subwoofer's specifications.
Understanding what you are working with is crucial before starting any form of connection with sound equipment. In this situation, you should look into both the receiver's and your subwoofer's connection options.
Features like audio inputs and outputs, power options, and so forth should be standard. To use this connection method, you must connect the converter's RCA (usually red and white) ends to the subwoofer's RCA input connector (typically one plug at the other end of the Y-cable).
If you intend to use this connection setup, ensure your equipment meets these requirements.
Get all the necessary tools.
The next step is to purchase all the tools you don't have. These include:
A line-level RCA converter. 

Subwoofer 

receiver.
Connect the line-level RCA converter to the receiver
Now that you have everything you need, you can start setting up the connection between the receiver and the line-level RCA converter.
You can be sure that both pieces of equipment should be secure since the speaker-level output will convert to a lower output.
The speaker-level inputs on your receiver will likely receive the dual end of the Y cable (red and white). You will have the Y-single cable's end left to connect to your subwoofer.
Connect the line-level RCA converter to the input jack on the subwoofer.
After connecting the line-level RCA converter to the receiver, you need to take the single end of the Y cable and attach it to your subwoofer. Assuming there is a spot for the single RCA input connection to be established, this should be easy.
Making sure that the audio coming from the speaker input options is at an appropriate volume that the subwoofer can handle is what the line-level RCA converter does. This enables the equipment to receive the low-level signal safely.
It is best to perform a performance test after connecting the two pieces of equipment rather than start blasting music or audio immediately. 
3. Use a Low-Pass Crossover
You can use a low-pass crossover to connect the subwoofer to the receiver without speakers if you use a non-powered subwoofer (one without amplifier electronics and an inbuilt RCA jack).
A non-powered subwoofer is less common; you might not have this problem. Knowing what to do is crucial because these subwoofer enclosures are more popular than you might imagine.
Make sure to stick to these instructions to use a low-pass crossover to connect your non-powered subwoofer to a receiver without speakers:
And again, you must be familiar with the device you are working with. The only subwoofer type with which you can use this connection method is a non-powered subwoofer. You may use a non-powered subwoofer inside an enclosure if your subwoofer lacks internal amplifier electronics.
Get all the necessary equipment.
Make sure you get a low-pass crossover once you are certain your subwoofer is non-powered. Once you have bought it, these should be clearly labeled and easy to attach to your receiver and subwoofer.
Connect the low-pass crossover
You can connect the audio cables from the receiver to the input options for the subwoofer through the established crossover by using one low-pass crossover when there is a single voice coil or two low-pass crossovers when there is a dual voice coil.
The subwoofer will receive the audio signal and be accurately transmitted to obtain the low-frequency sound that it will then play.
However, you won't be able to connect more speakers to the same receiver because this method cannot be used with their established connections.
Enjoy an established connection.
Once your receiver and subwoofer are connected, you can run a performance test and enjoy streaming your media afterward.
4. Using a Bluetooth Receiver
Yet another method to connect your wireless subwoofer via a receiver. However, both devices must support Bluetooth connections for this method to work.
Here are the steps:
In the Setup Menu, go to Audio Output and select 'Bluetooth' for audio output.

Via an HDMI port, connect the receiver to the TV.

Add the subwoofer to the receiver.

Through the antenna of the subwoofer, connect the receiver and the subwoofer.

The receiver should identify the location and name of the subwoofer.
You might face some sound-related issues after trying the methods mentioned above. If that is the case, try buying a soundbar and using a subwoofer with that– the most recommended way.
The Importance of Placement for Wireless Subwoofers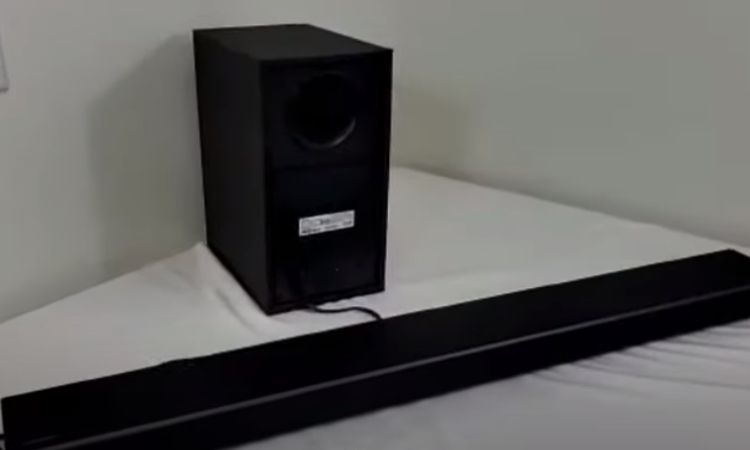 One crucial factor one must remember when using a subwoofer is its placement. The performance of even a premium subwoofer will be subpar if you don't place it in the right spot.
We strongly recommend the following three places for subwoofer placement:
In the corner, but allow it some space to breathe. The best location for your subwoofer is in the corner. However, you need to provide enough room for breathing. Remember that a subwoofer is a nondirectional, low-frequency speaker and will function poorly if crowded. Therefore, ensure at least 8 inches of gap between your sub and the wall.

Close to the room's center but far enough away from the walls. From the door to the adjacent wall, estimate the size of your room. Use that size, minus one-third, as the distance between your subwoofer and the wall.

Where you should place your subwoofer depends on the space. Suppose you set your subwoofer exactly where your chair is and then play a familiar sound. Place the subwoofer exactly where you can hear the best sound after finding that spot.
Why Your Samsung Subwoofer Won't Connect to the Soundbar?
If you're having trouble connecting your Samsung subwoofer to your speaker, there are several things that could be wrong. Here are some of the many common reasons:
Bluetooth Connection:
If you want to connect your subwoofer to your speaker wirelessly through Bluetooth, make sure both devices are in pairing mode and within range. Also, make sure your speaker is set to "Bluetooth" mode.
Power Issues:
Check that the subwoofer and soundbar you're using are both turned on and properly connected. If one of the devices doesn't have power, it won't be able to connect to the other.
updating the firmware
Check to see if your subwoofer and soundbar have any available changes. Sometimes, an update can fix a problem with the connection.
Interference:
Wireless signals, such as Bluetooth, are at risk of interference from other devices in the range. Make sure there are no other devices nearby that could be blocking the signal.
Hardware Problems:
If none of the above fixes work, your subwoofer or soundbar might have a physical problem. Contact the device's maker for help, or think about getting the device repaired.
Compatibility:
Check to see that the subwoofer you have and the soundbar you have can work together. Check the user guide or call the company to make sure they are compatible.
Advantages of Using Wireless Subwoofers
Getting rid of the connection cables is one of many advantages you will get from wireless subwoofers. But it can do much more than free your media room of extra connecting wires. The benefits of using a wireless subwoofer are as follows:
It can remove the hard performance cap on your subwoofer. A physical connection may reduce the performance of a high-end subwoofer since wires can only support some of the frequencies necessary for a subwoofer to work within its entire range.

It enables you to create a more sophisticated sound system. The number of connections you can make to a wired subwoofer will depend on how many slots your amplifier has. However, wireless allows you to create a more dynamic sound system with multiple speakers and subwoofers working together.

Installing and configuring it is less expensive. The expense of using wires for connectivity increases as your media room grows. In addition, trying to run the cables through the wall will cost more. As long as the wireless subwoofer stays within the range of reliable transmission, none will be a problem.

Upgrading any part of your sound system is simpler. Every speaker you own might use the same wireless connection if you use a wireless subwoofer. You may add a speaker and still connect it to your transmitter or amplifier without any hassles, making it simpler to update any part of your sound system.

When configuring your subwoofer, you don't have to be technically brilliant. Today's wireless subwoofers may easily connect to other devices without any issues. Because of this, you avoid dealing with the complexity of knowing which connector belongs in which slot.
When your TV and subwoofer already have a reliable direct connection, connecting a subwoofer is a relatively easy task.
Remember that if the sound is still muted or broken, there can be a placement issue. Find the best location where the sound is clear, and the bass waves aren't clashing with one another. 
Don't worry; whether it's in the center of the room or next to the TV, you'll eventually find the ideal spot for the subwoofer.
We demonstrated many ways to connect a Samsung wireless subwoofer without a soundbar. You might have some issues, so it would be best to use a soundbar.