In the past couple of years, the Internet of Things (IoT) has made getting a smart home setup easier and faster than it ever was in the past. Today, you can enjoy the ease of remote locking and unlocking the front door or backdoor, turning up and down the thermostat, lights, and lawnmowers. Some pet feeders can also be controlled via a smartphone app.
IoT has made it relatively simple and, most of all, affordable for homeowners to monitor their homes from anywhere. Plus, the systems are now highly customizable, and there are DIY kits with instructions for those who want to get involved. However, there will always be a market for a full-blown setup that includes professional monitoring services and installation.
Depending on what homeowners need, they can purchase a system that the owner can monitor themselves or pay for a monitoring subscription. In the latter case, a team of professionals surveils the home 24/7. The pros will also contact the fire department or police if an alarm is triggered.
There is also an on-demand monitoring service for people away on vacation. We often advise that people get as much coverage as possible, but that also means they will pay more. While the smart home security system has certainly become cheaper, it is still expensive. However, based on our experience, the most expensive home security systems aren't necessarily the best.
If you aren't ready for a dedicated security system just yet, there are plenty of options that will allow you to monitor the home from anywhere via a tablet or phone. These systems will include indoor and security cameras outdoors, motion sensors, video doorbells, smart locks, etc.
Click the link to learn more about our Security Camera Installation Services in Atlanta!
#1 Vivint Smart Home - A Professionally Installed System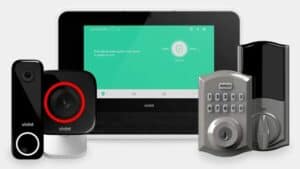 Why Choose Vivint Smart Home?
Vivint has taken the top spot in our Best Home Security System rankings because it is mainly customizable, with an array of wireless smart home devices. You can also leave the installation to the company's professionals. In our experience, they do an excellent job setting up the system.
Highly Intensive Multi-Step Process
Vivint uses a highly complex multi-step process that is a lot more intensive than some of the other services we've reviewed. It will start with a phone consultation with one of the company's professionals, who will work with you to customize the right system. This system will include various security features and smart-home options like a thermostat and lighting. They may also recommend installing multiple outdoor security cameras depending on how much ground needs to be covered.
Once you choose the equipment, a company will schedule an installation; the cost is included in your quoted price. Vivint also has wall-mounted hubs, which is another excellent feature. Buyers also have the option to host smart devices on a single platform. In addition, they have outdoor cameras with night vision of up to 55 feet, which is far superior to many others we've reviewed in recent years.
Other noteworthy features of the Vivint system include siren activation, which will scare off intruders. In addition, they offer one of the best Wireless Home Security systems, with various advantages such as shutting off the HVAC system and signaling the main hub if there is carbon monoxide or other types of smoke.
Who Is Vivint Home Security Systems For?
We'd say it is ideally suited to a homeowner or person who prefers to have a professionally installed system backed by excellent support and customization options. While the company offers some of the more expensive packages compared to the industry norm, that's because the prices they quote include professional installation.
Now, a Vivint system may not be for you if you are a price-sensitive homeowner. Plus, Vivint will require you to consult with them over the phone to determine a price and compare all the available systems. While we take this consultation as a plus, some people may see it as a time-consuming exercise.
Vivint also isn't for people who want to install a DIY system or who want a system that does not come with the price of a subscription.
Plans and Equipment
Vivint has a minimum equipment purchase requirement. As of this writing, it is $599.99. However, the company also has a financing option subject to approval from all third-party financing partners. In our experience, this will require that you have good credit at the very least to get approved for financing.
The installation fees will generally range from $49 to $199, with monitoring at $19.99 a month. It is worth noting that prices for equipment beyond the basics are based on how they are customized. That means the more you add to the equipment list, the more you can expect to pay. We think that consultation is an integral part of the process for this very reason.
Included touchscreen and app controls
Professional installation
Various customizable smart packages
Excellent customer service
It isn't DIY friendly
The subscription will require live monitoring
Costs relatively more than some of the alternatives on this list
Vivint Smart Home is amongst the best professionally installed smart security system for homeowners regardless of the size or type of their homes. However, you'll need to make a few commitments like monthly monitoring. The upside is that it frees you from having to actively monitor your own home, which can be a pain if you're out on a business trip or tend to be away from home for most of the day.
#

2 Cove Security – The Best Choice for DIYers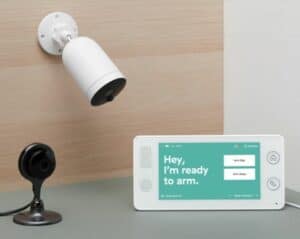 An easy-to-install security system. It is the best home security system for anyone looking for one they can install themselves while still guaranteeing excellent monitoring features.
Who Is Cove Security For?
Cove Security is among the best DIY systems, thanks to being affordable and easy to install. It is the perfect system (or as close as it can get) for anyone who wants to install their own security system. It has an easy-to-follow set of instructions in video format and excellent after-sales support.
While it is for people with relatively small homes because they can take the time and put in the effort to install the security system themselves with relative ease, it isn't for large homes or businesses. Most people may not be able to cover the majority of areas inside or outside their home without blind spots if it is a large home, and that's where nothing beats a professional installation.
Also, Cove isn't for those who want to have a self-monitoring option, and its list of products is comparatively less robust than that of the competition. In other words, you will still pay a monthly fee. However, you're still saving on the price otherwise associated with most professional home security systems.
Plans and Equipment
Even though we think that the company's smart home security systems equipment selection is minimal, it is also very affordable. There are no service contracts associated with Cove Security, and you get a 60-day trial with your subscription.
Costs, as we mentioned earlier, will vary. A Touch Alarm Panel will set you back $249, while window and door sensors are $15 a pop. A carbon monoxide or smoke detector or alarm systems is $55. Indoor cameras are $99 a piece, and outdoor cameras are $199. These are similar prices to other DIY systems. You can also get a smart lock professionally installed that will work with the system.
Now, if you choose to install the system yourself or maybe pay a professional to do it, the system starts at $79. However, there are two monitoring tiers; the first is Basic which is $17.99 a month, then there is Plus, which is $27.99 a month. Both include professional monitoring, with the advantage of Plus being that you can access your home's camera footage and use the company's Smart Home integration. That said, there isn't a self-monitoring option with the service.
The outdoor units come with one outdoor camera and two doorbell cameras, all hooked up seamlessly via QR codes and a smartphone. As we mentioned earlier, it is straightforward to do.
A relatively affordable security system
DIY installation
Does not require professional installation
Comes with a set of wireless cameras
Does not have a self-monitoring option
While Cove's system is one of the best for DIY enthusiasts, it does not include self-monitoring, which may turn some homeowners off. However, it isn't a deal breaker. We always recommend having professional monitoring because nobody in their right mind can actively monitor their own homes 24/7.
While DIY home security systems are a dime a dozen, the equipment and service Cove provides is way ahead of others we've seen or reviewed recently.
#

3 Front Point – Best Customer Support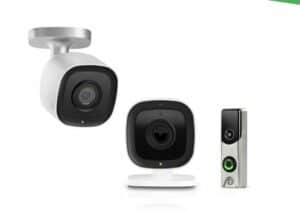 Front Point has one of the best wireless home security systems available today. It comes with indoor and outdoor cameras, as well as the ease associated with DIY installation.
Who Is Front Point For?
Front Point offers an excellent DIY security system, which is ideally suited to renters. The system is often touted as the best Wireless Home Security System and a perfect choice for renters. The convenient DIY installation comes with complete step-by-step instructions that correspond to how everything is packaged. Every package is well labeled and comes with a step number associated with it. In addition, the system also comes with a Step Wizard app that people can follow along.
Since everything is wireless, each item can just as easily be removed and taken to a new location where it is set up. Everything from the motion sensors to the cameras, everything can be removed and installed in a new home in under an hour.
A smart home automation system allows homeowners to turn on items like their lights using an app on their smartphone. They can also turn on and off the heat or their air conditioning. Frontpoint also partners with industry leaders Alarm.com, the same company that provides Brinks Home Security, in addition to a few other independent professional installers that rely on the brand for pro-grade hardware. The hardware can be purchased as kits or individually.
Frontpoint also comes with a 3-year warranty across all devices, which is one of the longest warranties we've seen in the industry. In addition, it offers complete cellular alarm coverage and a monthly monitoring contract.
Plans and Equipment
The cheapest kit homeowners can buy called The Safehouse, which is $392.40 and comes with a keypad and hub. The keypad is for two doors along with motion sensor(s), a camera doorbell, and a home defense kit. Plus, it includes professional monitoring.
It is possible to buy the equipment individually, which will cost less. However, the most expensive system is called The Fortress, for $797.88. The kit includes everything plus four-door and window sensors, adding up to a total of six and additional motion sensors. Plus, there is an indoor smoke sensor, heat sensor, a doorbell camera, and indoor cameras.
Frontpoint is one of the leading brands in the industry when it comes to home surveillance systems. However, the drawback is that it does not come with an outdoor camera; it can be added to the kit for an additional $140. The camera can be connected wirelessly via Wi-Fi but excludes a rechargeable battery like the one you find from devices by SimpliSafe and Cove.
A large selection of surveillance devices
Monthly contract
Complete cellular alarm coverage
Voice control
Excellent customer service
Pricey monitoring charges
It does not support Apple HomeKit
No self-monitoring built-in
As mentioned earlier, Frontpoint will almost certainly appeal to DIYers who need a wireless system that is both comparatively affordable and easy to install. It also includes easy integration into a flexible base kit and compatibility with the sensors sold in the kit.
However, Frontpoint isn't for people who want a self-monitoring home security system or are looking for a super low-priced option. The company offers professional monitoring, which means paying monthly for it. Plus, Frontpoint isn't compatible with Apple's HomeKit, which may be a downside for some people and is worth considering if it matters to you.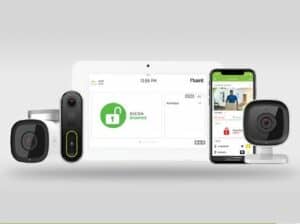 Fluent Home Security is best known for offering flexible home security packages, professional monitoring, and the possibility of some hands-on setup for those interested in it.
Who Is Fluent Home Security For? 
Fluent Home security has been operating since 2010, and while it is a Canada-based security systems provider, they also operate in the US. The company offers flexible packages ranging from those with essential security equipment to ones offering advanced home automation meant to meet varying needs.
Customers can add devices like sensors to their windows and doors. In addition, outdoor cameras and automated thermostats can be added to the kit. All systems are professionally installed and offer 24/7 professional monitoring ensuring that homeowners have peace of mind knowing that their home or property is safe.
The state-of-the-art technology is highly customizable, along with power and security management services. However, homeowners can add home automation and various other features for an additional fee.
Highly Customizable
Fluent Home Security does not come with a pre-built package(s). That means homeowners need to customize a security solution that best fits their needs. This means that you only pay for the security equipment that's required and consequently chosen. While this means that you may pay less or more depending on what you choose, you're not missing out on any features.
The standard features offered include 24/7/365 day monitoring for theft and vandalism. Plus, owners receive email notifications and text messages, in addition to the ability to a customized eight-point system.
The accompanying touchscreen is easy to use, and the control panel is self-explanatory. However, you also get remote access and mobile access to it.
A few other optional features offered by Fluent are flood sensors (if you live in that part of the continent), freeze detection, carbon monoxide monitoring, light control, personal medical devices, automated door locking, lights, and HVAC control. You can also pair the system with a motion detector and entry sensors for an added layer of security.
Users can access a 24/7 live video feed directly via the doorbell camera or a security camera installed inside. However, this will need to be added to the kit when customizing your system.
Remote Access
Remote access is provided via Alarm.com's app. Once the app is installed, you can monitor things remotely and control just about everything inside your home via a singular interface in real-time. Take, for instance, if you want to access the home security system from halfway across the world, you can do this thanks to Fluent Home's system. 
In addition to access, users also receive real-time alerts. Plus, they can be scheduled to arm and disarm as needed. The company also prides itself on excellent customer service, which we tested and found to be exactly as advertised. So, if you're having issues, there is always someone to speak with and get it resolved.
Mobile Apps
Fluent Security has apps for iPhone and Android devices. The apps come with geolocation services and are compatible with Z-Wave, Google Home or Google Assistant, and Alexa. 
Additional features include viewing real-time video, adding unique codes, electronic door locking, appliance, lighting, and HVAC control. Plus, using the mobile app, users can pull a history log.
Home automation features
Excellent warranty period
Email and text notifications
Automate additional devices
Customize equipment and your plans
The home security system will have to be professionally installed
No self-monitoring
When it comes to home security systems, Fluent is amongst the best available. While the packages are a little pricey, they offer excellent value for money with a laundry list of features. The app is easy to use, and the system, in our experience, is highly reliable. Plus, if needed, you have the peace of mind knowing that customer support is just a call away. A feature that's invaluable when you need help right away.
How to Choose the Best Security System For Home?
Many homeowners assume they must pay big bucks to get the best home security systems installed. However, that's not the case. While traditional home security services will require extended contracts and professional installation, most DIY systems are relatively affordable, quick, and easy to install. Plus, you can hook up a monitoring plan when you want it.
Ideally, you will want to choose a security system that offers the following features:
Professional monitoring option – While some systems may not require a monitoring subscription, it is always good to buy one that includes the service so that you don't have to be on call 24/7.
Security Cameras – Overall, cameras will enhance any system's effectiveness. Make sure that your subscription includes storing video recordings.
Accessories – Many systems come with extensive customization options. Add-on sensors detect water, carbon monoxide, extreme temperature fluctuations, and smoke.
Regulation – To ensure that you don't need to deal with as many false alarms, some cities will require permits and various other provisions to install a security system.
Choosing a home security system isn't as cut and dry as some assume. You will want to make the following determination to select the right one:
How much security do you need? – The factors you will want to consider are the local crime rate, the size of your home, the area you want to be protected, and if you need security at night or during the day.
Your budget – It must be said that an alarm system today has become comparatively cheaper than a decade ago, and the technology has undoubtedly improved. But they are still relatively expensive, especially if you have a mega system. Plus, you will want to factor in monthly monitoring charges. So, the rule of thumb here is don't buy more protection than you think is needed.
DIY or hire a professional to install the system? – If you are technically inclined and have a few hours to install sensors, cameras, and other smart home devices, then this may be something you'll want to undertake. However, you also need to be able to design an effective security system, knowing where to place specific components for the best effect or the most coverage in this case. If your skills tick all these boxes, consider a DIY installation because it will save you money.
Consult with the company's experts. – If you choose a professional installation, you'll also want to schedule a visit by an expert from the security company. The expert will then design a system and provide you with an estimate. Keep in mind that additional features like installing a glass break sensor, for instance, will add to the overall cost of the system.
DIY Home Security Versus Pro Installation
When buying a home security system, you have two options, i.e., purchase one that needs to be professionally installed or one that you can do yourself. As mentioned earlier, knowing which is right for you will depend on how comfortable you are with these things. While it isn't immensely complex, it does take some time to install most systems. It also helps if you know how every component in the system works.
Companies like Vivint sell systems that are professionally installed. These companies will often charge around a hundred dollars to evaluate your needs. Usually, that means their technicians are walking around and inside your property, noting areas that need to be covered. The professionals will then provide you with a list of cameras, sensors, and other stuff you'll need to buy and where they need to be placed.
It is worth keeping in mind that items like motion detectors and cameras need to be strategically placed for them to be effective. That's why professional installation services are worth considering.
A professional installation is the best solution for most people because it eliminates any guesswork associated with the process. This means saving time depending on the system you choose. However, the downside to a professionally installed system is that a long-term contract is often associated with the service, coupled with monthly fees. Over time these can add up.
The second option is to install a DIY home security system like the type offered by Frontpoint. The DIY option will only require time to set up but will still require you to pay an activation fee. Most of the latest systems are wire-free, and everything is plug and play, which speeds up the installation time.
The advantage of DIY systems is that they don't require that homeowners sign a long-term contract with the company. Most can pay as they go each month. It is because of these advantages that the popularity of these DIY systems is growing and is expected to hit over $11 billion in 2027. However, you'll still need a professional monitoring service.
The primary disadvantage is that these home security systems need to have their sensors placed effectively, which only experts have the experience needed to do effectively. Though the upside is that DIY systems come with a complete set of instructions, including setup videos, which make the hardware relatively easy to set up, even for relative beginners.
Choosing a home security system isn't just a good idea if you live in a relatively high crime area but also works great as a deterrent. Thieves and vandals are far less likely to target a home with a home security system installed. So, even if you live in a relatively safe area, installing a security system is worth considering. Plus, a professionally monitored system is far superior to DIY monitoring. After all, you can't monitor your own home 24/7.
Do You Need a home security system?

It is estimated that there is a burglary every 30 seconds in the US. The average loss is around $3k. Interestingly, most break-ins occur during the day when homeowners are out for work. However, the rise in home security systems has helped decrease the rate of home invasions. Thanks to smarter, more intuitive security systems, and the fast-dropping prices of these systems, it is something that most homeowners are adopting, which should help reduce crime rates further. Plus, many systems are also compatible with third-party devices, which is perfect for homeowners that may have some hardware like wireless cameras already installed.

How did we determine which companies to recommend in this list?

We analyzed several thousand customer reviews across home security companies to determine the top contenders. We've also interviewed many customers and determined trustworthiness based on their feedback. Plus, we've done testing to validate some of the claims made by these companies. In addition, our team has run comparisons with these companies to other home security systems.

What features are essential?

Many home security companies will offer products with varying features; some can be more complex and hard to understand. However, there are a few basics that every system you consider should cover, such as:

·      Should have backup power for outages.

·      Have a smartphone or tablet app.

·      Have wired and wireless options or features.

·      At least have professional monitoring but also include self-monitoring.

·      Modern devices should have Alexa and Google Assistant integrated.

 

·      Use the latest high-tech and high-resolution cameras that can see in the dark.

·      Include video doorbells.

·      Ensure that surveillance footage can be stored and can be reviewed.