When looking for a budget-friendly soundbar, you want a model that generates high-quality sound without costing too much.
Dealing with paper-thin TV speakers with mediocre sound can frustrate you when you put on your favorite movie– the struggle is real. The soundbar is the answer if you want to build a cheap home theatre and want sound equipment that can play music and movies well.
Many excellent alternative options on the TV soundbar market cost half, and in some cases, a third, of what some premium ones cost. We've compiled a list of Best soundbar under 100 and rated them according to their features and sound quality.
1. Roku Streambar Soundbar (best overall)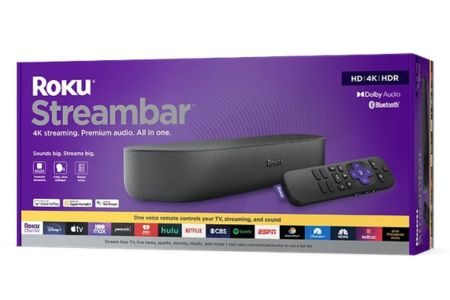 Brand: Roku| Model Name: 9102R| Speaker Type: HDMI, USB 2.0| Connectivity Technology: Bluetooth, Wi-Fi, USB, HDMI| Compatible Devices: iPhone, Andriod, Samsung, Smart Phone| Streaming: Netflix| Dimension: 14″L x 4.2″W x 2.4″H| Number of channels: 2.0
The Streambar is super easy to install and easy to use. If you are looking for a quick, easy, decent-sounding soundbar that fits in a small space and gives you streaming capabilities, this little bar is great for the price.
The midrange is fantastic and is quite clear over all of the noises. Additionally, given its size, it has decent bass– perfect audio quality if you live in an apartment. Although it won't sound as good as a surround sound system with a subwoofer, it matches most higher-end soundbars. It unquestionably surpasses the quality and power of standard TV speakers. 
Most of the small bar is made of plastic. The sides and front, however, are wrapped in fabric. The bar's compact size allows it to fit into most present setups easily and between the legs of a 55-inch TV stand, and because of its small height, it doesn't block your TV's screen.
The bar is well-built. The front and sides of the bar are wrapped in a tight fabric, making it feel like it won't readily rip. Its top and back sides are made of dense, firm plastic. Nevertheless, the cloth may continue to collect dust and dirt. The soundbar has rubber on the bottom, which is a great touch.
Most music and TV shows with a lot of vocal content are perfect for this 2.0 setup. Thanks to its well-balanced frequency response, you get a clear and accurate representation of these sounds.
In my experience, You don't get a lot of rumble in the low-bass, either, as with most standalone bars, but you can always add a separate sub to improve its bass reproduction. You get a more balanced sound with a little thump in the bass range when you set the bass to "8," bringing bass-heavy genres like EDM and hip-hop to life.
Because of its small size, this soundbar won't be loud enough for a large or packed room and won't get as loud as many other soundbars we've tested. Fortunately, it can still be heard in a living room of average size.
Some sound enhancement features are available on this soundbar. There are four EQ presets available: "Standard," "Dialogue," "Movie," "Music," and "Night." You can also turn the Volume Mode feature to "Off," "Leveling," or "Night Mode" to reduce the volume of loud ads. Additionally, there is an adjustable Speech Clarity option that lets you choose between "Off," "Low," and "High" to make voices more clear.
The Roku Streambar is perfect for most music and TV episodes with much stereo content. The bar reproduces the instruments in your favorite songs and the voices from sitcoms and podcasts. You don't feel the low-bass rumbling when listening to bass-heavy tunes as you do with most small standalone bars. It doesn't have the best surround sound and doesn't support Atmos, either.
Read Also: Best Soundbars Without Subwoofer
"The Roku Streambar immediately impresses with its compact and stylish design. It effortlessly blends into any home entertainment setup. The build quality feels robust, and it's clear that Roku put thought into the aesthetics and durability. It's the perfect companion for your TV, whether it's mounted on the wall or sitting on a TV stand."
"In terms of performance, the Roku Streambar doesn't disappoint. It offers seamless streaming with quick loading times and smooth playback. The 4K HDR support ensures you get the best picture quality possible, and you can expect minimal buffering, even during peak streaming hours. Audio performance is equally impressive, creating an immersive viewing experience."
Bluetooth, AirPlay 2, and Wi-Fi compatible.

Four EQ presets available. Well-built

Easy to install and use

Sound enhancement features

Good stereo response
No room correction.

Doesn't get very loud.
2. PHEANOO 2.1 P15 Sound Bar (best quality soundbar under 100)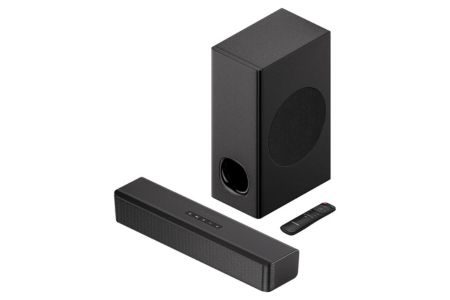 Brand: PHEANOO| Speaker Type: Soundbar| Connectivity Technology: Bluetooth version: 5.0 / HDMI ARC (Audio Return Channel) / Optical in / AUX in| Recommended Uses For Product:  For Televisions| Streaming: Bluetooth| Dimension: 3.8 x 16 x 2.9 inches| Number of channels: 2.1
If you want to spend as little money as possible and replace your TV speakers, the PHEANOO 2.1 P15 Sound Bar is the right choice. These speakers get very loud to fill any living room comfortably.
In our testing, the soundbar can decode Dolby Digital audio for a cinematic standard surround sound experience. The inbuilt subwoofer further enhances the cinematic experience. The 2.1 configuration enables a powerful bass, supporting the soundbar's robust delivery.
Although not of the highest quality, construction materials like plastics are sufficient for enclosures. The materials' physical construction is also top-notch. PHEANOO's materials are less high-end than those used in products like a Samsung Soundbar as its price range is substantially lower.
The surface materials are moderately high-end; what's within is what matters. The speakers are on par in terms of sound and feel, with competitors who charge significantly more.
Whereas a subwoofer is not a powered device, it nonetheless makes it possible to hear the low end rather clearly compared to tinny TV speakers; if you're looking for ear-shattering, wall-rattling bass, this soundbar is not for you. This unit performs admirably in a 200-square-foot bedroom.
The sound signature of this tiny soundbar is fantastic and better than that of default TV speakers. Depending on how loud you usually listen, it doesn't have the strongest "room filling sound." However, it is fine filling most moderately sized living rooms or bedrooms.
It produces Dolby home theater sound and is loud. In my opinion, the subwoofer delivers a deep, robust base if the user presses the main center button's left side. Overall, this will be an adequate sound system if you're on a tight budget and own or rent a condo with a modest living room.
As a result of our PHEANOO Soundbar review, we recommend this item for purchase. For its size and affordability, this soundbar packs a powerful punch. This is for you if you want to upgrade your TV speakers or add more depth to your movies with a dedicated subwoofer.
"The audio is crisp, clear, and immersive. The adjustable bass allows you to fine-tune the audio to your liking, whether you're watching movies, gaming, or listening to music. Dialogue clarity is excellent, and the subwoofer adds that extra depth to action sequences and music beats."
"The included remote control is intuitive and easy to use. It allows you to adjust settings, switch inputs, and control the volume and bass effortlessly. However, some users might prefer a backlit remote for better visibility in low-light conditions."
Budget-friendly

Gets very loud

Powerful bass

In-built subwoofer

Easy to install
there is a delay before the sound comes through 

Remote batteries not included
3. TCL Roku TV Wireless Soundbar (best compact soundbar under 100)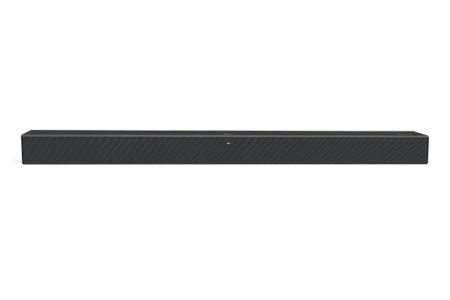 Brand: TCL| Model Name:TSR1-NA| Speaker Type: HDMI, USB 2.0| Connectivity Technology: Bluetooth, Wi-Fi| Compatible Devices: iPhone, Andriod, Samsung, Smart Phone| Streaming: Pandora, Roku TV, Spotify| Dimension: 3.9″D x 31.5″W x 2.5″H| Number of channels: 2.0
Although Roku is most known for its well-liked streaming devices, such as the outstanding Roku Express 4K Plus, it also powers speakers and TVs. To combine these two latter categories, TCL has created the Roku TV Wireless Soundbar. It sounds excellent compared to other soundbars in its price range, but being completely wireless is also one of its biggest drawbacks.
The soundbar is easy to use and makes your Roku TV sound much better; however, it has no physical connections. It is compact enough to fit below most standing TV screens. It also includes a mounting template and a step-by-step mounting guide so you can mount it correctly the first time.
Buy this soundbar if you have a Roku TV; else, it will not work. It also won't function when a Roku streamer is connected to a non-Roku TV. This device is designed explicitly for Roku TV owners.
With its faux-brushed finish and diamond-cut edges, the Wireless Soundbar has an elegant look. The soundbar is 31.5 inches wide and 2.5 inches tall and comes with a wall-mount kit. It has a 120-watt output but no built-in subwoofer, and it has EQ options like bass boost and night mode.
In our testing, You will need a separate subwoofer to produce the ultra-low frequencies that can cause walls to vibrate, but it does reach low enough to give the sense of thunder.
Despite its small size, the speaker is very loud; you won't need to turn the volume up over 40% in most listening settings. Despite its stereo design, which keeps the audio mostly centered around the TV, it can produce a wide sound field.
You don't need to juggle a second remote whenever you want to change the volume or sound settings. Use your current Roku TV remote to control the settings on the bar. Quick access to sound settings is available. Press the star button on your Roku TV remote to see your sound bar and Roku TV settings simultaneously.
In my opinion, TCL Roku TV Wireless automatically lowers the volume of loud commercials, turns up the volume of voices, and adjusts the sound for night listening so you don't wake the house.
With Bluetooth wireless technology, you can wirelessly stream your favorite music and podcasts from apps like TuneIn,Pandora, Spotify and more from your smartphone, tablet, or laptop. The soundbar's automatic software upgrades ensure that it continually improves and performs at its peak.
It's simple to adjust audio performance to match what you're watching, thanks to the specialized sound modes present in the soundbar. Also, there is a power cable connector and a reset button on the back of the soundbar.
TCL's wireless soundbar for Roku TVs, the Alto R1 is a decent and compact soundbar that is a good value for money. The soundbar adds powerful stereo sound to your compatible TV; even though the speaker doesn't support any surround sound standards.
Also, check our guide on the Best Soundbars with builtin subwoofers.
"The TCL Alto R1 is a 2.0 channel soundbar, which means it doesn't come with a separate subwoofer. Despite that, it delivers impressive audio clarity, especially for its size. The soundbar uses advanced audio processing technology to create a virtual surround sound experience."
"The TCL Alto R1 offers multiple connectivity options. It's equipped with both Bluetooth and Wi-Fi, making it easy to stream music from your smartphone or other devices. For Roku TV owners, it's a breeze to connect via Wi-Fi, ensuring seamless integration with your TV and remote."
Requires a Roku TV

TV needs to be on to use the speaker
4. VIZIO V-Series Stereo Soundbar (best pc soundbar under 100)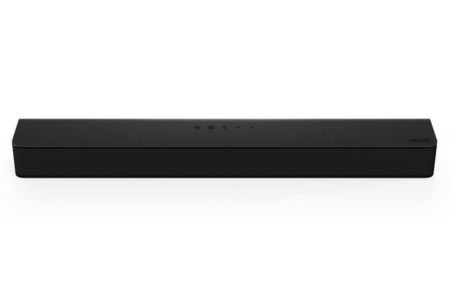 Brand: VIZIO| Model Name: V20-J8| Speaker Type: Surround| Connectivity Technology: Bluetooth| Special Feature:  Spotify Connect, Bluetooth, Remote Control, USB Playback, Voice Command| Streaming: Bluetooth Audio Streaming| Dimension:   24 x 2.3 x 3.2″| Number of channels: 2.0
VIZIO V-Series Stereo Soundbar is suitable for computer speakers, particularly for small quarters. Its size and sound are ideal for a small desktop setup. The sleek, low-profile design is right for small to medium-sized rooms and fits perfectly beneath smaller TVs.
Even on the lowest volume levels, the soundbar delivers superb, rich, and full bass. The treble could be better, but with the appropriate bass settings, it takes some getting used to.
The audio quality is excellent with rich stereo sound from the bar augmented by the subwoofer base. The "night" mode is fantastic. You can still hear everything, but it's not as deep (bass), so it won't wake everyone up.
One aspect that works well with an HDMI connection is the ease of setup. All you had to do is plug in the bar, and the Bluetooth and subwoofer were automatically connected. The remote is highly convenient, and switching between movie and music modes is simple.
With Dolby Audio and DTS Digital Surround working together to produce a realistic audio experience, you can enjoy excellent clarity and room-filling sound. In addition, DTS TruVolume technology is also installed.
With a comfortable grip and a fully featured remote, it's simple to adjust your audio for the best possible listening experience.
It's simple to stream music, podcasts, and other content from apps like Spotify, Pandora, and iHeartRadio, thanks to the built-in Bluetooth.
The HDMI ARC input allows you to effortlessly control the soundbar with the TV remote while also sending the highest-quality audio possible from your TV to the soundbar.
With the VIZIO V-Series Stereo Soundbar, you can enhance the audio on your display and benefit from Bluetooth wireless streaming. Your movies and TV shows will have a virtual 3D soundstage due to DTS Virtual:X sound technology. The soundbar has Bluetooth connectivity for connecting with compatible devices and wireless audio streaming.
"The VIZIO V20-J8 has Bluetooth, which makes it easy to stream music from your smartphone or tablet. It also supports voice assistants like Amazon Alexa and Google Assistant, allowing you to control it using voice commands. "
"One of the standout features of this soundbar is its affordability. Given its performance and features, it offers excellent value for money. It's a fantastic option for those looking to upgrade their TV's audio without splurging on a high-end sound system."
Bluetooth Built-In

Compact and Versatile Design

Easy to set up

HDMI connection
Challenging to put batteries in.
5. Vizio SB2020n-J6 (best budget)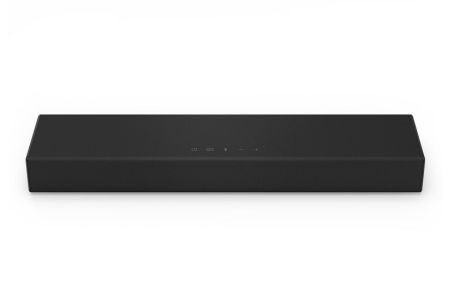 Brand: VIZIO| Model Name: SB2020n-J6| Speaker Type: Soundbar| Connectivity Technology: Bluetooth| Recommended Uses For Product:  For Surround Sound Systems, For Gaming Consoles, For Televisions, For Smartphones or Tablets| Streaming: Bluetooth| Dimension: 20 x 4.45 x 2.19 inches| Number of channels: 2.0
Even when there is a low rumble sound, like in 5.1 movies, the subwoofer with it is weak. However, the sound quality is good, and there is plenty of volume. Executing the "test" sound results in adequate sound from the soundbar but only a small amount of volume from the subwoofer, even with the subwoofer turned up.
Voices and lead instruments are accurately reproduced with this soundbar. Thus, it works well for most musical and television shows. However, because of the noticeable lack of bass, it's unsuitable for listening to music genres with many basses, such as hip-hop. 
There are a few features for sound enhancement available with the Vizio SB2020n-J6. You can adjust the sound's bass and treble levels as well as its EQ settings, which include presets for "Movie," "Music," "Game," and "Dialogue." You can adjust the volume and enhance the dialogue when watching TV at night. There is also a Night Mode feature.
Unfortunately, it doesn't have more high-end features like room correction, which means that depending on your room, it sounds a bit different. The Vizio soundbar doesn't get very loud. Although it works well in casual settings, it must produce more sound to fill ample space. 
In my own experienc, The bar's top has a few buttons that you can press to turn on or off, change the input, start Bluetooth pairing, and alter the volume. The remote is basic and allows you to switch inputs, modify the EQ presets, and adjust the bass and treble. But it has a slightly distinct style from its forerunner.
The auto-off feature on the Vizio SB2020n-J6 turns it off after a set period of inactivity. Additionally, with a compatible Vizio TV remote, there is limited support for HDMI CEC, allowing you to control some of the bar's most fundamental functions, such as power and volume.
The Vizio SB2020n-J6 performs poorly for watching movies but excels at providing the advantages of uncompressed PCM-formatted audio to listeners. The dialogue reproduction is pretty crisp, and you can use the DTS Virtual:X mode to widen the soundstage. However, it can't become very loud, and you can't hear the deep rumbling and thump in scenes with lots of action.
"One of the standout features of this soundbar is its audio quality. Despite its compact size and 2.0 channel setup, it delivers surprisingly immersive sound. With DTS Virtual:X technology, the SB2020n-J6 creates a three-dimensional soundstage that adds depth and richness to your audio."
"The SB2020n-J6 offers a range of connectivity options, including Bluetooth, which allows you to wirelessly stream music from your smartphone or other compatible devices. It also supports voice assistants like Amazon Alexa and Google Assistant, adding a layer of convenience to your smart home setup."
Bass and treble adjustments.

Small, compact design.
Audible distortion and compression.

Doesn't get loud.

Only supports PCM content.
6. XZJX Direct 2.1 Slim Sound Bar (best soundbar and subwoofer under 100)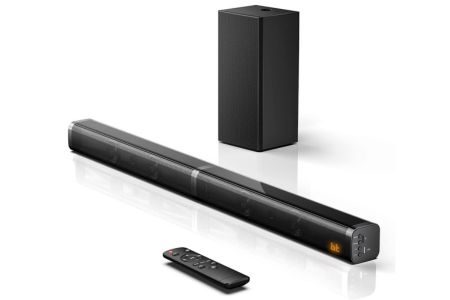 Type of mount: Full Motion | TV sizes: 26-55 inches | Max weight limit: 80 lbs |  Movement Type: Tilt, articulating | VESA patterns: 200*100- 400*400mm | Wall Type: wood studs | Cable Management: yes
XZJX Direct Sound Bar is a cost-effective slim soundbar. With an Ultra-slim design, 100W, four powerful full-range drivers deliver clear 3D sound; the soundbar has an extra 4″ wired subwoofer that pumps out ground-shaking bass for an autumn night, superior to any traditional soundbar.
In my experience, the sleek soundbar measures 32 inches and is split into two parts for simple and versatile placement. To combine two parts, turn counterclockwise. Split them by turning clockwise.
Th my opinion, ere are 5 EQ Modes: 5 smart modes (Game, Movie, Bass, Music, News ) to fine-tune your audio to match your favorite sound. The soundbar has a remote control that makes adjusting the input, mode, bass, and treble simple.
Allows different Bluetooth devices to connect–You may enjoy music from your mobile devices without restrictions due to simple wireless connections. Optical, AUX, TF Card, and USB input supported. Compatible with 4k & HD TV, Firestick, DVD player, and more.
With a 5.51L*4.88D*11.81H inch subwoofer having a 20W RMS steady frequency of 50Hz ultra-bass, you get stronger bass than 2.0 soundbars. The soundbar gets very loud that is suitable for small to medium-sized rooms with TVs up to 55 inches.
You can quickly and easily find the input mode, volume, and equalizer mode you set up with an LED display. A simple LED OFF button to switch off LED lights prevent unwanted annoyance.
The XZJX Direct Sound Bar's sound quality is rich and perfect for the front & bottom of the TV. The bass speaker adds that fullness that is missing in the TV speaker. Very easy to set up and reasonably priced. The sound bar is great for a little room equipped with a personal subwoofer producing incredibly deep bass, treble, and bass. It has a remote control that makes it simple to adjust different settings.
Separate subwoofer

Bluetooth connectivity

Five smart modes

Detachable and personalized design
It has Bluetooth connectivity issues.
7. Wohome S9960 (best hdmi soundbar under 100)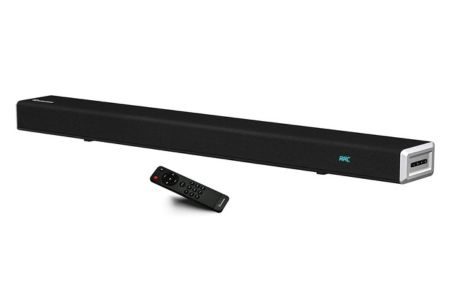 Brand: Wohome| Model Name: S9930-9960 Series| Speaker Type: 2.1 Channel| Connectivity Technology: RCA, Bluetooth, Auxiliary, USB, Optical, HDMI| Recommended Uses For Product:  For Televisions| Streaming: Bluetooth| Dimension: 32 x 4.3 x 3.2 inches (81.3 x 10.9 x 8.1 cm)| Number of channels: 2.1
Wohome S9920 is a 32-inch TV soundbar compatible with 32-inch and larger TVs. It has a built-in subwoofer that produces powerful bass and enhances home audio systems. A soundbar with a built-in 3″ sub-range speaker and bass reflex tube produces powerful bass without needing a separate subwoofer, saving money and space.
Either placed on your table or mounted on the wall, 32-Inch is suitable for TVs that are 40 inches or larger. Wohome S9920 has an ultra Slim Design-Classic black with an excellent design to adorn your interior.
Channel 2.1 soundbar uses 20 W full-range speakers and one 20 W sub-range speaker to create surround sound for your music, movies, and TV shows.
There are four different sound EQs: a music EQ, a movie EQ, a news EQ, and a default sound EQ. You can also adjust the bass and treble in the default sound option. Also, you can listen to wirelessly stream music from smartphones, tablets, PCs, CD players, and other Bluetooth-enabled devices.
The soundbar works with nearly all smart TVs and traditional TVs, Roku Streaming Stick and Fire TV Stick, and other brand cable boxes. With this soundbar, you may stream content from Netflix, Youtube, HBO, Prime Video, Disney Plus, Hulu, and other video apps.
Enjoy great sound after a few minutes of setup with the soundbar, which supports wired connections using HDMI-ARC, optical, RCA, and USB (RCA cable, optical cable, and quick setup instructions supplied).
Although it's an upgrade over most displays' built-in speakers, the Wohome S9960 isn't a giant killer. You should take this soundbar on its terms, but it's a great improvement over the built-in speakers on your TV. This sound bar won't be able to produce bass that shakes the room because it can't play that loud, but given its price, this device is pretty decent.
"The XZJX Direct Sound Bar offers a wide range of connectivity options, including optical, aux, and USB inputs. This versatility means you can connect it to your TV, gaming console, smartphone, or any other compatible device with ease."
"The XZJX Direct 2.1 Slim Sound Bar with Subwoofer is an impressive audio solution that delivers outstanding sound quality and versatility. Whether you're a movie buff, gamer, or music lover, this sound bar will elevate your audio experience to new heights."
Easy to set up

Well-built with a sleek design

Built-in subwoofer

Bluetooth connectivity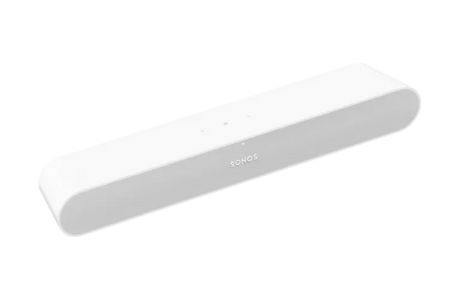 Brand: Sonos| Model Name: Sonos Ray| Speaker Type: Soundbar| Connectivity Technology: Wi-Fi| Sound Format Support: Dolby Digitalt, DTS| Streaming:Wi-Fi, Apple AirPlay 2, Spotify Connect and Tidal Connect.| Dimension: 22 x 2.8 x 3.7″| Number of channels: 2.0
The Sonos Ray soundbar is accessible for those who want better sound without caring about features like Dolby atmos or room-shaking bass. Sonos beam has a plastic finish that makes it look expensive and durable.
The Sonos Ray has a good audio frequency response. On compatible iOS devices, it has a feature called "Trueplay" that instantly improves the sound quality of the bar based on the acoustics of your room, just like the more expensive Sonos products.
The lack of bass is obvious, especially in hip-hop and EDM, which have a lot of bass. But the voices are great and clear if you usually watch TV shows with a lot of dialogue and not many basses.
The sound only comes from the speakers before you, so it's unrealistic. The sounds seem to be coming from only a few places. You can always add more speakers in the back if you want surround sound to be more clear and realistic.
The Sonos Ray has a number of buttons that work when you touch them. You can change the level and play or stop your music with them. The Sonos S2 app is needed to use the bar's extra features.
The Sonos Ray is good for watching and listening to television shows with much talk. When watching TV at night, there is a "night mode" choice and a "dialogue enhancement mod" to get the volume just right. But since it has a 2.0 setup, it needs a separate centre channel to make the conversation in the soundstage clearer and more realistic, like what you get with higher-end models.
"One of the standout features of the Sonos Ray Essential Soundbar is its versatility. It offers multiple connectivity options, including HDMI ARC, optical, and Bluetooth, making it compatible with a wide range of devices. Setting it up is a breeze, and it seamlessly integrates into your existing Sonos ecosystem if you have one."
"The Sonos Ray Essential Soundbar delivers an exceptional audio experience. Whether you're watching movies, listening to music, or gaming, this soundbar provides crystal-clear, immersive sound. The dialogue clarity is outstanding, ensuring you won't miss a word during movie night."
Compact bar with sturdy built

Budget-friendly

Easy to set up

Accurate vocal reproduction.

Dialogue enhancement.
When you are on a shoestring, you should not have higher expectations from a soundbar. But that doesn't mean you overlook some of the critical factors whether the budget is $100 or $1000–it's still an investment.
Below we have mentioned some factors which you should not compromise even at a low price of $100
1. Soundbar Design
A soundbar is a device that will be lying in your living room, gaining all the attention. So, even if you are not spending a thousand bucks, the soundbar must still look attractive with the durable build quality. 
Consider going with the one that matches your surroundings, and don't opt for the basic ones. The good news is with the given range, there are many options with sleek, stylish designs to choose from. Therefore choose wisely.
Are Soundbars Better With Subwoofer?
2. Easy Controlling
It makes sense that the soundbars under $100 won't have magic remotes or voice control assistants for quick setup, but they should still be simple to use for a smooth experience.
While using the soundbar, everything should be within reach. Most soundbars come with a convenient remote with a few buttons and require direct interaction with the soundbar to access advanced settings. 
So, choose the device that allows for simple control, whether it is for adjusting volume, setting EQ preset modes, or activating connections.
3. Audio Quality
Whether a soundbar costs a few dollars or many hundred, one thing it should not compromise is sound quality. The primary purpose of a soundbar is to deliver high-quality audio, so models, brands, or even price tags shouldn't matter.
Therefore, invest in a soundbar with many integrated speakers that can generate rich, detailed, and powerful sound. Most inexpensive soundbars have integrated woofer and speech enhancement features, which are a potent mix for streaming movies, podcasts, documentaries, and shows. While playing video games, the bass moves around with the action, creating a thrilling soundstage.
4. Decent Connections
To pair with other electronic devices, every soundbar must have adequate connectivity choices. Bluetooth and WiFi connections are the cherry on top, but optical digital, HDMI, or USB connections should be mandatory.
You will have fewer options to pair as many devices as you want because there are fewer connection options. So be mindful of that.
5. Placement options
When sitting on a stand, most bars have a low enough profile that won't obstruct your TV (or the TV's remote sensor), but always check the height to ensure. Ensure your bar includes keyhole slots or additional brackets if you want to wall-mount it.
Verdict
Finding a suitable soundbar can be challenging especially when you are low on budget. However, some cost-effective options let you choose the best soundbar without compromising the main features.
However, the models within these ranges lack some premium features, but they are a better option for your existing TV speakers. You can get these soundbars at a good deal with the list of best soundbars under 100 we provided above.
Even though these soundbars might not be top-notch, they will do an excellentof  job bringing joy to your room.
We hope this information will help you in your search!
Which soundbar is the best in 2023?

The Sonos Arc is the best all-in-one soundbar we've tried so far. It's a high-end 5.0.2 soundbar that can play many audio formats.

Is a budget soundbar worth it?

If you want a better audio experience, soundbars are worthwhile. You get a far better listening experience even with soundbars that cost about $100.