Let's face it; outdoor TVs are super expensive. Compared to the average TV price with similar features but designed for Indoor use, outdoor TVs are 3 times more expensive.
But are outdoor TVs worth the money?
Yes, outdoor TVs are worth the money due to built-in weatherproofing (IP55 rating) and protection from harsh outdoor conditions.  Regular Indoor TV cannot withstand certain outdoor conditions like moisture, wind and extreme temperatures. 
They also come with a waterproof certification. Furthermore, outdoor TVs have certain special design features that make them durable and give a better viewing experience.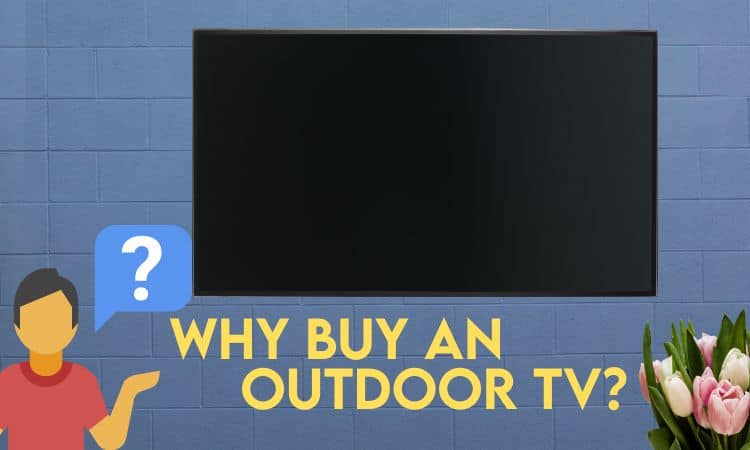 It's fun to binge-watch a new TV show on the deck, patio, or poolside of your home. Hosting outdoor parties and cooking alongside is a great idea to spend quality time with your family and friends in a calm outdoor environment.
For some reason, outdoor TVs have become immensely popular in the past few years. A large number of people were home-bound with COVID restrictions. So there is more emphasis on having an outdoor entertainment space than ever.
The outdoor TV is a great idea that immediately converts a boring chit-chat party into an entertaining movie night. You can spend quality time with family Watching long games on a bar b night with the family.
A dedicated outdoor TV can withstand outdoor temperature fluctuations as compared to an indoor TV. That doesn't mean you cannot bring an indoor TV outdoors, as it will damage the minute you'll bring it out.
But it's a real hassle to settle for an indoor TV outside each time. Even if we ignore this factor, indoor TVs cannot show a brighter image than outdoor TV can.
A living room TV is good if it has a display panel with peak brightness ranging from 300nits to 800nits with decent antiglare features.
But shopping for an outdoor TV that has to face direct sunlight must be twice as bright as the usual indoor TV. otherwise, you cannot watch TV screens properly in direct or indirect sunlight.
So it's worth all your money and time to buy an outdoor product that meets your expectations. As a matter of fact, a cheap indoor TV for outdoors serves the need but can't match the high-quality viewing experience of an outdoor TV.
We've done complete buying guide on best outdoor TVs, and here's are our top 4 picks. 
Table could not be displayed.
Distinctive Features of Outdoor TVs that Increase Their Price
If anyone still wondering why are outdoor TV so expensive, then they might want to know the distinctive features, which are only included in an indoor TV.
Design features that increase outdoor TV longevity are backed by immense research. It's not easy to make a TV that's resistant to heat and intense temperatures. 
Most indoor TVs are labeled with a range of temperatures. For most Samsung, Vizio, and Hisense TVs it's 60-90 F while some have as much as 102F. Above this range, the TV may need to be fixed.
While outdoor TV that mostly sits in direct sunlight has to face high heat levels, and have built fans that cool down the internal wires.
In the absence of any cooling system, internal components would destroy sooner than later. 
Similarly, low heat is equally bad for a TV's proper functionality and longevity.
Under the lowest temperature, the TV components shrink and may result in broken internal wires. Additionally, in the absence of any heat, extreme cold temperature condensation form inside the TV.
You may notice moisture in your TV screen. That will leave permanent spots on the TV screen. The damage is impossible to repair in most cases. 
Outdoor TVs by Samsung can withstand a -20 to 45-celsius temperature without any risk of damage. Most parts of the united states have freezing weather. Outdoor TVs might be expensive but perfectly handle extreme temperature conditions with a manufacturer's warranty.
Are outdoor TVs waterproof? Yes, The outdoor TVs have an IP55 waterproof rating for the safety of your outdoor TVs along the poolside. 
Usually, outdoor TVs face water splashes from the poolside or rainwater drops on the screen. The IP55 rating TV can stand low-pressure water coming from any side.
Thirdly, the outdoor TVs constantly face the wind and dust particles. The outdoor TV screens are resistant to snow and dust particles. 
So you are in safe hands if you are living in areas where you face windstorms more often. Because your outdoor TV screen won't damage by outdoor elements like dust and snow.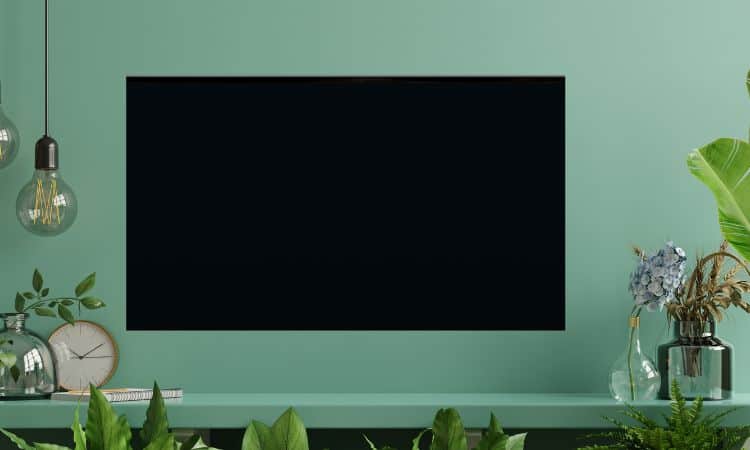 Essential Things to Setup a TV outdoor
It would be convenient to set up the outdoor TV close to the house in an outdoor space because that would be easy to set up Electrical cables with the outdoor TV. 
Most TVs have smart TV options. So in case you want to stream the shows on TV, a stable wifi connection is compulsory. 
If you set up the TV close to the house, you will be able to use the home wifi connection. Alternatively, you can use the antenna to boost the wifi signals if TV is mounted pretty far from the house.
Is the Cheapest Outdoor TV Worth the Money?
Cheap outdoor TVs have the same features that one can ask for in their ideal outdoor TVs. They have the same quality build and immersive picture quality as the expensive ones.
Sunnbrite outdoor tv, Element Roku TV, Aurora outdoor TV, and outdoor TVs are the best examples. If you are on a budget, these give the best value for your money. 
Element Roku TV and Aurora outdoor TVs are three times less expensive than their rival outdoor TV brands in the market. They serve the same function with a little change in the features.
Samsung, The Terrace TV, is a pretty expensive outdoor TV. It has great design features and builds quality. But it is far more expensive than the Element and Aurora TVs. A 55-inch size TV costs 3400$ at Walmart.
How Long Do Outdoor TVs Last?
It is best to take proper care of the TV if you want them to last longer, even if they are labeled to stand harsh weather conditions. It's best to mount the TV in partial shade for the longevity of its life. 
Because considering the price, it's not convenient to change a TV after a few years.
Using outdoor TVs with proper care in partially outdoor areas like a veranda can last longer than you expect. 
Generally, these TVs can last more than 5 years. If you take proper care of the outdoor TV, it can last up to 10 years.
There should not be any doubt about Are outdoor TVs worth the money?  Because if you dont want to see your hard-earned money wasted on an indoor TV mounted outdoors. Then you should buy an outdoor TV.
 It does not matter if it's cheap or expensive. It should have specific functions and outdoor environment compatibility to give you a hassle-free user experience.
Are outdoor TVs waterproof or water-resistant?

Outdoor TVs have an IP55 rating for being waterproof. So they can stand a low-pressure water stream from a nozzle. They are not waterproof, so you definitely can't throw them in the pool to test their water resistance because they are not water resistant.

Do you need an outdoor TV for the covered patio?

The outdoor patio has a high temperature than your indoor home environment. Rain splash can still fall upon it, and dust will likely damage the TV screen. So you need an outdoor TV on a covered patio with protective features against outdoor elements.

3- Do I really need an outdoor TV, or can I use a regular TV in my outdoor space?

While you can use a standard TV outdoors, outdoor TVs are designed for outdoor use, offering better durability and weather resistance.

4- What are the key differences between an outdoor TV and a regular indoor TV?

 Outdoor TVs are weatherproofed and designed to withstand the elements, ensuring they can be used safely outdoors, unlike regular indoor TVs.

5- Can an outdoor TV be used in an outdoor area without protection from the weather?

 Outdoor TVs are made for outdoor use with protection, so using them without shelter in extreme weather conditions could likely damage the TV.

6- Are expensive outdoor TVs worth the investment compared to mid-range options?

 The worth of an outdoor TV depends on your specific needs and budget. Expensive models may offer additional features and higher durability, but mid-range options can be a cost-effective choice for some.

7- What are some popular outdoor TV brands known for their durability and performance?

Some well-regarded outdoor TV brands include SunBrite, Samsung, and LG, offering various smart TV features and sizes for your outdoor entertainment needs.