Undoubtedly, electric fireplace TV stands are aesthetically appealing and can also keep the room warm. But, the big question is, are these units safe?
Yes! Electric fireplace TV stands are safe for your TV and home, and you can use one to give your living area a new life.
It is true that some electric fireplaces just simulate the fire display, while most of the preferable models produce real warmth, due to their supplement heating feature. Hence, this triggers an obvious safety concern among people!
There is a lot of confusion revolving around this thought. Therefore, this article answers all of your questions in association with the safety concerns of using electric fireplace TV stands.
Do Electric Fireplace TV Stands Use a Lot of Electricity?
It would be wrong to say that an electric fireplace consumes a lot of electricity. It is because, on a practical comparison, electric fireplaces consume nearly the same amount of electricity as an average room heater.
Most electric fireplaces run on standard 120 volts for powering the internal components. In the output, they draw around 1500 watts of power at 12.5 amps.
Moreover, you can also expect to minimize your overall energy consumption with an electric fireplace TV stand. It is because you will most likely install it in your living room, and with the electric fireplace working, you won't need any other heating sources around the area.
As a result, the heating responsibilities of the sole heater of your house will be reduced without deteriorating your comfort of living in cold winters.
Can an Electric Fireplace Ruin a TV?
Coming to the major concern of using an electric fireplace TV stand, does it ruin a television unit? The answer is No! It doesn't even come close to damaging your TV.
Understandably, people have a misconception that electric fireplaces will damage the functionality of their televisions. But, the heat generated from such fireplaces does not produce enough heat output to damage a television unit.
Moreover, television systems have fragile hardware that doesn't respond well to cold winter temperatures. An electric fireplace TV stand serves the purpose of keeping it warm to avoid any hardware damage.
Too much heat output can also damage the TV, which is a proven fact. But electric fireplace TV stands have arrangements to ensure it doesn't happen.
How Do I Protect My TV From Fireplace Heat?
Even though the specifications of an electric fireplace TV stand assure you of no damage to your entertainment center. But, you still need to be sure before setting up your television unit.
A quality flat-screen TV with a wide display and ample features isn't available at a low cost. You spend a fortune on a TV and a considerable amount on an electric fireplace TV stand.
So, to get a second assurance on the fact that your TV won't be ruined by the electric fireplace, here are a few ways how you can enhance its protection:
Take Care of the Fireplace's Ventilation
Implement a good ventilation system for your electric fireplace to ensure that the heat can escape from the system without being directed toward the TV bed.
Keep the Electric Fireplace Enclosed
The fireplace TV stand already has an enclosed structure to repel the maximum heat from reaching the TV bed. But you can also consult experts to add more safety layers to the separating section of the fireplace and TV bed.
The best way to be assured of repelling heat from the electric fireplace to the TV bed is installing a glass piece between the base of your TV and the fireplace.
Keep an Eye on the Temperature
While you set the temperature for your electric fireplace, keep a timely check on whether the TV bed is heating up to the point that it goes beyond touching. If that is the case, then reduce the temperature accordingly, or call in experts to check the construction of the TV stand.
Maintain Distance between Fireplace and Television
While buying an electric fireplace TV stand, ensure that the distance between the enclosed fireplace and the TV bed is at least 36 inches. This way, the possibility of heat traveling to the TV bed will be minimized.
Are All Fireplace TV stands Meant to Offer Actual Warmth?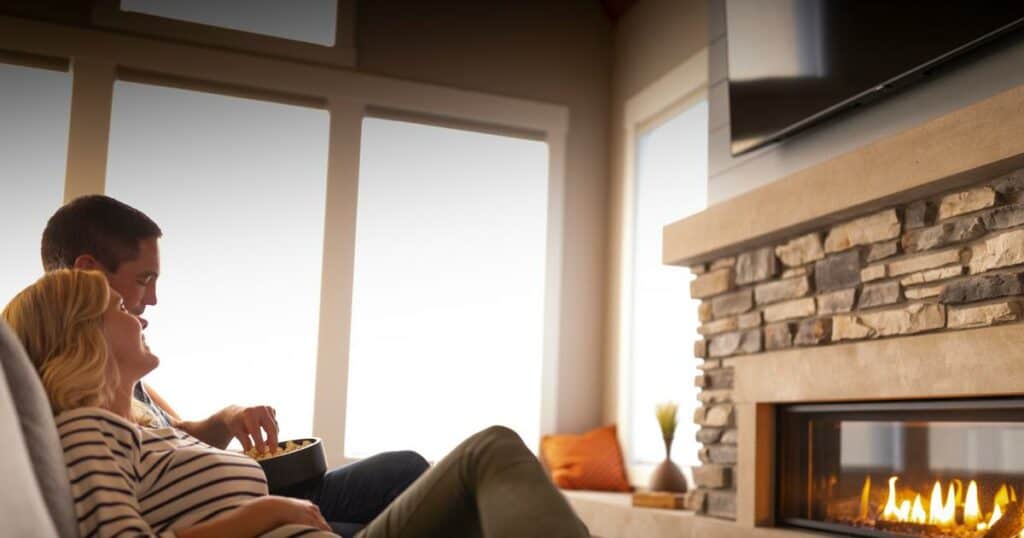 Most electric fireplace TV stands give off actual heat. But, there are a few models that showcase simulations of realistic flames but have no functionality of keeping the room warm.
Most people intend to buy electric fireplaces for their functionality. And they believe that the television unit would be the best fit right on top of it. We have already discussed that your TV is safe on these stands and how to protect it.
So, if you are convinced about buying a functional electric fireplace that can accommodate your television as well, check the models to see if they provide you with supplemental zone heating functions.
Do Electric Fireplaces Contribute To the Emission of Carbon Monoxide?
Now that you know that electric fireplaces can be safe for setting up your television, carbon monoxide emission is another factor that concerns most people inclined toward the environment and the health of their lungs.
It is also one of the major safety concerns, if not for the television unit, but the environment and self-health. So, to help you be free from guilt, you must know that electric fireplaces do not contribute to carbon monoxide emissions.
It is because, as there is no involvement of gas or wood-burning stoves in these fireplaces, it emits no smoke or pollution.
If you bring in an electric fireplace TV stand, you never have to stress about carbon monoxide hampering your lungs or the environment.
Where To Put The Electronics For a Television Over an Electric Fireplace?
The dedicated electric fireplace TV stands do have compartments for you to store the remote control, cable box, wires, CDs, hard drives, and others.
If you don't have such cabinets, you can arrange the necessary electronics on the mantle of your fireplace. Make sure you don't clutter the mantle with all the television-associated electronics but place only the important ones, such as cable boxes.
You can buy a small cabinet for beside the fireplace TV stand to store all the other electronics in it.
Conclusion
So, if you were in a dilemma of whether or not an electric fireplace TV stand is safe, this article has touched on all points of concern for you.
Now it is on you to decide whether you intend to buy a functional electric fireplace or just a simulating one. Both are safe for your television units in all ways!
FAQs
How Much Weight Can a Fireplace TV Stand Hold?
An electric fireplace TV stand, with optimal build quality, can withstand up to 180 lbs or nearly 82kgs. But, it can vary depending on the brand and the product quality.
Are Electric Fireplaces Safe to Leave On Overnight?
There might not be any safety hassle on leaving an electric fireplace running throughout the night. But, it is advised by the manufacturers to turn off the power supply while leaving home or going to bed. Leaving any electrical appliance unattended triggers some lethal risks, which one should never knowingly invite.
Are Electric Fireplace TV Stands Worth It?
Beyond aesthetics, electric fireplace TV stands ensure safety for your equipment and for the property as a whole. It is going to keep your living space warm, and will give you a good viewing angle from your couch to enjoy your favorite television shows. By all means, it is a worthy investment for you to count on!