TV mounting is an important part of your overall interior design. You can go for plenty of different options. 
Mounting your TV above the fireplace is a popular choice among many consumers. However, they are oftentimes unaware of the height at which they should mount the TV. 
Let us inform you of the things you need to consider when you mount your TV above the fireplace along with some additional tips. 
Quick summary
By the end of this guide, we will go through:
How high should you mount your TV above the fireplace?

Pros and cons of mounting a TV
Let's take a look at it.
Mounting your TV Above the Fireplace
As discussed above, many people prefer mounting their TVs above the fireplace because it is the center point of the room. However, they are unsure of the height at which they should place their TV. 
When mounting your TV, you have to consider many factors that ultimately have a profound effect on your experience. Here are some things you should keep in mind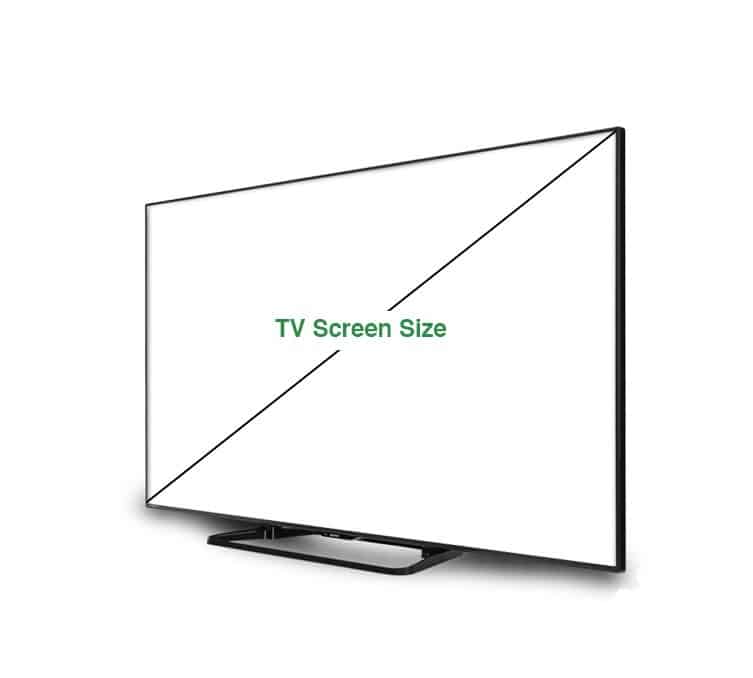 Screen size matters the most when it comes to viewing distance. You don't want to be so close that the image becomes too big and you don't want to be so far that it becomes too small.
The general rule is to view the screen from a distance that's at least 1.5 times the size of the screen. For example, a 65-inch screen should be viewed from a minimum distance of about 100 inches. 
The seats' distance from the TV is also a factor. For example, a distance of 9 feet between your TV and the seats is optimal for a 70-inch screen. The size of the mantle of your fireplace might also affect your decision as visuals may be affected. 
Determining the Height
Height is also important as you do not want to strain your neck by placing the TV too high. Normally, keeping the TV at eye level is the best option, but it is irrelevant when you are setting the TV above the fireplace. 
In this case, the height of the fireplace, as well as the size of the screen, comes into play. If your mantle is about 4 feet above the ground, then mount your TV at least 1 foot above the mantle. The same rule still applies if your fireplace does not have a mantle. 
If the mantle of your fireplace is more than 4 feet above the ground, then we recommend that you place the TV at least 6 inches above it. Remember, you are doing this for a comfortable viewing angle.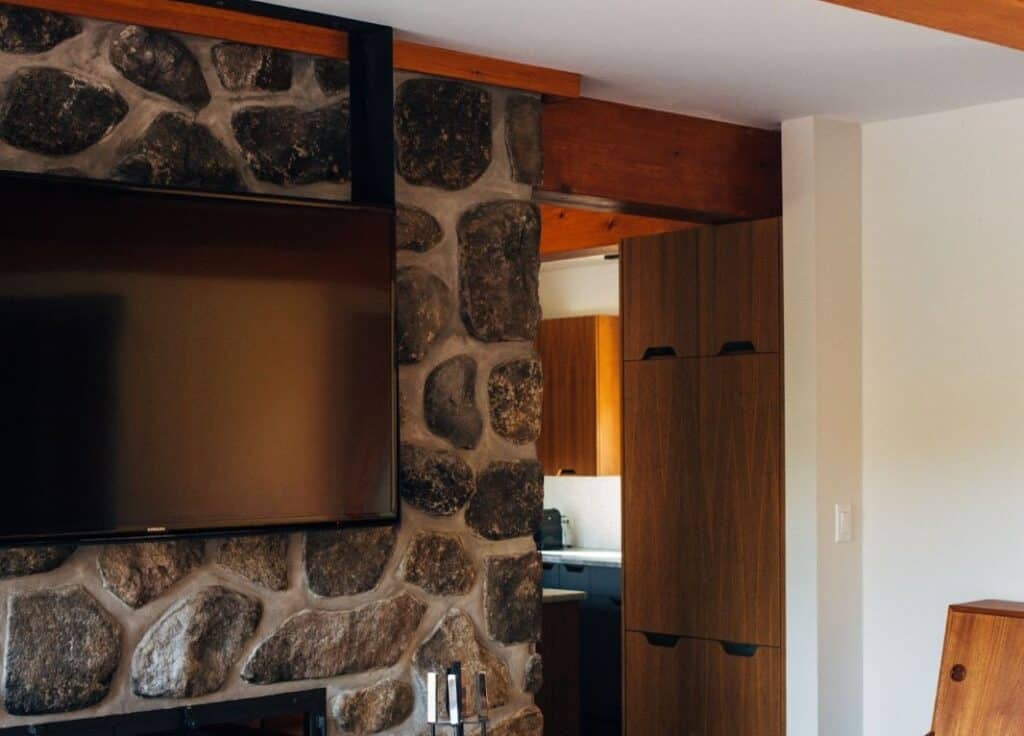 Identifying A Suitable Mount 
A good mount can help you with cable management as well as proper ventilation. We recommend that you get a flat mount. It will help the TV be fixed tightly with the wall or niche. 
For ventilation, we recommend that you fix the mount to a 2×4 piece of wood and then place the 2×4 to the chimney. But first, build a niche into the chimney. You can cut into the drywall. Then reframe it with 2×4 boards to create a 6×8-inch recession. 
This will help you flush your TV into the wall as well as prevent any heat damage generated by the fire.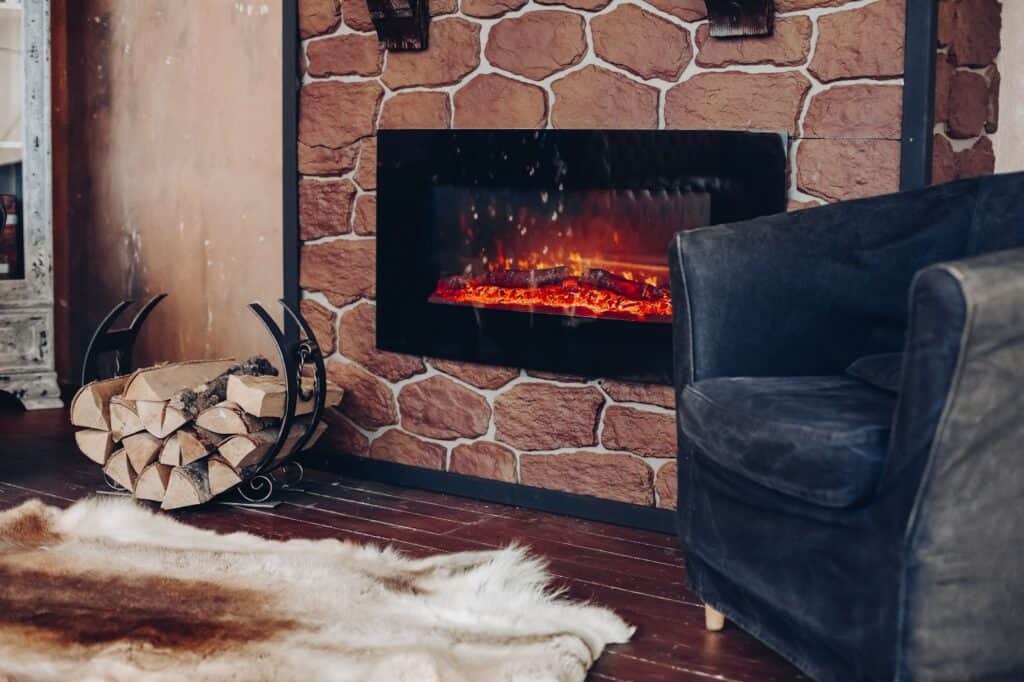 Room Aesthetics 
Keeping the TV a safe distance above the fireplace should be your priority. But you also have to keep the overall room aesthetics in mind. If you place the TV too high, it will appear to be out of place. 
Similarly, if you keep the TV too low, it will look cluttered. So the general rule here is that you mount your TV about 4 to 7 inches above the mantel. 
Other Factors You Should Consider
There are also several other factors you have to keep in mind related to your TV. These include:
TV Ports
The ports on your TV will either be on the front end or the sides. You should have easy access to them to plug in other accessories such as an external speaker. 
Therefore, when you are mounting the TV, leave some space for the ports. 
Wiring
Hiding the wires can be a challenge. If you are flushing the TV on the wall, then you have to rely on the architecture of your house. 
Newer homes come with internal wiring, so you don't have to worry about cable management. If you live in an older design house, then you have to install internal wiring. 
You can also purchase covers that go with the wall. We recommend that you hire professionals for wiring-related jobs.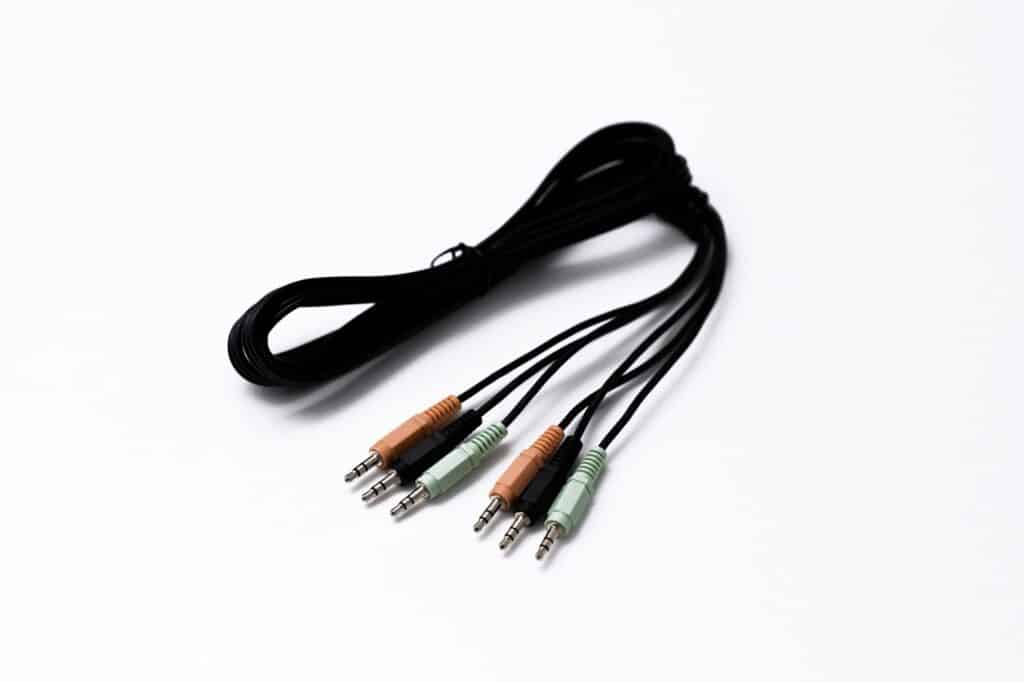 Pros and Cons of Mounting TVs
As the name suggests, mounting your TV means that you attach it to the wall. You can do this by using mounts that come with your TV set. It takes some effort and is generally harder than putting your TV on a stand. 
Mounting your TV has certain pros and cons which you should know of before you make a decision 
Pros
Space Saving
The biggest advantage of mounting your TV is the space it saves. You don't have to worry about cluttering up your table. It is also handy if you have a relatively small space for placing your TV.
By mounting your TV on a wall, you are avoiding wasting any space due to the screen size. 
Room Aesthetics
Mounting a TV is also visibly pleasing. You can go for any kind of look you want for your room. Mounting TVs is especially useful if you are going for a minimalist look. You can easily hide the wires or build a niche to place the TV in. 
Another thing you can do is to place your TV above a mantel or a fireplace. It is useful as these are the centerpiece of your living room. 
Cons
Installation
Mounting a TV can be a tough job. You have to utilize power tools for this task. You also have to keep factors such as viewing comfort and safety in mind. We recommend that you hire professionals for this job.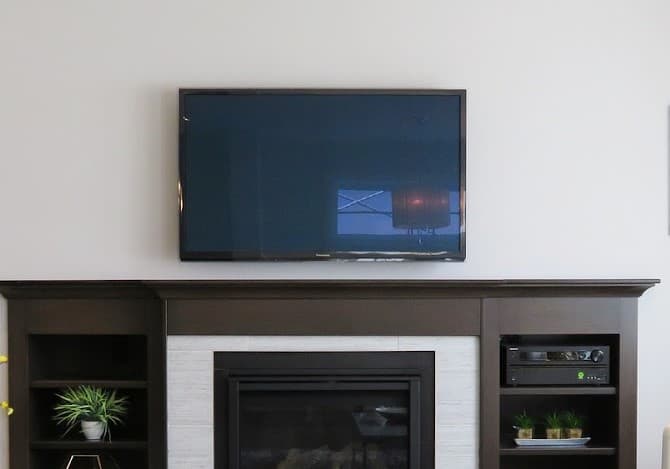 How above a fireplace you should mount your TV is a common question many people have. You have to be careful of the interior design as well as the viewing comfort. 
By going through this guide, you will get your answers. 
With this, we reach the end of our article on "How far above the fireplace to mount a TV".
We hope to help you again.