Samsung and TCL have become the leading TV manufacturers in the world. Both brands are launching the latest version of TVs and making their products better than the previous ones. Also, Both of the brands have been around for years. 
But, who's the best TV manufacturer? This Samsung VS TCL TV comparison will answer this question to you profoundly in this article. We will compare both of the brands, Samsung and TCL, and then declare the winner. Let's see who wins the game. 
Let's get started.
Samsung VS TCL TV: Which brand is the best?
Samsung proves to be the best television brand in our Samsung VS TCL comparison. The Samsung TVs are just top-notch in every way, be it their sound quality, picture quality, or durability. 
They provide you with a great viewing experience due to their having an ultra-wide viewing angle and free sync technology. However, they might hit your bank a little, but the amazing features and quality that Samsung TVs provide are really worth the bucks.
Feature

Samsung TVS

TCL TVs

Winner

4 to 7 years if not used for gaming.

4 HDMI/ 2 Ethernet, USB and Optical Ports

3 HDMI/One Ethernet, USB and Optical Port.

Loss Brightness and Vibrance

Wifi and Bluetooth including the support of Bluetooth LE

Wifi and Bluetooth but doen't include Bluetooth LE Technology.
Let's compare popular TV models from Samsung & TCL to see how they differ. 
TCL QM8 and SAMSUNG Q80B – Top Selling TV's
The TCL QM8 and SAMSUNG Q80B are both 4K televisions with QLED display technology, offering excellent picture quality. The TCL QM8 boasts a 65-inch screen size with a 120Hz refresh rate and features Mini LED Ultra technology for impressive brightness and local dimming. It also includes Game Accelerator 240 for responsive gaming and supports multiple HDR formats.
On the other hand, the SAMSUNG Q80B has a 50-inch screen with a 60Hz refresh rate but offers Quantum HDR 12X and Dolby Atmos for immersive audio. It comes with voice assistants like Bixby, Amazon Alexa, and Google Assistant built-in.
Comparing TCL and Samsung TVs, TCL excels in terms of screen size, refresh rate, and gaming features, making it a great choice for gamers and those seeking a larger display. Samsung, on the other hand, focuses on picture quality and audio enhancements, making it a strong contender for those who prioritize these aspects in their TV experience. The choice between them depends on your specific preferences and priorities.
| Feature | TCL QM8 | SAMSUNG Q80B |
| --- | --- | --- |
| Screen Size | 65 Inches | 50 Inches |
| Display Technology | QLED | QLED |
| Refresh Rate | 120 Hz | 60 Hz |
| HDR Support | HDR10+, Dolby Vision IQ, HLG | Quantum HDR 12X |
| Local Dimming | Full Array ULTRA | DIRECT FULL ARRAY |
| Voice Assistants | No | Bixby, Amazon Alexa, Google Assistant |
| Gaming Features | Game Accelerator 240 | Not specified |
| Audio | Dolby Atmos | Object Tracking Sound |
Pros and Cons of Samsung VS TCL TV Brands
Pros and Cons of Samsung TV
Includes Free Sync. 

Includes Game Low Latency Interpolation.

Durable.

Stylish.

Brighter Picture quality.

Ultra Viewing Angles.
Stylish.

Google play/Roku OS.

A wide variety of streaming apps.

Easy to use OS.

Cheap.
Not so durable.

Bad viewing angles.

Doesn't provide so much good picture quality.
Samsung VS TCL TV: A Detailed Comparison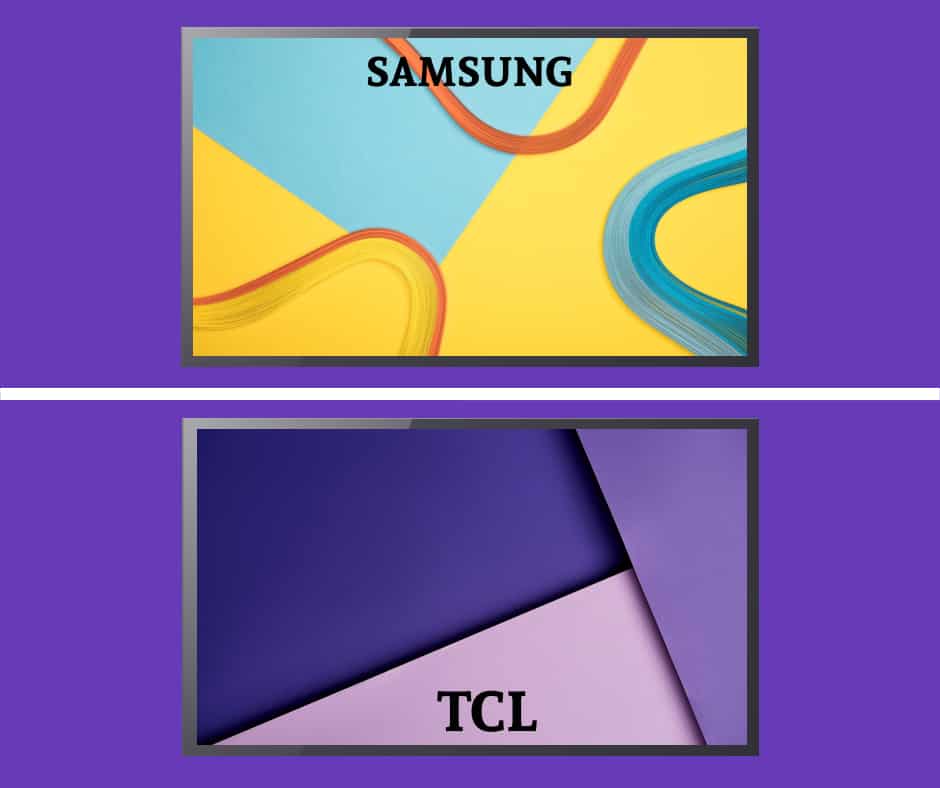 As of now, Samsung and TCL dominate the TV manufacturing industry. But, to decide which one is worth pursuing, we'll have to compare each of their qualities. 
Considering that both of the brands offer the best and most innovative features in their TVs, it is difficult to choose one. Thus, we're going to compare all of their features so that we can decide which one we should go for. Let's get to our comparison now.
Sizes and Prices Of Samsung And TCL
Samsung TV 32, 43, 55, 65, 75, 85 inch screen Dimensions & Price
| SCREEN SIZE | Width | Height | Depth | PRICE |
| --- | --- | --- | --- | --- |
| 32 | 745mm | 442 mm | 69 mm | 497 USD |
| 43 | 970.2 mm | 563.2 mm | 58.8 mm | 297 USD |
| 55 | 1227.1 mm | 710.7 mm | 54.9 mm | 497 USD |
| 65 | 1457.7 mm | 837.3 mm | 59.7 mm | 843 USD |
| 75 | 1673.8 mm | 964.1 mm | 57.6 mm | 1797 USD |
| 85 | 2004.3 mm | 1635.9mm | 71.6 mm | 2399 USD |
TCL TV 32, 43, 55, 65, 75, 85 inch screen Dimensions & Price.
| SCREEN SIZE | Height (inches) | Width (inches) | Depth (inches) | PRICE (USD) |
| --- | --- | --- | --- | --- |
| 32 | 17.2 | 28.8 | 7.3 | 189 |
| 43 | 22.7 | 38.3 | 8.5 | 299 |
| 55 | 28.7 | 48.74 | 10.24 | 399 |
| 65 | 31.5 | 57.3 | 11.9 | 599 |
| 75 | 38.1 | 65.7 | 14.3 | 899 |
| 85 | 42.33 | 74.5 | 13.77 | 1099 |
Samsung VS TCL TVs/ Features
Both of the brands are known to produce the best full-HD TVs with lots of useful features. So, let's see which one has more useful features than the other one.
1) Picture Quality.
When it comes to the picture quality of the Samsung and TCL brands, TCL doesn't seem to be so good at it. Why? Because the TCL TVs are quite cheap. 
Thus, the brand doesn't spend much on improving the picture quality of its TVs. As a result, you see average picture quality on TCL TVs.
Since Samsung TVs are expensive, it doesn't compromise the picture quality of their TVs. All of the Samsung TVs come with the best, crispest, and most detailed picture quality, which gives you an extraordinary viewing experience. 
They also display fast-moving scenes with better quality and have lower input lag. Gamers will find this very useful. Samsung TVs use HDR10, which enhances the screen's brightness and clarity. 
Samsung TVs are ideal for people who play games like PUBG, Fortnite, and other video games that require high-quality graphics.
There is a significant difference in the color gamut between Samsung TVs and TCL TVs. 
Samsung's TVs use Quantum Dot technology, which makes the picture look more vibrant and natural. While TCL's TVs use NBP Photon, which doesn't provide as much good color quality.
2) Display Panel Technology
TCL models include the standard LED VA panel technology. A QLED (quantum dot LED) technology license was also granted to the TCL company in 2017. 
When it comes to Samsung TVs, have similar modern panel types and features as newer TCL QLED models.
QLED technology is widely known to be used in Samsung TVs. The key advantage of QLED panels is their ability to produce bright images and vibrant colours. 
In comparison with all other non-QLED models, Samsung's LED TVs are clearly superior.
Related: Best Anti-glare TVs
3) Image Processors
Samsung wins the image processor battle against TCL TVs. Because Samsung TVs use the Neo Quantum Processor, it is compatible with the latest Samsung 4K and 8K TVs which have significantly more processing power than TCL TVs. 
With the help of artificial intelligence and other TV technologies, the processor creates beautiful and enhanced images. On the other hand, TCL uses a standard AiPQ Engine, which is good but does not provide as much power as Samsung's.
4) Viewing Angles
The viewing angles of the Samsung TVs are way better than the TCLs. As you move to the side of a TCL TV, the color vibrance and brightness quickly diminish. You should avoid TCL TVs if you have a large seating arrangement. 
However, Samsung TVs win the game once again as they offer the best viewing angles. The "ultra viewing angle" layer on Samsung TVs improves viewing angles but reduces contrast. TCL TVs have narrower viewing angles than Samsung TVs.
5) Sound Quality/Samsung VS TCL TV
No matter what brand of TV you're using, no one provides high-quality built-in speakers. 
Still, Samsung TVs are chock full of 20W built-in speakers whose sound doesn't hurt your ears and does the job for you when you don't have external speakers. 
Compared to Samsung TVs, TCL TVs have only 16W, which is considerably less power. So once again, Samsung wins the sound category as well.
6) Operating System
Samsung TVs use the TIZEN operating system, which doesn't come with as many features as TCL's does. But, still, the TVs have all those things that you'd need for a great viewing experience. It includes the best streaming apps like Netflix, Apple TV, Discovery GO, Facebook Watch, Gaara, and many others.
Moreover, Samsung's TIZEN operating system also features Bixby, a voice assistant developed by Samsung. 
You can also connect it to Samsung's SmartThings app and make it part of your smart home. To make the viewing experience better, Samsung TVs include AMD free sync in them which take your viewing experience to the next level. 
Furthermore, some Samsung models include both Alexa and Bixby voice assistants. A Universal Guide makes it easy to find any content and offers personalized recommendations. How about the TCL operating system?
TCL usually includes Google TV or Roku operating systems. Both of the operating systems are great and equipped with a lot of streaming apps. such as Netflix, Prime Video, Apple TV, SHOWTIME, Pluto TV, and many other amazing channels. 
It's also far easier to use than TIZEN. Not only that, but it also includes Freesync technology, which makes the screen stutter and tear-free, providing you with an extraordinary viewing experience.
So, TCL has a better operating system than Samsung.
7) Connectivity Ports
TCL and Samsung have the same connectivity ports if the ports of both companies are compared. Most models have at least three HDMI ports and one USB port. 
There are usually three HDMI ports on TCL TVs, one USB port, and an Ethernet port. Optical and 3.5mm audio outputs are also available, as well as a composite video input. 
A Samsung TV usually has four HDMI ports, two USB ports, and an Ethernet port. A coaxial port and an RS232C port are also included.
As a result, Samsung once again outperforms TCL TVs.
8) Wireless Technologies
The wireless features of both brands are pretty much the same. There is no difference between them. These are the 5GHz and 2.4GHz bands. Bluetooth support is also available on mid- and high-range models from both brands.
It's important to note that TCL TVs equipped with Bluetooth support do not support Bluetooth LE. This technology is powerful enough that you can connect your phone or tablet but not pair up any additional speakers or soundbars. 
The Samsung TVs are the best Bluetooth TVs and are compatible with speakers, controllers, and more and other Bluetooth devices. If you plan to build a home entertainment system around your TV, this is something to keep in mind.
Related: Best TVs with bluetooth
9) Lifespan
Since Samsung charges a lot of money for their TVs, they don't compromise on their build quality. Thus, they tend to last for around 4 to 7 years if you take care of them well. On the other hand, TCL TVs also last as long as Samsung TVs, but they're not as good at gaming. If you keep on playing games on them, then they won't last long.
Related: How Long Do TCL TVs Last? 
10) Design & Build Quality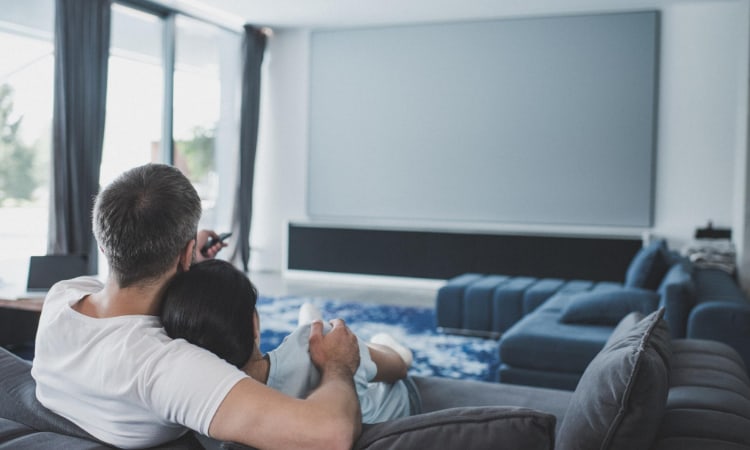 Samsung TVs are slimmer and sleeker than TCL TVs and are often thinner than TCL TVs. It is common for both manufacturers to equip their TVs with two boomerang-shaped feet, which provide adequate support. 
TCL TVs, which are more expensive, use average-quality plastic, while Samsung TVs appear to be more robust. As a result, Samsung TVs are more durable than TCL TVs.
11) Power Consumption
A TV that consumes a lot of power can be sold cheap but will surely turn out to be the most expensive. Samsung considered this issue and made TVs that only consume 230 watts of power. 
And when they're on standby, they only consume 05 watts, which is amazing. What about TCL TVs?
So, here we go again; the TCL TVs fail at power consumption as well. Usually, TCL TVs consume 400 watts, which is far from normal. Isn't it? So, Samsung TVs are great when it comes to saving power consumption.
12) Price /Samsung VS TCL LED TV
When it comes to buying the best TVs, the first thing that most users consider is the price. If we compare the costs of the Samsung and TCL TVs, the TCL TVs are relatively cheap. You can easily buy them on your budget. 
However, the TCL TVs don't provide as good viewing quality as Samsung does. It means you might have to compromise on picture quality and screen colors.
Samsung TVs, on the other hand, cost a lot of money, but they provide the best viewing experience possible. They're durable, good-looking, and come with a lot of amazing features. So, the bucks are surely worth spending on Samsung TVs.
That said, if you're on a budget, you can go for any TCL TV. For those who have some bucks to spend and want a TV that will last for many years, we suggest Samsung TVs. You won't be disappointed.
13) Warranty And Support
Samsung warranties last for 12 months without additional charges. During this time, any TV will be repaired for free. You will have to bring your TV to your local Samsung repair centre in most cases, however. 
People living far from the center of the country might have a problem with this. TCL offers a 12-month free warranty. 
However, a team will come to your home to repair any TV with a screen larger than 30 inches. In case the Zero Bright Pixel Defect Guarantee covers your TV in case of a screen defect.
If we talk about the support of both brands, it's great. No matter what problem you have, they'll try to solve it as soon as possible.
Conclusion
Comparing Samsung and TCL TVs, we found both to have merits and faults. Samsung TVs provide great quality and features, but they're expensive. TCL TVs are cheaper than Samsung TVs, but they don't give as good picture and image quality. 
So, who's the winner of our TCL vs Samsung TV review? Yes, it's Samsung. According to us, Samsung TVs completely outperform TCL TVs in terms of build quality, picture quality, image quality, durability, and almost everything else.
However, if you don't want to spend so much on TV, then TCL is the best option for you.
That's it for today, guys. Let us know: what TV are you going to get your eyes on? Samsung or TCL? Your comments will be highly appreciated.
1) Are TCL TVs better than Samsung?

No, they're not. Samsung includes more advanced features and greater image quality than TCl tvs.

2) Is TCL TV a good brand?

Yes, TCL is a good brand as it makes quite good quality tvs despite charging a very reasonable price.

3) Is TCL made by Samsung?

TCL is made by china, not samsung.

4) Is TCL Qled as good as Samsung?

The R635 2020/ 6 Series/ TCL 6Series/ 2020 is better than the Samsung Q60/Q60T QLED. TCL offers a 120Hz refresh rate, faster response times, and a wider colour gamut.

5) What is the main advantage of TCL over Samsung when comparing their TVs?

TCL's main advantage over Samsung in the TV market is its affordability. TCL offers competitive prices for its televisions, making them an attractive choice for budget-conscious consumers.

6) What is the primary difference between TCL and Samsung TVs in terms of technology?

When comparing TCL and Samsung TVs, one significant difference is the operating system they use. TCL TVs typically run on the Roku operating system, while Samsung TVs use the Tizen operating system. These operating systems can impact the user interface and available apps.

7) What is Quantum Dot technology, and how does it relate to TCL and Samsung TVs?

Quantum Dot technology enhances picture quality by improving color accuracy and brightness. Both TCL and Samsung offer TVs with Quantum Dot technology, often marketed as QLED (Samsung) or QLED TVs (TCL). This technology delivers vibrant and lifelike visuals.

8) Are TCL and Samsung TVs suitable for gamers?

Yes, both TCL and Samsung TVs are suitable for gamers. They often feature low latency and support technologies like Variable Refresh Rate (VRR), making them a good choice for an immersive gaming experience. However, the gaming performance can vary between different models.

9) FAQ 5: What is HDR10, and why is it important in TVs?

HDR10 is a high dynamic range (HDR) format that enhances the contrast and color range of TV content. It's crucial for delivering a more lifelike and visually stunning picture quality. Many TCL and Samsung TVs support HDR10, ensuring a better viewing experience for compatible content.