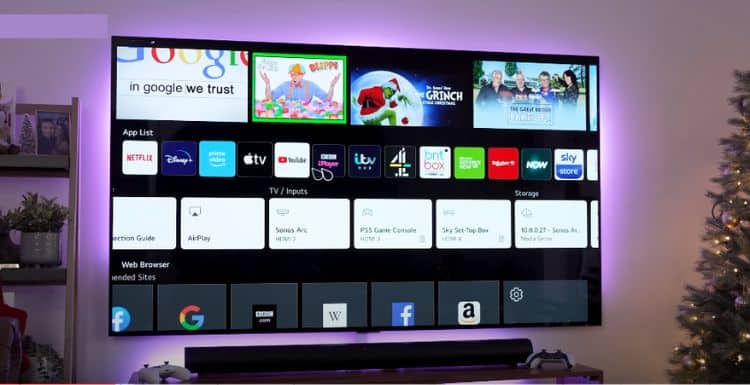 The LG OLED G1 Series is an advanced television lineup that features OLED technology. This outstanding technology with α9 Gen4 AI Processor 4K delivers stunning visuals, including intense blacks and vibrant colours. You can enjoy movies, shows, and games with a level of performance you've never seen before.
Featuring a sleek design and a range of sizes to suit any home entertainment setup, the LG G1 Series is the epitome of elegance and performance in the world of televisions.
In this review, we'll explore the key facts & features providing you with a comprehensive overview of what makes these TVs a top choice for discerning viewers who demand the best.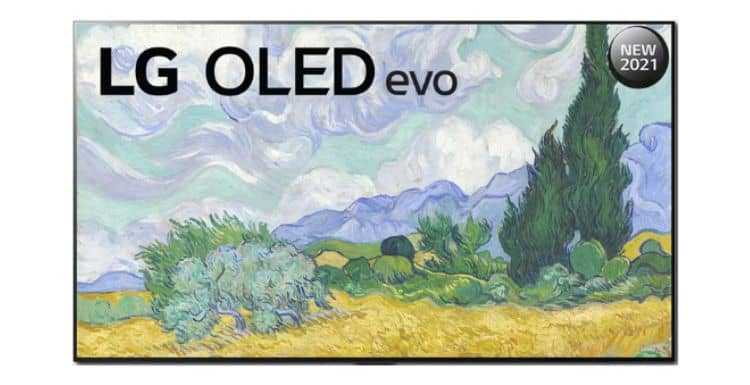 **If you buy via our affiliate links, we earn a commission**
Key Specs
Panel Type: OLED |Size: 55″,65″,77″ | Resolution: 4K Ultra HD | Smart Platform: LG webOS 6.0 | HDR: HDR10 ,HDR10+, Dolby Vision | Audio: 60W 4.2ch | Refresh Rate: 120Hz | HDMI: 4 HDMI
Eagle Verdict
The LG G1 OLED is a flagship 4K OLED TV with an evo panel for enhanced brightness, perfect black uniformity, and infinite contrast ratio. Its slim design with a dedicated wall mount and wide viewing angles make it ideal for well-lit rooms. It excels in gaming with near-instant response time, Variable Refresh Rate support, and four HDMI 2.1 inputs. However, it lacks a stand and may be prone to burn-in with static images. Overall, it offers outstanding picture quality, gaming features, and a sleek design, making it a top choice for OLED TV enthusiasts.
Other Experts Say?
" We have conducted an in-depth review of the LG OLED G1 TV. Our findings indicate that this TV offers exceptional picture quality with deep blacks and vibrant colors thanks to its OLED technology. The G1 also boasts impressive gaming performance and a sleek design, making it a top choice for those seeking a premium viewing experience."
"I've reviewed the LG OLED G1 TV and found thatThe LG OLED G1 TV is a great choice for gamers, as its low input lag ensures fast response times. Thanks to its impressive contrast ratio, it creates deep blacks and bright whites that are sure to impress. When it comes to glare, the reflection handling of this model offers plenty of brightness even in well-lit rooms. And wide viewing angles add extra flexibility when it comes to wider seating."
"The LG OLED G1 TV is an exceptional option for gamers, boasting features such as low input lag, HDMI 2.1, Variable Refresh Rate (VRR), and rapid response times on its OLED panel. All of these components combine to offer a smooth and immersive gaming experience , impressive indeed! We definitely recommend the G1 for anyone looking to upgrade their gaming setup."
The G1 truly stands out from the rest when it comes to HDR picture quality, boasting full and vibrant colors with excellent contrast. Furthermore, it features Dolby Vision and Dolby Atmos for an audio experience unmatched by its competitors. Other noteworthy features include game optimizer options such as VRR and ALLM, which ensure smooth performance for even the most demanding games; no wonder why gamers consider it the top choice for their gaming needs.
Pros
Exceptional picture quality
Sleek and modern design
Great gaming performance with high refresh rates and low input lag
Advanced smart features with LG's webOS platform
Dolby Vision and Dolby Atmos support for enhanced visual and audio experience
Cons
Expensive
Risk of burn-in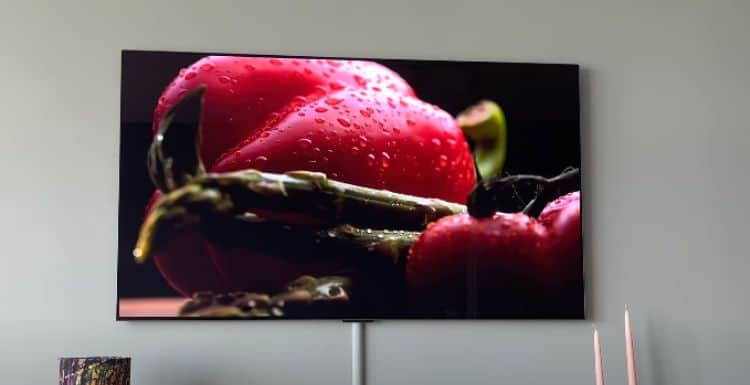 The LG G1 TV sets a new standard in design and build quality. With its slim bezels and dedicated slim wall mount, it offers a near frameless aesthetic when mounted on the wall. The back of the TV features clips for cable management, keeping your setup clean.
The border and thickness of the TV are 0.35 inches and 0.83 inches, respectively, making it an incredibly thin and flush model when mounted, ensuring it won't protrude against the wall too much.
In terms of build quality, the LG G1 impresses with its solid construction. Made mostly from metal, it exudes durability and longevity, with no adverse effects on its appearance.
The only minor exception is the slightly weaker body structure around the VESA holes, which should not be a cause for concern as the overall build is still sturdy.
Design Facts
Style: Modern and sleek
Bezels: Ultra-slim bezels (0.83 inches)
Max Thickness: 0.83 inches
Metal: Durable Metal Build
Back Style: Well Made
Build Quality: Solid construction
Stand: No
Expert Review: Impressive design and build quality
What Other Experts Say?
I am thoroughly impressed with the design and build quality of the LG G1 TV. Its flush wall-mounted appearance and easy setup create a near-perfect modern viewing experience. Although there may be minor improvements that could be made, such as strengthening the VESA hole area."

B The Installer
The picture quality of the LG OLED G1 TV is a standout feature that sets it apart from other televisions on the market. With its cutting-edge OLED technology and advanced image processing, the LG G1 delivers stunning visuals. Let's dive into more detail to see the performance in different modes.
Picture Quality Factors
Movies
Sports & Shows
HDR Picture
What Other Experts Say!
" I am thoroughly impressed with the picture quality of the LG OLED G1 TV. The HDR performance is exceptional, with nearly infinite contrast ratio, perfect blacks, vibrant colours, and accurate color reproduction. "

Samuel Jones Tech
Movies
Watching movies on this TV was a visual treat. The near-infinite contrast ratio(Inf : 1) resulted in deep blacks without blooming around bright objects, which enhanced the overall image quality and made for a truly immersive wider viewing experience. 

The OLED G1 Series 4K UHD television makes every movie more enjoyable. Technology like HDR10+ and Dolby Vision, combined with the TV's ability to reduce 24p judder for smooth motion particularly during scenes involving fast-paced action. 

The AI Upscaling feature also gives viewers a sharp and detailed image even when the source is lower resolution content. Moreover, this model boasts exceptional reflection handling (1.3%), meaning minimal distractions or glare in brightly lit rooms. This adds up to a refined and pleasurable watching experience.

I recently tested out the LG OLED G1 TV on a viewing of "The Dark Knight Rises". The Dolby Vision IMAX 4K UltraHD version beautifully showcased the exceptional contrast ratio of the TV. Every detail was presented with incredible clarity and vibrance, including precise colour gradation (10-Bit) and lifelike facial expressions. 


Panel Type: OLED
Resolution: 4K Ultra HD (3840 x 2160)
Contrast: Near Infinity (Inf : 1)
Local Dimming: No local dimming feature
Upscaling: 4K AI Upscaler
HDR Picture
The LG OLED G1 TV delivers outstanding HDR performance, with a peak brightness of 736.7 nits and perfect blacks, resulting in a striking contrast ratio. 

During testing, the TV displayed lifelike details and vibrant colours in HDR content, with accurate colour reproduction and deep blacks in dark scenes. The Dolby Vision and HDR10+ support further enhanced the HDR experience, providing optimised playback with dynamic metadata. 


HDR Support: HDR10+, Dolby Vision
HDR Peak Brightness:  736.7 nits
Native HDR Gradient: Excellent – 10 Bit
Colour Gamut: Wide – 99.2%
Colour Volume:  Decent  86.3%
Sports & Shows
The LG OLED G1 TV offers an impressive picture quality for watching TV shows and sports. During personal testing, I watched a baseball game, and the near-instant response time(1ms)  delivered excellent motion clarity, making it easy to follow the ball. 

The wide viewing angles were also a plus, as I was able to watch the game from any angle without the image losing its accuracy. The TV also upscaled lower-resolution content, like cable boxes, without any issues, ensuring that the picture remained clear and detailed. 

However, it's essential to note the risk of burn-in with OLEDs, especially if watching the same news channel for an extended period.

Brightness: Maximum brightness ~ 412.05 nits
Response Time: near-instant (1 ms)
Reflections: Excellent (1.3%)
Viewing Angles: Wide
Grey Uniformity: Decent (1.072%)
The LG OLED G1 TV boasts a powerful 60-watt speaker system, backed by AI sound optimization techniques and Dolby Atmos support, delivering a truly immersive audio experience. The sound is well-rounded with good dialogue clarity and impressive bass.
A dedicated subwoofer may be needed for the most powerful bass. The TV handles distortion well and delivers clear audio even in noisy environments.
We tested the LG G1 OLED in a variety of conditions and found it to be very impressive. All of the soundscapes were immersive and delivered a full range of sound. Dialogue was clear and heard even in a noisy environment.
We also tested the bass range, and although we needed a separate subwoofer for even deeper bass, what we heard from the G1 was more than satisfactory.
Sound Facts
Power: 60 watts
Frequency response: 63.50 Hz
Sound modes (ALLM): Yes
Dolby Vision: Yes
Dolby Atmos: Yes(via eARC)
Distortion: 0.896
Expert Review: Impressive
What Other Experts Say?
"I got to test out the LG OLED G1 TV's sound, and let me tell you, it's impressive! The sound performance is outstanding. Its AI sound optimization and Dolby Atmos support provide crystal clear dialogue and an immersive soundscape that will put you right in the middle of any scene."

The Tech Chap
The LG OLED G1 TV is a standout choice for gaming enthusiasts, thanks to its cutting-edge features and Game Optimizer suite. The Game Optimizer makes it easy to switch between modes for different types of games, such as FPS, RPG, and RTS, without navigating through complicated menus.
Additionally, the G1 offers performance-enhancing features like MEMC for smoother motion, adjustable blue light output, and support for FreeSync or G-Sync to reduce screen tearing by syncing the refresh rate with the source.
During my use, I found the LG OLED G1 TV to have excellent overall performance for gaming. With Game Optimizer enabled, the input lag was impressively low at 10ms, providing a smooth and lag-free experience with maintained colour and contrast quality.
Motion performance was also solid, thanks to FreeSync effectively syncing the refresh rate. Movie mode offered the best shadow delineation in dark scenes, while FPS and RPG modes also delivered great performance. The LG OLED G1 TV sets a high standard for gaming performance and may inspire other manufacturers to follow suit.
Gaming Facts
Input Lag: 10 ms
Native Refresh Rate: 120 Hz
HDMI Ports : 4 HDMI
Variable Refresh Rate: Yes
Response time: 1ms
Compatibility with Consoles: Yes 4k @ 120Hz
Expert Review: Best
What Other Experts Say?
" I'm extremely pleased with the LG OLED G1 TV gaming performance. The plethora of features, combined with the superb input lag and motion performance make this a great device for gamers and TV viewers alike. If you're serious about getting the best gaming performance out of a TV, this is the one to get."

The Tech Chap
The LG OLED G1 TV comes with several advanced features that make viewing a truly remarkable experience. The ThinQ technology, which is equipped with intelligent voice recognition and speech-to-text capabilities, makes navigation and control effortless. Furthermore, this TV can interact with Google Assistant, Amazon Alexa and LG Voice Search using voice commands.
Thanks to the AI UX and AI home features, you can take advantage of personalised recommendations and intelligent editing options. For added convenience, the Home Dashboard helps manage connected devices while compatibility with Apple Homekit, Google Home, Amazon Echo makes syncing incredibly easy.
In addition to mobile connectivity and screen sharing capability, further customization is available via the ThinQ app. HDMI ports are also available for connecting various devices as well as digital optical audio out/analog audio out connections for audio needs.
Key Smart Facts
Operating system: Web OS 6.0
App selection: Netflix, Amazon Prime Video, Disney+
User interface: Intuitive and customizable Home Dashboard
Voice Control: LG Voice Search, Google Assistant, and Amazon Alexa integration
HDMI ports: 3 HDMI ports
Wi-Fi: Yes
Ethernet: 1
Bluetooth: Yes
USB Ports: 2 USB ports
What Other Experts Say?
" The smart features and inputs of the LG OLED G1 TV were impressive. The ThinQ technology with voice recognition, AI UX, and Home Dashboard made navigation and control seamless. The connectivity options including HDMI, USB, and audio outputs provided flexibility for my devices, enhancing my overall viewing experience."

Proper Honest Tech
The LG OLED G1 TV is a premium television with cutting-edge features that make it stand out in the market. It provides a premium viewing experience without breaking the bank, making it a top choice for those seeking a high-quality OLED TV without compromising on features or performance.
Unboxing & First Impression
I was eagerly waiting for my new LG OLED G1 TV to arrive, and the day finally came! The shipping was right on time, and I couldn't contain my excitement as I unboxed the TV to see what awaited me inside.
What's in the Box:
LG OLED G1 TV
Remote (with 2x AA batteries)
Slim wall-mount
Wall mount screws (and other accessories)
Mounting instructions
User manuals
IR blaster
Unboxing Details:
The unboxing experience of the LG OLED G1 TV was a breeze. As I carefully removed the foam and plastic wrapping, I was impressed by how lightweight and slim the TV was.
The TV didn't have a stand. However,the wall mount brackets were neatly packed along with the power cord and user manual, and the included Magic Remote felt sleek and stylish in my hand.
Unboxing the LG OLED G1 TV, I was instantly impressed by its modern and stylish design. Its ultra-thin OLED panel, bezel-less display and sturdy TV stand all gave me an excellent first impression.
Check detail Guide about: Best TVs Under $3000 in 2023
When I powered on the device, I was immediately drawn in by its beautiful picture quality. Navigating through the features via the intuitive Magic Remote was a breeze with its motion-sensing capabilities.
Overall, my unboxing experience of this sophisticated television exceeded all expectations.
Also Check out: LG OLED C1 Series 48 Review