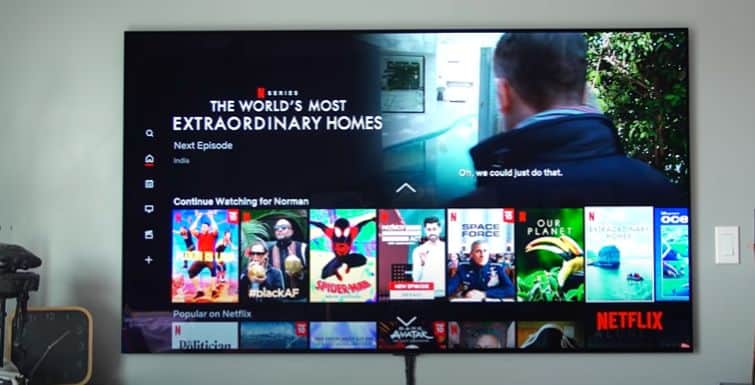 The LG GX is LG's 2020 flagship OLED TV with a unique style. It has four HDMI 2.1 ports and features such as ALLM, VRR, and 4K at 120 Hz.
When wall-mounted, the TV is flush with the wall and runs on the company's WebOS platform. It includes LG's magic remote. The TV is compatible with 4K, HDR, Dolby Vision, and Dolby Atmos.
If you are in a hurry, here's a summary of our comprehensive review!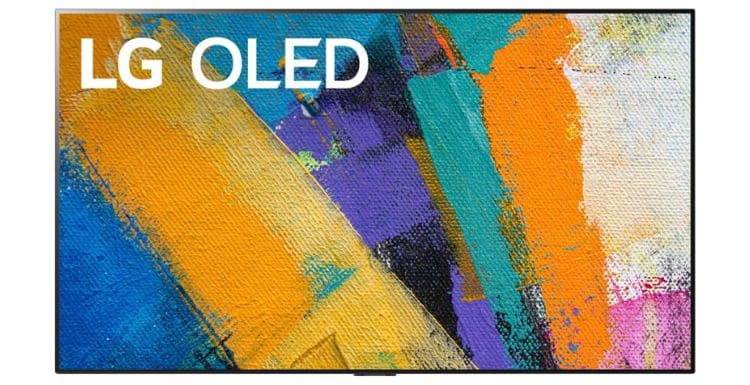 **If you buy via our affiliate links, we earn a commission**
Key Specs
Panel Type: OLED | Size: 55, 65, 77 | Resolution: 4K | Smart TV software: webOS | HDR: Dolby Vision IQ, HDR10, and HLG | Audio: Dolby Atmos | Refresh Rate: 120Hz | Ports: (all 4 HDMI 2.1) eARC -3.0 USB | Audio: 60 watts (20-watt woofer)
Eagle Verdict
Undoubtedly, the GX Gallery OLED series is an outstanding achievement. The excellent design and overall image quality of this product are both exceptional. Overall, the LG GX OLED is the best TV. Due to its near-infinite contrast ratio and perfect black uniformity, it is an excellent choice for viewing movies in a dark room. The 120Hz refresh rate, VRR support, near-instant response time, and low input lag should appeal to gamers. If you want to watch the big game from various seats, there are also great places to watch the game. Due to the static aspects of most user interfaces, it is not suited for PC display because of the risk of permanent burn-in.
Other Experts Say?
"The LG GX OLED is an amazing all-around TV. It's an ideal choice for watching movies in a dark room because of its nearly infinite contrast ratio and perfect black uniformity."
"I think this is one of the best TV you can get for gaming. The LG GX also has supports for variable refresh rates low auto latency mode, and enhanced audio return channel all meeting HDMI 2.1 specifications."
"The LG GX OLED Tv, added with the latest firmware update, to sum up, LG GX offers comparable picture quality to the CX. Still, its gallery design is the most impressive thing about it, which sets the standard for a TV mounted on the wall."
"Overall, the TV looks amazing, especially because of the AI Upscaling thanks to LG's new "Alpha 9 Gen 3″ processor, which I think is genuinely able to make some high-quality 1080p content look like legitimate 4K."
Pros
Wide Viewing angle
Next-gen gaming support
Supports HDMI 2.1 for gaming
Excellent AI Picture and Sound modes
VRR Support
Cons
No HDR10+ support
Risk of permanent burns.
Stand not included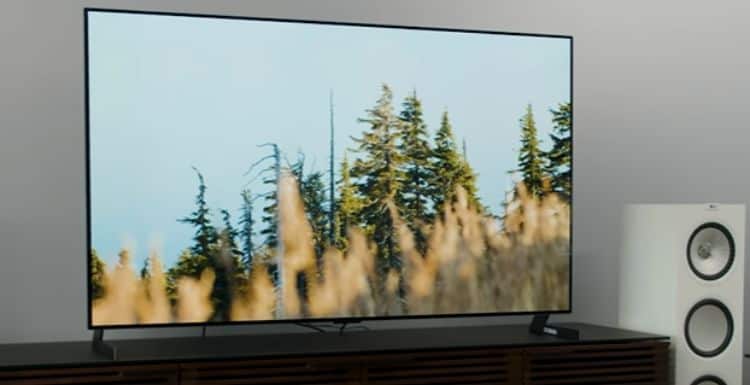 The LG GX has a fantastic design, with a chassis only 19.9mm deep from front to back.
The overall look is stylish and understated, with a 5mm dark metal trim around the outside edge and a matching back panel. A small indicator light at the bottom is the only feature besides the 8mm black border around the screen (which can be turned off).
The LG GX measures 1446 x 829 x 19.9 mm (WxHxD) without a stand, and it's important to note that it doesn't come with one.
In my testing, the LG GX has exceptional build quality. The LG GX is very well-made and has a unique design. The back is mainly made of metal, which doesn't bend much, and there are no obvious build quality issues.
Design Facts
Style (Front & Back): No Curved
Bezels: Thin bezels
Max Thickness: 0.94″ (2.4 cm)
Wall Mount: VESA 300×300
Build Quality: Exceptional Build Quality
Stand: No
Expert Review: Excellent Tv
What Other Experts Say?
"The LG GX has an incredible design. It's very thin, and the TV has a uniform thickness throughout. There are tapered edges where the front and back panels meet, which allows the TV to sit flush against the wall when wall-mounted, making it look like a picture frame."

Rtings
The picture quality of the LG GX OLED TV is excellent; it can individually dim pixels, resulting in an infinite contrast ratio and perfect black uniformity.
It supports a variable refresh rate (VRR), a near-instant response time, black frame insertion, and low input lag for gaming.
Continue reading to learn more about its picture quality performance in movies and TV shows.
Picture Quality Factors
Movies
Sports & Shows
HDR Picture
What Other Experts Say!
"The LG GX TV sports a gallery design with the latest technology and a range of innovative features to help create a visual experience that is sleek, stylish, and sophisticated."

Gramophone
Movies
If you want to watch movies in a dark room, the LG GX OLED is a great choice. It's great for watching movies in the dark because its OLED screen can produce perfect blacks.

It has a nearly infinite contrast ratio (Inf: 1) with no local dimming and perfect black uniformity, making movies in a dark room appear incredible. It removes judder in 24 frames per second and upscales lower-resolution content effectively. 

In our testing, Unfortunately, because this TV has a near-instant response time, lower frame rate movies may appear to stutter.

Display Type: OLED 
Resolution: 4K
Contrast & local dimming: Native contrast ratio (Inf: 1), no local Dimming 
Upscaling: 4k Upscaling 
HDR Picture
The TV has excellent HDR performance thanks to its high peak brightness and wide color gamut. It supports HDR10 and HLG formats, allowing it to display HDR content from various sources. Unfortunately, it does not support HDR10+.

According to my experiences and test results, the LG GX HDR performance is outstanding, with bright highlights and deep blacks that make HDR content look fantastic. 

It also has a critical HDR tone mapping feature that adjusts the brightness and contrast of the picture to fit the TV's capabilities. This makes sure that HDR content looks its best.

The LG GX also supports two newer picture modes: Filmmaker Mode and Dolby Vision IQ.

HDR Type: Dolby Vision IQ, HDR10, and HLG 
HDR Peak Brightness: Around 800 nits in HDR 
Native HDR Gradient: 100% Black to 50% Gray 
Color Gamut: Wide color gamut (70.95%)
Color Volume: average color volume (60.6%) 
Sports & Shows
The LG GX is perfect for watching sports and tv shows. It performs well in light rooms due to its excellent reflection handling, but its brightness is insufficient to combat glare. It easily upscales lower-resolution content, such as that from cable boxes. 

In my experience, it has a near-instant (0.2 ms) response time, minimal motion distortion, and outstanding reflection handling with a wide viewing angle so the whole family can watch their favorite show together. 

Unfortunately, it could cause permanent burn-in, which could be a problem if you watch a lot of content that stays the same, like the news.

Brightness: 800 nits brightness (178cd/m2) 
Response Time: near-instant (0.2ms) 
Reflections: outstanding reflection handling (1.5%) 
Viewing Angles: Wide viewing Angle 
Gray uniformity: Excellent gray uniformity (0.279%) 
The LG GX has a total of 60 W of sound output and a 4.2 channel setup. When you consider the depth of the chassis and its downward-firing speakers, the LG GX sounds surprisingly good.
The dialogue is audible and well-defined on-screen, and the treble is mostly free of harshness; however, if you increase the volume, the sound will become unstable. The TV is mounted against a wall, which may enhance the bass marginally.
From my point of view, the LG GX OLED TV has a good frequency response and a decent distortion performance. At low listening volumes, there isn't much distortion. It gets louder at maximum volume, but most people may have yet to hear this.
Dolby Atmos is supported by the LG Gallery Series, which also has an eARC HDMI connector for sending the Atmos signal to a soundbar or receiver.
Sound Facts:
Power: Good 60 watts (4.2-channels)
Frequency response: Good (67.27 Hz)
Sound modes (ALLM): Yes
Dolby Vision: Yes
Distortion: Decent distortion
Expert Review: Good Tv
What Other Experts Say?
"LG GX OLED TV includes a few different ones, including game sports HDR effect filmmaker and then expert mode along with Vivid, so you can go ahead and play sound around with those and find which one you like the most."

Tim Schofield
The LG GX OLED is excellent for video games. It includes gaming features such as VRR support, near-instant response time (0.2 ms), and minimal input lag. The LG GX has a 120 Hz refresh rate and VRR support to eliminate screen tearing.
HDR content is visually appealing due to its wide color gamut, but it could be more brightly displayed in HDR mode, so highlights don't stand out. Because this TV has a nearly infinite contrast ratio, it shows perfect blacks, which is great for gaming in a dark room.
In our testing, the LG GX is a full-blown gaming monitor TV. It also has features that are hard to find in PC monitors, like support for Dolby Vision and a large number of calibration settings that let you make a reference-quality image in Game Mode.
This TV can play high-dynamic range (HDR) video games on modern gaming consoles or personal computers. Compatible with: Xbox One X|S, Xbox Series X|S, PS4 Pro, PS5, GTX 10 series, and later, and AMD RX series graphics cards.
Gaming Facts:
Input Lag: Low
HDMI Ports: (4 HDMI 2.1; 3 USB)
Variable Refresh Rate: 120HZ
Response time: 0.2 ms
Compatibility with Consoles: yes (Xbox One X|S, Xbox Series X|S, PS4 Pro)
Expert Review: Best Tv
What Other Experts Say?
"Outstanding for video games. The LG GX has a 120 Hz refresh rate and VRR support to reduce screen tearing. Its response time is near-instant and it has a Black Frame Insertion feature."

Rtings
The LG GX runs the latest LG WebOS smart TV platform. The GX supports the HDR10, Dolby Vision, and HLG HDR formats. Unfortunately, there's no support for the HDR10+ format.
A wide range of apps are accessible on webOS, including Netflix, Amazon Prime, Apple TV+, Disney+, Now TV, YouTube, and Rakuten. The platform supports all of these apps in 4K, HDR10, Dolby Vision, and Dolby Atmos when those options are available.
In my experience, this Smart TV has user interface features; it depends on whether you prefer controlling your entertainment experiences through a remote, voice control, or apps.
The LG GX OLED Tv offers four HDMI 2.1 connections for all HDMI inputs, allowing for more bandwidth and a wider feature set.
Key Smart Features:
Operating system: Web OS
App selection: Great
User interface: Easy to use Interface
Voice Control: Yes
HDMI: (4 HDMI 2.1; 3 USB)) eARC
USB: USB 3.0 ports
Bluetooth: yes
WIFI: yes
Ethernet: yes
What Other Experts Say?
"The LG GX uses the new 20 chipset which permits HDMI 2.1 functionality without needing a separate HDMI search chip one upgrade over the seat and is that the GX allows for hands-free voice control."

HDTV Test
The LG GX OLED TV is widely considered one of the best TVs on the market. Due to its 4K resolution and HDR technology, the picture quality is exceptional.
Unboxing & First Impression
When I received my brand-new LG GX OLED TTV, I was excited because I am a huge fan of television and technology. After opening the box containing my brand-new set, I couldn't wait to start my first impression review.
Check Out: Best TVs For Sports
In the box of the LG GX, there are the usual things:
Wall mount (with included screws, tape, and mounting instructions)
IR Blaster
Remote (with 2x AA batteries)
Composite adapter
User guide
After only a few minutes of setting up the TV, I was ready to start watching. It only took a few seconds to connect to Wi-Fi, and the controls on the remote were easy to understand.
We were taken away by the LG GX OLED TV's modern aesthetic and high-quality picture when we first viewed it. The OLED panel creates intense blacks and vivid colors, making the image clear.