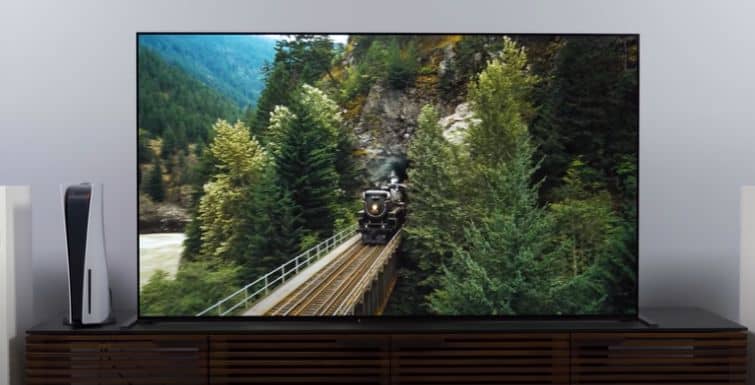 Looking for a premium OLED TV? The Sony A90J promises to deliver an exceptional viewing experience with its advanced features and high-quality picture.
This review will analyze this TV's features, performance, and overall value.
We'll review everything you need about the Sony A90J, from the design and build quality to the picture and sound capabilities.
If you are in a hurry, here's a summary of our comprehensive review!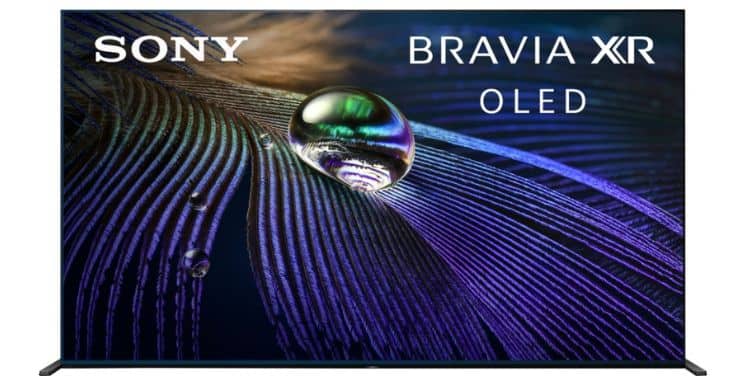 **If you buy via our affiliate links, we earn a commission**
Key Specs
Panel Type: OLED | Size: 55, 65, 83-inches | Resolution: 4k| Smart TV software: Google TV | HDR: HDR10, HLG and Dolby Vision | Audio: ARC(HDMI 3) & eARC | Refresh Rate: 120Hz | Ports: 4x HDMI (2x HDMI 2.1, 1x eARC) 3.0 USB | Audio: (20W + 20W + 10W + 10W)
Eagle Verdict
The stylish Sony A90J provides an exceptional viewing experience with its high brightness, powerful contrast, and deep black levels. As a result, this TV is suitable for genuine movie fans, as every scene is displayed realistically. Because of Acoustic Surface, the sound is authentic. The Sony A90J is a great value for a mid-range TV. It has great picture quality, good black levels, smooth motion, and a simple user interface.
Other Experts Say?
"The Sony A90J is an amazing TV for mixed usage. It delivers exceptional picture quality for movies and TV shows, and its near-instantaneous response time results in a smooth motion for sports and video games."
"The A90J is a native 4K display, includes Google TV, and is HDR, Dolby Vision, and DTS compatible. The A90J picture quality is beautiful for sure but is the Sony A90J OLED TV the best Sony Master Series TV."
"Overall, the Sony A90J looks great mounted to the wall, or if a cabinet is more your style, you get two options elevated for soundbar integration or full Van Damme style for a nearly bottomless look. There are three USB ports here and here, ethernet, optical audio, and a headphone jack alongside an array of HDMI ports, four in total."
"Sony's best OLED TV yet in terms of picture quality representing a significant upgrade tothanks to improved suppression of neo-black chromium's overshoot higher peak brightness with better retention of the specular highlight."
Pros
Incredible contrast and color
Robust sound
Peerless motion processing
Perfect black levels
HDMI 2.1 support
Cons
Lacks UK catch-up apps
Expensive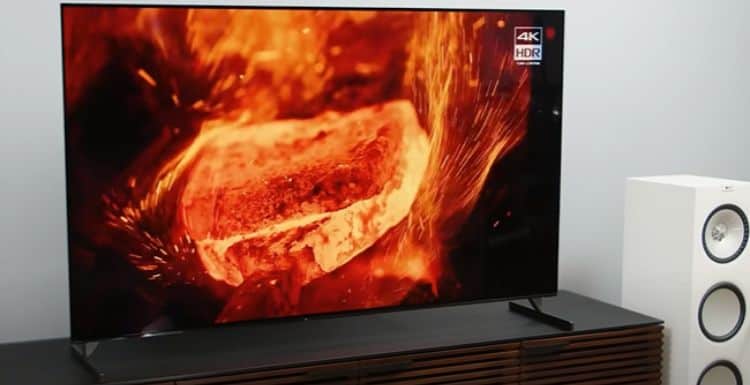 The Sony A90J is a stylish OLED TV with a minimalist design and dual-purpose stand feet. The feet can be set in two different ways. The panel is flush with the TV rack or unit surface. On the other, the panel is raised 7cm so that a soundbar can be used.
The included stand is also adjustable so you can put the TV on top of a table, cabinet, or home entertainment build or above a soundbar.
The Sony A90J is extremely thin, so it should look great when mounted on the wall. However, only some of the inputs are on the side, so that they may be challenging.
In my experience, its thin bezels and metal accents have a sleek, high-end look that will stand out in any living room.
Design Facts:
Style (Front & Back): No Curved
Bezels: Thin bezels
Max Thickness: 1.61″ (4.1 cm)
Wall Mount: VESA 300×300
Build Quality: Superb Build Quality
Stand: Yes
Expert Review: Outstanding
What Other Experts Say?
"The build quality of the A90J is superb. The Sony A90J is relatively thin overall and should look great when wall-mounted, although not all of the inputs are side-facing and may be hard to reach."

Rtings
The Sony A90J is a high-end Master Series OLED TV, and it offers new image processing and better brightness for more realistic and accurate HDR picture quality.
Let's find out more in different scenes.
Picture Quality Factors
Movies
Sports & Shows
HDR Picture
What Other Experts Say!
"The A90J is a native 4k display with a new processor that Sony calls their cognitive Processor. Now, this processor utilizes a form of AI that can simultaneously identify different elements in the picture quality and enhance them."

Andrew Robinson
Movies
If you want to buy a TV for a home theater, you should look for one with a high contrast ratio. The Sony A90J is perfect for watching movies in dark rooms. 

The Sony A90J has a near-infinite contrast ratio (Inf: 1) due to its OLED display, which can produce perfect blacks. Especially in a darkened room, they appear dark and inky, making them ideal for watching movies.

It has no difficulty upscaling lower resolution content, such as DVDs or Blu-rays, and eliminates 24p judder from all sources. 

In my experience, the fast response time ((0.2ms) can cause stuttering in lower frame-rate content like movies.

Display Type: LED  
Resolution: 4K 
Contrast & local dimming: Near Infinite contrast ratio (Inf: 1) & no local dimming
Upscaling: 4k Upscaling  
HDR Picture
The Sony A90J is an excellent option for watching movies, TV shows, and sports that are in HDR. It has an excellent contrast ratio and a 4K/UHD resolution, so it's great for dark rooms. 

It has a wide color gamut, and its perfect black levels produce a near-infinite contrast ratio, which helps make highlights stand out despite OLEDs' typical reduced brightness. 

In my experience, the Sony A90J has a good color gamut (71.01%) and better color volume (32.8%) due to its higher contrast ratio and peak brightness (700 to 800 nits).

It has near-perfect coverage of the widely used DCI P3 color space and is wide enough to support HDR content.

HDR Type: 4K /UHD 
HDR Peak Brightness:  700 to 800 nits of peak brightness
Native HDR Gradient: Great gradient handling (10 Bit) 
Color Gamut: good color gamut (71.01%) 
Color Volume: Better color volume (32.8%) 
Sports & Shows
The Sony A90J is perfect for watching sports and TV shows. Its nearly instant response time makes for smooth motion, and the Black Frame Insertion feature further reduces blur. 

Also, it has wide viewing angles, making it a fantastic option for watching the game with friends. The Google TV platform is also easy to use, and you can get to all of your apps and shows from one central place.

In our testing, even though it's not the brightest TV, it does a great job with reflections, so glare shouldn't be a problem. Still, there is a chance of permanent burn-in, especially with things like a score box or channel logo that don't move.

Brightness:  622 cd/m² 
Response Time: 0.2 ms 
Reflections: fantastic reflection handling (1.4%) 
Viewing Angles: Wide viewing Angle 
Gray uniformity: Excellent gray uniformity (1.377%) 
The Sony A90J is equipped with two speakers and two subwoofers. The TV also uses Acoustic Surface technology. This indicates that the screen serves as the speaker. This way, the sound comes from what you see on the screen.
I recommend a soundbar for an immersive movie experience because TV sound is usually less powerful. Even if you connect a soundbar, you can still use the TV as the main speaker. This allows you to enjoy the benefits of Acoustic Surface even when using a soundbar.
The Sony A90J has a good frequency response (75.51 Hz). This is mainly because it needs more bass. Even though the dialogue should sound fine and the TV is very loud, there is a lot of compression at higher volumes, which makes the sound pump.
The distortion performance is satisfactory. There isn't much distortion at normal volume levels, but a fair amount of distortion at maximum volume.
Sound Facts:
Power: Good (20W + 20W + 10W + 10W)
Frequency response: 75.51 Hz
Sound modes (ALLM): Yes
Dolby Vision: yes
Distortion: Decent distortion
Expert Review: Powerful Tv
What Other Experts Say?
"The audio that's built in very nicely the audio as well definitely looks good this thing has a beautiful detailed, clear center channel for dialogue. There are two subwoofers built in there's a left and right and a center channel You can use all of them as your stereo speaker."

Stop The Fomo
The Sony A90J is excellent for gaming. Its response time (0.2ms) is almost instantaneous, which makes its motion very clear, and its contrast ratio is excellent for gaming in the dark.
It also has excellent gaming features, such as HDMI 2.1 bandwidth and VRR support, but its input lag (17.5 ms) is slightly higher than that of other televisions.
After a firmware upgrade, the Sony A90J has VRR support and works flawlessly on the Xbox Series X for a tear-free gaming experience. The Xbox Series X supports both HDMI Forum VRR and FreeSync, so it is confirmed that the Xbox One supports HDMI Forum VRR natively.
In my experience, the Sony A90J is the best TV for gaming. It also works with VRR to reduce screen tearing, but with Dolby Vision, you can't play 4k games at 120Hz.
Gaming Facts:
Refresh Rate: 120HZ
Input Lag: Low (17.5 ms)
HDMI Ports: 4 (HDMI 2.1 x2)
VRR: Yes
Response time: near-instantaneous response time (0.2 ms)
Compatibility with Consoles: Yes ( Xbox One X|S, Xbox Series X|S, PS4 Pro, PS5, GTX 10 )
Expert Review: Excellent
What Other Experts Say?
"The Sony A90J is fantastic for playing video games." It also has excellent gaming features like HDMI 2.1 bandwidth and VRR support, but its input lag is a bit higher than other TVs."

Rtings
The Sony A90J is powered by Google TV, which has taken the place of Android TV. It is very similar to Android but with several improvements. First, it's very fluid and simple to navigate, with no bugs or other issues.
In my experience, The X90J supports 4x HDMI (2x HDMI 2.1, 1x eARC), USB 3x USB (1x USB 3.0), Composite input, 1LAN ethernet port, RF input, optical (digital) audio output, 3.5mm audio output
In addition to the requisite Netflix, Amazon Prime Video, Disney Plus, and Apple TV streaming service applications, Sony has also integrated its Bravia Core movie streaming service into the Google TV interface.
Key Smart Features:
Operating system: Google TV
User interface: Average
Streaming Apps: Great
Voice Control: Yes
HDMI: 4x HDMI (2x HDMI 2.1, 1x eARC)
USB ports: 3.0
Bluetooth: yes
WIFI: yes
Ethernet: 1
What Other Experts Say?
"Sony A90J TV does only have two HDMI that is good for 4k 120 hertz which again isn't very great for such a high-end TV, and you would expect that all four that it has would be good for 4k resolution."

The Tech Giant
The Sony A90J OLED is an excellent television overall. It is Sony's finest OLED to date, particularly in terms of HDR, and it is a well-built television. However, it comes with a premium price tag, and while it has gaming features such as HDMI 2.1 bandwidth and VRR support, other OLEDs, such as the Sony X85K OLED, are superior for gaming. Finally, we'll wrap up our thoughts that this TV offers the best overall value.
Unboxing & First Impression
I bought this TV two weeks ago. I was astounded by the box's elegance and design when I opened it. Signing up for Google TV was so simple; I wish it were available on more televisions.
Check Out: Best Indoor TVs for Outdoor Use
After turning it on and setting up apps, test it with different content (Netflix, Disney+, YouTube, and HULU) to see how the picture looks in 4K, HDR, Dolby Vision, and SDR.
The box was simple to open, and there were no ambiguities in the directions for removing the tv from its packaging in a secure manner. I was impressed by the TV's sophisticated appearance when I first took it out of the box.
In the box of the Sony A90J, there are the usual things:
Documentation
Remote control
2x AAA batteries
Cable tie
When we first saw the Sony A90J TV in person, we were stunned by its elegant design and exceptional picture quality. The LED panel's ability to make deep blacks and bright colors makes it possible to see a clear picture.