If you are looking to upgrade your TV to a Smart TV but don't have a big budget, choose a brand that promises quality but doesn't break your bank balance. Famous TV brands like Sony or LG TVs are costly but less expensive TV manufacturers like Sceptre and Insignia are less known. 
In this article, we'll answer "Is Insignia a Good Brand of Smart TV?". We'll discuss different aspects that will help you make an informed decisions. But let's first answer your question briefly.
Is Insignia a Good Brand of Smart TV?
Insignia is a rising TV brand in the market. It is an affordable television, offering 4K resolution with a large screen. They have built a reputation for providing the best picture quality at a good value. They are packed with good quality features, are user-friendly, durable, and cheaper too.
Who Manufactures Insignia TVs? Best Buy
The Insignia brand is owned by Best Buy, one of USA's reputable retail brand giants. It is well-known as one of the biggest electronics distributors. Best Buy does not build products on its own. They have outsourced the manufacturing of Insignia TV's to a Chinese company, Hisense. 
Insignia not only sells TVs. They also sell desktops, laptops, projectors, tablets, home theater systems, gaming controllers, keyboards. These products provide the same functionality as high end brands but at lower prices. The Insignia brand is ideal if you are only looking for a good product not the brand label.
Why You Should Buy Insignia TV?
Insignia is famous for being a budget brand. They boast about their TVs having high resolution, large size and vast range of features just like Sony and Samsung. Yet they cost half of the price than these exclusive brands.
 Its okay to be cautious about why it is so cheap ? What information am I missing?
Best Buy doesn't design or own any factories. All the electronics made by Best Buy are outsourced to big companies like Hisense. These companies make TVs for premium brands like LG and Samsung.
Insignia TVs are cheap because they are made with leftover components of the big brands. The whole process is cheap for Insignia, as they don't spend much on procuring the parts. The components come from factories in China, Taiwan and Japan. These parts are then sent to China for assembling. The assembled TVs are then shipped to the United States of America (USA).  You might get a 43 inch Insignia Smart TV for as low as $230. Whereas a 43 inch Samsung Tv will cost you \$600 i.e. almost double the price.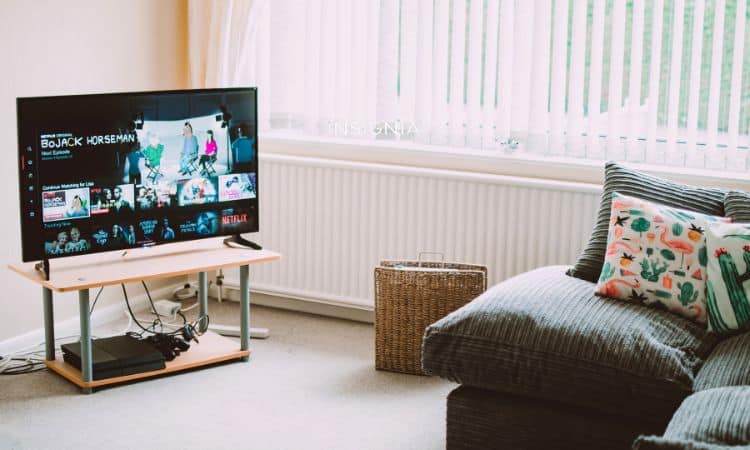 Yes, Insignia TV is a smart TV with built-in Amazon Fire or Roku TV for its operating system. There are also many non-smart Insignia TVs available in the market. These non-smart Insignia TVs internet is not enabled.
Insignia TVs use Amazon, digital media player Amazon Fire TV mostly. It allows online streaming of audio and video content. It features a lot of apps and channels. If your home has an Amazon Echo device, you can run the Insignia TV via your smart home system. The remote has buttons dedicated to Amazon Prime and Netflix. It also has Alexa-enabled remote controls, so you can search content on TV by speaking into the remote.
You can also choose Insignia TV with the Roku system. You can get access to over 4000 channels and around 500,000 shows and movies. You can also enable kids-friendly settings with this system.
Durability and Reliability
Like its competitors, Insignia TV has a 7 years life span on average. They can also last for 10 years if used with proper care and settings. So, its safe to say that Insignia TV matches the lifespan of big brands.
The warranty period is one year i.e. 365 days from the date of purchase. BestBuy has an in-house repair center for their electronics. They have a reliable customer service. So if your TV or laptop stops working within the warranty period. You can get it repaired or replaced at no cost. Once the warranty is over, the customer will be responsible for the part and labor costs.
Various Sizes & Resolution
Insignia TVs are available in various sizes. Their TVs size ranges from 32 inches to 75 inches. You can use them in your bedroom, kids room and even in the living room. Insignia TVs also offer various resolutions 720p, 1080p to 4K high resolution.
A product that costs low and yet is perfect. Not possible right! Here are some potential cons you should know about, while choosing an Insignia brand TV.
Insignia brand produces quality devices. But they lack the latest technology. To make affordable devices, Insignia uses components of premium brands. So Insignia Tv, processors, screens and other components may be a year older than what Sony or Samsung are currently offering.
If you are looking for the latest device, Insignia might not be your first choice. For example, if the high-end brands have the latest 4K technology. You might have to wait for months to get 4K in Insignia TVs.
Insignia speakers have a decent quality. This isn't a big problem. But if you are a person who wants to hear every beat or sound of the music/television show. Insignia TV isn't a good choice then. You would have to buy a soundbar also with the TV.
If you have to buy both, the TV and soundbar, you should take both the prices into account. Much likely, together they would cost more than high-end TV brands like Sony and samsung. So buying a high-end brand TV is a better option.
Yes, the Insignia brand is now selling 4K resolution televisions. Yet, you should not expect exceptional contrast ratios even in 4K. It is pretty understandable that a TV that has a cheaper price. It might not display outstanding screen quality like big brands; LG and Samsung.
You might notice pixels or LED dots on screen from close distances. They don't have wider viewing angles. The quality of the image decreases, if you view it from side angles.
As per user reports, Insignia remote sometimes gets unresponsive. You have to continuously tap the buttons to make it work. So they aren't very durable.
Are Insignia Tvs Good for Gaming?
Insignia TVs have a high input lag which isn't good for serious gamers but works well for casual gaming. The refresh rate of all Insignia TV is 60HZ. Variable Refresh rate (VRR) is not available. It's a good choice, if you want a features packed, tight budget, 4K HDR TV for casual gaming.
They are compatible with gaming consoles like Playstation and XBox connected via HDMI. But since the refresh rate is 60HZ, You won't be able to take full advantage of games that work on 120fps. You can also use Insignia TV as a computer screen, and switch your TV to game mode for better performance. Game mode will reduce the input lag a bit and increase the response time.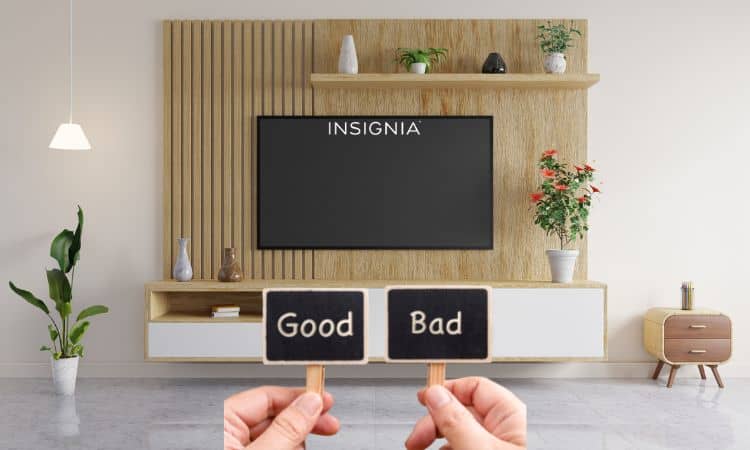 If you are looking for a TV that is cheap, durable and user friendly. Considering its price, all the cons of the TV are pretty understandable. That is why, Insignia TV is worth it.
Like if you want an extra TV for your bedroom, or for your kids room. Insignia is a good option. But If you have got a good budget and you are looking for a state-of-art television for your living room. Or if you want a gaming television, you should go for high brands.
Best Insignia TV to Buy Today
One of the best Insignia 43 Inch Insignia TVs is the Insignia NS-43DF710NA21 Smart 4K UHD – Fire TV.  It is an affordable TV with 4K Ultra High definition Picture quality. It uses 8 million pixels for dazzling clarity, deep contrast and colors. The Fire TV with the remote, can let you access all the Insignia smart TV apps like Netflix, Youtube. The remote also helps you control your smart home devices and takes voice commands also.
Hopefully, you've got the answer to "Is Insignia a good brand of smart TV?". We have discussed the pros and cons of Insignia TVs in detail. They are cheaper smart TVs that are decent alternatives to costly brands like LG and Samsung.