Fireplaces are common in every household and so are the niche spaces that come with them. A good TV placement with a mounting bracket can easily cover this ugly hole.
But how do you place a big flat-screen TV with the help of a TV mount? What tools do you need? What do TV manufacturers suggest? We will discuss all these things in this article. 
Quick summary
This article includes the following topics:
A step-by-step process for TV fireplace mounting.

Tools you need for TV wall mounting.

Important tips.
Let's get into it.
TV Fireplace Mounting Process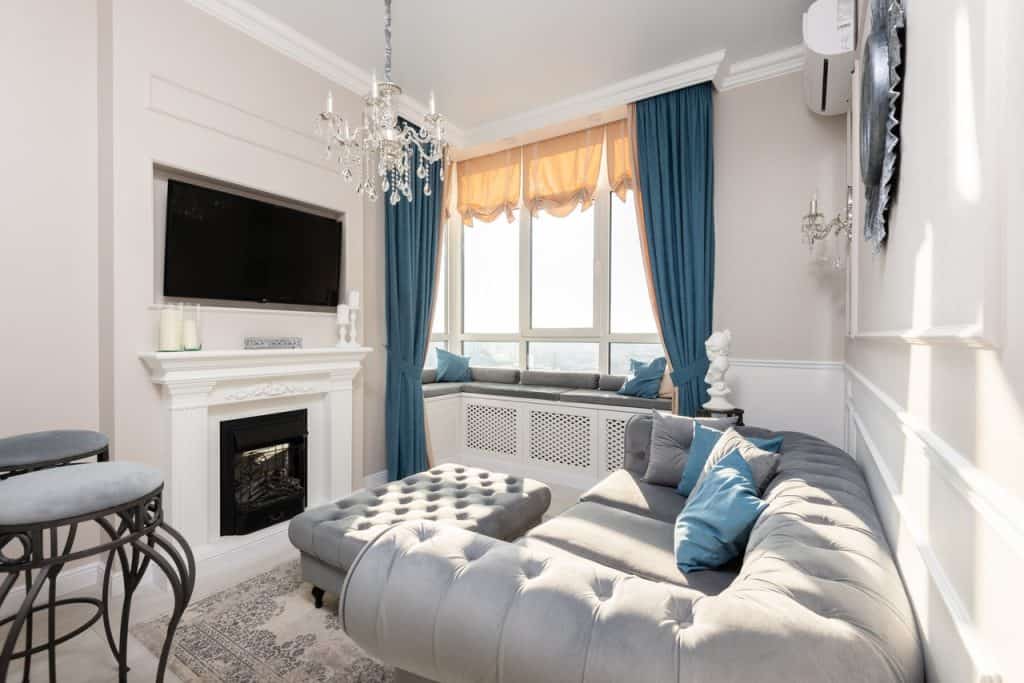 Before we get into the details of what TV mount you need and the whole TV wall mounting, there are some tools you need.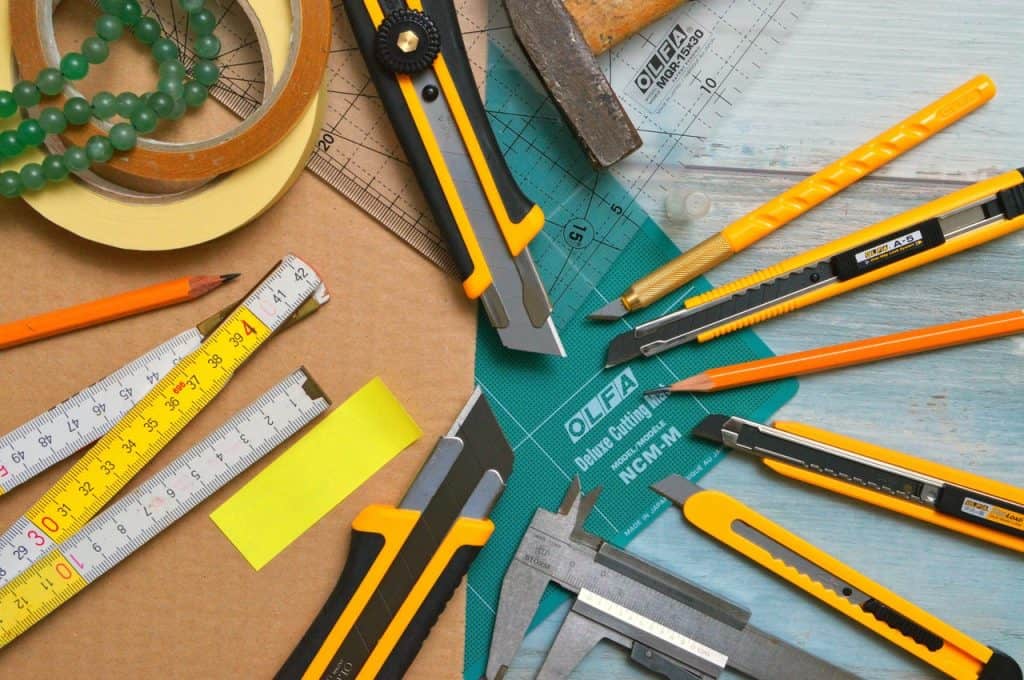 These tools will help you to carry out the entire TV mounting process rather easily and accurately. 
Here's the list for them:
A couple of wooden planks

Nails and a drill

Measuring tape

TV wall mount for your current TV
Let's see how you can use these tools for your home theater installations.
The first and foremost step is to take measurements for the niche bracket. Use the measuring tape to accurately measure the opening size of your niche. 
Once you have done that, use frame measurements to accurately mark your drywall. Make sure that you provide clearances on each side for natural cooling.
Choose the right type of wooden planks for TV fireplace mounting. Even though you are going to place it above the fireplace, you still need to focus on insulation.
After you select your planks, it is time to decide if you want to place them in a flush-mounted inside style or just in a conventional way.
What's the difference between the two?
The main difference is how you attach/install the TV and the figure it provides. The first method is rather clean and seamless while the other one has more operating space against the walls.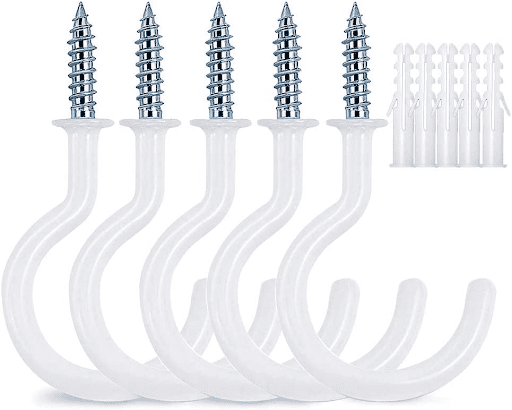 Since you are going to attach/install flat-screen TVs, putting the planks inside the wall is better. But before installing them, carefully cut them and place them inside the small TV niche with hooks.
Why do I need hooks?
If you are going to install the niche bracket inside the niche area, you will need hooks to attach it to the wall. Nails can also be used but they are quite inconvenient to drill in.
Be sure to not make the niche framing bigger than the fireplace. We must also mention that there should be enough room for you to reach the rear hook and lift your planks easily.
Once you have successfully put your wooden planks up, it is time for your flat-screen TV mounting. The process for it is similar to TV wall mounting. 
The only difference is that you need special TV wall mounting equipment for it. Since you are not directly mounting on a wall. You will need a special mount for it.
Which mount should I use?
Luckily for you, Carolina Custom Mounts provides several solutions for home theater installations. Their mounts are specially designed for flat screens.
In order to effectively wall mount your LCD TV, you need a mounting arm. Carolina custom mounts come with mounting arms that are able to move vertically and horizontally.
How does that benefit me?
You can easily move the tilt and swivel motion for TV mounting. Besides that, you can also adjust it to get the right viewing angle.
Carefully place the mounting arm on the planks to create an outline. Make sure to leave marks for the stud finder as well. 
Now cut every hole with your drill. It is better to place the mount on the floor and use a support box to drill the holes. 
This will provide more room for you to operate. Moreover, drilling a hole while it's suspended can mess up the dimensions of the hole. 
Should I be careful about anything else?
For a larger TV, it is important to make sure that the mount and the nails will stay in their desired place. You can use multiple nails to attach the TV wall mounting equipment.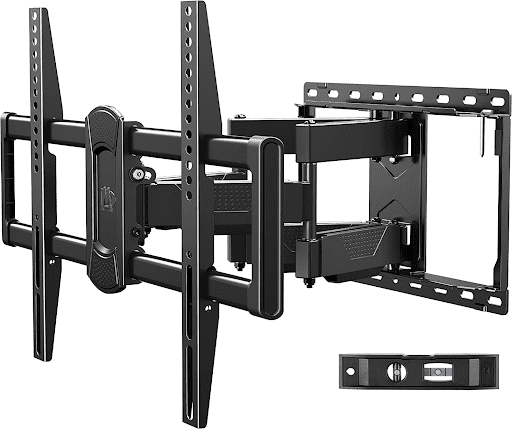 Once you have done that, you have all the puzzle pieces you need. All you have to do now is put them together. 
Carefully place the planks over the fireplace or the wall. After that, attach your TV to the mounting arms and use the stud finder to bolt it.
The next step of TV wall mounting is to carefully plug and wrap the wires of your LCD TV. 
What's the best way for wire management?
If you are using Carolina custom mounts, the TV wall mounting bracket comes with an extra set of wire clippers. 
You can just run the wire through these and tie them together with zip ties. 
Once you are done with home theater installations, it's time to test your LCD TV. Move around the house and check which place is suitable for your flat-screen TV.
Tilt the mounting plate accordingly but not too much to create a bend in your wooden planks. 
Other than that, there are several solutions and ideas such as changing your sitting arrangement.
How do I make sure that everything is in order?
After you have covered the ugly hole above your fireplace, give the wooden planks a little jerk to make sure that the mounting is successful.
This is the only part of the installing process you need to worry about. As far as the actual mounting plate is concerned for TVs, it's not going anywhere.
This is all you need to know about mounting your flat-screen TV above your fireplace. 
Important Tips to Remember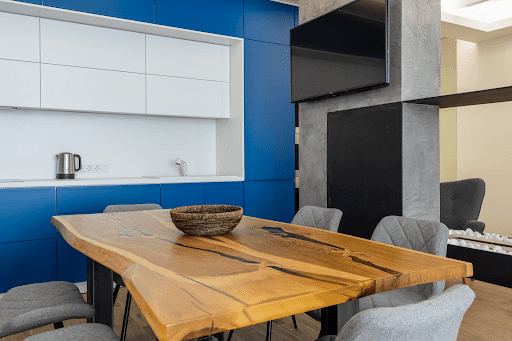 Here are some lesser-known tips you should keep in mind:
To properly ventilate the area behind your TV niche, use a small fan. But make sure to get a small, very quiet fan to avoid distortion in your flat-screen TV audio.

After you are done with home theater installations, always make sure to plug everything in one by one. This will remove the static current from your surfaces.

Be sure the flat-screen TV is mounted directly in your line of sight. You should be able to view it without turning your head wherever you sit.

If your mount is stuck and the flat-screen TV is not moving, apply gentle force from both sides.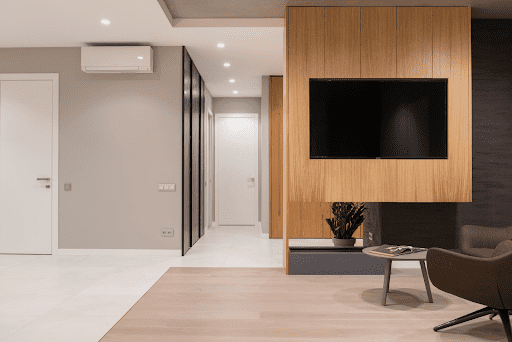 Mounting a flat-screen TV over a fireplace might look simple but it has some technical things you need to take care of.
It is important to cover up the niche above your fireplace with a TV mount. It will not only cover up the missing space but also add a new flair to your fireplace. However, you need to be careful regarding the heat from the fireplace. 
With this, we come to the finish line of your article on mounting a flat-screen TV in a niche.
Let us know how did you cover the niche above your fireplace.