Can you screen mirror without WiFi? The answer to this is "Yes". 
Although using Wi-Fi will provide a better experience, if you want to screen mirror without using Wi-Fi, you can do so by using a wireless display technology like Miracast or Chromecast. 
As a result, your sending and receiving devices will now directly connect.
In this article, we'll go through some methods to stream from phone to TV without WiFi.
You may learn how to mirror your phone's screen to a TV for a bigger, clearer viewing experience. Let's find out how to mirror a phone to tv without WiFi.
How To Mirror a Phone To TV Without WiFi iPhone.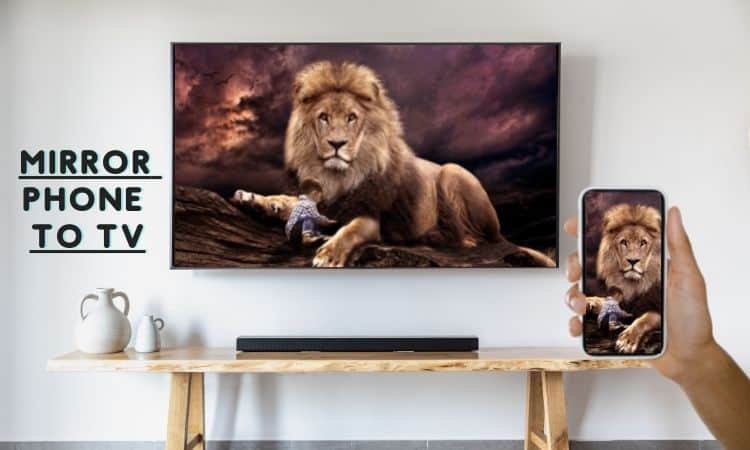 Method 1: Mirroring Your iPhone to a TV using Apple Peer-to-Peer Airplay
Peer-to-peer Airplay may not function while any of your devices are connected to a network and only works when WiFi is unavailable. To reconnect to any WiFi network, you must first disconnect your Apple TV and iOS from it.
Open Settings, choose a network and then select WiFi

 Your TV will display the Apple TV's network status if connected to one. Choose Forget Network after selecting the name of the active WiFi network.

To view the current connection details on your iOS device, navigate to Settings and then pick WiFi. To disconnect, select Forget Network.

Check that forgetting the network has been completed to stop devices from automatically reconnecting to your WiFi. To reconnect to your WiFi later, remember the SSID and password.

If you don't know your present Wi-SSID Fi's or password, as mentioned in Step 4 above, do not continue.

Turn on Bluetooth on both devices because Peer-to-Peer Airplay is a wireless feature that requires it. This process enables the communication between the two devices.

Turn on WiFi so you may use Peer-to-Peer Airplay on your iOS device. It must be turned on, but you don't have to be connected. In the Control Center, Airplay Controls show up as Screen Mirroring. Try moving the devices closer to one another if it isn't visible. Attempt restarting your iOS device if that doesn't work.

Select Screen Mirroring. You should see your Apple TV listed. It should appear on your TV screen if you're asked for a connection password. To activate the feature, enter that information.
Method 2: Mirroring Your iPhone to a TV using the Apple Lightning Connector to HDMI Port
Another way to mirror your iPhone screen is to use a cable to link the two devices. The bottom port on your iPhone is connected to an HDMI cable using the Apple Lightning Connector.
Your phone's screen will immediately be mirrored to your TV when you connect the device to the Lightning port on your phone, connect an HDMI cable to your TV, and then plug the HDMI cable into the Lightning Connector.
If you don't mind handling all the wires, this method is a quick and straightforward fix. Also, this doesn't require an Apple TV to function. This approach is practical as long as your TV has an HDMI port. Disconnect the cables if you want to stop mirroring.
If you prefer, you can use one of the other connector cables that aren't officially by Apple. Safety and dependability are not assured, though. It's best to stay with the official product to protect your gadgets from damage.
How To Mirror Netflix From Phone To TV Without WiFi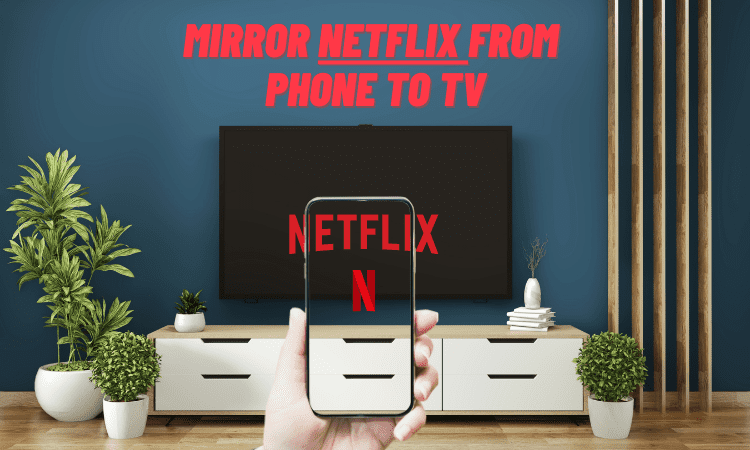 Finding a specific Netflix video downloader must be your first step if you want to move Netflix videos to a flash drive. Here, FlixiCam is strongly suggested. It permits downloading any Netflix movies in MP4 or MKV and has broad cross-platform compatibility (works on both Windows and Mac PCs).
Step 1. Launch FlixiCam and Log into your Netflix Account
First, to access the Netflix login page and enter your Netflix account information, type any word into the search box.
Step 2. Customize the Output Settings
The General Settings box will appear after you tap the Setting button (which resembles a gear). You may change the output path, quality, and type (MP4 or MKV).
Step 3. Search Videos on FlixiCam
You must now add videos to your download list. Type the video name or copy and paste the video link from the Netflix Web Player into FlixiCam, then hit the "Enter" key on your keyboard. The video or all associated videos will be listed on FlixiCam. You can download a single video or an entire season.
Step 4. Select Audio Track and Subtitle
Navigate to the season, title, and choose the audio track, subtitle track, etc. Tap the Download icon to download any show. A box will then appear, allowing you to select the show's title, seasons, and audio track. 
You can also set the show's subtitles by choosing "Advanced Download" in the bottom left corner. If you try downloading a movie, open the window by clicking the "Advanced Download" icon next to "Download."
Step 5. Start to Download Netflix Videos
Finally, press "Download" to start the program's download of videos to the specified output path.
Step 6. Enjoy Netflix Downloads on Your TV
You can now transfer the download to your USB drive by connecting it to your computer. Insert the USB flash drive into your TV and enjoy the videos whenever you need to watch them on your TV without WiFi.
Related: SAMSUNG TV SCREEN FLICKERING
Apps To Mirror Phone To TV Without WiFi
Some of the best options for using your Android device to mirror your Android phone's screen on a TV include the following apps.
 Available for both WiFi and cellular data connections and you can download this app for free. You may also record videos and watch them on a wide screen using it.
It works with FireTV devices and other remote-controlled platforms that are similar. It enables you to mirror your Android screen to any HDMI- or DLNA-compatible TV.
One of the simplest methods is to use Chromecast for mirroring. To do this, follow these steps:
Open "Google Home" on your phone. 

Then scroll down until you see a small icon with two rectangles. 

Select the "Chromecast" option. 

After that, select your TV from the list of devices that appears on your phone's screen.
You may also do this by pressing the home button on your phone twice, after which you can choose "Chromecast" from the menu that pops up.
Below is a list of the best apps for screen mirroring from an Android device to a TV without WiFi. But if your TV lacks a USB port or an MHL connector, they are not the best option.
Top Screen Mirroring Apps:
YouWave

Mobdro

AirDroid

Screen Cast

App Cloner

AirBeamTV

AllCast

Miracast

Google Chromecast

LocalCast AirPlay

AllCast Premium

AirDroid Premium

AllConnect Cast

Easy Mirroring Apps

ShareIt Cast Screen

Screen Stream Mirroring Pro

FreeCast AirPlay Mirroring

Screen Mirroring Pro

AirBeamTV Pro

AllCast Premium

FreeCast AirPlay Mirroring

Screen Stream Mirroring Pro
How To Connect Phone To TV Using Bluetooth Without WiFi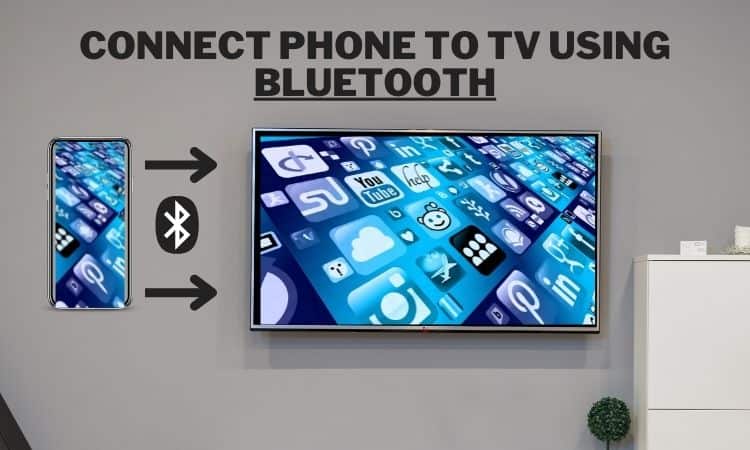 Mirror your Device Using Bluetooth
Using Bluetooth, you may wirelessly mirror your smartphone to a smart TV. The Miracast technology used in most modern smart TVs makes it possible. On both your smartphone and smart TV, it mainly uses a Bluetooth connection.
Here's how to use Bluetooth to mirror your phone to your TV:
Switch on your smart TV and enable Bluetooth under Settings > Connectivity.

Go to Settings > Bluetooth on your phone and turn it on.

Look for your smart TV in the list of Bluetooth devices, then press to connect.

Once connected, you can start playing the series and movies you've saved to your phone's gallery.
Tip: You can activate your mobile data or cellular connection to directly search for movies on the streaming apps already installed on your smartphone if you have enough credit.
Also, check our guide on the best TVs with bluetooth. 
It can be difficult to cast and mirror content from your smart devices to a TV without the internet because the world relies mainly on wireless connections to complete everyday tasks. Even devices like Chromecast need an internet connection to function, whether ethernet or mobile data.
However, if you have the necessary tools, you can get by without Chromecast and similar devices, let alone the internet. Try one of the hacks mentioned above instead to get around the situation.
We hope this article helped you with how to mirror a phone to TV without WiFi