Do you enjoy watching your favorite series or movies on your TV? If Yes then even a slight interruption can ruin your best moments. Although, your Samsung TV produces high picture quality. But many of its consumers about Samsung screen flickering or blinking problems that destroy their cinematic experience.
When the image suddenly starts flickering while we are watching TV, we may think if the device is malfunctioning. 
Luckily, screen flickering isn't a massive technical problem and can be resolved by following a few easy actions. 
This article will explain to find out reasons for Samsung screen flickering and how to repair your Samsung TV screen flickering step-by-step.
Also check our guide on best TVs for bright rooms which includes Samsung TVs as well.
10 DIY Solutions for SAMSUNG TV SCREEN FLICKERING
UNPLUG YOUR SAMSUNG TV OFF THE WALL:
The most popular technique to prevent your Samsung qLed TV from flickering on and off is to disconnect it from the power socket. 
Locate, press, and hold the power button of your Samsung TV for thirty seconds when it is not plugged in.
Make sure that you're pressing the power button which is on your Samsung TV instead of holding the power button on the remote. 
This assists in draining any remaining power in the TV and enables it to reset itself. This is not similar to just turning the remote on and off. 
After 1 min, put the TV back in the socket and it should power up normally, without any screen flickering.
Also check our guide on best 76-inch TVs under $1000.
DISABLE ENERGY-SAVING MODE ON YOUR SAMSUNG TV:
If disconnecting the Samsung TV did not stop the screen flickering, it is also important to check if the TV is on the Energy Saving Mode. 
To save power consumption, the energy-saving mode controls the brightness of the screen automatically, which is most of the time the reason behind the flickering. 
However, it is usually recommended to not use more brightening levels so you could save energy.
To turn off this mode on your Samsung TV
Press the home button on the remote to go for
Search and press general
Choose ECO solution
Go to energy-saving mode
Press 'enter' to turn off the mode 
In some models of Samsung TV, energy saving mode is with the name power saving mode. 
People having old models of Samsung TV should opt for ambient light detection after selecting the eco solution.
DISABLE ECO SENSOR ON SAMSUNG TV:
Samsung 4k TV flickering occurs when this feature malfunctions.
This feature can adjust ambient light brightness automatically and it prevents the device from overheating to decrease the utilization of power. Sometimes due for any reason, it stops working which causes flickering. 
To resolve this issue, turn off this feature under the "settings" menu.
If this issue still exists, then there might be other reasons for screen flickering. Therefore, before jumping to other options, enable this feature again. 
ADJUST MINIMUM BACKLIGHT OF SAMSUNG TV SCREEN:
If the issue of screen flickering did not resolve even after turning off the energy saving mode/ power saving mode, then adjust the minimum backlight of the screen. This feature helps in adjusting the intensity of the lightning while the feature of the ambient light detection provides manual adjustment of the brightening level. 
This function allows you to change the brightness of the source of lighting for the TV screen, and occasionally you'll need to adjust this dial to prevent screen flickering. 
To adjust this feature: 
Press the home button on the remote to go for
Search and press general
Choose ECO solution
Choose minimum backlight
Try adjusting the scale to check if you can stop the flickering.
RESET PICTURE SETTINGS ON YOUR SAMSUNG TV:
Resetting your Samsung TV's picture settings is one other option for this problem.
It will restore the factory default settings for your TV screen.
For resetting this:
Press the home button on the remote to go for
Choose picture
Search and press expert settings
Scroll down to 'reset picture' and it's all done!
USING DIFFERENT VIDEO SOURCES IN YOUR SAMSUNG TV:
Check your Samsung TV with an alternative "video source" if possible. A cable connected to the TV or the device placed externally may very possibly be the cause of the problem.
Screen flickering, for instance, can occur when a streamed broadcast sends your TV damaged frames.
This step will at least help you in recognizing the origin of the problem whether it is in your Samsung TV or is it something else, for instance, Firestick, Roku, and any other connected, streaming devices. 
EXAMINE EACH CONNECTION OF SAMSUNG TV:
Watch out for damaged cables, twisted wires, and loose electrical connections.
You can tell if the connections are bad when you notice that the flickering mainly occurs when the TV is connected to a specific input.
Problems are frequently caused by HDMI wires in particular.
If the Samsung tv flicker Horizontal lines on the screen, it identifies any loose input cord.
Permanent horizontal lines are unlikely to be resolved by this patch because they frequently signify physical damage to the device.
The Samsung TV flickering at the bottom or top of the screen occurs due to damaged cables and loose connections. It can also happen due to lightning in the room or any kind of electrical interference.
EXAMINE HARDWARE ISSUES OF SAMSUNG TV:
The Samsung TV's internal components might be the source of screen flickering difficulties.
Your TV's electrical components may be deteriorating if you have not able to pinpoint the reason for screen flickering (for example, the ribbons).
Quite certainly (until you are a skilled professional), this issue will not be resolved on your own, so it is generally advisable to get your TV repaired or to think about getting a new one.
You could still be able to use the warranty if it is a newer Samsung TV.
UPDATE OS OF YOUR SAMSUNG TV:
when the software on the Samsung TV is out-of-date, it may experience a wide range of problems. Just inspect the settings for recent Samsung TV OS upgrades to solve this issue.
You only need to check for the most recent firmware update for the Samsung TV model. 
This feature needs a good internet connection as the process of downloading may take a long time. It is recommended to try this option in your spare time. 
This is how you will do it:
Visit
Choose the Support option.
Go to Software Update 
Choose Update Software from the menu.
Your tv will programmatically update. This procedure may take a couple of minutes; however, your TV will notify you after the completion of the whole procedure.
FACTORY RESETTING THE SAMSUNG TV:
The most serious action that can be taken to fix software, as well as firmware problems with the device, is a full factory reset.
Your Samsung TV will be restored to its factory settings after wiping out all of your personal settings (apart from network settings).
However, before preceding further with this option try to fix this flickering issue by using other options that are given above.
Factory reset your device by following these steps:
Hit the Home button on the remote while the TV is on.
Select Reset from Settings then goes to
Type "0000" if you've never set a security PIN. 
After turning off and then turning on, the TV will show the initial setup screen.
 Your Samsung TV will effectively be returned to the settings just like the day you bought it.
Older Samsung TV models will have different settings for factory reset than mentioned above.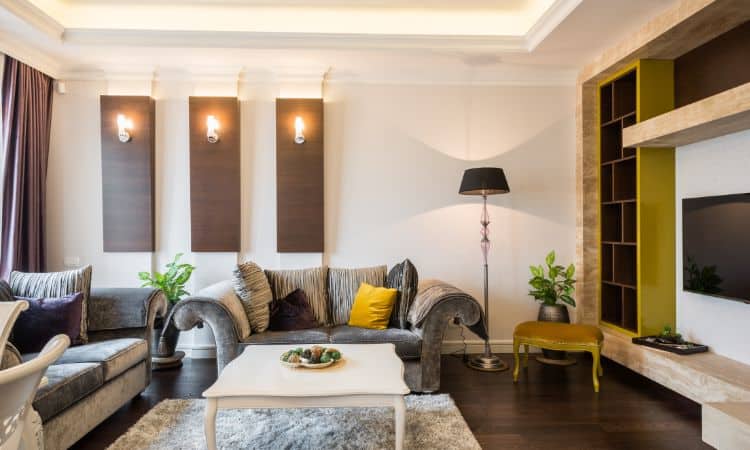 The TV screen flickers normally at a very high speed that it does not feel while you are watching it. But sometimes when there are extreme lights in the room, it causes flickers at a noticeable rate which made the Samsung TV screen appear as if it is flickering.  
To fix this issue, either darken the room or brighten it. Furthermore, this issue can also be fixed through brightening level settings in your Samsung TV. 
The brightening level settings depend on the Samsung model.
If the model is made before 2016 then follow these steps to turn off the ambient light detection feature.
Go to system
Select eco solution
Choose the Eco sensor and turn it on or off accordingly
If the model is made after 2017 then the following steps will be taken to turn off this feature. 
Go to settings and select general
Choose eco solution
Select ambient light detection and use the slider to adjust the level
 If you are unfamiliar with how the electronics of your Samsung TV operate, avoid messing with the electrical connections and their constituents. When none of the aforementioned solutions worked to resolve your Samsung screen flickering problem, it is better to approach an authorized technician to inspect your Samsung TV.
Besides that, always consider buying good quality cables for the TV, as they play a significant role in the performance and reliability of your device.
Before deciding to change the TV totally, attempt the feature of factory reset or get in touch with Samsung company. Without charging any additional costs, you can have it replaced.