So, you just got the Samsung Frame 4K TV, and the aesthetic part is taken care of. But now you need an audio solution that not only complements the artistic features of the TV but also delivers top-notch sound.
Now you are looking for what soundbar will match the TV to keep its aesthetic intact, but Can you use a sound bar with the frame TV in the first place? You have hit the right spot because in this article, we will discuss the following:
Whether you can use a soundbar with your Frame Tv.

Different methods to connect soundbar to a Frame TV.

What are the best soundbars you can get that go well with this TV? So stay Tuned! 
Can You Use a Soundbar With the Frame TV?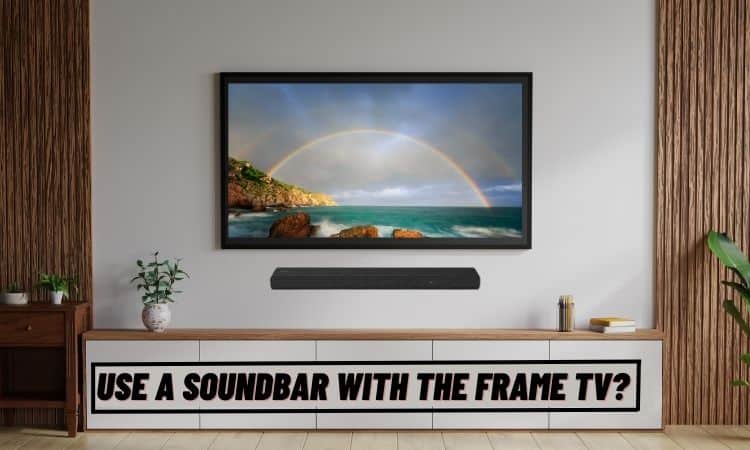 Yes, you can use a soundbar with the Frame TV. A sound bar is a common pick among consumers since, like many modern TVs, a minimal cabinet design limits TV sound quality. 
Ordinary soundbars, however, ruin Frame TV's carefully crafted aesthetic and illusion, so you have to be smart with your choice of the soundbar.
When Samsung and Fuseproject, a design firm led by renowned Swiss designer Yves Béhar, teamed up to create a better way to integrate TV in the home in 2017, Frame TV was created. 
They highlighted that the main issue from consumers is that a TV appears as an obtrusive "black hole" when it is off. As a result, custom installers are often asked to cover TVs with expensive cabinets or to make otherwise the TV disappear.
The appearance of Frame TV, however, is similar to that of a wall-mounted painting. A TV cabinet that is only 1.75 inches deep, looks like a picture frame and is flush with the wall without a gap creates the illusion. 
Since the TV automatically presents expertly curated high-resolution art as static or moving images when switched off, there is no "black hole."
The flat panel, which can extend viewing angles, cannot adjust powerful speakers that provide heavy, deep sounds. 
To improve TV speakers and deliver 360-degree cinematic sound in your home living rooms, we recommend connecting an external sound system, preferably a soundbar.
The frequency response of the Samsung The Frame 2022 is decent. At moderate listening settings, it gets loud, and the dialogue is clear, but there are more artefacts at maximum volume. Additionally, it doesn't create much bass, so for the best sound, invest in a soundbar.
Since the screen can decode the immersive surround sound format, ensure the soundbar is compatible with Dolby Atmos.
How Do You Connect a Soundbar to a Samsung Frame TV?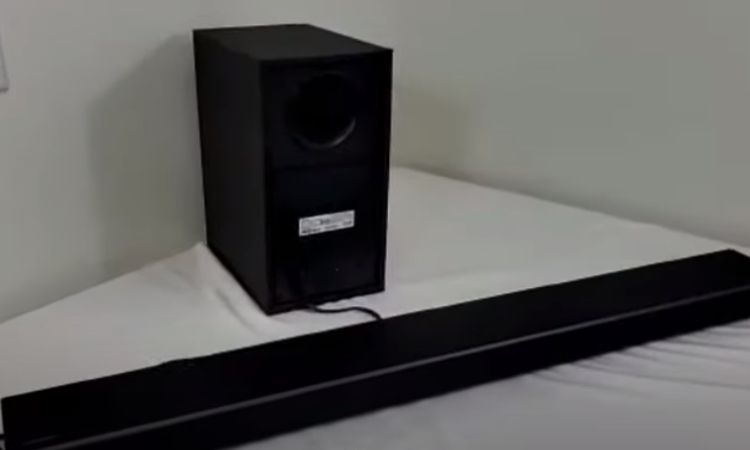 There are numerous ways to connect your soundbar to the Frame TV. You can use an HDMI cable or optical cable for a wired connection. Another option is Wi-Fi, which allows for wireless connections.
Connectivity Of The Samsung Frame
Samsung Frame TVs come with the One Connect Box, which functions as a central hub for all cables, so a One Connect Cord may be used to bring signals to the TV.
You can use the following ports to connect your favourite input devices, including cable boxes, Apple TVs, DVD players, and more.
(4) HDMI inputs
(1) Optical Digital Audio Out
(1) Cat 5 Ethernet Port
(1) Coax Input
(3) USB Input
(1) Ex-Link
Method 1. Connect with an HDMI cable
The common connector for sound and video is HDMI, and both speakers and projectors use this as standard.
You'll get the optimum audio quality by connecting your soundbar to the TV via an HDMI cable. HDMI cables use digital audio transmission, lowering latency and improving sound quality as the digital audio signal travels in both directions. 
You may route the sound from your Smart TV to a sound device via an HDMI cable for a better audio experience. 
A unique feature of HDMI high-speed certified cables called ARC (Audio Return Channel) allows sound to be sent back to the transmitter.
To connect your soundbar to the TV via HDMI, follow these steps.
Step 1. Prepare an HDMI cable.
Step 2. Attach the cable to the HDMI IN port on the TV (ARC).
Step 3. Plug into the soundbar's HDMI OUT (TV-ARC) port.
Step 4. Turn on the soundbar and select D.IN as the Source.
Step 5. The sound from the TV will be played through your soundbar 
Troubleshooting the HDMI connection
Remove all external devices (STB, OTT devices, etc.) connected to the TV first if there is a problem with the ARC/eARC operation, and then try playing again. 
There could be issues if some external devices do not correctly match the HDMI connection specifications. If the problem persists, you should try the following different methods.
Method 2. Connect with an optical cable
Another great option to connect your soundbar to the Frame Tv is an Optical cable. This cable transmits digital sound, allowing for clear, detailed sound.
Step 1. Start by turning on the soundbar and TV.
Step 2. Set the soundbar to the D.IN setting by pressing the Source button on the soundbar.
Step 3. Connect a digital optical cable to the TV's OPTICAL OUT port on one end and the soundbar's DIGITAL AUDIO IN (OPTICAL) port on the other.
Step 4. Navigate to Settings on the TV.
Step 5. Select sound.
Step 6. Select sound Output.
Step 7. Select WI-FI.
Method 3. Connect with Wi-Fi
To wirelessly connect a soundbar to your TV, use Wi-Fi. 
Step 1: To select Wi-Fi mode, press the Source button on the back of the soundbar or the remote.
Step 2. Connect the same Wi-Fi network that your TV is using with your mobile device.
Step 3: On your mobile device, download the Samsung SmartThings app.
Step 4: Open the SmartThings app on your smartphone and select the (+) Add icon.
Step 5. Select Device, which is the first option on the screen, and tap it.
Step 6: Tap AV and choose your soundbar's brand from Samsung or Samsung Harman Kardon. Next, select Soundbar.
Step 7: Tap Start and choose the room and location. Your mobile device will then search for the soundbar and establish a connection.
Step 8: Navigate to Settings on the TV.
Step 9. Select sound
Step 10. Select sound Output.
Step 11. Select WI-FI.
Broader range: When compared to Bluetooth, Wi-Fi offers a greater range. A Bluetooth connection can typically only be made within 30 feet. However, Wi-Fi needs a strong Wi-Fi signal, so you can play music as long as your devices are connected to the network.
Multiple connections: You can connect several soundbars to your network via Wi-Fi– the wide Wi-Fi coverage makes it possible. As a result, you can use Wireless Audio 360 systems at the same time and enjoy high-quality audio.
What Soundbar to Use with Samsung Frame TV?
Below we have listed 3 soundbars that complement and work well with your Samsung Frame TV.
FRAME BAR FOR SAMSUNG FRAME TV
The Leon's FrameBar offers unmatched sound in a compact soundbar and is built to match the width and style of Samsung's The Frame. FrameBar. 
It comes in various finishse and is the most elegant approach to integrating high-performance audio into The Frame while seamlessly blending in with any setting.
Note: Because their speakers are made of wood instead of the plastic used in the Frame TV, there may be subtle variations in the finishes of the two products.
The Fusion Frame Slim offers outstanding sound in an impressively small package thanks to its unique convex drivers. 
This Frame TV soundbar barely exceeds the overall depth of the Frame TV while raising its sonic quality to the Next Level with an exposed depth of just 1.25 inches.
The ground-breaking Samsung Frame audio solution offers powerful dynamics and excellent sound. It does so without taking away from the display's beauty, which is the primary reason you bought the Frame TV in the first place.
It results from NextLevel's detailed attention to the soundbar's framing and its ability to mount flush to the wall using its unique zero-gap method. 
The No-gap approach  enables the Frame TV's stunning images to take centre stage while ensuring that the Fusion Frame Slim fulfills its role as the perfect complement.
Moreover, the Sony HT-G700, Yamaha SR-B20A, and Samsung HW-Q800A (Q Series) are the best soundbars that show outstanding compatibility with Samsung frame TVs. 
They are affordable, simple to set up and come with HDMI 4k passthrough, allowing users to enjoy the latest high-resolution content in high- audio Output.
When you give your display the attention it deserves and create a true piece of art, your sound system should be equally stunning and compelling. 
You can listen to everything from the most delicate violin solos to fully immersive movies with the above suggested soundbars, all in crystal-clear surround sound. 
We hope this article helped you with "Can you use a sound bar with the frame TV?"