Samsung and Vizio are leading brands for selling the best TVs in the world. Having a look at the latest TVs from both brands, you will notice that both are doing a great job at coming up with the most advanced features in their TVs.
So it is really hard to make an informed decision on your own. Most users' target is to buy a TV with the best picture quality, supportive gaming features, amazing processor, and quality sound. 
We have researched each and every aspect to help you make a better decision in the simplest way. Our verdict will be more objective to let you decide on your own.
Samsung And Vizio – A Short  Company Introduction
Samsung is a South Korean company that's been making cool stuff like TVs and phones for nearly 40 years. They're all about making high-quality things that are easy to use. When it comes to their TVs, they're famous for having really good screens that last a long time. So, even if you spend a bit more on a Samsung TV, it's worth it because it'll work well for a long time. Other companies even use Samsung screens because they're so good.
Vizio, on the other hand, is an American company based in California. They make electronic gadgets like TVs and sound systems. While Vizio isn't as famous as Samsung right now, it's becoming more popular. What's cool about Vizio is that they're into smart technology. They focus on how people use tech these days. Some of their TVs don't have old buttons to change channels because regular TV isn't as common anymore. Instead, some Vizio TVs come with a tablet to help you watch shows easily, especially the modern ones. So, Vizio is all about keeping up with the times.
Vizio VS Samsung TV: Quick Answer & Comparison Summary
When we compared Vizio VS Samsung brands, we found Samsung to be the winner. It outperforms the Vizio brand in picture quality, sound quality, and durability as well. However, for people who are on a budget, the Vizio brand's TVs will be the best option.
Feature

Samsung TV

VIZIO TV

Winner

Screen Size & Dimensions

24-110 inch, Larger screen sizes are available

24-85inch,

Less Size ranges are Available

Samsung

Design & Build Quality`

Metal built frame, sturdy stand, Flat screen and Curved screens

Plastic build frame, with metal stand, No curved screens

Samsung

Picture Quality

Better gamma range, great color accuracy

Less gamma range, okay color accuracy

Samsung

Image Processing

Quantum processor 4k, 8k

IQ Ultra Processor 4k

Samsung

Display Technology

Quantum dot technology, AMOLED, OLED display

Quantum dot technology, OLED display




Both doing great Job




Contrast & Local Dimming

Great quality and infinite contrast ratio(inf: 1)

200,000:1 Dynamic contrast ratio

Samsung

Peak Brightness

Up to 1400 + nits Excellent

Up to 600 + nits Good

Samsung

HDR

HDR 10+, HLG

HDR 10+, HLG, Dolby vision

Vizio

Viewing Angle

Exceptionally wide viewing angle

Average

Samsung.




Sound

Dolby Atoms, Dolby digital, eARC support

Dolby Atoms, Dolby digital, eARC support

Both

Smart Platform

Tizen OS

SmartCast OS

Both

OS

(Fast and heavily stocked with latest Apps)

(Expanded app selection and build in support for Chromecast and AirPlay 2

Both

Anti-glare & Reflections

Superior anti-glare feature with Led backlight and effective sceen coating

Antiglare and reflection is not found to be very effective in bright rooms, but gives a decent anti-glare feature

Samsung

Price/ Affordability

Expensive

Very economical

VIZIO

Ports

All necessary ports

All necessary ports

Both
Sizes and Prices Of Samsung And Vizio
Samsung TV 32, 43, 55, 65, 75, 85 inch screen Dimensions & Price
| SCREEN SIZE | Width | Height | Depth | PRICE |
| --- | --- | --- | --- | --- |
| 32 | 745 | 442 mm | 69 mm | 497 USD |
| 43 | 970.2 mm | 563.2 mm | 58.8 mm | 297 USD |
| 55 | 1227.1 mm | 710.7 mm | 54.9 mm | 497 USD |
| 65 | 1457.7 mm | 837.3 mm | 59.7 mm | 843 USD |
| 75 | 1673.8 mm | 964.1 mm | 57.6 mm | 1797 USD |
| 85 | 2004.3 mm | 1635.9mm | 71.6 mm | 2399 USD |
VIZIO TV 32, 43, 55, 65, 75, 85 inch screen Dimensions & Price
| SCREEN SIZE | Height | Width | Depth | PRICE |
| --- | --- | --- | --- | --- |
| 32 | 18.8in | 28.8in | 7.9in | 112 USD |
| 43 | 24.5in | 38.3 in | 8.3 in | 299 USD |
| 55 | 30.5in | 48.74 | 10.24 | 368USD |
| 65 | 35.6 | 57.3 | 11.9 | 998 USD |
| 75 | 41.1 | 65.7 | 14.3 | 1439 USD |
| 85 | 45.33 | 74.5 | 13.77 | 1499 USD |
Features of Samsung VS VIZIO TVs
Let's explore what features both the brands, Vizio and Samsung include in their TVs so that we can get our winner.
1. Design And Build Quality
Samsung TV has the most stunning sleek and smart design. The tv exterior parts are mostly made up of plastic. The stands that come with Samsung TVs are made up of metal. 
VIZIO TV brand is likely to be more concerned about the look of the TV. this year's D series is very slim and beautiful. It's all made up of Plastic and the stand is made up of some metal to support heavier TV easily.
Samsung and Vizio are making a wide range of display sizes. The sizes range from 24 inches to the giant 110 inches display size. 
However, Samsung is offering a wider range of options in screen sizes. We have listed all the sizes. ( you can check the corresponding website for any missing size).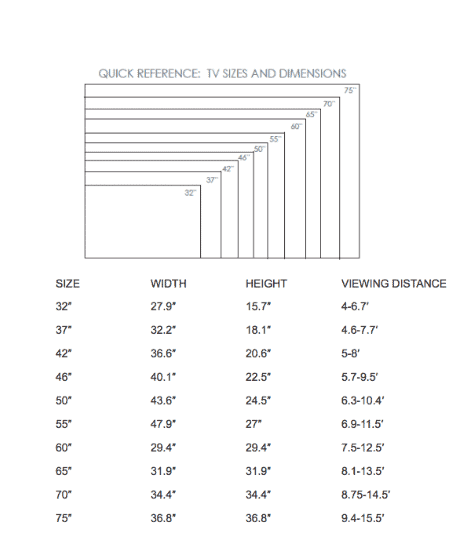 This chart shows screen size and their width and height, along with viewing distance.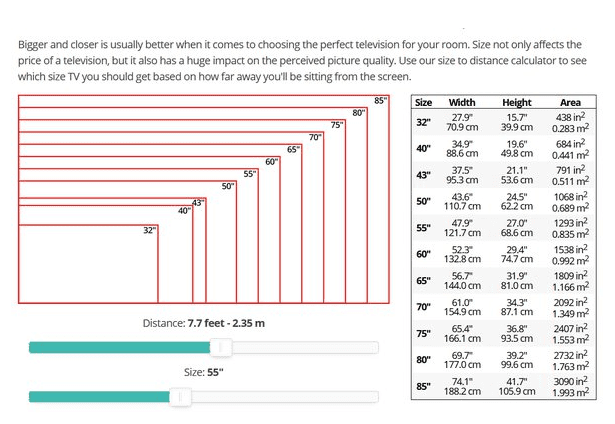 This quick dimension chart will guide you about your desired tv size. So can properly select a suitable TV size that suits your needs. 
It has also described the minimum viewing distance that is necessary to maintain from the screen to get the best results.
3. Display Panel Technology
Samsung has introduced many new panel technologies. After IPA, PLS, VA, and ADS panels in LED TVs, it has come up with a new QLED panel.
In most Samsung TVs, VA panel technology is employed. However, in the Latest Neo QLED TVs, Samsung is using cutting-edge Low-contrast IPS LCD panels. 
The mini backlight and quantum dot layer give a high picture quality. 
VIZIO on the other hand does not manufacture its own LCD panels. Like many other companies, their panels are manufactured by LG. OLED panels for VIZIO and SONY are made by LG
Their panels are mainly manufactured by Taiwanese company American. 
VIZIO LCD panels give high picture quality and contrast. 
But their OLED panels have a much slower response time than Samsungs QLED and Neo QLED panels. Which have undoubtedly better color palettes and deep blacks.
4. Image Quality/ Image Processor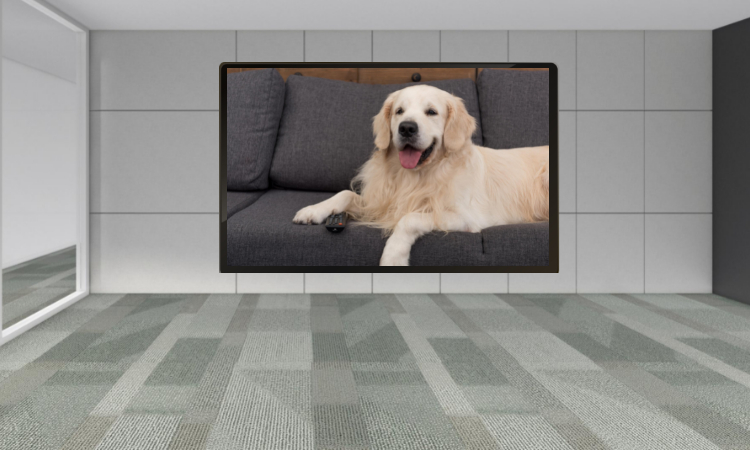 Samsung uses QLED 4k and Neo QLED AI-powered 8k processors. Their QLED 4k processor also gives a higher picture quality. 4K processors operate at 120 Hz. which means they can show you 120 frames per second. Samsung TVs will show the most high-quality pictures.
On the other hand, Samsung TVs support low image quality too. It uses a 1.3 GHz processor in its TV sets. That allows fast response time, quick web browsing, and multitasking at a very fast speed.
In VIZIO, they use IQ Ultra and IQ Active processors. That works best with the 4k technology. 
They have improved image contrast and color palettes for gamers with ProGaming Engine. VIZIO and Samsung both have 4k, and ultra HD TVs. that work best with their specification set.
VIZIO TV operates at a 60 Hz refresh rate.
However, with all the features, VIZIO is still behind in support features and exclusive image quality of Samsung TVs. Samsung has a better image processor and picture quality.
Local dimming is the factor that increases image contrast. In most latest technology TVs, the local dimming is rendered as the most important feature. With this feature, blacks appear deeper and highly improve picture quality.
Samsung TVs have one of the best Local dimming factors among all the TV brands out there. 
VIZIO on the other hand gives high-quality images. Its P series intelligently handles darkness and brightness. 
But it's slower in response time to the local dimming factor. Samsung on the other hand is fast and rapidly responds to high contrast and changes on screen.
Samsung improved the brightness technology to reduce blooming this year. When we examine the OLED Samsung TV on a really dark background with a bright blooming image in front of it. 
The stray illumination that leak from the dark to the bright area is very minimal on Samsung 4k OLED TVs. it is measured to be 1900 nits. This is the brightest of the latest TV screens that we are getting in 2022.
Most of VIZIO's latest technology TVs, like P-series Quantum, have decent peak brightness levels. On M-series, it gives 600 nits of brightness. 
So there is a clear-cut difference that VIZIO is far behind in this category too. 
Samsung's latest OLED and QLED TVs offer excellent viewing angles. It will be good from any angle you see. The picture will be the same from the side as well as from the front angle.
Of course, on the bigger screen, you will get a better viewing angle.
O most of the VIZIO TVs, the viewing angle is massively distorted when viewing at a different angle. Watching from a side in a huge room would alter the picture quality.
So Samsung has done a great job in improving viewing angles in the latest TVs.
Samsungs this year TVs have got some outstanding AntiGlare technology. No matter if you have bigger windows in your apartment and the sun shines from everywhere. 
Samsung TV will handle Glare very well with its cutting-edge anti-glare technology. You are not getting anything better than this.
The P-series TVs from VIZIO have the most advanced features. They deflect the light effectively coming inside a large very bright room. With its Anti-glare technology, you would enjoy every bit of the picture whether it's day or night.
But in deflecting light coming in a very bright room (through indirect sunlight), Samsung does a better job.
Samsung TVs' sound quality is amazing. You can Couple it with q-symphony soundbars for audio enhancement. But these are able to create a nice sound effect on their own.
VIZIO has specialised in selling the best quality TVs and sound bars. The latest VIZIO TVs have  Dolby Atoms AND Q symphony sound technology. 
So you will get the best sound quality from these TVs even if it is not connected with sound bars for audio enhancements.
Samsung TVs are available in lower screen resolutions ( non-HD) as well as in the latest 4k and UHD. Samsung has now introduced its nano vision Neo QLED 8K resolution TV.  
Samsung QLED TVs operate with a quantum dot that works well to diffuse any pixel and shows butter smooth images. These work well for color enhancements.
VIZIO TVs are only available in HD, 4K full HD, UDH, and OLED. this year VIZIO has launched all the TVs with 4K resolution and Quantum Dot technology too. Although it comes with HDR10+ and Dolby vision that improves the picture quality a lot.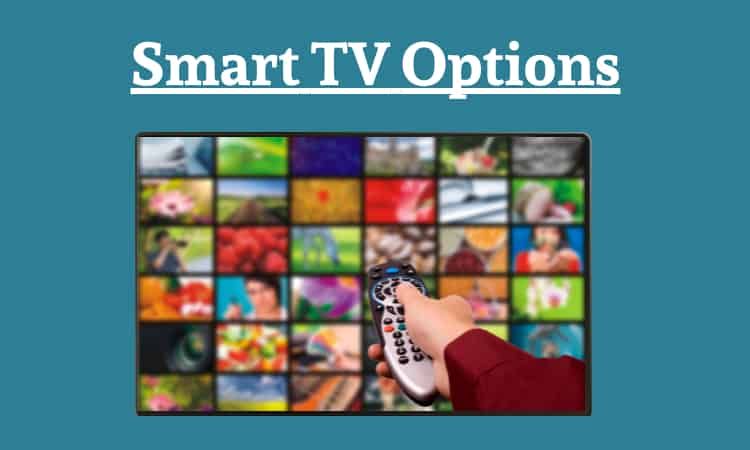 Samsung comes with its built-in Tizen OS. which has a number of smart Tv options.
VIZIO has its own SmartCast OS. that supports Amazon Alexa and Google Assistant. It can also be connected to the apple airplay and Chromecast.
Both operating systems are excellent and enable voice assistance to operate the TV.
Samsung TV has 3 HDMI 2.1 ports. They are used to connect external devices and gaming consoles. 
Vizio has 4 HDMI ports to connect the external devices. HDMI 2.1 operates at 4k 120 Hz for high bandwidth
In addition to that, both have ethernet, USB, and audio/video component connectivity. 
VIZIO has taken the lead in this regard as it has more HDMI ports than Samsung.
Generally, VIZIO TVs are a power saver. They operate at much less power. VIZIO TV uses 57.5 watts in ON mode. While at standby mode, it uses 0.5 watts. 
It is listed among the brands which are energy efficient. It's a general range that varies in different models. However, it consumes a maximum of 87.3 watts in ON mode.
On the other hand, Samsung smart TV series consume much higher electricity. Samsung TV operates at 145 watts. 
So, here we have a clear winner in the category. VIZIO is more energy efficient and will save you a good amount in your electricity bills per year.
Samsung and VIZIO, You can operate both TVs with voice Assistance.
Samsung has Bixby key functions where you will wake the Bixby Assistant by using the "Wake" word.
In Vizio, you can now speak in the remote to launch any app or any feature. It is just as simple as that. It is available in the P, M, and V series.
So both TV is simple to operate through Voice assistant. There isn't any difficulty at all.
15. Wireless Technologies
Samsung and VIZIO both allow wireless connectivity through WiFi and Bluetooth. Its connectivity options can be found and operated through the remote.
There is a  clear difference between both brands when it comes to price and general affordability. 
Samsung is available at insanely high prices. But it is giving you all the new features to run your apps, games, and movies without making any compromise on quality.
VIZIO is a relatively new brand, that is competing with leading brands very effectively. It is available at a much lesser price than Samsung TV. So you can definitely enjoy all the greater 2022 features at much lesser rates with VIZIO TV.
Samsung TVs offer 36 monthly warranties from your TV's purchase date. At the same time, VIZIO TV gives one year warranty.
The duration of the warranty also varies in individual models of the brand. But it generally ranges from one year to 1.5 years.
Samsung has been a market leader in introducing innovative TV technologies. It has many key historic moments on its credit in the development of TV from black and white to analog to digital TV.
In 2000, Samsung introduced the world's first wall-mounted LCD TV, with a 46" screen size. 
From then to this day, It has successfully revolutionized the concept of the big screen with its true technological innovations.
Samsung was Founded by a South Korean entrepreneur in 1930. It started as a trading company that sold grains and fish to China. 
When TVs were introduced in US and Europe, many manufacturers stepped in to sell this new tech in Korea. 
Here, the Korean Govt. came up with an agreement with TV manufacturers. That they will share the New technology with local manufacturers to sell their products in Korea.
Samsung took up the new tech and founded Samsung electronic company in 1970. They made their first TV in the same year.
Samsung has revolutionized the TV manufacturing industry ever since. 
From the black and white tv of 1970 to the NEO QLED technology Samsung Tv of 2022, Samsung has gone through a phenomenal journey.
Vizio was founded in 2002. This relatively new TV company was founded by a Taiwanese-American entrepreneur along with his two coworkers. 
They originally named it GreenDane and V inn. In 2004 they changed it to Vizio.
Samsung TV performs well in each aspect, especially since its fast processor supports gaming.

It offers uniformity of pictures from any viewing angle in the bigger room. The viewing angle is outstanding

You can operate the Samsung smart TV with voice commands

It offers a great response time. No delay while opening apps on smart tv.

The anti-glare feature will give you great image quality at any setting and Nano QLED offers high picture quality
These are the most expensive sets in the market right now

There is still a burnout risk with its new tv series.
2.1 HDMI supports gaming enhancements, such as various refresh rates and low latency modes.

 Anti-glare IPS panel

Compatible with Amazon Alexa and Google Assistant for voice control

VIZIO offers the most affordable latest technology TVs on the market

Beautiful sleek design that is the perfect bang for the buck
VIZIO has issues with 120Hz signals, only works properly at 60Hz signals

Response time is decent but sometimes it gets slower and shows smearing. 

It does not have a good variable refresh rate.
Samsung and Vizio – Top Selling Tvs (VIZIO M6 Series & Samsung Q90C)
The Vizio M6 Series provides good 4K UHD resolution and supports various streaming services, making it a reliable choice for quality picture and content variety. It features Dolby Vision for vivid visuals and an IQ Active Processor for upscaling HD content.
On the other hand, the Samsung Q90 Series offers exceptional picture quality in both 8K and 4K resolutions. It supports popular services like Netflix and Hulu and includes advanced features such as Quantum Mini LEDs and Dolby Atmos sound, delivering a premium viewing and audio experience. If you prioritize top-notch visuals and sound, the Samsung Q90 Series is the way to go.
| Feature | Vizio M6 Series | Samsung Q90 Series |
| --- | --- | --- |
| Supported Internet Services | Netflix, Hulu, Disney+, and more | Netflix, Hulu, web browsing |
| Display Technology | LCD | QLED (Quantum Dot LED) |
| Resolution | 4K UHD | Available in 8K and 4K options |
| AI Processor | Yes (IQ Active Processor) | Yes (NEURAL QUANTUM PROCESSOR) |
| Wireless Dolby Atmos | No | Yes |
| Anti-Glare Technology | No | Yes (ANTI-GLARE with ULTRA VIEWING ANGLE) |
| Sound Optimization | No | Yes (SPACEFIT SOUND PRO) |
| Object Tracking Sound+ | No | Yes (DOLBY ATMOS & OBJECT TRACKING SOUND+) |
| Rear Speaker Kit Included | No | Yes |
It is difficult to select one that is a winner in all categories. VIZIO is an affordable option. 
But Samsung is successfully keeping up with global lifestyle trends by giving the latest cutting-edge innovative technologies.
From build to brightness, processor, picture quality, and contrast ratio everything is far superior to VIZIO. On top of it, it has the fastest response time of 120 Hz on 4k TVs. 
All that said, Samsung is going to give you the best value for the money.
1- Does Vizio make a QLED TV?

Yes, VIZIO is making QLED television in 4K resolution. This quantum dot technology is adopted by many leading TV brands and VIZIO is one of those who are competing for selling revolutionary technologies.

2- Which One Is Better? OLED or QLED?

Between this OLED (organic light emitting diode) and QLED ( quantum light emitting diode), QLED has a longer life, and brighter display.


While OLED has a shorter life, and risk of burn-in but has a better display with better contrast, the brightness doesn't always mean better but a good contrast and better color ratio could make the images pop out more.
3-Is Vizio related to Samsung by any means?

No. VIZIO is an independent brand that is in no way related to Samsung. Although it purchase its LED and OLED panels from LG. 

4- What are the differences between Samsung and Vizio TVs in terms of image quality?

Samsung TVs typically offer nearly unrivaled image quality, with vibrant colors and sharp details, while Vizio TVs are generally known for providing good image quality at a more affordable price point.

5- Do Vizio TVs have OLED screens like Samsung?

No, Vizio TVs do not offer OLED screens. OLED screens are more commonly found in premium Samsung TVs.

6- What types of TV models are available from Vizio?

Vizio offers a wide range of TV models, including their popular Vizio P Series Quantum and various other models with different screen sizes and features.

7- Are Samsung and Vizio two well-known TV manufacturers?

Yes, both Samsung and Vizio are reputable TV manufacturers known for producing quality products in the TV market.

8- Which TV brand offers the absolute best in display quality?

Samsung is often recognized for offering some of the best display quality in the TV industry, particularly in their premium models with advanced technologies like QLED and OLED.