The process to mount a TV onto a concrete wall definitely differs a lot from the process of mounting it onto drywall. 
Moreover, the tools you will need are different as well. This presents its own set of challenges that you must be prepared for. 
Quick summary
In this post, we will provide detailed, step-by-step instructions on how you can install a TV mount onto a concrete wall with safety and ease. 
We will also provide a list of the tools and supplies required to safely mount a TV onto a concrete wall. 
So without further ado, let's get into it. 
Tools and Supplies Needed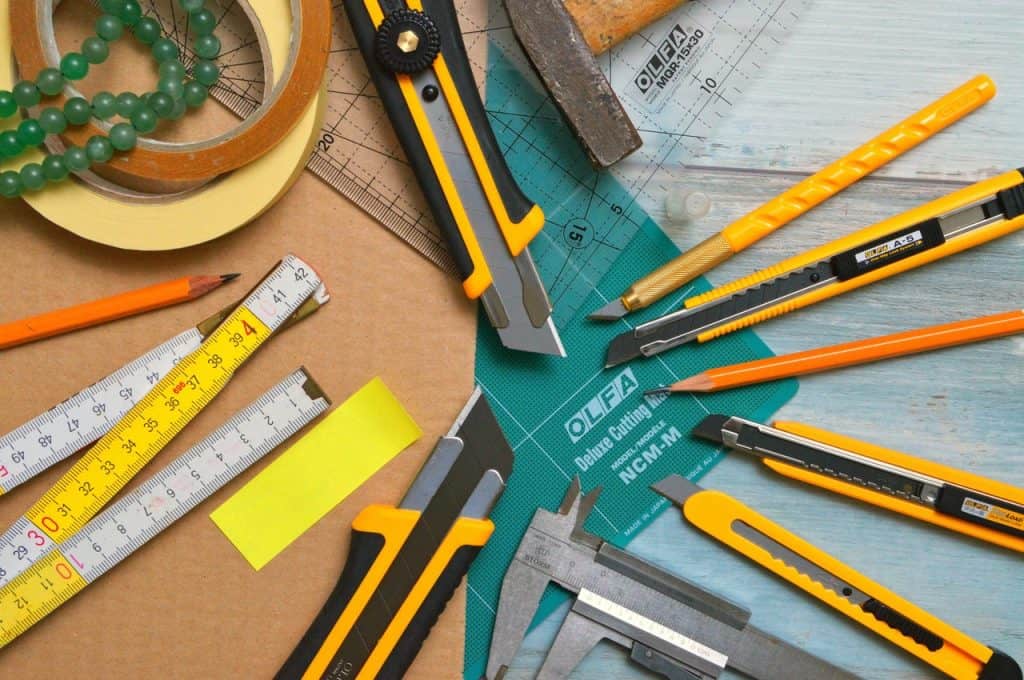 If you go through most of our instructional posts, you will notice that we almost always list the tools and supplies you will need for the job first. 
With pretty much every DIY construction job, it's a good idea to first think about the tools and supplies you will need. 
It can also be a good idea to first take the time to buy and gather everything you will need first. 
Having everything on hand when you start the mounting process gives you a great advantage and allows you to perform the task much more efficiently. 
The tools and supplies you will need to mount a TV onto a concrete wall are: 
A wall-mount 

A level

Assorted screws and bolts (that you received from the wall mount) 

A screwdriver or a socket wrench

A hammer drill

A pencil or marker

A hammer

A helper

Carbide-tipped masonry bits

A small vacuum with a tiny nozzle 
Once all the tools and supplies have been gathered, you can begin work to install your wall mount. 
How to Mount a TV on a Concrete or Brick Wall? (Step-by-Step Guide)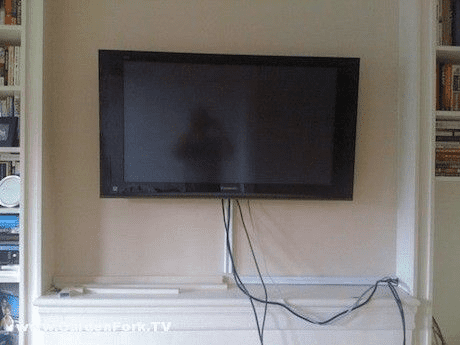 It's important to note that the process for mounting a TV onto a concrete wall is much different than if you were to mount it onto Drywall. 
You require a higher-powered drill as well as carbide-tipped masonry bits. This is because regular drill bits would be too weak to penetrate a concrete wall. 
If you used regular drill bits for this job, they would just end up getting damaged. 
Follow these steps to mount your TV onto a concrete or brick wall: 
Step 1: Before you proceed to any type of DIY construction work, you must first decide where exactly you want to mount the TV. 
There are several factors you must take into account which will help you decide the most suitable location for your television.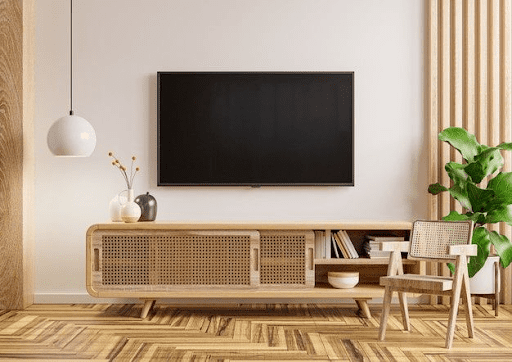 Firstly, it needs to be near a power outlet so you don't have any trouble plugging the TV in. Secondly, it must be at a spot that allows you to comfortably watch TV, i.e., it should have enough space in front of it to accommodate you. 
Lastly, it should not be near a window or any other external light source as they can cause glare on your TV while you're trying to watch it. 
Once you've found an appropriate spot to mount your TV, you can begin work on it. 
Step 2: First of all, ask your helper to take the TV mount and hold it up to the spot where you want to mount it. 
You want to be very careful of the height of the mount as you don't want to mount your TV too high or too low. 
For the optimal height, the center of the TV must be equal to your resting eye level. For most people, this is 42 inches. 
Hence, the center of the TV must be 42 inches from the floor to the center of the TV. 
Ask your helper to hold up the TV mount accordingly. It can also be a good idea to use a level to ensure that they are holding up the TV mount properly. 
As they are holding up the wall mount, you should check where its screw holes are and mark their locations on the wall with a pencil or a marker. 
Just make sure that you use something that leaves a noticeable mark on the wall that will not get erased easily. 
Step 3: You can now ask your helper to put down the wall mount as you get ready to drill the necessary holes into the wall. 
Take your hammer drill and attach the masonry bit onto it. Next, use your drill to pre-drill holes into the screw hole locations that you marked on the wall in step 2. 
Begin by gently pulling the trigger of the drill and slowly pushing it into the wall. As it starts to penetrate the concrete, you can increase the speed and apply a little more force to really dig it in. 
You're looking to make a hole that is about half an inch deep as that length works best for most concrete anchors. 
Important note: If you have concrete anchors that are of a different length, then the length of the hole you have to make will be different as well. 
Just make sure you inspect your concrete anchors first and then drill the holes according to the appropriate length.
Once you have drilled all of the holes, you may find that they are blocked up by debris and dust. 
To fix this, just take your small vacuum with its tiny nozzle and use it to suck all of the obstructions out of the holes.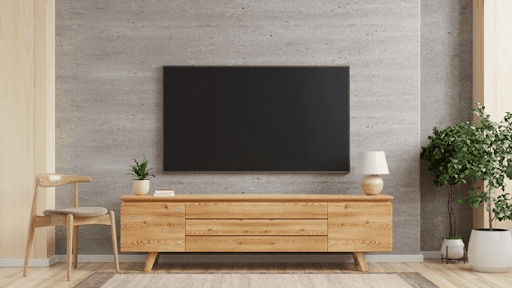 Step 5: After the holes have been made, ask your helper to hold up the TV mount against the wall at the same spot again. 
If you've done everything right, the screw holes should align perfectly with the holes that you constructed in the wall in step 4. 
Now, take your concrete anchors and hammer them into the holes in the wall one by one. 
Make sure that you're not too reckless when hammering the concrete anchors in as they can definitely break or damage your wall if you're not careful. 
If you end up damaging the hole too much, it can become unusable. If this happens, then you'll have to choose another spot for your television. 
Repeat this process for all the holes until the concrete anchors are securely holding onto the TV mount against the wall. 
Your TV mount has now been installed onto the wall.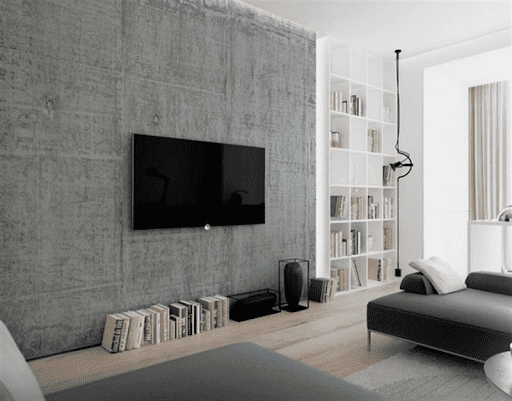 Step 6: Once the wall mount has been successfully installed, you can now attach your TV to it. 
Ask your helper to hold up the TV against the mount so that its mounting holes align perfectly with the TV mount. 
Use a screwdriver or a socket wrench to securely install the TV onto the mount. It's important that you don't over tighten at this stage. 
Over tightening screws at this stage can cause damage to both your wall mount as well as your TV. 
Hence, when you feel that they have been tightened enough, don't go overboard. 
Step 7: That's pretty much it, your TV has now been successfully installed. 
The last thing to do before you call it a day is to test the TV for stability. This can be done just by holding it gently and shaking it from side to side. 
If the TV wall mount holds its own and does not budge, that means that you have done a good job and everything is ready to go. 
However, if the mount shakes a bit too much or wobbles around, then that means that one or more screws are loose. 
If this happens, then you should check the mounting bracket and inspect all of the screws extremely carefully. 
Once you identify the loose screws, use your screwdriver or socket wrench to tighten them properly.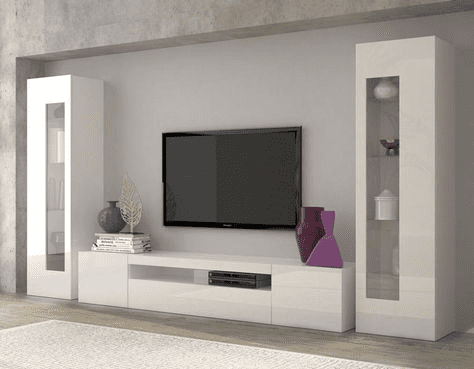 This brings us to the end of our post on how to mount a TV on a concrete wall. 
As you can see, the process for mounting it onto a concrete wall is not so difficult; it's just that the tools you need are slightly different. 
As long as you have the right tools and the proper planning, it's a breeze. 
If you have further questions, please reach out to us in the comments below.