Not all television sets have Bluetooth connectivity; even some expensive ones may not have Bluetooth. Sadly, if your TV doesn't have Bluetooth, you must be thinking of ways how to add Bluetooth to  TV?
A Bluetooth TV can make your life easy and convenient because it allows you to connect your phone tablets and other devices wirelessly. To make your life simple, we will explain the steps of adding Bluetooth to a TV.
But don't worry we have got you covered. This article will discuss:
How to add Bluetooth to TV?
Possible issues related to Bluetooth devices
And their alternatives
How to Add Bluetooth to TV?
So Can you add Bluetooth to the TV? The answer is "yes ". You can add Bluetooth to your TV with the help of a Bluetooth transmitter which will make your life so convenient because you will get rid of the hassle of connecting multiple cables with the TV.
Bluetooth transmitter, which is a small device that connects to your TV's audio output, like the optical audio connection, RCA analog, or Toslink. Once you've plugged it in and paired it with your mobile device or tablet, you can enjoy high-quality audio wirelessly.
Just remember to check the settings menu for any latency issues that might annoy you, such as lip-sync problems. With this simple tech upgrade, you can stream audio from your smartphone or any other Bluetooth-compatible device to your TV without interference, ensuring a great audio experience.
It's an inexpensive solution that won't break the bank and is perfect for the modern consumer looking for convenience and high-quality sound.
Wireless and Bluetooth devices are convenient and user-friendly, and these devices have brought a revolution in consumers' lives. Like many other smart devices such as smartphones and wireless headphones, TVs also come with Bluetooth connectivity.   
 So to connect Bluetooth devices to your TV, consider adding Bluetooth to your TV with a transmitter for the easiest and most efficient way to improve your TV's sound quality.
If you are having trouble finding out whether your TV has Bluetooth or not? Continue reading!
However, how will you identify whether your TV has Bluetooth or not?
It's very easy, and you can check Bluetooth compatibility by simply looking into the setting menu of your TV. Go to the settings and then select a sound, then sound output.
If you find the option of Bluetooth speaker, it means your TV supports Bluetooth, and if that option isn't there, it means your TV isn't Bluetooth enabled.
Steps to add Bluetooth to TV
Once you have identified whether your TV needs Bluetooth connectivity, the below steps will guide you on how to add Bluetooth to TV.
Identify Available Outputs
The first step is to identify the outputs that could connect to the Bluetooth transmitter on your TV. There are different types of devices available such as
Headphone jack
Analogue audio out
Digital audio out  
If there is more than one output available, it is recommended to use the headphone jack as it has the best audio quality. Other outputs are also good, but they have audio issues, which can cause problems later. So, if you have a headphone jack, you must use it with a Bluetooth transmitter.
Correct Bluetooth Transmitter
Once you have identified the output, it's time to find the correct Bluetooth transmitter. You mustn't get yourself confused between Bluetooth receiver and transmitter. You need a Bluetooth transmitter that sends audio to your Bluetooth speaker, soundbar, or headphones.
There are plenty of Bluetooth transmitters available in the market. You might get confused with the wide variety, but here is a pro tip, always select the one that offers faster connectivity, can connect to the majority of devices, and is stable
Pairing Bluetooth to headphones or speakers
Now that you have finalized your Bluetooth transmitter, it's time to connect it with headphones or speakers. For pairing the devices, put them closer to the transmitter. It is important to note that all devices do not have the same pairing mode. It is better to check the instructions before pairing the device with the transmitter.
After the successful pairing of the device with the transmitter, you are ready to listen to your favorite music, movie, or drama.
We hope that the above steps have clarified how to add Bluetooth to TV, and by following the process, you can easily connect the Bluetooth transmitter to the TV. The best thing is that you can use your smartphone as remote control and stream anything from there.
Pairing a transmitter with TV is quite simple, but you can face some issues and troubleshoot them to resolve them.
Possible issues with Bluetooth Device
Though Bluetooth devices are very convenient, but also have some issues and faults which need solutions for the better functioning of Bluetooth.
: The audio quality of Bluetooth is not as good as wired devices have. The wired devices have excellent audio quality without any distortion and disturbance. The voice quality also depends on the Bluetooth codecs at both receiving and transmitting ends. If you want Bluetooth with your TV, you would have to compromise on the voice.
With Bluetooth, the voice might lag. It is a problematic issue that can ruin your experience. So it's always recommended to get the best Bluetooth audio for TV.
This is a misconception that Bluetooth is entirely wireless. You will still be dealing with wires while connecting the Bluetooth transmitter with TV.
You may face issues with audio sync with Bluetooth devices. A single Bluetooth can be connected with two headphones simultaneously, but if you try to connect it to two speakers, there will be an issue with audio sync.

If you want to connect TV with Bluetooth, you should keep these possible issues in your mind because you may deal with any of the above anytime. Everything comes with a cost, and you have to pay the price of Bluetooth in the form of audio sync, audio lag, and audio quality issues.
Please note that it does not mean that every Bluetooth device has these issues, but it is always better to be prepared beforehand.
Now that we know how to add Bluetooth to TV and the possible issues associated with Bluetooth, it's time to discuss some of the best Bluetooth devices on the market.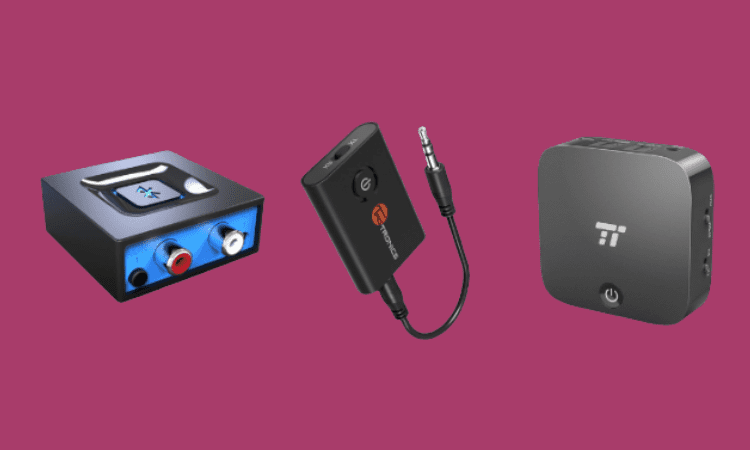 1-TaoTronics TT-BA07 2-in-1 Bluetooth Transmitter and Receiver
Now that we know how to add Bluetooth to TV and the possible issues associated with Bluetooth, it's time to discuss some of the best Bluetooth devices on the market.
Bluetooth version: 5.0
Dimensions: 8 x 1.3 x 0.3 inches
Range: 65 feet
Battery life: 10 hours
Simultaneous connections
5-1Mii B03 Bluetooth Transmitter (Long-Range)
1Mii B03 is a long-range Bluetooth transmitter with the best audio quality.
The features are
Item Dimensions: 12.7 x 9.4 x 2.8 centimeters
Item Weight: 124 Grams
Latest Bluetooth version for connectivity
Both transmitter and receiver functions
3 years warranty
Can you add Bluetooth to a non-Bluetooth TV?

Yes, you can add Bluetooth to non-Bluetooth TV by connecting a Bluetooth transmitter with the TV. The transmitter will send the audio to Bluetooth headphones or speakers and enhance your audio experience.

Can I install Bluetooth on my smart TV?

Yes, you can install Bluetooth on smart TV with the help of a Bluetooth transmitter.
Manufacturers have started to manufacture TVs with built-in Bluetooth, but still, some TVs do not have Bluetooth capability, but you can install Bluetooth on such TVs with the help of Bluetooth transmitters.
This article explains everything about how to add Bluetooth to TV, the possible issues with Bluetooth devices, and the best device available in the market that supports Bluetooth.
We hope that this guide will help you install your Bluetooth device with your TV.