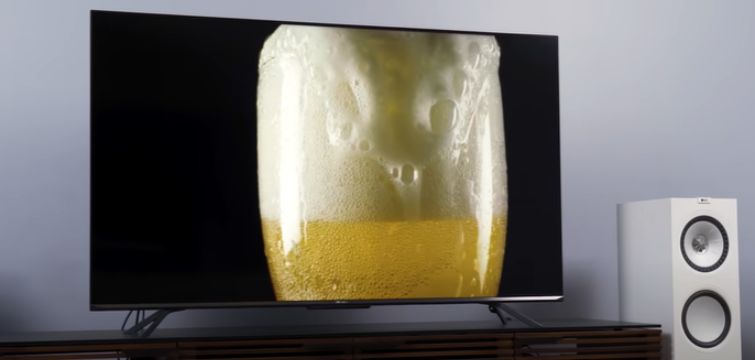 Looking for a high-quality QLED TV with stunning picture quality and smart features? Look no further than the Hisense 75U7G QLED Series.
With its 75-inch display, Quantum Dot technology, and impressive audio capabilities, this TV is perfect for movie nights and sports events. Whether you're a cinephile, gamer, or sports fan, this TV is sure to impress.
In this review, we'll dive deep into the features, performance, and overall value of the 75U7G QLED.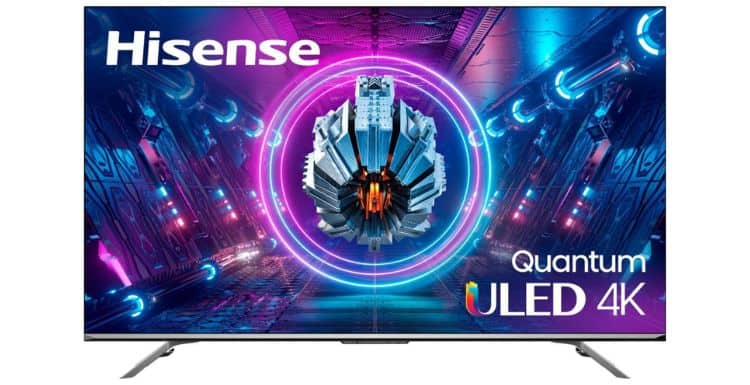 **If you buy via our affiliate links, we earn a commission**
Key Specs
Panel Type: QLED| Size: 75 inches| Resolution: 4K Ultra HD |Smart Platform: Android TV| HDR: Dolby Vision HDR, HDR10| Audio: 15W Dolby Atmos| Refresh Rate: 120HzHDMI: 4 HDMI ports (HDMI 2.0, HDMI 2.1)
Eagle Verdict
The Hisense 75U7G QLED TV offers excellent picture quality with bright highlights and deep blacks, making it suitable for any lighting condition. It has low input lag and advanced gaming features, making it a great choice for gaming or using it as a PC monitor. However, it may not be the best option for watching sports or movies with a group of friends due to the image degrading at an angle. Overall, the Hisense 75U7G QLED is an outstanding TV for casual viewers looking for a reliable, good quality QLED TV with exceptional picture quality and a good selection of features.
Other Experts Say?
" The Hisense 75U7G QLED series is a good TV for mixed usage with impressive picture quality in both dark and bright environments. Its low input lag and variable refresh rate (VRR) also make it a great gaming TV. However, it has limited viewing angles, and its HDR performance is mediocre due to the lack of wide color gamut and poor peak brightness in HDR."
"For me this Tv is great for its impressive picture quality, advanced gaming features, and user-friendly interface. I also note that the TV is a great value for its price, but warns that it may not be the best option for those with wider seating areas due to its limited viewing angles."
With exceptional picture quality, including vivid colors and deep blacks, as well as its user-friendly interface and ample connectivity options. However, the review notes that the TV's sound quality is lacking and that the viewing angles could be improved.
"The TV has an excellent picture quality, including bright colors and deep blacks, as well as its user-friendly interface and robust connectivity options. Although the TV's sound quality is average and the viewing angles could be better. Overall, the Hisense 75U7G QLED Series is a solid choice for those seeking an affordable QLED TV with impressive picture quality."
Pros
Excellent picture quality
Great for gaming
High peak brightness and decent reflection handling
Good response time and motion handling
Comes with a range of smart features and built-in voice assistants
Good value for money
Cons
Image degrades at an angle
Limited viewing angles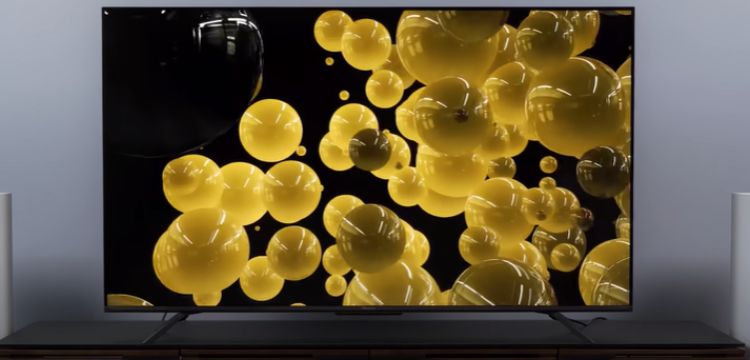 The Hisense U7G is a budget-friendly big-screen TV with a modern and sleek design featuring slim bezels(1.0 cm) on three sides. Constructed from metal, the TV has a premium feel and good weight balance.
The wide-set feet provide stability and can be adjusted for narrow tables. The back panel has a metal top and plastic bottom, offering flexibility for cable management, especially for wall-mounted TVs.
Despite some slight flex in the plastic sections and wobbling in the feet, the Hisense U7G still boasts a satisfactory build quality. Its black finish also enhances its appeal, making it an ideal option for those in search of an economical and stylish TV.
Design Facts
Style: Elegant
Bezels: Slim & thin (1.0cm)
Max Thickness: 9.0 cm
Metal: High-quality and durable
Back Style: Properly finished
Build Quality: Solid
Stand: Stylish (feets feels bit wobble
Expert Review: Highly rated
What Other Experts Say?
" The Hisense U7G has a sleek and modern design with thin bezels and a metal construction. Its build quality is good overall, but there is some flex in the plastic and wobbling in the feet, that's not so noticeable"

AVForums
The picture quality of the Hisense U7G is excellent. The colours are accurate and the detail is exceptional. Let's have a look at picture quality in different modes.
Picture Quality Factors
Movies
Sports & Shows
HDR Picture
What Other Experts Say!
"The Hisense U7G is a mid-range TV that offers good picture quality for its price. It has a fast response time, accurate colors, and high peak brightness. However, it has limited viewing angles, average reflection handling, and grey uniformity. HDR performance is also impacted by limited viewing angles."

ProductNation
Movies
The Hisense U7G is a highly impressive and affordable television for movie watching, with its VA panel type offering deep blacks, vibrant colours, and wide viewing angles.  The 4K resolution and 10,974 : 1 static contrast ratio provide stunningly realistic images, while local dimming enhances the contrast ratio, delivering rich and true-to-life tones. 

Upscaling is also excellent, with the video engine automatically identifying and upscales content from rich 4K to create a vivid and detailed picture. In my Personal testing result, this tv showed impressive results, with vivid colours, superb deep blacks, and noticeable upscaling from 720p to 4K. Overall, the Hisense U7G offers exceptional vibrancy and clarity, making it a great option for movie lovers.

Panel Type: VA LED panel
Resolution: 4K Ultra HD 
Contrast: 10,974 : 1
Local Dimming: Full Array Local Dimming with up to 120 zones
Upscaling: AI-powered 4K Upscaler
HDR Picture
The Hisense U7G promises to deliver stunning picture quality, thanks to its 4K picture quality and HDR support. It supports both HDR10 and HLG formats, making it an ideal choice for HDR content. 

In terms of peak brightness, the U7G can reach up to 1000 nits, which is higher than the usual good value 700 cd/m² range for HDR content. This makes for a good experience in bright rooms, with no loss of detail in lighter colours.

According to my personal tests, I found that the Hisense U7G performed well in HDR mode, displaying bright and vivid colors with good contrast. The TV's peak brightness was sufficient for most HDR content, and I didn't notice any significant blooming or haloing around bright objects. 

HDR Support: HDR10, Dolby Vision
HDR Peak Brightness: ~1000 nits
Native HDR Gradient: 10-bit panel
Color Gamut: >90% DCI-P3
Color Volume: Decent volume
Sports & Shows
Hisense U7G picture quality is something that stands out when watching your favorite sports or TV shows. With its 4K UHD resolution, HDR support, and impressive picture performance, the Hisense U7G provides great visuals that make watching live sports and TV shows an immersive experience. 

During my personal testing, I found that the TV's response time was fast enough to handle fast-paced action scenes, which is great for TV shows with action-packed sequences. The TV's reflection handling and grey uniformity are both average, which can affect the viewing experience in some lighting conditions. 

Additionally, the viewing angles are limited, which means that the picture quality will deteriorate when viewed from off-centre positions.

Brightness: Peak brightness ~1000 nits
Response Time: Fast response (13.5 ms)
Reflections: Good handling (5.2%)
Viewing Angles: Limited angle
Grey Uniformity: Average uniformity
The Hisense U7G is a 4K TV's 2.1 channel speaker system that has a total output of 30 watts and supports Dolby Atmos and an AI Sound mode. The TV also features an ALLM feature that reduces input lag for gamers.
The Hisense U7G also offers the option to select different sound modes like ALLM, which enhances vocal clearness and Dolby Vision, which aids in HDR optimization when you are watching movies. And if that's not enough, the sound is further enhanced by Dolby Atmos and DTS-X audio formats.
The U7G has a maximum power consumption of around 70 watts and the speakers have a THD of less than 1%. While the sound quality is considered decent but not exceptional, the U7G offers good picture quality and decent sound quality for its price range.
As per my test results it has a perfectly balanced frequency response with minimal distortion at higher volumes. The bass response is also clear and punchy while the mids and highs are detailed and crisp.
Sound Facts
Power: 170 watts
Frequency Response: 113.14 Hz
Sound Modes (ALLM): Yes
Dolby Vision: Yes
Dolby Atmos: Yes
Distortion: <1%
Expert Review: Positive feedback
What Other Experts Say?
"It has an impressive sound performance. The sound quality is clear, dynamic, and intense. With it, viewers can enjoy immersive sound that takes their entertainment experience to the next level. It also makes movies and music even more enjoyable with its powerful sound capabilities."

JoelsterG4K
The Hisense U7G is an excellent gaming TV that offers fast response times and low input lag, averaging around 11ms in Game mode. Its motion handling is also impressive, with a fast response time of around 4ms that helps reduce motion blur and ghosting.
Additionally, the TV supports Variable Refresh Rate (VRR) technology, which helps eliminate screen tearing and stuttering when playing games. While the U7G's HDR performance is decent, its peak brightness is somewhat limited, which may result in dim HDR content in bright rooms.
I tested the Hisense U7G in various games, including "Fortnite", "Call of Duty Modern Warfare", and "Overwatch". In each title, the monitor performed excellently and allowed for fast, smooth gameplay without any issues. The image quality was also excellent, especially when playing in HDR mode, which allowed me to appreciate the beautiful visuals in each game.
Gaming Facts
Input Lag: Excellent (around 10ms)
Native Refresh Rate: 120Hz
HDMI Ports: 4 (2 HDMI 2.0, 2 HDMI 2.1)
Variable Refresh Rate: Yes (VRR)
Response Time: Excellent (around 13.5 ms)
Compatibility with Consoles: Yes
Expert Review: Positive and recommended
What Other Experts Say?
"The Hisense U7G is a great choice for gamers looking for a TV that can handle fast-paced games without any motion blur or lag, and VRR support for seamless gaming."

ReviewTechUSA
The Hisense U7G 4K Ultra HD Smart LED TV is an impressive and ever-improving piece of technology from Hisense. It offers a wide range of advanced connectivity options and smart features such as support for both HDR10+ and HLG technologies, Dolby Audio, Bluetooth, Wi-Fi, an Ethernet port, and more.
In addition, It also offers Freeview Play, allowing you to access catch-up TV, music and radio channels, and a range of on-demand services. One of the first things we noticed when testing the Hisense U7G was the impressive range of ports and inputs. The TV offers four HDMI sockets and two USB sockets, offering great flexibility for connecting other devices such as gaming consoles, Blu-ray players, and set top boxes.
Key Smart Features
Operating system: Android TV
App selection: Wide variety
User interface: User-friendly
Voice Control: Google Assistant
HDMI ports: 4x HDMI 2.0, 2.1
Wi-Fi: Yes
Ethernet: Yes
Bluetooth: Bluetooth 5.0
USB Ports: 2x USB
What Other Experts Say?
"This Tv is an excellent choice for anyone looking for a smart TV with plenty of features, inputs and connectivity. Its 4K processor allows for stunning picture quality, and the built in Google Voice Assistant action makes it great for quick and easy navigation. "

Top Tech Today
The Hisense 75U7G QLED TV provides excellent value for its price when compared to similarly specced TVs, like the LG 75NANO85UNA. Both TVs offer a 4K resolution, HDR support, and a 120Hz refresh rate with exceptional picture quality and color reproduction. However, the Hisense 75U7G has more local dimming zones, resulting in deeper blacks and better contrast. Despite being significantly cheaper than the LG model, the Hisense TV offers comparable smart features with built-in voice assistants and popular streaming apps, using the Android TV platform instead of LG's webOS. Overall, the Hisense 75U7G is a fantastic choice for anyone seeking a high-quality TV with great features without breaking the bank.
Unboxing & First Impression
As a long-time home theatre enthusiast and tech enthusiast, I was excited to get my hands on the Hisense 75U7G QLED. After seeing the specs and other reviews I was sure it was going to be a great display and I was ready to test it out.
Check Out: Best TVs Under $1500
What's in the box:
Hisense 75U7G QLED TV
Remote control with batteries
Power cord
TV stand
Quick start guide
Upon unboxing, the first thing I noticed was the TV's sleek design. It has a thin bezel and a metal frame that gives it a premium look. The setup was straightforward, and I was able to assemble the TV stand in a matter of minutes.
Overall, my first impression of the Hisense 75U7G QLED TV is excellent. It has outstanding picture quality, smart features, and a premium design. I can't wait to watch movies, play games, and stream content on this TV.