TVs do not always complement your home decor. They occupy several square feet of a wall and are no more than an empty square when not in use.
An art TV is slim with a minimalistic frame surrounding the screen. The frame can be of wood or metal and is designed in a way that gels with the artwork around it.
These televisions do not hang on your wall as a black box when not operating; you will get a beautiful sight of a fantastic painting. Also, the paintings keep changing to show the owner as some wealthy art collector. Great, isn't it?
After days of research, we have compiled a list of this article's seven best TVs that look like art. These TVs are not just a piece of art but also have advanced features of modern smart TV.
Our Top 7 Picks For Best TVs That Look Like Art Review
Here's a detailed review of the top 7 products for best TVs that look like art. If you want to know how we picked these products and what are the key factors. You can go down to 
Detailed Buying Guide 
1- LG GX OLED TV Gallery Design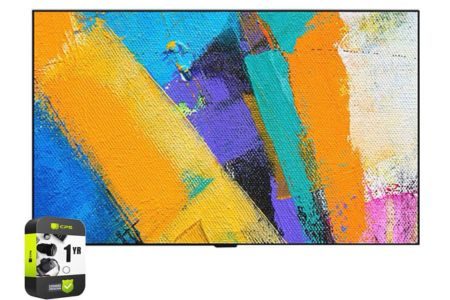 Screen Size: 65-Inch| Display Type: OLED| Resolution: 4k| Refresh Rate: 120Hz| Smart Apps: Spotify, Netflix, Hulu, Skype, YouTube, Amazon| Brand: LG| Connectivity: Bluetooth, Wi-Fi
The LG GX OLED TV is designed mainly for hanging using the company's provided unique bracket. Unlike sets designed to sit on a stand or be mounted on the wall with a generic VESA mounting bracket, it doesn't even come with a stand in the box. 
It comes in 3 sizes:
55-inch OLED55GXPUA

65-inch OLED65GXPUA

77-inch OLED77GXPUA
The LG GX's peak brightness is good. It becomes bright enough to reduce glare in moderately lit spaces, but it might not be ideal in a bright setting.
In my experience, The LG GX can turn off individual pixels, producing flawless blacks and an infinite contrast ratio.
With decent HDR brightness, This TV is bright enough to display small highlights in HDR.
The LG gallery series includes expanded features and 4 HDMI 2.1 ports for all HDMI inputs. The set offers variable frame rates for gaming and frame speeds up to 120Hz with 4K video. 
LG's 9 Gen 3 AI Processor 4K is installed in the LG GX OLED TV. This chip offers upscale content that is of lower resolution (not in 4K).
In my opinion, The LG GX also supports the Filmmaker Mode and Dolby Vision IQ picture modes. A developing picture preset called Filmmaker Mode presents the image exactly how the filmmaker intended. 
The Gallery Series' wide viewing angles are excellent. They maintain colour and brightness well over a 45-degree angle. Regarding color delivery, the GX has an advantage over the A8H regarding colour accuracy.
In our testing, When gaming, it can altogether ditch video processing for an automatic low latency mode with a 14.9 millisecond lag time.
The stunning wall-mount style of the LG GX OLED TV complements the company's excellent picture quality. This, together with the well-known webOS smart TV platform, is an all-rounder.The LG GX is fantastic for sports watching. If you want to watch the game with many friends, it offers wide viewing angles and a nearly rapid response time, reducing motion blur. Additionally, the model has excellent reflection handling. Therefore, it works well in bright spaces but doesn't become bright enough to reduce glare significantly. The screen is uniform and does not have a filthy screen look.
"When it comes to audio, this TV doesn't disappoint either. Its Dolby Atmos compatibility creates a surround sound-like experience, immersing you in rich, multidimensional audio. The OLED77GXPUA also includes AI Sound Pro, which analyzes audio content in real-time and optimizes the sound output accordingly."
"Its α9 Gen 4 AI Processor delivers stunning visuals, enhanced clarity, and smooth motion, ensuring a truly cinematic experience. The TV supports HDR formats such as Dolby Vision IQ, HDR10, and HLG, bringing out the full potential of HDR content."
Amazingly thin design

Excellent viewing from a wide angle

Reliable webOS platform for smart TVs

Comparable lab scores but cheaper than LG CX OLED

Performs well in well-lit spaces 

Near instant response time
Stand not included

Risk of Permanent Burn-In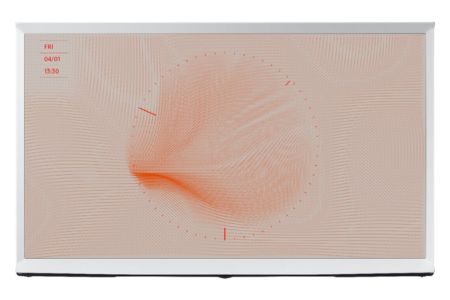 Screen Size: 43-Inch| Display Type: QLED| Resolution: 4k| Refresh Rate: 60Hz| Smart Apps: Netflix, Hulu, Amazon Instant Video, YouTube, Browser| Brand: SAMSUNG| Connectivity: Wi-Fi, USB
The Serif stands on two bipod legs, resembling an easel, for a more museum-style display that would be at home in an art studio, exhibition, or public gathering.
It's basic, though, above everything else. The flat screen displays a basic design, white frame, and slim legs that cover all cables and connections. The art functionality is expanded in the Ambient mode, allowing it to mimic the background wall.
In my experience, It only comes in two sizes, 43 and 55 inches, and is slightly more expensive than Samsung's Frame TV. However, it has the same technology, such as a QLED display, a Quantum 4K processor, and Alexa support.
The Serif has unmatched contrast levels—precisely perfect black—as an OLED display. It, however, features a limited viewing angle and supports high dynamic range (HDR) content in HDR and HDR10+.
In our testing, Four HDMI types are supported, one has eARC, and one port has 120Hz capability for gaming consoles. 
Additionally, it supports FreeSync Premium (automatic low latency/variable refresh rate). Bluetooth connections, such as headsets (there is an onboard Bluetooth 5.2 radio) are also supported.
Samsung's The Serif is a creative, fun, competent smart TV. I suggest the Serif if you're looking for a beautifully designed TV that's entertaining to look at even when it's off. You don't give up on the image because it is rendered with Samsung's standard more-than-competent quality. Although it is slightly more expensive than, say, a Q60- or Q50-series, and not everyone will like the way it looks, it is fun—and how often can you say that about a TV?
"The SAMSUNG 55-inch Class SERIF QLED Serif Series Smart TV is a remarkable blend of design and technology. Its unique aesthetic makes it a statement piece in any room, while the impressive display quality, smart features, and excellent audio performance ensure a delightful viewing experience. If you're looking for a TV that combines style and functionality, the Serif Series deserves serious consideration."
"The audio performance of the SAMSUNG 55-inch Class SERIF QLED Serif Series is impressive. The TV has a 4.1-channel, 40W speaker system that delivers clear, immersive sound."
Good color performance 

Good picture

Striking design with a practical top shelf

Matte finish for bright surroundings

Extremely thin, having no wall gap
Very expensive

There is no option for hardwired ethernet.
3- LG Evo Gallery Edition G2 77-Inch 4K TV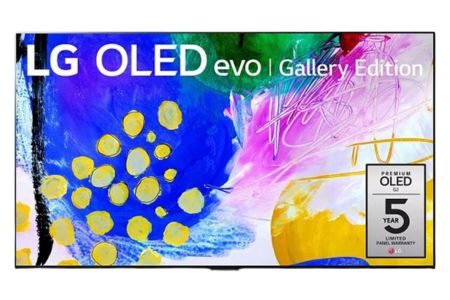 Screen Size: 77-Inch| Display Type: OLED| Resolution: 4k| Refresh Rate: 120Hz| Smart Apps: Netflix, HBO Max, Prime Video, Apple TV, Disney+ and more| Brand: LG| Connectivity: Bluetooth, Wi-Fi, USB, HDMI
There is a very long list of the LG G2's outstanding attributes. It was designed to be displayed on a wall like a painting, to the point where it doesn't even include a stand. 
For the (admittedly very glossy) metal floor stand, you'll need to spend an extra £150 if you're unwilling to give up a wall for such a big television.
In my experience, the LG OLED G2 is noticeably brighter in HDR but slightly less in "Game Mode." The set can display bright highlights adjacent to perfect blacks without blooming and has a nearly infinite contrast ratio
A significant low input lag on the LG G2 makes for a highly responsive gaming experience. In our testing, for connectivity, it has four HDMI 2.1 inputs and looks stunning on the wall with the no-gap wall mount included in the box.
We want to be clear that the LG G2 is a truly remarkable, breathtakingly beautiful TV to see, and it is worth every penny of its asking price. The LG G2 OLED Evo TV is one of the most outstanding options for consumers seeking a high-end home entertainment experience.
"One of the standout features of the LG G2 Series is its elegant design and unique gallery stand. The slim bezels and minimalist aesthetics make this TV a stylish addition to any living space. The gallery stand not only provides stability but also gives the impression that the TV is floating, adding a touch of sophistication."
"The LG G2 Series 77-Inch Class OLED evo Gallery Edition Smart TV is an exceptional choice for those seeking a top-tier home entertainment experience. The stunning OLED display, AI-powered 4K technology, immersive audio, and built-in Alexa integration provide a future-forward entertainment package."
Class-leading brightness

Exceptional color accuracy

Flawless black levels Hi

A great option for gaming

Excellent design
Dissatisfying stand-mount option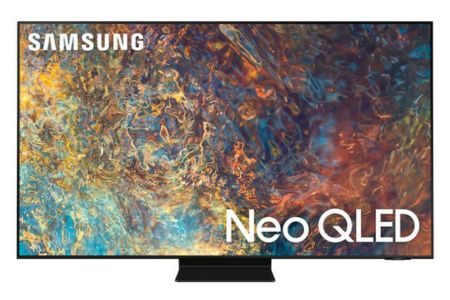 Screen Size: 55-Inch| Display Type: Neo QLED| Resolution: 4k| Refresh Rate: 120Hz| Smart Apps: Netflix, Hulu, YouTube, and more| Brand: SAMSUNG| Connectivity: HDMI
The QN90A is at the top of the list of modern TV aesthetics. The Samsung QN90A Neo QLED TV's bezels are invisible, concealing the line between the panel and chassis.
You can switch to the low-power Ambient mode, which is a screensaver. It displays different works of art, personal images, or weather updates when you're not watching TV. 
Ambient mode is still a suitable replacement for the QN90A's usual black "off" screen. However, Samsung's The Frame lifestyle TV provides a more spectacular appearance. 
Neo QLED, which drives the QN90A image, is an arrangement of tiny light cells using mini-LED lights. It promises significant improvements in lighting control and contrast. It can display remarkably deep blacks due to its local dimming feature.
The Samsung QN90A shines brighter than the Sony X95J and offers exceptional SDR brightness. In my experience, It may easily reach a brightness level that reduces glare in well-lit spaces.
Gamers will appreciate the Samsung QN90A's extremely minimal input lag, which is among the finest in Game Mode. Also, it offers excellent HDR brightness while in Game Mode, which is quite impressive.
In my opinion, There are two USB 2.0 connections and four HDMI connectors on the Samsung QN90A Neo QLED TV.
Samsung QN90A Neo QLED  features a higher count of light-emitting diodes per square inch than previous generations. The result was a TV that was brighter than its forerunners and could display a rich array of colors.A TV of this type is about picture quality, and the QN90A excels in this regard. Most material looks stunning on the QN90A since it is brighter and more colorful than most other 4K TVs. Moreover, it has greater black levels and contrast than other LED-LCD TVs due to the Mini LED.
"The Samsung QN90A Series boasts a 55-inch display with Neo QLED technology, offering breathtaking 4K UHD resolution. The Mini LED Quantum HDR 32x takes picture quality to new heights, providing exceptional brightness, deep blacks, and vibrant colors. Whether you're watching movies, gaming, or streaming your favourite shows, every detail is rendered with remarkable clarity and depth."
"Samsung has always excelled in design, and the QN90A Series is no exception. The sleek and minimalist Titan Black finish gives this TV a modern and sophisticated look that seamlessly blends into any living room or entertainment space. The slim bezels and thin profile further enhance the aesthetic appeal, creating a sleek and immersive viewing experience."
Beautiful, thin design

Neo QLED delivers incredible brightness.

Impressive anti-glare abilities

New rechargeable remote

 Excellent native contrast ratio.

Decent viewing angle.
Just one HDMI 2.1 port

No Dolby Vision support
5- Toshiba 43-inch Class V35 Series LED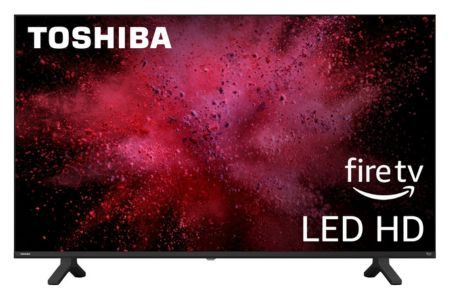 Screen Size: 43-Inch| Display Type: LED| Resolution: 1080p| Refresh Rate: 60Hz| Speaker: Built-In| Wireless: Wi-Fi| Brand: Toshiba
Toshiba's V35KU Succession is good for watching films on small screens because it has HD pictures and DTS Virtual:X sound. Motion Rate 120 also lets you watch your favourite videos and movies with smooth motion on the V35 range.
The Alexa Voice Remote is easy to use and understand, according to our tests. Voice control lets you start programmes, look for titles, play music, change inputs, and do other things.
In your living room, I think Google Assistant can be helpful. You can stream movies, TV shows, and pictures from your Android or iOS device to your TV using Chromecast.
Two HDMI ports let you hook up your devices. This monitor works with both Fire TV and Alexa. You can use your voice to control Fire TV with Alexa and get access to more than 500,000 films and TV shows.
Even though this TV may be too big for a student dorm room, you should still buy it. Users can watch TV on one side of the screen while using the web or Facebook on the other side.
The Smart TV from Toshiba is beautiful and useful. This new series has smart features and Full HD 1080p pictures. The app lets you use your voice to find and control smart home devices.
Toshiba's 43-inch Class V35 Series LED TV is the best art TV. I can keep you entertained for as long as you want, so you can watch over 1 million films and TV shows online. X technology is a flexible and scalable set of tools that allows a realistic audio experience.
"The 43-inch screen looks fantastic with its slim bezels, making it perfect for any modern living space. The build quality is solid, and the TV feels durable, ensuring it will last for years to come."
"The V35 Series TV has dual speakers that produce decent sound quality. While the audio output is clear and balanced, it may not satisfy audiophiles or those seeking powerful bass. For an enhanced audio experience, consider pairing the TV with external speakers or a soundbar."
Hd Scenic views

Powerful Audio

Bright Image Quality
The TV has a sizable remote control.
6- Sony Art TV – A8H 55-inch TV, BRAVIA OLED 4K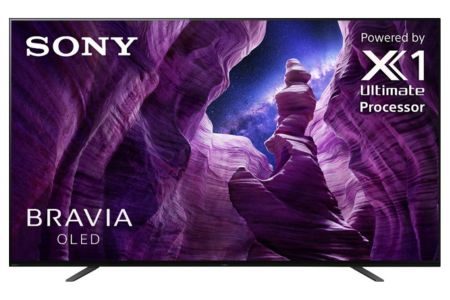 Screen Size: 65-Inch| Display Type: OLED| Resolution: 4k| Refresh Rate: 120Hz| Smart Apps:  Netflix| Brand: Sony| Connectivity: Wireless
Sony's A8H series, a direct competitor to the LG GX series, has an OLED display with high contrast and an equally thin frame and bezel. The TV can swivel from its position on a wall due to the optional wall mount. It gives you more options for unique artwork displays, photographs, graphics, or movies.
The AH8 is suitable for wall art due to its small bezel with no gaps and perfect black contrast. It only comes in two sizes, 55 and 65 inches, unlike the GX series. However, the optional wall mount and two soundbar options make this TV stand out from the competitors.
The TV provides excellent and realistic visual quality, as one would expect from a TV of this caliber.
This set is incredibly thin, and when used with Sony's exclusive wall mount, it will flush mount to the wall.
Due to its ability to turn off the pixels entirely, the Sony A8H has an almost infinite contrast ratio. 
It produces perfect blacks, which is excellent for viewing in a dark room.
The Sony A8H's SDR peak brightness is decent. In most well-lit rooms, it's enough to combat glare
Excellent viewing angles make the Sony A8H ideal for areas with broad seating arrangements. This TV significantly outperforms the Sony A8G OLED in input lag. 
It's suitable for casual gamers, but competitive gamers may prefer competing TVs with lower input lag, such as the LG CX OLED.
Smart features: The Sony Bravia A8H's ultra-responsive UI is simple. Also, it provides recommendations for what to watch next, making it relatively easy to browse.
The Sony Bravia A8H OLED TV meets all your expectations for an OLED: flawless blacks, dynamic motion, and a sleek body to match. It feels like an afterthought as if we should expect nothing less from a premium set, how smooth Android TV is and how thoroughly it gels with smart homes.We are sure that the Sony Bravia A8H is a worthwhile investment if you want an almost perfect OLED TV with premium picture and sound. This is the most premium option available for individuals who care about watching movies at home from the director's seat.
"Sony's BRAVIA smart platform ensures a seamless user experience. The A8H comes equipped with Android TV, offering a vast selection of apps, streaming services, and games. Navigating through the interface is smooth and intuitive, thanks to the included voice remote with Alexa compatibility."
"The sound quality of the A8H is equally impressive. The TV features Acoustic Surface Audio technology, where the screen itself acts as a speaker. This innovative design produces an immersive sound that directly comes from the source, ensuring an engaging audio experience."
Swivel wall mount

OLED display for high contrast

Perfect black levels

Wide viewing angles

Near-instantaneous response time
Decent peak brightness in SDR and HDR.
Only two size options

Expensive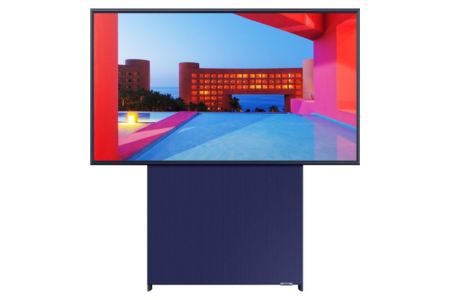 Screen Size: 43-Inch| Display Type: QLED| Resolution: 4k| Refresh Rate: 60Hz| Smart Apps: Netflix, Hulu, Amazon Instant Video, YouTube, Browser| Brand: SAMSUNG| Connectivity: Wi-Fi Direct
The Sero has a rotatable 43-inch 4K QLED panel. It is leaning back on an easel-style pedestal to make this easier. It stands on the floor and cannot be removed; it cannot be mounted on a wall. The stand is dark blue, and the area below it—where the speakers are—is covered in fabric.
However, you can add casters to the bottom of the stand so you can move it around and shift where it is in the room.
In addition, only one size is available for The Sero, which is 43 inches. This size is relatively small by TV standards, but it also makes the price seem more reasonable. The price is typical for a high-end TV, especially one with a unique feature.
A good Samsung QLED display, which supports 4K resolutions and HDR, is at the center of everything. Unlike the other Samsung TVs, the Sero has an IPS panel with a mediocre contrast ratio.
With a Good SDR peak brightness, it's consistent when displaying different content. The set is slightly brighter than SDR due to its average HDR peak brightness.
The input lag on the Samsung Sero is incredibly low and remains that way even while playing 10-bit HDR content. When gaming, the TV supports the use of motion interpolation;
The Samsung Sero is suitable for a small-sized room and has decent viewing angles when in landscape mode. Unfortunately, while the TV is in portrait mode, the viewing angles are narrow. 
Because of the screen's constant inclination to the back, lower sitting may not be the best choice for watching regular TV.
For most purposes, the Samsung Sero is a decent television. It upscales lower-resolution content, like cable TV and videos from social networking sites. Also, it is visible in bright spaces and from a wide range of viewing angles. It is a good gaming choice and a PC monitor because of its quick response time and low input lag.
"Samsung has equipped The Sero with impressive audio capabilities to complement its stunning visuals. The TV features a powerful 4.1-channel, 60-watt speaker system that delivers immersive sound with clarity and depth. Whether you're watching an action-packed movie or listening to your favourite music, the audio performance enhances your overall viewing experience."
"The Samsung 43″ Class The Sero QLED LS05 Series TV is a remarkable technology that brings a fresh and exciting twist to your viewing experience. Its rotating display and impressive visual and audio capabilities make it a versatile and immersive entertainment hub."
Rotating display

60 W speakers

Good SDR peak brightness.

Decent viewing angles.

All-in-one package
Inability to adjust display angle on the stand

Only 43-inch size
Five Key Factors For Best TVs That Look Like Art
Picture quality: LG's NanoCell technology provides wide viewing angles, a broad colour palette, and excellent contrast. While Samsung's QLED TVs offer excellent color and resolution in slim designs.

Never purchase a TV with a resolution lower than 4K. Unless you're looking for a second (or third) TV, avoid full HD or 1080p sets.

Look for an HDR-compatible television for improved contrast and more realistic colors. Consider a TV that preferably supports the more recent formats, such as HDR10+ or Dolby Vision.

The best gaming televisions have low latency. The latency of your game TV should ideally be 30ms or less.

Look for a refresh rate of 60 Hz or 120 Hz: Although 60 Hz is an excellent refresh rate, 120 Hz is preferable. A greater refresh rate offers smoother motion for everything from live sports and games to movies and television broadcasts.
Conclusion
As you can see, there are options available for TV buyers who are willing to pay extra for a unique or covert design. 
Various motorized TV lifts and mounts allow you to get creative whether you want your TV to spring up from inside a cabinet or drop down from the ceiling. 
If you're interested in the best TVs that look like art, we hope this information will help you make a better-informed choice. The above-mentioned TVs will be ideal for keeping you and your guests entertained.